6 Best 2015 Off-Road Pop-up Campers
To explore the Nature you need not only adventurous spirit but also good camper, see the list of best off-road pop-up campers for 2015....

These days most of us are trying to escape from the hectic and stressful city life.
Traditional vacations and weekends-getaways while offering numerous attractions usually do not make us free from crowds, noise, distractions we desperately try to leave behind.
That is why many of us are deciding to explore the Mother Nature in her unspoiled form.
But to do so, we have to not only have wish and courage to explore "paths less traveled" but also the camping gear (trailers) that are able to go off-bitten-roads.
Following is the list of best Off-Road pop-up camper trailers that may be your best companions in such adventures. 

Livin' Lite 10.0 Quicksilver
Description
The Livin' Lite 10.0 Quicksilver is a pop up tent camper with extremely lightweight aluminum frame which protects it from rusting. 
It is designed as an alternative to expensive heavy models that could not be towed easily by most cars. 
It delivers affordability and portability for a true camping experience. 
It comes with an off-road package which includes two queen beds, air-conditioning, dinette and sink. 
The camper also comes with an LP option which features cooktop, residential countertop and furnace
The Quicksilver offers flexibility with its lightweight detachable dinette bases which can be taken outside of the camper to increase seating space outdoors.

Here is the presentation of the 2015 LivinLite Quicksilver 10.0

---
Manley ORV  Explore Elite

Description
The Manley ORV Explore Elite trailer is the ultimate in minimalistic off-road pop up camps
It is built for rugged environments with its 1//8 inch thick stainless steel and T/A KM2 BF Goodrich Mud Terrain tires.
The pop up camper trailer has a Tepui Kukenam tent which is rooftop mounted on a rack that attaches to the trailer. 
The trailer bed has storage space that opens with a patent pending locking aluminum lid for easy access to camping gear.
The Explore Elite can be custom-configured so it may come with larger tires, spring-over-axle suspension, different tents, and customization to match the towing vehicle

Rugger Manley Explore trailer with unfolded tent

Adrenalin Campers Blast

Description
The Blast is an pop up camping trailer that is made out of a 1⁄8 inch thick aluminium body for rust and salt water resistance
It features a hard top that is capable of carrying up to 800 pounds of extra load which is great for strapping on additional storage or bringing off-road vehicles like kayaks, motorbikes and ATVs.
It has a heavy-duty canvas tent that is four times waterproof-coated for total water blockages
The pop up camper's tent walls can be split off into three units that can be utilized as sunscreens or windbreaks.
Interior facilities include a sink and three burner propane stove combination that pulls out, a queen sized bed and 20 gallon tank for fresh water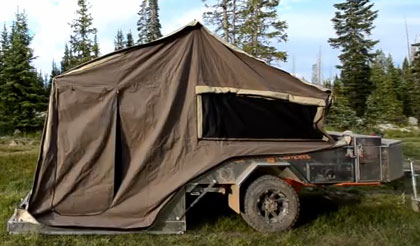 Adrenaline "Blast" with unfolded tent

Starcraft Comet 12RT

Description
The Comet 12RT is a pop up camper that slides out

It is made of a scratch resistant aluminium body.
It features a domed fiberglass roof that is sealed with automotive roof seal for repelling water
The camper comes with a 7-year warranty and has features like aluminium wheels for long life span. 
The Comer 12RTis capable of sleeping 5 to 6 people,
Amenities include a 6-gallon water heater,  three burner stove, dinette, small refrigerator and microwave
It also includes a cassette toilet, 33 gallon fresh water tank, shower and furnace
The Customer Convenience Package features a canopy awning that has an adjustable tilt and a spare tire.

Starcraft Comet 12RT: floor-plan

Adventure Trailers Chaser
Description
The Chaser is an off-road pop up trailer that is best known for its large capacity cargo box offering about 46 cubic feet of storage. 
It is built for rough terrain with military inspired design for a streamlined look
It sets up using gas assist struts that allow the camper to open and close whether the tent is on the roof or not. 
Made out of 14 gauge steel, the Chaser's panels are designed so as to allow easy removal and replacement in the event of damage
Other features include the option to be customized with 38-inch tires, a roof rack and a stove.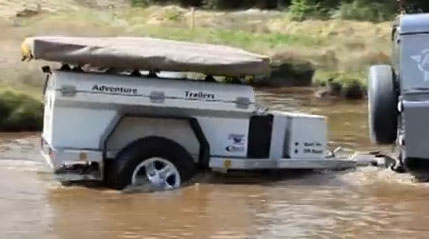 Chaser - do you have any doubts about its off-road abilities :-)

2015 Jayco Jay Series Camping Trailer
Description:

The Jay Series camping trailer features a self-storing awning that greatly reduces set-up and dismantling time
The kitchen area is equipped with a swing level galley for extra work surfaces and a  2 cubic feet refrigerator
The exterior is made out of hard wearing, durable aluminum combined with a water repellent vinyl pop up tent
The standard models come with bed support poles which are permanently attached, one king sized bed and fan lights

 About Us / Privacy Policy / Resources
Go to: Pop-up Travel Trailers and RVs