Best Small Travel Trailers


Part 3
The top small travel trailers for 2016 including famous Airstream Bambi, Coachmen Clipper but also less known Opus, Gidget Brumby, Chalet LTW, Prolite, Safari Condo Alto, TaxaOutdoors Cricket, Lance, Scamp and many more….
We are continuing the  presentation of top, small-size travel trailers from the previous page (see --> Previous  Part 2)
where you will find reviews of the following campers: Safari Condo Alto R1723, Cricket Treck, LivinLite Camplite 11FK, Prolite Plus "S", Hi-LO Camper: Wanderer 16xx and Jay Flight SLX 145RB
Before going farther we would like to remind the readers that to qualify for this presentation, the selected models also have to be affordable, comfortable and in general represent all modern trends observed in the RV industry. So elegance, stylishness, eco-friendliness (to name only few most important characteristics....
---
Scamp: Model 13ft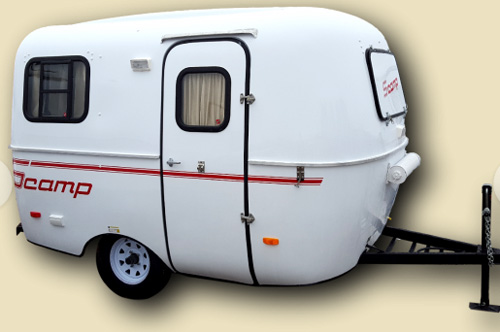 Scamp - one of 13ft models (comes in 4 floorplan versions)
      Scamp is an American family owned business designing and manufacturing small, hard-wall travel trailers.  These compact, lightweight, fiberglass trailers can be towed by almost any car, they are easy to maneuver and guarantee high fuel efficiency. The company offers many floor-plans as well as optional items (including appliances), so each camper can be customized according to the customer's preferences. Thanks to good thermal insulation as well as optional AC and furnace they can be used from spring till fall. 
The series of Scamp Travel Trailers includes 13ft, 16ft and 19ft models – all coming with several floor-plans and versions (standard and deluxe). The smallest 13ft model was the first one introduced into production back in 1972. 
Today's 13ft models come in four different configurations:
Standard w/front bunk
Standard w/front bathroom
Deluxe w/front dinette
Deluxe w/front bathroom (toilet and shower)......
For details see: --> Scamp Travel Trailers 13ft series
---
Ameri-Lite 14RBC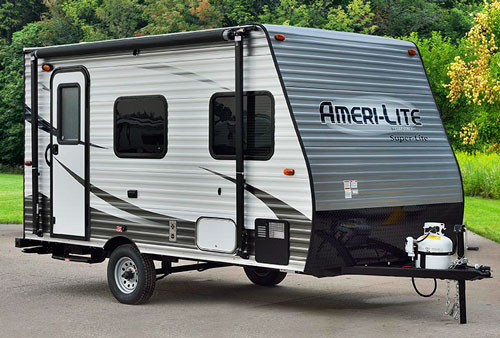 The smallest from the AmeriLite Super-Lite series of travel trailers: Model 14RBC
        The 14RBC is designed to offer the comfortable vacations "away from home" for two people.  The kitchen is equipped with two-burner cooktop, one-bowl sink with faucet, refrigerator, microwave oven, a counter-top with large working area and abundance of cabinetry including overhead ones. The front-end dinette makes a nice "eating-corner" which converts to large bed for night. The sofa facing the kitchen offers an extra seating space where you can relax while 6'4" interior height guarantees more than needed room for living.
On the back of the trailer there is a spacious wardrobe as well as "hard-walled" (private) bathroom with shower/tub and toilet. Overhead cabinets located all around the trailer provide enough of storage room for whatever you may need on your longer trip.
The trailers are built rather traditionally. The tubular steel frame and full-width steel outriggers....
For details see: --> Ameri-Lite 14RBC Travel Trailer
---
Starcraft AR-ONE 14RB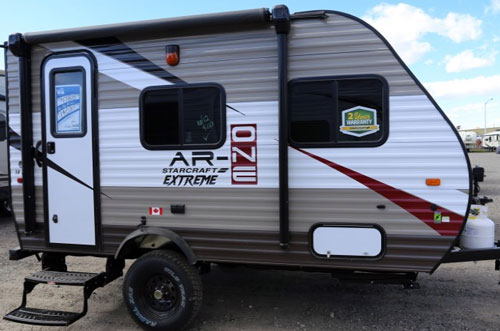 The smallest from the Starcraft's family AR-ONE: 14RB Travel Trailer
       The AR-One series for 2017 includes nine models starting with the smallest one in the family – 14RB (exterior length 16'6") and ending on the luxurious side with 19RT (exterior length 23'6").
The model 14RB belongs to the popular class of small travel trailers that can be pulled by most SUVs and minivans, but still providing a lot of amenities that till recently were only part of higher-end campers.
       Looking at the floorplan we can find all-familiar "blocks" of a home-away-from-home" – kitchen, dinette converting to bed, wet-bath including toilet and shower, sofa providing comfortable seating place and a lot of cabinetry including a closet.
The kitchen is equipped with 2-burner stove, power range hood, sink w/high faucet, microwave oven w/carousel, 3 cu ft. gas/electric fridge and plenty of countertop space....... 
For more details see: --> Starcraft AR_ONE 14RB Trailer
Travel-LIte Express E14
The smallest from the family of Travel-Lite Express travel trailers: Model E14
Travel Lite (operating in New Paris, Indiana) is known for its line of Truck Campers.  In 2012 the company started also manufacturing travel trailers introducing two series: lower end Express and higher end Idea. 
The series Express includes five models from the smallest Express E14 (exterior "box" length 10'6") to the largest one - Express E19QBH (exterior "box" length 17'6").
The first one - travel trailer Express E14 comes in two versions- Basic and Expandable (E14X), both sharing the same layout and dimensions. The only difference is an extra flip-out bed in the model E14X offering more sleeping space and "tent-like" environment that may attract nature lovers. 
The Express E14 belongs to the class of small travel trailers that can be towed by any 6-cilinder vehicle (camper's dry weight is below 1,800 lbs). Although let's face it – this is not a luxury camper, it is an example of recent trends....
See more details at --> Express E14 Travel Trailer
Casita Patriot travel trailer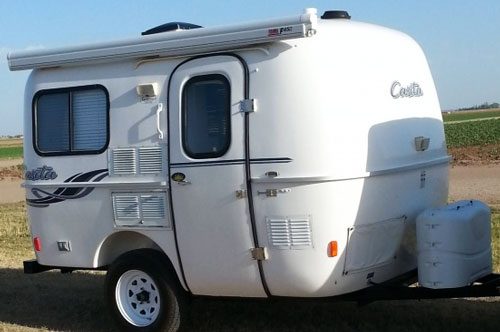 Casita's Patriot - 13ft fiberglass travel trailer
       Since 1983, Casita Enterprises Inc. located in Rice, TX dedicated its resources to the design and manufacturing of fiberglass travel trailers.  Currently they offer five models of travel trailers from the smallest one – 13ft long Patriot Deluxe, correspondingly 16ft (Standard) and 17ft long (Deluxe) versions of Spirt, Freedom and Liberty and the largest member of the family – Independence (both versions Standard and Deluxe are 17ft long). 
Standard versions of Casita's travel trailers have extra sleeping space, while versions Deluxe offer wet-bath with toilet, sink and shower.
    The Patriot is the only one Casita's trailer that is offered just in version Deluxe, but that is what makes it may be the most interesting on the list. Thanks to small dimensions and weight, it is easy to tow and may be as important – easy to store in the garage, but at the same time is equipped with all essential features including wet-bath.  Although nothing.....
For more details see: --> Casita Patriot Fiberglass travel trailer
---
Coachmen Clipper 14R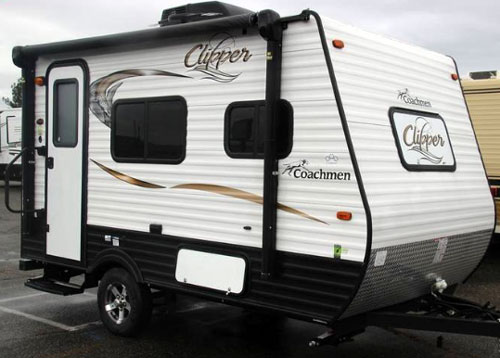 Coachmen Clipper Travel Trailer: Model 14R
      Coachmen (currently Division of the Forest River Inc.) is one of the pioneers of the RV industry. Founded in 1964 by brothers Corson, the company continues its traditions with the series of ultra-light Clipper travel trailers. The series includes models ranging from 16'8" (model 14R) to 21'4" (models17xx). 
      The Clipper 14R specially designed for small, fuel-efficient towing vehicles is the smallest in the family. Despite its reduced dimensions its internal features make it a comfortable place for camping adventure for two people. The kitchen area located in the center of the trailers includes 2-burner stove, single bowl sink, refrigerator, microwave, large countertop and abundance of maple cabinetry including an overhead section. The spacious dinette at the front of the camper with a large storage area converts into a bed. The sofa facing the kitchen provides......
For more details see --> Coachmen Clipper 14R Travel Trailer
---
Riverside Retro 155XL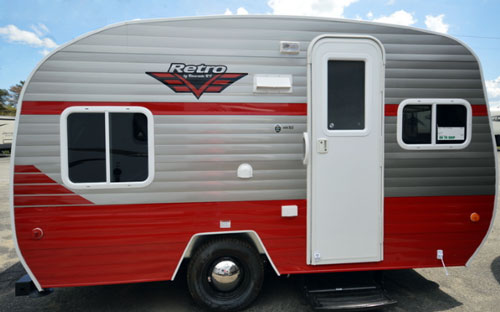 Riverside's Retro 155XL travel trailer combines modern-time amenities with nostalgic past of shapes, colors and details allowing for trip to the nature in an ambience of remote past.
The 15XL with its external length of 14'9" is the smallest one from the family (the longest one – model 199FKs is 25'6" long). With the weight below 2000 lbs, the Retro 155XL can be towed by most family cars. At the same time, the large set options offers everything you would like to have when camping. 
The kitchen equipped with 2-burner stove, large sink w/faucet…….
Fore more details see: --> Riverside Retro 155XL camper
If you want to go back and re-start the review of best small-size travel trailers then please select:
--> Review of Best Small Travel Trailers: Part 1
Presentation of: Airstream's Bambi Sport 16, Classic American Dream Trailer, Opus Drifter XT (Luxurious Pop-up Camper), Chalet LTW A-Frame trailer, Gidget Brumby Teardrop Camper and Lance 1475/1575 Trailer
--> Review of Best Small Travel Trailers: Part 2 
Presentation of: Safari Condo Alto R1723, Cricket Treck, LivinLite Camplite 11FK, Prolite Plus "S", Hi-LO Camper: Wanderer 16xx and Jay Flight SLX 145RB
---