Directory of Campgrounds: Tent and RV Camping Parks Connecticut (CT)
Find campgrounds and RV Parks in Connecticut – one of New England's states where the nature is at its best despite of being so close to the metropolitan New York…..
Connecticut is part of the region called New England in the Northeastern part of the USA.
It is referred to as the Constitution State or the Nutmeg State.
Its name originated from French, meaning "long tidal river".
It is one of the most densely populated states of the USA with a lot of big cities and close to the New York metropolitan area.
Home of the Thames River and ports along Long Island, this state has a lot of maritime regions and old traditions.....
Brialee family camping and cabin rentals
174 Laurel Lane - PO Box 125
Ashford, CT 06278
Phone: (860) 429-8359

Brialee is located in a peaceful place surrounded by nature. There are woods around, a pond for fishing, a pool where you can enjoy hot summer days, playgrounds and a lot of fun events. The park offers boat rentals, mini golf, basketball, and the best - you can bring your pets along. There are a lot of activities planned here all year long, such as parties, game days, celebrations and so on. Campground includes a fully stocked store, a snack bar, laundry-room, LP Gas / propane and dump stations as well. In other words it offers comfort in nature.


Natures Campsites
96 Ekonk Hill Rd,
Voluntown,CT 06384
Phone: (860) 376-4203

This campground was established to give families the chance to enjoy nature and have fun together. There is a laundromat, a swimming pool, several wi-fi hotspots, basketball courts, and a playground as well. Some of the attractions are: Pachuag State Forest, Mohegan Sun Casino, Mystic Marinelife Aquarium, Connecticut River Ferry, Mystic Schooner Cruises, deep sea fishing, mystic factory outlets, antique shows & shops and the beautiful Nohentic State Forest. You can hookup your RV to sewer, power and water too.


Bird's view on the Strawberry Park Campground.....

Strawberry Park
42 Pierce Road
Preston, CT 06365
Phone: (860) 886-1944

Strawberry Park is one of the great campgrounds of America. It is a beautiful 160 acre campground in the southeast of Connecticut. It is close to the Mystic Seaport, the Foxwoods and Mohegan Sun Casinos, which are all major attractions of the area. During the summer they have a lot of festivals and all kinds of events suitable for the whole family. The campsite has 3 large swimming pools, spas and saunas, a recreation center for dancing, crafts and more, a pet park, laundry-room and more.  There is also the famous Strawberry Grill & Creamery, a place where you can have delicious breakfast, lunch, desert, or just enjoy cool beverages and ice creams. There are several other facilities where you can do sports, so all together this campsite will assure a boredom free holiday for the whole family.
Water's Edge Family Campground
271 Leonard Bridge Rd.
Lebanon, CT 06249
Phone: (860) 642-7470

Next to the small lake you can do some fishing and enjoy the nice surroundings. You can also swim there during the hot summer days and do some hiking if you feel like it. There are other activities as well that you can do at the Water's Edge Family Campground such as children games, bingo, pig roasts, pot luck suppers, treasure hunts, live entertainment and dancing. The facilities include bathrooms, free internet, propane fill-up station, full hookups and more. Some of the nearby attractions are the Mystic Aquarium, Mystic Seaport, Essex Steam Train & Riverboat, Jonathan Trumbull Jr. House, Revolutionary War Office, Foxwoods Resort & Casino, Mohegan Sun Casino, Rocky Neck State Park and Golf Country Clubs.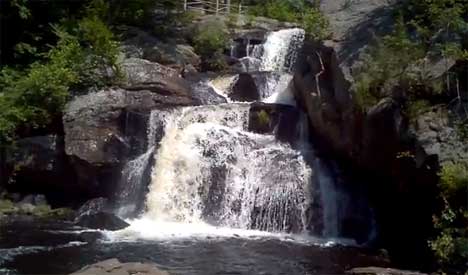 Waterfalls in Devil's Hopyard State Park - Connecticut

Devil's Hopyard State Park
366 Hopyard Road
East Haddam, CT 06423
Phone: (860) 526-2336
If you are interested in the legends of nature, park your camper here and find out the secret of the holes in the stones.
The legend says that they were made by the devil himself.
Besides enjoying some old mysteries, you can do biking, hiking, bird watching, stream fishing and more.
It is all situated in a calm setting near the woods.
There are pedestal cooking grills, picnic shelters, picnic tables and composting toilets throughout the park.
---
Visitor's story.....

Camping around the lighthouses and casinos in Connecticut brings a few fun times and some great sight seeing adventures.
The directory of campgrounds: tent and RV camping parks Connecticut (CT) gives you some idea of where the campgrounds are located.
Because there are so many campgrounds, people sometimes have a hard time deciding where to set up the pop up camper or dock the motor home.
If you travel regularly in your motorhome trailer, you probably have seen many campgrounds over the years. Some people set up their mobile home at a beach camp because they have fun and always return.
I prefer to travel everywhere in a recreational vehicle, which happens to be a pop up camper. Whether you have a motor home or another type of recreational vehicle, you will find this directory of campgrounds: tent and RV camping parks Connecticut (CT) worth checking out.
Next time you visit Connecticut, check these campgrounds:


Aces High RV Park
301 Chesterfield Rd
East Lyme CT 06333-1003
860-739-8858


Chamberlain Lake Campground
1397 Route 197
Woodstock CT 06281
860-974-0567


Deer Haven Campground
15 Kenyon Rd
Lisbon CT 06351
860-376-1081


Hidden Acres Family Campground
River Rd
Preston CT 06365
860-887-9633


Lake Williams Campground
1742 Exeter Rd
Lebanon CT 06249
860-642-7761
 About Us / Privacy Policy / Resources
Go from Directory of Campgrounds: Tent and RV Camping Parks Connecticut (CT) to Pop Up Campers Trailer Home
Directory of Campgrounds: Tent and RV Trailer Camping Parks USA / Tent and RV Trailer Camping Parks Alabama / Tent and RV Camping Parks Alaska (AK) /  Tent and RV Camping Parks Connecticut (CT) / Tent and RV Camping Parks Delaware (DE) / Tent and RV Camping Parks Florida (FL) / Tent and RV Camping Parks Georgia (GA) / Tent and RV Camping Parks Hawaii (HI) / Tent and RV Camping Parks Idaho (ID) / Tent and RV Camping Parks Indiana (IN) / Tent and RV Camping Parks Iowa (IA) / Tent and RV Camping Parks Kansas (KS) / Tent and RV Camping Parks Kentucky (KY) / Tent and RV Camping Parks Louisiana (LA) / Tent and RV Camping Parks Maine (ME) / Tent and RV Camping Parks Maryland (MD) / Tent and RV Camping Parks Massachusetts (MA) / Tent and RV Camping Parks Michigan (MI) / Tent and RV Camping Parks Minnesota MN) / Tent and RV Camping Parks Mississippi (MS)

Directory of Campgrounds: Tent and RV Trailer Camping Parks USA