Forester Vintage Trailers
Forester trailers were manufactured by Forest City Industries not surprisingly located in Forest City IA...

Manufactured between 1958 and 1979 these compact trailers saw some success among enthusiasts in the 1960s.
The trailers came in many different sizes and models, the smallest weighting just 1550 lbs.
The family of Forester trailers varied in size from 14 feet to 24 feet.
Most models had tandem axle for easier towing, handling and lower overall height.
With the pull-out bed and couch Forester has an eye for camper comfort.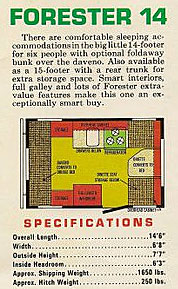 Forester 14' - floorplan and specs (fragment of original factory brochure)
Source: http://forestertrailerfun.blogspot.in/

Forester 14'

This small Forester model was introduced in the mid-1960's. The trailer has the galley is in the front and the dinette/bed in the rear.  Surprisingly, given the small size of the camper, designer found place for a bathroom in the front of the trailer.  On the downside – the trailer had an icebox but not a refrigerator. This model came with cloth seats and curtains.
The poly-foam cushioned sofas were easily converted to beds while the dinettes into comfortable bunks. 14 footers could be easily tucked away in the garages. Aluminum exteriors had baked enamel finish. The Forester 14' provided quite comfortable sleeping accommodation for six people with optional foldaway bunk over the daveno. A variation of the model came with a rear trunk for additional storage space.

The specifications of this model are 14'6" in length, 6'8" in width, 7'7" in height and 1650 lbs in weight.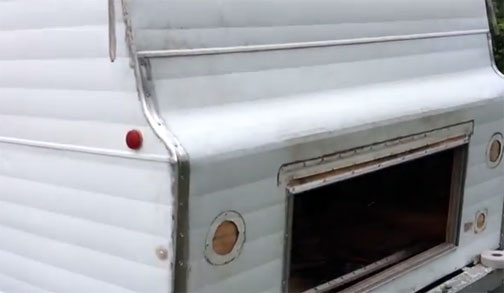 Characteristic back-side of the Forester trailer with the large storage area....

Forester Cub

This model could be parked in garage or tagged along with a compact car for easy camping experience. Despite the low height of the trailer it came with all conveniences such as a completely equipped galley, sleeping provision for six in the dinette and daveno conversion and option over-daveno foldaway bunk, full length wardrobe, overhead cabinets and adequate storing space. The specifications of Forester Cub were 14'4" in length, 6'6" in width, 6'8" in outside height but only 5'10" inside headroom. The weight of the trailer was 1520 lbs with the hitch weight of 185 lbs.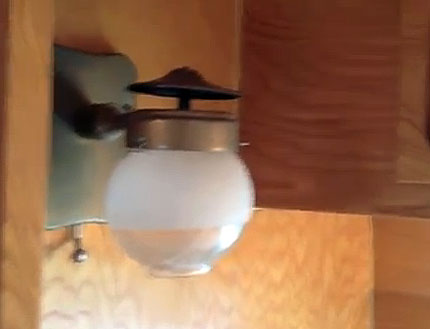 Forester vintage trailer - nostalgic accent of the past: interior LP gas lamp

Forester 16'

Forester 16' weighted 1700 lbs, so by all accounts it was the lightweight and easy to tow camper. The frame was built from electrically-welded tubular steel. Trailer was fitted with self-cleaning steps, 2' coupler and bumper. The "drop-floor" design chassis allowed lowering of ground to roof height as much as six inches without sacrificing road clearance and inside headroom. 
Roof was made in one sheet of rigid heavy gauge aluminum lapped over sides. The big storage space with overhead cupboards and cabinets were provided along with rattle-free bronze hardware. The model was fitted with three-burner stove. There is provision for installation of an extra foldable bed.

Forester Cardinal Delux model - small size, narrow doors but you can find so much of warmness inside of the trailer....

Forester 24'

Introduced in 1961 Forester's biggest model had features like Front Dinette, Hadco 300 Refrigerator, Holiday Range Stove/Oven, Humphrey Products Gas Light, Rear Goucho, Sling beds overhead the Goucho and HydroFlame Furnace. The model came with insulated double floors with undercoated galvanized metal bottoms, and rigid plywood under floor cover. The lighting system included 110-volt electric lights, central gas light, and 12-volt interior lights. Built-in big capacity water tank could be easily connected with city water supply system for refilling.

 About Us / Privacy Policy / Resources
Go to:  Pop-up Travel Trailers and RVs
or to: Top 10 Vintage Travel Trailers