Lakewood Vintage Travel Trailers
Lakewood trailers were manufactured by Lakewood Industries located at Artesia, California.

The company saw success of its productions in the 50's and 60's. The sizes of their trailers ranged from 12 ft to 15 ft. Smaller models did not have toilet.

Lakewood (12')

This model has interior work made of birch wood.
The trailer sleeps four.
It was fitted with newly upholstered front seats, stainless steel sink, electric water pump, 4 burner stove, ice box, 3/4 bed.
It had spacious cabinets over sink, front and back as well as anchor cut-outs and rounded wood.
Other interesting features included: screened windows, gutter for awning, polished aluminum diamond plate rock guard, screen door and mounted spare tire. The trailer was a bit roomier with a single bed in the rear and dinette area that also converted to another single bed in the front.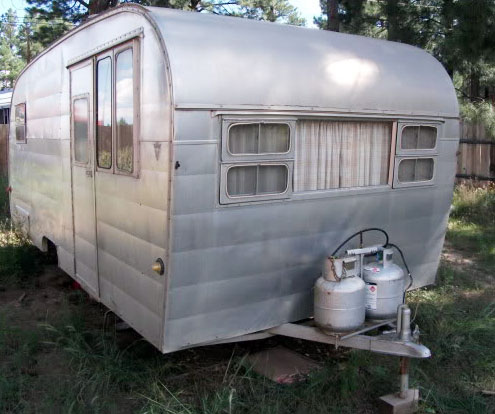 Lakewood 17ft vinatage travel trailer from 50's

1955 Lakewood Camper

This 17 ft long camper sleeps comfortably 3 adults and one child.  For a 17 ft camper this was cozy and efficient. There was enough space to sleep, eat and store your stuff securely.  It was built back when manufacturers used "real stuff" so these trailers have some nice interior woodwork. The features included three-burner gas stove with oven, sink (pump water and external hook up), water storage tank, large closet, dining area with folding-down table, bathroom, electric/ gas hook ups and ice box. The stove had a hood with a vent.

To the right when entering the door was the dinette. The table folding down from the wall was making room for the bench to convert into small bed. Bathroom was located at the end of the kitchen. The plumbing was underneath of the working commode. The door on the left is a 'folder' type.

Side and rear windows are over the double bed. Above the bed there was a 'drop down' bunk. Storage area under bed was accessible from inside as well as from the outside (locking doors).

When you come across this sign then you know, you have an original Lakewood camper

1959 Lakewood Canned Ham

It sleeps 4 with a queen size bed in the back and a double size bed in front. The trailer came with water pump and electrical system. The tongue on the trailer is 3.5' long, the trailer itself is 8 ft high from the ground and 6 ft 10 inches wide. The kitchen's features included: a sink, an ice box and propane stove with three burners. The awning was specifically made for this trailer to match its shape and colors. Despite its small size, trailer had nice closet and plenty of storage room. The flooring, cabinet and the table-top were made from good woodwork. Being small in size the trailer was easy to pull. The limitation due to size - there was no bathroom!

Yet as small and inexpensive this model promised (and delivered) great fun and adventure.

 About Us / Privacy Policy / Resources
Go to: Pop-up Travel Trailers and RVs

or to: Top 10 Vintage Travel Trailers; Popular Vintage Travel Trailers