4 Top Slide Pop Up Truck Campers
Good news for owners of small pickup-trucks: new models of pop-up truck campers with slide-outs let the dreams to become reality; see top models…

Recent models of camper trucks shaved-off a lot of pounds without compromising travelers' comfort.
Folding design with popping-up roof and slide-outs allows for keeping small footprint in "travel-configuration".
This opens whole new world for owners of small pickup-trucks.
On the other side, raising roof and extra space due to slide-outs provides enough of living room and space for kitchen, toilet and many other extra amenities for long reserved only for big truck campers.
Pop-up truck campers with slide-out(s) brought "impossible" to large number of families allowing them to leave paved paths and explore the wilderness…..

 Lite Craft pop up slide camper:
Founded in 1988 as a state of Colorado builder of recreational products, Lite-Craft created an array of truck campers with telescopic roofs. The camper is designed to fit many popular full-sized pickup trucks. With length of 8 feet and sleeping capacity of 4 persons Lite Craft provides great experience for campers because of its light weight and easy maneuverability.

---
Palomino Bronco - Model B600 (shortest in the series B)

 Palomino Bronco Soft-Side Folding Slide in Camper:
Palomino's B-600 Model is designed for compact trucks such as Dakotas and Tacomas. This lightweight truck camper features a pop-up roof that raises with an easy-to-operate crank system, creating a spacious interior with full stand-up room and lots of convenient features. Most importantly, the Bronco's lightweight, low profile design gives you better fuel efficiency and on or off-the –road handling. The exterior is constructed with sturdy laminated sidewalls on the lower portion of the unit and durable vinyl coated canvas on the upper portion. The model has a sleeping capacity of three and water capacity of 10 gallons.

---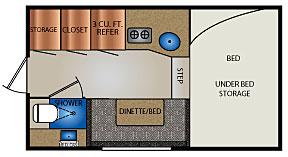 Travel Lite: Floorplan of the model from the series 875
(designed to fit in the bed of most Full-Size 3/4-ton trucks)
Travel Lite 875 Series:
With natural cherry cabinet doors, LED bunk lights and pleated soft shades the interior of Travel Lite carries a sophisticated look. The convertible dinette and upgrade queen mattresses add value to the interior. There is electric pop-up lift system, insulated roof, walls and floor, LED brake & clearance lights, radius doors & windows and dark tinted slider windows with screens for the exterior.

---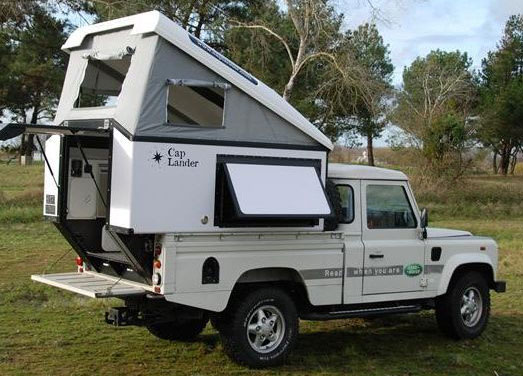 Cap Lander model 110 opened for camping
Source: http://www.expeditionportal.com

Cap Lander Altai:
Cap Lander Altai slide in camper is manufactured by French company Cap Lander which has facilities located in Chauvigny, about 220 miles / 350 km south of Paris. The company started making composite bed caps for Land Rover Defenders. Recently, the company added a pop-top camper line called the Altai. The Altai is designed for the Defender, but also for mid-size pickups like the Toyota HiLux and Nissan Navarra. The weight of the camper is only 300 kg (about 660 lb). This light weight is due to the camper's composite construction.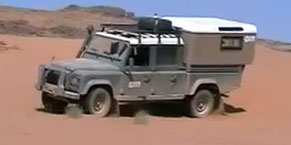 ... and here, in travel configuration proves its merits in the desert

 About Us / Privacy Policy / Resources
Go to: Pop-up Travel Trailers and RVs