5 Top Ultra Lite Toy Haulers

Toy Haulers are popular among lovers of nature activities allowing you to take your favorite gear with you; see best lightweight models on the market… 

Toy haulers are popular type of RVs, especially for those with adventurous spirit.
Due to large cargo space they provide means to travel with favorite "toys".
ATV, motorcycles, bikes but also winter equipment like skidoos, skies and in general all kind of gear you may need when in wilderness.
At the same time, they usually provide also well-furnished living area with kitchen, sleeping and eating area. The truth is that Toy Haulers allow you to go for vacation into the nature (wilderness) taking with you most of what you keep in the garage or garden shack.
Recent changes in RV industry did not left this segment of recreational vehicles untouched. Modern units became significantly lighter, more robust and better adapted to off-road driving conditions. Below is the list of our picks:

It's huge! Keyston's Energy 300FBS Toy Hauler

Energy

Energy toy haulers provide large space for cargo as wheel wells and fuel fill have been removed from the interior floor space. The product is popular because of its lightweight and an array of standard features. Energy toy hauler is fitted with LCD TV, electric beds with Futon-style mattresses, 30 gallon fuel cell, generator prep, Gear Net cargo storage system, porcelain toilets, residential wood grain cabinetry, larger holding tank capacities and Campside Outdoor Theater. Camping with a Energy toy hauler has its own charm as the vehicle is packed with more standard features than any of the competitors.
There are four models in the Energy range, namely 235FBWE, 257FBSWE – NEW, 280LSABWE and 300FBSWE. The typical floor plan includes 60 x 74 bed in the front, with overhead cabinet and closets on both sides, Pantry, dinette and sofa in the middle and bed in the rear. The ramp at the back provides ample space for cargo.
Energy toy haulers are produced by Keystone RV Company based in Goshen, Indiana. 

---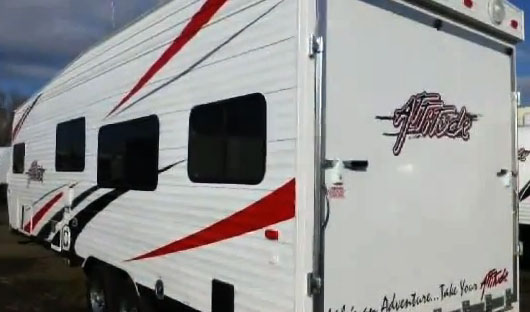 Eclipse seen from the back

 Eclipse Attitude Metal

Attitude toy hauler comes with rear bed, double roll over sofas, double kitchen sink, three burner kitchen range, refrigerator, pantry, TV, wardrobe, plenty of overhead cabinets, Toilet, lavatory, shower and a queen bed. The toy hauler model comes with a generator. The vehicle sleeps six persons.
The specifications are as follows:

Width
Height
Hitch Weight
Gross Weight
Fresh Water Capacity
 Grey Water Capacity
Black Water Capacity
Tire Size


8'4";
11'6";
660 lbs;
9,900 lbs;
48 gals;
50 gals;
50 gals.
15.

The colors are: exterior White and interior Brown.

---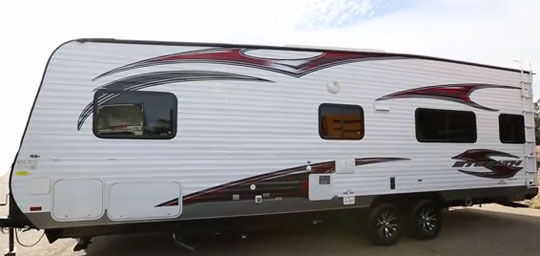 Stealth AK2612

Forest River RV Stealth AK2612

This new 2014 Forest River model comes with a lot of features while providing more than enough space for cargo. Stealth model has rear electric bed with futon mattress, front queen bed,  flip sofa, two captain's chairs, pantry, refrigerator, medicine cabinet., wardrobe, nightstand, toilet, , lav., tub, double.kitchen sink, 3-burner range, microwave, many overhead cabinets, outside kitchen with single sink, and much more. Available options may include sofa slide.
Specifications of Stealth model are:

length
height
hitch weight
dry weight
gross weight
cargo weight
fresh water capacity
grey water capacity
black water capacity


27'9";
12'1";
1,100 lbs
6,988 lbs;
9,999 lbs;
4,512 lbs;
106 gals;
60 gals;
40 gals.

This model sleeps five persons comfortably.

---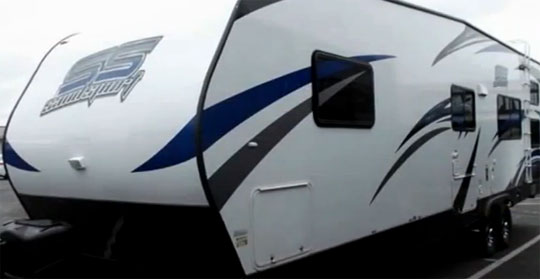 Sandsport Model 24FBSL from Pacific Coachworks

Sandsport 24FBSL

Sandsport toy haulers are manufactured by Pacific Coachworks, Perris, California. Sandsport has a wide number of variants. 24 FBSL is quite a popular model in the Sandsport range. The model features a rear 7' ramp door.  It comes with 2 rear electric beds with bottom bed turning into a sofa, overhead cabinets, 2 chairs with overhead storage, 3 burner range, microwave, double kitchen sink, refrigerator, pantry, front queen bed with wardrobes and some other standard features.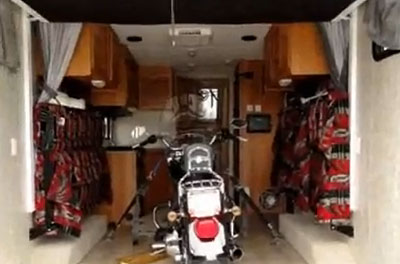 Jayco Octan Model ZX - that's what it is about - you take your garage with you to wilderness....

Octane ZX Super Lite

This model is manufactured by Jayco based at Middlebury, Indiana. As the name implies this model makes hauling the toy cargoes a breeze. The model weighs 3,765 pounds everything considered.  The attractive features include aluminum rims, patio awning with adjustable pitch and rear stabilizer jacks, to name just a few. The interior features shadow décor.
Octane Super Lite features a versatile floor plan that doubles as a spacious garage and a feature-filled living area. The cargo area boasts floor-mounted, tie-down D-rings with an integrated hinged spring-assist ramp door, while the kitchen comes complete with 2-burner range and a 5 cu. ft. refrigerator.

 About Us / Privacy Policy / Resources
Go to: Pop-up Travel Trailers and RVs
or: Benefits of Lightweight Travel Trailers