Motorcycle Campers
Getting familiar with Motorcycle Campers may change your way of traveling forever.
Motorcycle-campers: Old Charm - New Adventures
Motorcycle's charm did not vanish in our times. Actually the allure of this "machine" especially when used for recreational activity is growing.
Simply speaking – motorcycle is part of the colorful legend however theses days "mixed" with new opportunities and needs.
Vacationing in nature opens the need for motorcycle campers – a sort of substitute for the "little home" that can be hauled behind to almost any place in the world regardless how far from civilization.
Indeed the motorcycle camper trailer is a double winner.
Firstly it is your cargo space that you need anyhow when going for even for just the weekend trip to wilderness. But it is also a great way to enhance your camping experience by simplifying the tent "set-up" process, making it more comfortable, less prone to rainy weather and more "personal"…..
Although these days the market of motorcycle camper trailers is still "overshadowed" by much bigger camper trailers designed for cars and pick-up tracks. Although the later are much more "visible" (due to their sometimes impressive sizes and much more publicity), the "little" motorcycle campers are gaining more and more visibility and interest.
And frankly, despite their understandable size and weight limitations, the new designs of motorcycle campers available these days on the market can surprise many with sleeping and living space, comfort, offered features and equally important – storage space for all kind of "stuff" you may need when camping. The modern designs will make you quickly forget the "old way" camping experience, finding the right spot for tent, struggling to set it up, find poles, sleeping bag, pump the mattress (especially in the darkness of the late evening, or in rainy weather…)… Mornings are even more rewarding – not only because it will take you much less time to fold it down and pack. It is also because sleeping on a full size bed or having morning coffee comfortably sitting in a chair (attached to the hard roof-top of your motorcycle camper when travelling) "moves" your camping experience to much higher level…..
Fortunately there are several manufacturers of motorcycle campers – and quite good choice of models. You may not see them on the first pages or in prime time news, but with a little patience you can find them online.
The leading manufactures of motorcycle campers include Roadman Campers, Nuko Industries (Aspen models - Ambassador, Classic, Sentry), Lees-ure Lite, Kompact Kamp and Time-Out Trailers (to name only few). It is worth to note that there are few Australian manufacturers confirming that motorcycle camping activity is very popular in Antipodes.
It may be surprising to motorcycles aficionados that well designed models offer lot of "bangs given so limited space". Typically you may expect the following:
Fully padded sleeping area with full size bed;
Bed convertible to sitting place;
Dressing area with enough of room to stand up;
Hard top with luggage rack;
Independent cargo space ("basement" under the mainframe);
Few minutes set-up time
And amazingly you will find all that in lightweight and small size construction.
Following is the list of available models from leading manufacturers with short description.
Roadman Camper
Motorcycle-campers: Roadman Campers can be pulled with a motorcycle or small car....
The Motorcycle Campers by Roadman include model RC-038 and RC-2T. (Roadman also manufactures cargo trailers RT-038 and RT-2T – based on the same frames but not equipped with tents + accessories).
With only 38" wide body they all can be safely pulled behind the motorcycle. With folded tent and accessories they still offer an extra 15 cubic feet of storage space plus extra cargo place on the luggage rack.
The tent setup is quite simple (no ropes, bolts to insert etc…just opening the trailer cover lid, folding legs, setting poles, removing bed platform, ….), it should take no more than few minutes for one person.The tent is made from waterproof and flame retardant canvas with heavy duty zippers. When opened it provides 50" x 76" sleeping area (you need your air mattress (es)) and 50"x42" head-room dressing area with waterproof floor. The later has enough of space to be used as a small "breakfast room" (you need chairs and table)
Specifications:

Weight - 225 lbs
GVWR – 500 lbs (maximum weight when loaded)
Size – 38" (W) x 62" (L) x 19" (H)
All aluminum body and frame
Four drop-down adjustable jacks at each corner of the frame
15 cubic feet of storage space
Luggage rack – 36" x 24" x 2 ¾"
www.roadmancampers.com
See more details at: --> Roadman Camper trailer
---
Kompact Kamp Mini-Mate
Mini-Mate pop-up camper
2 minute set-up of the Kompact Kamp Mini-Mate motorcycle camping trailer.

This small company from Myerstown (PA) specializes in production of motorcycle camper trailers and cargo trailers. Their most popular model is Mini-Mate:
Specifications

Weight 265 lbs
Travel Size 42" x 60"
Double Bed 4,5' x 6.5' (with 6'4" headroom)
Extra storage 15 cubic feet
Cargo capacity 250 lbs
Body fiberglass
---
---
The bed is fully padded, it easily converts to the sitting area with 6'4" headroom.The hard-top cover includes the luggage rack for bulky stuff (folding chairs,, camping table etc…). Four jack-stands at each corner help stabilizing the camper in unfolded configuration.Optional awning extends the "sun/rain protected" area.

see details at: --> Mini-Mate pop-up camper
Time-Out Camper
Time-Out Camper: ready to go (above) and interior after setting-it-up (below)
Timeout Trailers' series of motorcycle campers includes:
Time-Out Camper
Its the best compromise between size, weight, space and cost. The model offers one of the largest "off-ground" sleeping and living areas in this class of campers....
See details at: --> Time-Out Motorcycle Camper

Slipstream Camper

It is probably one of the most compact camper trailers ready to use in just 30 seconds. Just lift the lid, snap stands and the tent opens itself. Included high density foam mattress (6' x 3,5') guarantees sleeping comfort. Lightweight (270 lbs with dimensions 74"W x 44"W) it also offers 24 cubic feet of extra cargo space.
The downside – it provides only the modest sleeping area. The luggage rack is optional, but strongly suggested to increase the cargo space.
Time-Out Easy Camper Trailer

As the name points it out the camper trailer is easy to set-up. Lightweight (310 lbs with towing dimensions 65"L x 43"W x 31"H) – it is designed for any motorcycle above 1000cc. The basic features are relatively modest (includes the double Coleman air mattress), but the list of options is offers chance to customize the camper trailer according to customer's needs (for example cooler package, screen room, awning, chairs, LED bar, electric brakes, spare tire etc…).It offers 16 cubic feet of storage space.
Time-Out Delux Camper

It weights 385 lbs. Despite its name Delux its basic version is only modestly equipped following Time-Out's general philosophy – limited standard features and long list of options. It includes queen size Coleman air mattress, table, chairs and offers 23 cubic feet of extra storage space….Available options: cooler package, screen room, L-shaped awning, chairs, LED light bar, A/C stand, spare tire, electric brakes and more…..
Options also include the wiring for either Harley Davidson or Honda motorcycles.
All Time-Out motorcycle campers come with 1 year warranty on trailer and 5 years on suspension.
---
Lees-ure Lite: Excel
Lees-ure Lite: Model Excel
     Lees-ure Lite is a Canadian RV manufacturer located in BC. They are  in RV business for 25 years and currently have two models of motorcycle campers: Original (smaller) and Excel (wider).

Specifications:

Weight – 255 lbs
Size – 54" x 66" (length 11 ft when open)
Bed size – 54" x 81"
Internal storage – 30 cubic feet
Dressing area head-room 6'4"
See details at: --> Lees-ure Lite Excel bike camper
Roll-a-Home campers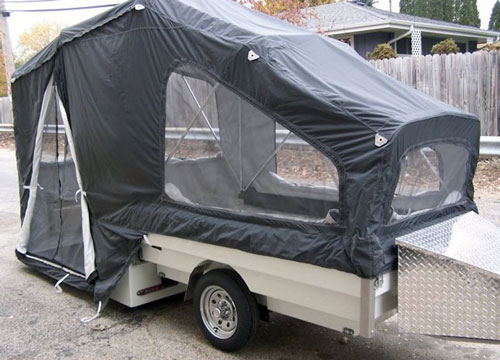 Standard (narrow-body) Roll-a-Home camper:
above: fully set-up
Below: easy access to the independent storage box when folded.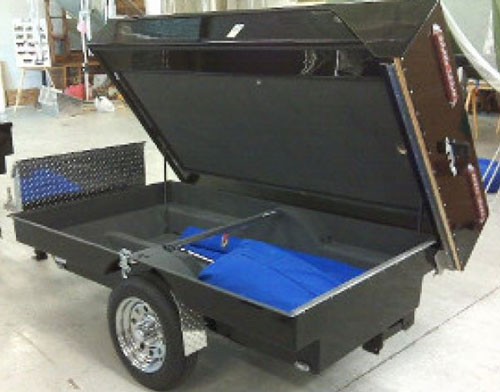 Roll-a-Home is a small, family operated business founded by Billy and Sheila Betche. The company offers two models of motorcycle campers: Standard (with bed dimensions of 47" x 78") and the Wide-bed model with the slide-out section of the bed (with bed dimensions 71" x 78").
The independent trailer's storage box located under the tent-housing box is another unique part of the design.  But like always in life, nothing comes free, so in the case of wide-bed Roll-a-Home camper the price comes as more complex set-up time and few tend of more pounds of weight. 
See details by selecting: --> Roll-a-Home motorcycle campers
Evo-Pod "Pocket-Camper"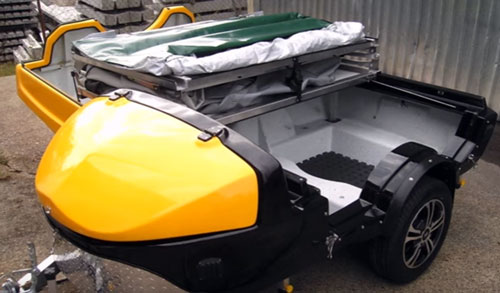 Evo-Pod motorcycle camper: Open lid exposes tent and bed hardware (still folded) as well as large trailer's storage space.
The yellow "Nose" covers the front bin able to hold 10 gallons large cooler.
Evo-Pod: Open tent while the optional external room is being attached
Evo-Pod is an Australian "pocket-camper". It's designed for towing by large motorcycles, tricycles, ATVs and small cars.
The best of it is very stylish, aerodynamic, molded-fiberglass design, and huge storage space available in all camper's configurations (folded and opened)....
The bed and tent's hardware can be quickly removed converting this camper into regular (although still very elegant) cargo trailer able to carry up to 220 lbs of load.
The bad news is - despite the fact that first units were manufactured back in 2007, it seems that till these days this beautiful motorcycle camper still did not gain the market's attention.... May be even the production was halted?
Nevertheless - it is still good idea to see what's going on in the world.
If you agree with me then go to: --> Evo Pod "Pocket Camper"
---
Motorcycle-campers: Nuko Industries (represented by Trailmaster)

This video shows the set-up procedures of the Aspen line of lightweight, pop-up campers (Aspen Sentry, Classic & Ambassador).
Manufacturer offers the series of Aspen motorcycle campers including three models – correspondingly: Sentry (subcompact), Classic (compact) and Ambassador (lightweight) tent trailers.
All models are built on 1" x 2" steel-box sealed frame with Torflex or Dexter suspension, four stabilizing jack-stands at each corner and fiberglass body. Bedroom platform is leveled by the telescopic "bed-to-ground" support; includes soft-foam mattress. There is an easy access to the cargo space in both – folded (travel) and set-up tent configurations. Tent urethane backed polyester fabrics is UV stabilized for better weather resistance.
Front Cooler Racks are designed for Igloo's Marine coolers. Manufacturer provides also the long list of options that can be purchased individually according to needs. Specifications:
Sentry

Size 46"W x 60"L x 36'H
Bed 60" x 90"
Cargo 22 cubic feet
Front room 25 sq. ft
Classic

Size (6' x 13'5' in open position)
Bed 45 sq. ft
Cargo 22 cubic feet
Front room 36 sq. ft (3" above the ground level protects from rainy weather)
Ceiling 7'6" in height at the center

The Classic model has an internal AC duct/tube with an external access panel for an optional portable AC unit. Also optional are a free-standing 9' x 9' "Clubhouse" and semi-attached to the main tent 5' x 6' sun/screen room.

Ambassador

Size 46"W x 60"L x 36'H
Bed two standard 45" x 78" beds with optional Queen extension (2" mattress included)
Cargo 28 cubic feet
Bedroom aisle 24 sq. ft (6'8" ceiling height)
Two bed-boards slide out on each side of the camper leaving the spacious center aisle with enough of room for dressing as well as small breakfast table.

---
---
If you found here something interesting, please share your experience with friends
:-)
 About Us / Privacy Policy / Resources
Go from Motorcycle Campers to Pop Up Campers Trailer Home
Used Motorcycle Camper Trailer for Sale / Motorcycle Pop Up Camper /  Pull Behind Motorcycle Trailers /  Camping Equipment for Motorcycle /  Kwik Kamp Motorcycle Camping Trailers / Motorcycle Camping Checklist / Motorcycle Camping Gear / Motorcycle Camping Made Easy /  Used Motorcycle Camping Trailers / Motorcycle Tent Trailers for Sale