Innovative Travel Trailers
"Out-of-the-Box" Concepts
New designs of folding, collapsible or expanding travel trailers present innovative ideas eliminating the problems of traditional tent pop-up campers....
      Today many of us are living in the World of Excess (we not necessarily have chance to be part of it, but certainly all of us can see and/or feel it). 

In the RV-ing world it means big, residential-like rigs with all kind of bells and whistles. And this RV lavishness leads to another one – a need for heavy-duty trucks (or motor-homes) being able to tow these "monsters". Well, to be well understood – there is not much wrong with high-end RVs. The only problem is that if we want to make RV-ing affordable for majority of population then RVs themselves must be affordable, towable by cars we already own and easy to store for "out-of-season" in as little space as possible.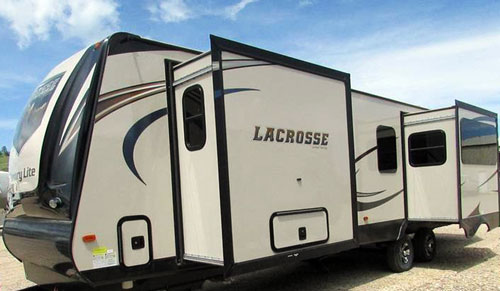 Prime Time RVs: LaCrosse model 337RKT is a real "King of the Road" and certainly with all its lavishness and beauty it does not loose its Royal Glory when on the campground! It's rather opposite as it really is an example of a "Home-away-from-home" However can you imagine what "car" you will need to safely tow it?
       Well, the concept of folding/collapsible campers expresses the wish to meet two contradictory requirements. On one side there is a need to minimize the camper's size for travel and storage while on the other side there is a growing "appetite" for more spacious and comfortable interior designed for family camping (typically 2+2). For long years, tent pop-up campers represented the most popular solution to these contradictory requirements. But recently this class of RVs seems to be losing its appeal and it is for good reasons: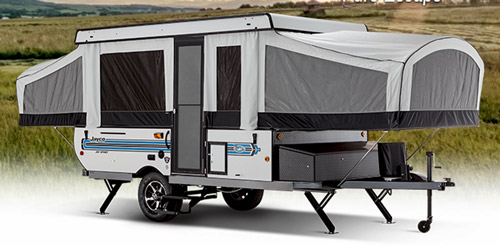 Modern Jayco Sport tent pop-up camper has it all. It's beautiful, it nicely "blends" with the Mother Nature, yet by "definition" it simply cannot meet requirements listed below:
Vulnerability to weather 
      Rain is an obvious problem, but high and low ambient temperatures and difficulties with cooling/heating due to lack of insulation also make the list of weather-related "inconveniences"
Durability of canvas
      They are prone to mold and "Wear & Tear" process – both undeniably shortening camper's lifetime. While nothing lasts forever the fact is that these days the lifetime of modern all-fiberglass campers is almost unlimited (no rot, mold, leaks and structural deterioration…)
Complexity and time consuming of setting-up/folding down process
     While in some circumstances setting-up the tent camper can be fun, in general, especially late evening or in bad weather conditions (rain, wind), it can be a nightmare. Not even mentioning that the process always takes time.
Maintenance
     Think about folding down the tent pop-up camper in a rainy day! The next necessary step is to open it back on a warm, sunny day to dry wet canvas. And in-between, you may have to pray for sun to come sooner rather than later. Not mentioning difficulties to clean canvas from stains and grease (especially near the stove), or "accidentally" touching wet canvas from the inside when rains pours outside….
Summarizing: the tent-walled campers may still sound attractive for lovers of tent camping, for enthusiasts of "sleeping under the starry sky". However for most of us, more and more "spoiled" and in need of comfort, pop-up tent campers are not the dream solution. The answer must come from the world of "hard-side" campers.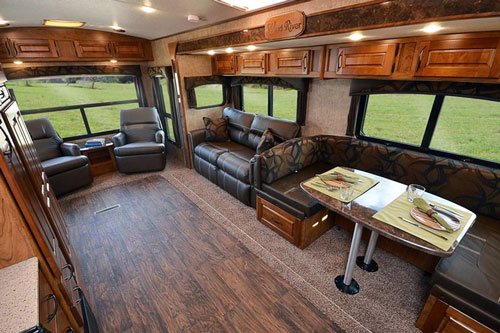 Wind River 280RLS: Large slide-out needs large empty space. Yes, it makes this RV roomy, spacious, a real "Home-away-from-home", but the price to pay for it is steep!
Slide-outs
     The popular slide-outs definitely expand the living area, but they also need an empty space to slide-back. For this reason, they are mostly used in larger (and more expensive) RVs. The --> Gidget Brumby Teardrop Trailer is a surprising exception. And this is also the main reason why slide-outs are rarely (if at all) used in folding campers (Let's not confuse slide-out modules with pull-out end beds typical in tent and hybrid campers).
Chalet LTW A-Frame camper is a great and very economic solution for two persons, but forget about the family of four (2 + 2 kids)...
A-Frame campers
      A-Frame travel trailers were designed with the aim to eliminate most of the "troubles" related to tent pop-up campers. Indeed, they have low, aerodynamic profile in travel configuration, they are easy to store in the typical garage, they can be set-up/fold-down quickly and most importantly – thanks to hard walls they are weather "immune". But they have one major limitation compared to tent travel trailers and it is the living space. Basically they are designed for only two people (eventually 2+1 child) – far from sleeping capacity of tent pop-up campers (typically 6, but is some cases even up to 10 people). Recent introduction of collapsible hard-wall "Attic" into the A-Frame design (example --> Aliner LXE) significantly improves the interior headroom but does not change the fundamental fact – the sleeping capacity. 
     No wonder that over the years we were seeing numerous attempts to find technically and commercially viable solution "reconciling" several contradictory requirements we expect from the "Dream Camper". And these are: 
Low profile when on the road and storage
Comfortable living space and conditions for the family of at least four when on the campground 
Some "out-of-grid" autonomy (these days roads "less travelled" are gaining popularity)
Towability by popular SUVs, minivans (and possibly larger family cars). This also includes requirement for low weight (lite), aerodynamic profile and fuel efficiency
Affordable cost.
       Below we present selected existing solutions. Some of them never gained widespread popularity, some are too new to jump to conclusions but certainly all of them show human ingenuity and "out-of-the-box" thinking!

sCarabane Travel Trailer
          On the road the sCarabane looks "boxy" and quite uninspiring. By European standards with its length of 25.5 ft (7.8m) and dry weight of about 5,500 lbs (2,500kg) it is relatively "massive" (on US roads it will be considered as a medium-size model).

sCarabane is an energy self-sufficient, high-tech travel trailer
       This picture dramatically changes once the sCarabane starts unfolding. Slowly but surely (full set-up may take up to 30 minutes) the segments of sCarabane in a step-by-step process fold-down, flip-up, pop-up or swing-out converting an otherwise unimposing and almost windowless "wheeled box" into a large, bright open space.  It includes two bedrooms, large kitchen, spacious dinette (convertible to extra sleeping space for 2), bath (w/shower and sink), separate toilet and an almost 140 square feet deck with retractable awning. Well, it's a tiny but well-furnished house on wheels.  
      The spacious (70 sq.ft) kitchen is equipped with 3-burner gas stove, dishwasher (yes , you read it correctly), large fridge and freezer, microwave, sink with single-lever faucet and hot/cold water, storage cabinets, shelves and a lot of countertops providing working space. The large window, opening on the deck with sort of "mini-bar-extension".....
For details go to: --> sCarabane Futuristic Travel Trailer
BeauEr 3X Travel Trailer
Let's see the "magic", It's amazing :-) 
         This truly innovative design was invented by Mr. Eric Beau and then built by his father Pierre (both French enthusiasts of RV-ing).  It consists of the central module where all bulky and heavy features are located and two sliding-out "telescopic" modules (one on each side of the central one) containing sleeping and living areas. Once fully opened, the camper triples its usable area (from 43 sq.ft/4m2 when closed to 129 sq.ft/12m2 when opened) hence its name BeauEr 3X reflecting both – inventor's name and properties. ....
See details at: ---> BauEr 3X Telescopic Travel Trailer
TrailManor Travel Trailer
Another "Out-of-the-box" invention - TrailManor. Isn't it amazing?
       The TrailManor travel trailers consist of bottom half-shell and two upper half-shells. When collapsed (travel configuration) they all overlap together forming one low profile box. During the set-up process both upper shells are lifted-up (like in classical Hi-Lo camper), however at the same time in contrast with the latter they are also shifted lengthwise toward the ends of the bottom shell.
In fact, TrailManor travel trailers do not really belong to the class of folding RVs like for example A-Frame or traditional tent pop-up campers. Some (including the manufacturer) call them Rise Travel Trailers, or "Collapsible" campers, but it seems to me that more accurate name will be Retracting campers (although technically it describes reverse-sense operation).  To make things even more complex, some TrailManor floor-plans include slide-outs....

See details at: --> TrailManor Travel Trailers
Hi-Lo Travel Trailers
Sadly, Hi-Lo concept somehow did not get "traction" among RV-ers. May be the new "incarnation" of these campers by Kerola Group will change perception?
     The whole idea of Hi-Lo trailers was based on a concept of moving up (and down) the whole upper shell thanks to the hydraulic lift system (hence the name Hi-Lo). In more descriptive words, the upper shell fits over the bottom one when on the road and slides up (during the set-up operation) or down (during folding operation) thanks to the telescoping system.
     The campers gained some popularity among RV-ers, but at the end, these relatively "heavy" designs  lost their competitiveness to modern "lightweight" travel trailers and newer collapsible hard-side A-Frame designs. 

    Well, "things" rapidly changed when in 2014, Mr. W. Kerola (President of the Kerola Group) acquired Hi-Lo's design, IP and trademark from Mr. Snyders family. With Mr. Kerola's financial resources, energy and vision, the new, modern version of Hi-Lo trailers is about to enter the RV market, bringing back to life the iconic retro design.....
See details at: --> Kerola Hi-Lo Travel Trailers
---
If you found here something interesting, please share your experience with friends
:-)