Rove-Lite 14FL Travel Trailer Ultra-lite RVs
Rove-Lite 14FL Travel Trailer is one of the best designs in its class. Truly ultra-lite, spacious, well-equipped, and affordable, it can be towed by most SUVs,
          Travel Lite RV (Syracuse, Indiana) was founded in 1998 by Larry P. Johns. Initially, the company was designing only truck campers, however, in 2011 they expanded the business into travel trailers. These days, Travel Lite still offers well-known Truck Campers, but it's also gaining recognition for the series of Rove-Lite Travel Trailers, and the new addition – Rove-Sur Toy Hauler.
Rove-Lite 14FL (above) and its floorplan (below)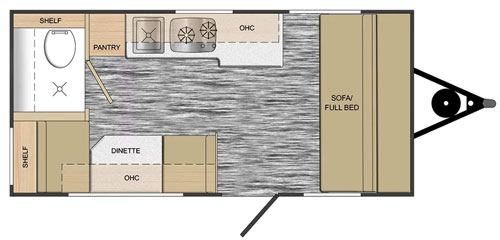 Of these, for the presentation we selected the model Rove-Lite 14FL (the series includes also models 14BH, 14FD, and 16RB where numbers 14 and 16 approximately reflect the shell's length while letters – corresponding layouts). Following this scheme, "FL" means "Front Lounge", and correspondingly BH (Bunkhouse,) RB (Rear Bath), and FD (Front Dinette).
The company's name "Travel Lite" wasn't chosen arbitrarily. Just the contrary – it sends a strong message reflecting the company's efforts to design RV models meeting incessantly growing modern-day expectations, of which the most important are:

Ultra-lite weight
Decent interior space, headroom and amenities
Longevity
And all that at a reasonable cost to make them available to wider groups of RV-ers.

          The trailer's weight is an important factor in determining if our vehicle (be it Family Car, SUV, Pickup-truck, Jeep etc) will be able to safely tow it. Given this fact, many RV-ers are forced to choose one from a large selection of traditional teardrop trailers. But by doing so, typically, they are buying a 1,000+ lbs heavy "double bed on wheels" with a rear outdoor kitchen.
The company Travel Lite was aiming at more than just that, recognizing the importance of:

Spacious interior with a headroom allowing you to freely move inside (instead of "crawling in/out from traditional teardrops)
Layout, and standard features offering comfortable living conditions, regardless of the weather (in traditional teardrops, all by sleeping happens outdoors)
Options allowing you to meet your personal requirements (campground, off-road, off-grid, etc..)
I guess, now it's clear that the "Weight" cannot be regarded ONLY as an absolute value, but rather as how many "Bangs" you get for "pounds" of the dry weight!

14FL: Construction
         The whole structure of the Rove-Lite 14FT trailer is made from a combination of aluminum, composite materials, and fiberglass.
The frame (chassis) is made from aluminum (all parts are fully welded). It's more expensive than steel, however, sheds a lot of pounds from the overall weight of the trailer (not to mention that it's also solving the problem of rust and corrosion).
Shell's side walls are made from Azdel. As a sign of time (and modernity), these composite panels replaced traditional lauan plywood in the construction of RV shells. To increase the strength, composite walls are reinforced with aluminum (along the peripheries, door as well as across the wall).
14FL: Shell's structure
             The layer of thermal insulation is made from a new generation of so-called "Hydro-Lite" materials. Such block-foam insulation is more hydrophobic (water-repellant) than traditional "closed-cell" composites (hence the name). Hydro-Lite materials also have lower density compared to traditional insulations, so they fit well into the general concept of "Travelling Lite".
Not surprisingly, the floor is also made from a composite material. However, in contrast to typical solutions in the RV industry, the floor has a honeycomb structure. It makes it more stable, preventing the tendency to warp with time.
            The roof is made from a flexible fiberglass panel. But once again, thanks to good engineering practice, the roof is made as a one-piece from the hitch (front side) to the bumper (rear side). In other words, one seamless surface with no joints (As Murphy's Law says: "All sealed junctions leak").
The roof, walls, and floor are gel-coated (adding additional protection against water, UV, and to some extent – occasional scratches).
                   Following the concept of "Travelling Lite" obliges, so Rove-Lite travel trailers are also "lite" on screws. It may be hard to believe, but the side walls, roof, and floor are all glued together using a waterproof, highly adhesive, and elastic sealant - Sikaflex. It's so strong, that even the shell itself (floor) is glued to the aluminum chassis! And the design with no screws also means no "holes" and so no leaks!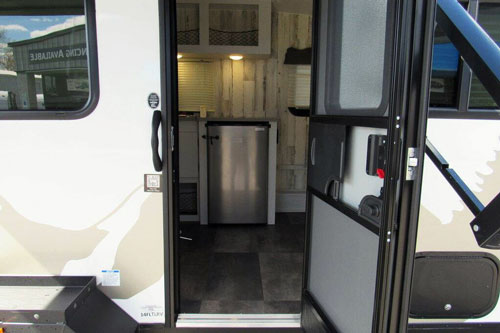 Rove-Lite 14FL: Entrance door
Summarizing – the whole shell (exterior structure) does not contain wood, so we can expect that rot and mold should be rather part of bad memories from the past.
Well, not fully. The manufacturer uses wood for the construction of one interior wall and kitchen cabinets. And the reason is purely technical: Azdel panels do not securely retain screws, so such connections are not very reliable (especially when exposed to road-induced vibrations). As a result – it is preferable to attach monitors, switches, control panels, (and similar components) to wooden surfaces

14FL: Standard Features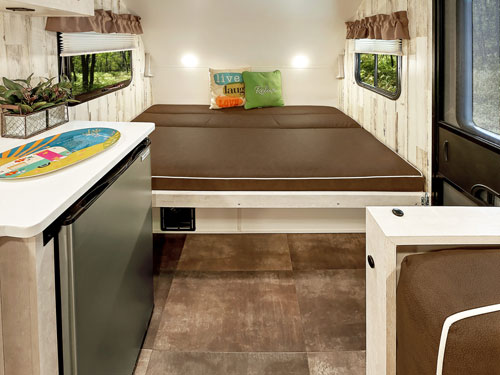 Rove-Lite 14FL: Front sofa converted to a double-bed
          For obvious reasons, with the cabin's footprint of just 14' x 6'2" ft it will be hard to call the model 14FL "Home away from home". However, thanks to decent headroom (about 6ft across almost full length) and well-thought design, even the surface of just 86 sq ft can create a comfortable on-the-road experience.
The front sofa with soft cushions looks inviting. Thanks to the location next to the entrance door, it can be used for resting without the need to walk deeply inside the cabin. For a night, it opens to the double-size bed (54" x 74"). Two sliding side windows with valances, shades, and insect nets allow for privacy and fresh air.
The kitchen is located across the door on the left (trailer's roadside). It houses a single-bowl, stainless-steel sink with a high-rise faucet, and a 2-burner propane cooktop (both flush-mounted). The section of the countertop covering the 12Vdc, 3.3 cu. ft fridge w/freezer offers a large working area. The main cabinets, floor-to-ceiling pantry, and 2 overhead cabinets above, seem to provide decent storage space, while the window – much appreciated daily light.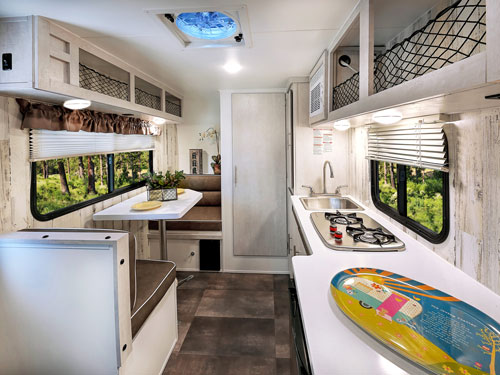 Rove-Lite 14FL: View on the rear side (kitchen, dinette and bath)
Rove-Lite 14FL: dinette converted to a single bed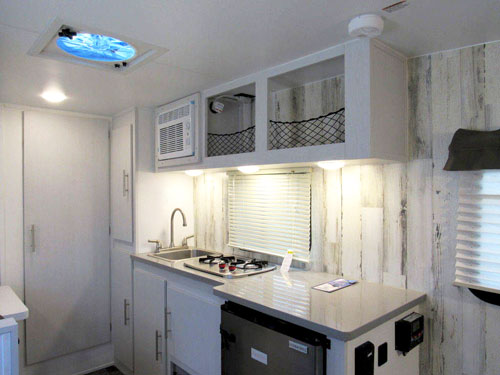 Rove-Lite 14FL:  Galley
          The dinette is located on the opposite side of the galley. Two seats are somehow short of expectations (the model 14FL can sleep 3 persons, assuming the dinette is folded down to create a single 24" x 70" bed for a kid). On the positive side – the dinette table is easily removable and thanks to its tripod, it can be used outdoors under the "umbrella of an impressive power awning (Solera).
The nice accent makes a large, sliding window, visually "opening" the small dinette area into the outdoors!
          Three overhead cabinets above the dinette offer more storage space. It's worth noting that all 5 overhead cabinets do not have doors (the stored "stuff" is protected by stretching nets). While at first, it may sound strange, the main reason behind that is the idea of "Travelling-Lite"!
I think it's fair to say that the model 14FL does not have too much "built-in" storage space. You can count on three overhead cabinets, the dinette's under-the-seat storage, and partially the pantry-style cabinet (assuming that the kitchen's main and overhead cabinets, as well as partially the pantry will be dedicated to kitchen needs). Yes, there is an external front storage area, quite spacious, however:

By definition, it shouldn't be used for personal stuff but rather for camping gear, tools, etc
The storage has only one-side access (instead of "Pass-through"), which certainly in the case of small items will cause "handling problems."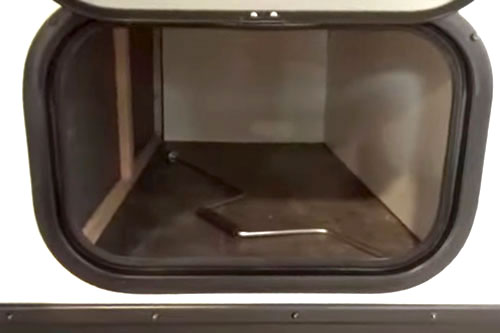 Rove-Lite 14FL:  Exterior storage
 For some, all that may still look pretty much "as expected" for this size travel trailer. Well, not really, because it comes with:

Wet bath (located on the rear roadside). It's quite sizeable, with a door (but also as double protection) with an interior curtain. It's equipped with a water-flushed toilet, hot/cold shower, shelves for toiletry and ceiling-mounted power fan evacuating vapor and in general – humidity).
5,000 BTUs AC unit (running on shore power). Interestingly, it is wall-mounted and fully integrated into kitchen's upper cabinetry, so invisible (if we do not count the venting grids on the exterior wall and interior cabinet).
The AC location (wall, instead of the ceiling) reflects efforts to protect as much as possible the "seamlessness" of the roof. While the roof already holds cutouts for Max and Bath Fans, potentially, any extra opening (especially for rather heavier AC) may lead to water leaks!
           The truth is - taking into account the size of the 14FL trailer and its standard features including the bath, toilet, and AC unit, the dry weight of just 1,860 lbs, really qualifies this design to the category of Ultra-Lite models.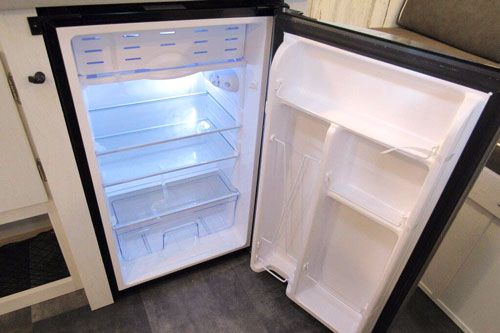 Rove-Lite 14FL: 3.3 cu. ft 12V Refrigerator w/Freezer
Source: CarTruckTrader (Rapid City SD)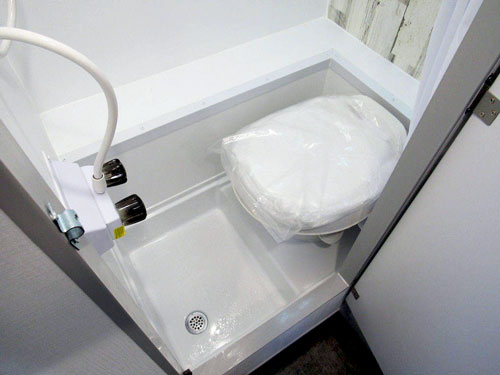 Rove-Lite 14FL: Wet Bath
Miscellaneous
           Just for the records, the trailer comes with a water pump, on-demand Water Heater (propane), 20lbs LPG tank, and a battery (the latter is optional, but it has its dedicated place on the tongue). The electrical installation includes 110Vac outlets and UBC ports, LED lights (interior, porch, and trailer roads lights, and a basic Control & Monitoring system (tank levels, battery level, switches, thermostat, as well as Battery Disconnect Switch, and Fuse Panel.
The entertainment system includes a standard AM/FM system with interior and exterior speakers (TV screen is optional).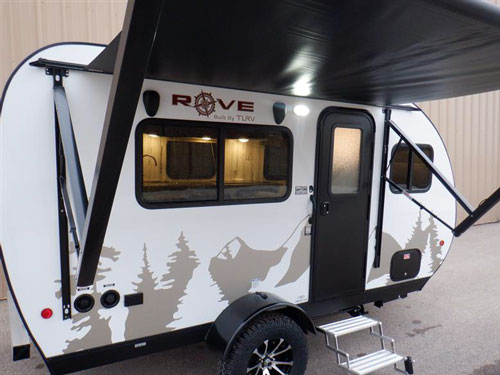 14FL: The 110" long Solera power awning (12Vdc)
Source: CarTruckTrader (Rapid City SD)
Towing
       Thanks to Ultra-Lite design, the 14FL can be towed by most SUVs, larger family sedans, and almost all pickup trucks.
As we know, by definition, the Teardrop's shape has a good aerodynamic profile, minimizing the "frictional drag" on highways. But in the case of 14FL, there is one more positive factor: the 14FL' shell's width is just 78" compared to trailers widths of up to 8 ft (96"). As a result, you can expect that the fuel efficiency of the towing car wouldn't be significantly affected.
For additional towing security, the 14FL comes with a standard Tuson Sway Control (see details below in the Specs Section)


Rove-Lite 14FL: Combination of Teardrop's Aerodynamic with ultra-lite weight promises fuel efficiency  
All-Electric Version: 14FLEV
Rove-Lite 14FLEV:  Power Package 
       We selected the model 14FT, because it's the only trailer from the Rove-Lite series, that comes in an Off-Road as well as All-Electric version: 14FLEV (both versions share the basic 14FL floorplan).

The Off-road capability is an option offered as a package including larger, 15" wheels w/AT tires (compared to standard 13" wheels w/regular tires), suspension raised by 6" (for better ground clearance), double entrance step, heavy-duty fenders, and spare tire w/carrier.
However, off-road implies also days out-of-grid, and so the All-Electric version 14FLEV is basically addressing the need for longer energy autonomy. And here, the manufacturer made quite a courageous decision by getting rid of LPG tank and propane-run appliances (cooktop, water heater, and furnace) and substituting them with electrical ones. As a result, the kitchen is equipped with a 2-burner induction cooktop (True Induction). More innovative is the air heater - the 20k BTUs furnace was replaced by a much more "elegant", 4,7k BTUs, All-LED Fireplace. Due to its dual mode of operation ("visual effects" without heat, or visual effects with heating), it is a nice addition to the overall interior ambiance.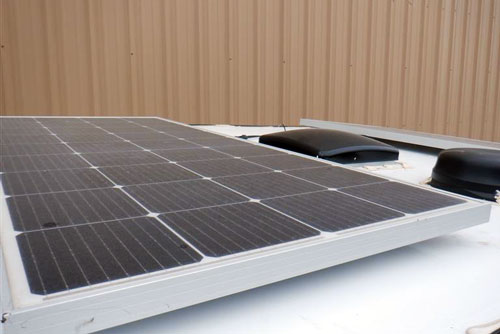 Rove-Lite 14FLEV: two x 200W roof-mounted solar panels
Source: CarTruckTrader (Rapid City SD)
But that's not all – the electrical system is also designed to run the same 5k BTUs AC unit!
To make all of it possible, the 14FLEV is factory-equipped with:
2 x 200W roof-mounted monocrystalline solar panels with Rover 40A MPPT Controller
Optional portable 300W Solar Blanket with its own Rover 40A MPPT Controller
Bank of Lithium-Ion batteries (12V, 400 Ah) with a Monitor.
3 kW Renogy Inverter/Charge Controller
Obviously, it all comes at an extra $$ and space. While about money, you will have to talk to the manufacturer, the space assigned for all this equipment is "visible".
          The Fireplace is housed in the kitchen cabinet (just across the dinette), taking some of the "general use" storage space. The bank of batteries and Inverter is located under the bed. It's true that some under-the-bed space was re-gained (LPG Furnace was removed), but anyhow – the batteries, inverter, connection boxes, and cables take all available space. And due to heat dissipation when active (charging and discharging), the area can't be used for storing anything else (actually, needs good ventilation).
Rove-Lite 14FL: Greystone All-LED Fireplace
Source: CarTruckTrader (Rapid City SD)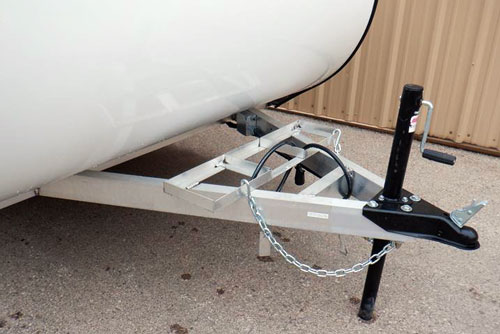 Rove-Lite 14FLEV: Tongue's area is free...
Source: CarTruckTrader (Rapid City SD)
On a positive note – as the tongue-mounted LPG tank and (optional) battery are now eliminated, you have an extra area for an optional bike rack and eventually a storage box etc…. The latter is not yet on the list of options provided by the manufacturer, but I'm sure sooner rather than later it will be available.
Continue  --> 14FL: Energy & Water Autonomy and Specs
---
Unless indicated otherwise, all pictures are curtesy of Travel Lite
Note:  Check with the manufacturer and / or authorized RV Dealer for the up-to-date list of features, options as well as latest specifications. These written above may not be accurate and certainly are subject to change by the factory. We are not responsible for any inaccuracy, the above text is provided only for the general information.
This review was written based on publicly available information for the benefits of the community of RV-ers. We do not receive any gratification or financial benefits from RV manufacturers, dealers, and any other promoters of RVs. 
We are NOT involved in sale and/or retail of RVs!