Review of Motorcycle Campers

Getting familiar with Motorcycle Campers may change your way of traveling forever...
        Let's continue the presentation of the top motorcycle campers available on the market from the --> PREVIOUS page.
---
Lees-ure Lite: Excel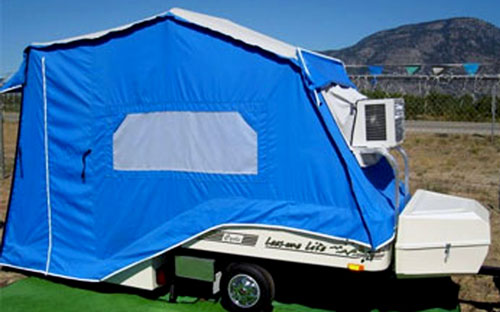 Lees-ure Lite: Model Excel
     Lees-ure Lite is a Canadian RV manufacturer located in BC. They are  in RV business for 25 years and currently have two models of motorcycle campers: Original (smaller) and Excel (wider).

Specifications:

Weight – 255 lbs
Size – 54" x 66" (length 11 ft when open)
Bed size – 54" x 81"
Internal storage – 30 cubic feet
Dressing area head-room 6'4"
See details at: --> Lees-ure Lite Excel bike camper
Roll-a-Home campers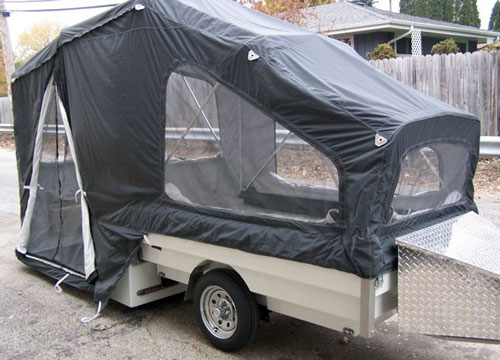 Standard (narrow-body) Roll-a-Home camper: fully set-up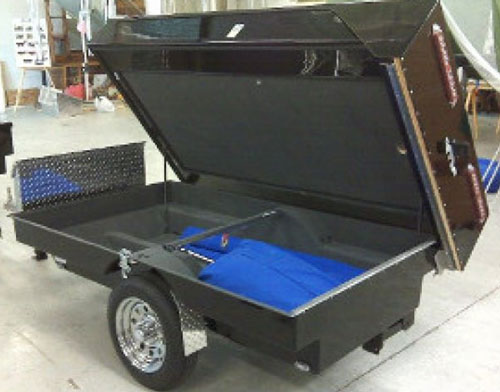 Here: an easy access to the independent storage box when folded.
        Roll-a-Home is a small, family-operated business founded by Billy and Sheila Betche. The company offers two models of motorcycle campers: Standard (with bed dimensions of 47" x 78") and a wide-bed model with a slide-out section of the bed (with bed dimensions 71" x 78").
         The independent trailer's storage box located under the tent-housing box is another unique part of the design. But like always in life, nothing comes for free, so in the case of a wide-bed Roll-a-Home camper, the price comes with a more complex set-up time and a few tens of more pounds of weight.
See details by selecting: --> Roll-a-Home motorcycle campers
Evo-Pod "Pocket-Camper"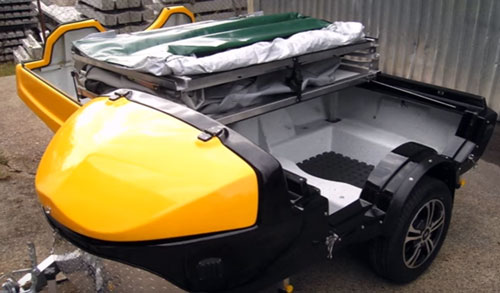 Evo-Pod motorcycle camper: Open lid exposes tent and bed hardware (still folded) as well as large trailer's storage space.
The yellow "Nose" covers the front bin able to hold 10 gallons large cooler.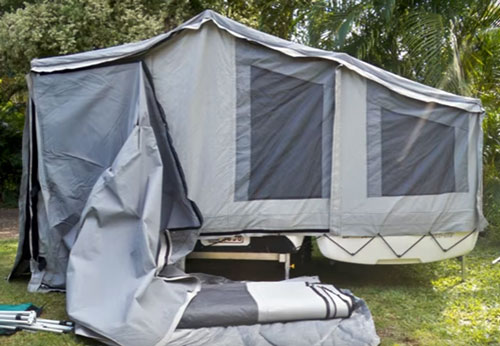 Evo-Pod: Open tent while the optional external room is being attached
       Evo-Pod is an Australian "pocket-camper". It's designed for towing by large motorcycles, tricycles, ATVs, and small cars.
The best of it is a very stylish, aerodynamic, molded-fiberglass design, and huge storage space available in all camper configurations (folded and opened).
The bed and tent's hardware can be quickly removed converting this camper into a regular (although still very elegant) cargo trailer able to carry up to 220 lbs of load.
The bad news is - even though the first units were manufactured back in 2007, it seems that till these days this beautiful motorcycle camper still did not gain the market's attention. Maybe even the production was halted?
Nevertheless - it is still a good idea to see what's going on in the world.
If you agree with me then go to: --> Evo Pod "Pocket Camper"

---
Roadster Camper
Australian-French Roadster Motorbike camper trailer
The Roadsters are a great example of the evolution of an Erde trailer. They are slightly modified and equipped with compact canvas roof-top-tent. The final product provides the best of "several worlds":

Easy to set up sleeping space (it takes mere 3 minutes to open the tent by flipping it out).
Large watertight cargo space with a capacity of over 600 lbs (12,4 cubic feet)
Designed for towing by larger motorcycles and tricycles (taller version can be towed by small 4-cylinder cars).
Affordable cost for "camping on the run" as well as multipurpose cargo trailer.....
See details at --> Roadster Motorcycle Campers
---
Motorcycle-campers: Nuko Industries (represented by Trailmaster)

This video shows the set-up procedures of the Aspen line of lightweight, pop-up campers (Aspen Sentry, Classic & Ambassador).
          The manufacturer offers the series of Aspen motorcycle campers including three models – correspondingly: Sentry (subcompact), Classic (compact), and Ambassador (lightweight) tent trailers.
All models are built on a 1" x 2" steel-box sealed frame with Torflex or Dexter suspension, four stabilizing jack-stands at each corner, and a fiberglass body. The bedroom platform is leveled by the telescopic "bed-to-ground" support; including a soft-foam mattress. There is easy access to the cargo space in both – folded (travel) and set-up tent configurations. Tent urethane-backed polyester fabrics is UV stabilized for better weather resistance.
Front Cooler Racks are designed for Igloo's Marine coolers. The manufacturer provides also a long list of options that can be purchased individually according to needs.
Specifications:
Sentry

Size 46"W x 60"L x 36'H
Bed 60" x 90"
Cargo 22 cubic feet
Front room 25 sq. ft
Classic

Size (6' x 13'5' in open position)
Bed 45 sq. ft
Cargo 22 cubic feet
Front room 36 sq. ft (3" above the ground level protects from rainy weather)
Ceiling 7'6" in height at the center

The Classic model has an internal AC duct/tube with an external access panel for an optional portable AC unit. Also optional are a free-standing 9' x 9' "Clubhouse" and semi-attached to the main tent 5' x 6' sun/screen room.

Ambassador

Size 46"W x 60"L x 36'H
Bed two standard 45" x 78" beds with optional Queen extension (2" mattress included)
Cargo 28 cubic feet
Bedroom aisle 24 sq. ft (6'8" ceiling height)
Two bed-boards slide out on each side of the camper leaving the spacious center aisle with enough room for dressing as well as a small breakfast table.

Go back to the previous page
--> Review of the Motorbike Campers  or to
Introduction to: --> Motorbike Tow-Behind Trailers 

---
Note:  Check with the manufacturer and / or authorized RV Dealer for the up-to-date list of features, options as well as latest specifications. These written above may not be accurate and certainly are subject to change by the factory. We are not responsible for any inaccuracy, the above text is provided only for the general information.
This review was written based on publicly available information for the benefits of the community of RV-ers. We do not receive any gratification or financial benefits from RV manufacturers, dealers, and any other promoters of RVs. 
We are NOT involved in sale and/or retail of RVs!
 About Us / Privacy Policy / Resources
Go from Motorcycle Campers to Pop Up Campers Trailer Home
Used Motorcycle Camper Trailer for Sale / Motorcycle Pop Up Camper /  Pull Behind Motorcycle Trailers /  Camping Equipment for Motorcycle /  Kwik Kamp Motorcycle Camping Trailers / Motorcycle Camping Checklist / Motorcycle Camping Gear / Motorcycle Camping Made Easy /  Used Motorcycle Camping Trailers / Motorcycle Tent Trailers for Sale