Roadman Campers
Motorcycle micro campers
Roadman Camper is a lite, dual use motorcycle trailer with great cargo capacity, sleeping place for 2, dressing room and plenty of options…. 
        The Roadman Campers is a small family business founded by Bryan and Juanita Nelson in 2005.

After taking retirement from his regular business, Bryan (otherwise long time motorcycle rider) built his motorcycle camper and "hit the road". Well, this experience combined with entrepreneurship mentality and "fix-it" approach convinced him to "cash" on his passion for motor-biking. The rest is the history named Roadman Campers. 
The company operating from Saginaw (Minnesota) makes lightweight motorcycle camper trailers (RC model) and cargo trailers (AS model).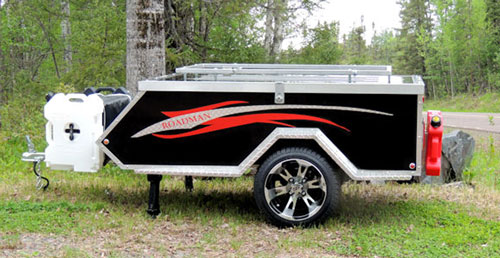 Roadman Camper trailer - here with optional tanks and Coleman cooler.
      The Roadman Camper is company's flagship  product.  It is 38 inches wide, matching the standard width of most motorcycle handlebars (result is obvious – no "brainer" when it comes to towing).  But this is just the starting point. Probably the most appreciated characteristics of this trailer are:
 It is designed to sleep two adult persons.
 It is designed as a dual use trailer – in other words it can be used either as a camper or a cargo trailer.
      Ability to sleep two persons is an obvious advantage (although not that easy to find on the market of motorcycle campers). And even more – while the standard tent version is designed for full size bed (50" x 76"), the company also offers more comfortable one with queen-size bed platform (60"x76").  
The extra bonus (rarely seen in this kind of camper trailers) is the tent's vestibule. It makes an integral part of the tent space and frankly, it's hard to overestimate its practicality. With dimensions of 50" (60" for Queen-size) x 42" x 88" (height) the vestibule serves as the "dressing room" with adequate privacy.  The polyurethane floor with 6" band around provides full protection from water. Four large windows with adjustable zipped closures offer good ventilation, connection with nature but at the same time privacy (when needed).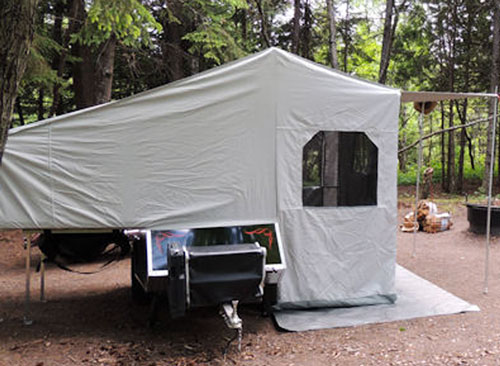 Roadman Camper in camping configuration with tent
     And one more level of security (or if you want of "peace of mind") - the tent is made by Canvas Replacement (Loyal, Wisconsin) – one of the most respected manufacturers of canvas for pop-up campers. 
When on the road, the tent and corresponding hardware (pols, ropes, stakes) is stored in the trailer. It takes about 4 cubic feet out of available 19 cubic feet.  However when you decide to use the camper just as the cargo trailer, the full storage is available form "stuff". That is the beauty of the design – dual use, depending on your needs. But this kind of universality does not come for free. The negative impact is that the tent does not have an "auto-setup" feature. In other words, instead of just "touching the button" and watch the tent popping-up, you will rather have to "unbutton" your shirt, roll-up sleeves and set it up by yourself. 
     The company claims that one you get familiar with the process you can do it is about 7 minutes. Well, as well all well know – there is no free lunch. It's always something for something. In this case the gain includes:
Dual use of the trailer - either camper or full-space (19 cu. ft) and full cargo capacity (275 lbs) trailer
The truth is that the auto-setup hardware takes storage space and adds extra weight decreasing space and cargo capacity available for your stuff in camper mode. It will also make the process of converting camper into cargo trailer more complicated (if not impossible).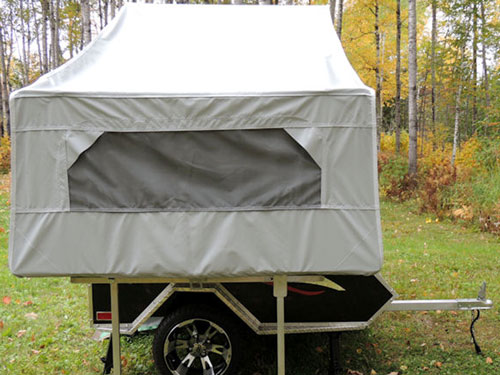 Here visible sleeping "quarters"
   Large set of options makes the Roadman Camper trailer even more universal. The company offers set of 2-gallons tanks for water, fuel and tools. Thanks to distinctive colors (correspondingly white, red and black) their functionality never raises any doubt. They can be mounted either in front of the trailer or on its read end. 
Very practical addition is the Coleman cooler (w/cover). Similarly as the tanks, it does not take any storage space as it is mounted on the tongue.
   The top rack (standard feature) can be used for carrying an extra load (optional waterproof bag). But some may opt for using the space for carrying 2 bikes and a kayak. The last one requires trailer with longer tongue (feature offered by Roadman Campers).
Another recently available and very useful feature is the optional generator w/mounting hardware. Together with fuel tank it can offer much needed electrical energy when in the middle of nowhere.
If needed you may also chose to carry the spare wheel (mounted under the tongue). BTW – you can also opt for bigger wheels (14" instead of standard 12"). 
It's worth to mention that all these extras (tanks, cooler, spare tire, generator…) are attached to the trailer using custom hardware with no need for any hole(s). In other words the trailer's structure does not need any modifications and is kept intact.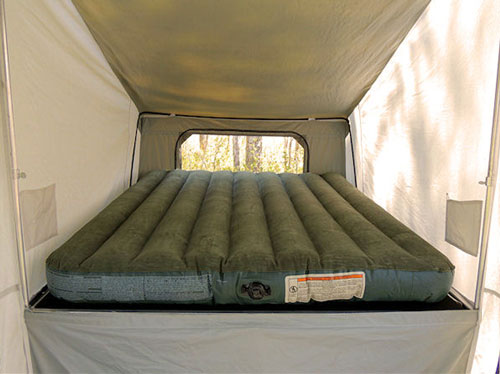 Interior vies - sleeping space with mattress
Specifications:
---
Overall length

Exterior body length

Exterior width

Overall trailer height

Exterior body height

Dry Weight

GAWR / GVWR

Tongue weight

Tent size

86" FS /96" QS

62" FS / 72" QS

38"

35"

19"

250 lbs  FS / 275 lbs QS

500 lbs

24 lbs

50" x 118" FS / 60" x 118" QS
FS – Full size bed platform
QS – Queen size bed platform
---
Construction:
Axle: single w/Torsion suspension
Frame: jig-welded tubular aluminum 
Body: all-Aluminum
Wheels: aluminum 215 x 35-12"
Fenders: Diamond Plate
Hitch: 1 7/8" ball
Canvas tent w/HD polyurethane dressing room floor w/6" borders around
Tent hardware: aluminum shock cord poles and adjustable steel awning poles
Standard interior features
Bed platform (60" x 76" Queen size) / (50" x 76" Full size or 50"x76" 2 single mattresses)
Dressing room 60" x 42" (Queen size) / 50" x 42" (Full size), Height 88"
2 inside pockets for glasses, wallet or small personal items
4 windows w/ adjustable zipped closures
Storage space (15 cu ft w/tent & pole bag and 19 cu. ft w/o tent & pole bag when used as the cargo trailer).
Standard exterior features:
HD, waterproof and fire retardant canvas tent
Aluminum tent hardware
Adjustable steel awning poles w/ropes and stakes
4 Prong electrical connector
Safety chain
Chrome LED lights
4 adjustable camper jacks
Aluminum luggage rack
Tent storage bag
Diamond Plate fenders
Roadman Camper - here with two bikes
Options / Upgrades:
14" (205 x 40-12) Brushed aluminum wheels w/chrome lugs
360 degrees swivel hitch
Hitch lock
2 gallons Water Pack (White) w/front or rear mount
2 gallons Fuel Pack (Red) w/front or rear mount
2 gallons Storage Pack-Tool Box (Black) w/front or rear mount
LED sight lights
Diamond Plate front rock guard and running boards
Tongue-mounted 28 qt Coleman cooler (11"x18"x14") w/vinyl cover
Low profile, all weather Cargo Rack Bag (39"L x 26"W x 11"H – 6.45 cu.ft capacity)
Spare wheel w/ under the tongue mounting bracket
License plate holder w/light 
Generator and mounting hardware
Let's see this remarkable "baby"
Summarizing – the Roadman Camper seems to make a good choice for most bikers. Lightweight design with considerable cargo capacity, sleeping place for two with private dressing room, plenty of useful options and precious dual use….. It's quite remarkable achievement !

Go to: Motorcycle camper trailers
Note: all pictures are courtesy of Roadman Campers
---