Solar-Powered e.home
Dethleffs C-class motorhome
Dethleffs C-class  e.home with its 3kW of installed solar power offers zero-emission, low environmental footprint, cozy interior and potential for off-grid RV-ing.

      Innovative designs not always make commercial success. But certainly, they open horizons for new ideas, inspire others to follow, and give chance to test how the market reacts. One of such innovative projects is Dethleffs' all-electric Type-C Motorhome.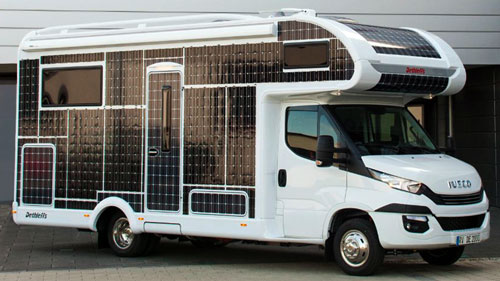 Dethleffs-ehome

Before we go further, a few words about Dethleffs. The company was founded in 1832 by Arist Dethleffs, initially manufacturing whips, and later ski sticks. 1931 marks the beginning of the new era - the company designed and manufactured their first travel trailer called "Wohnauto". The rest is history. In 1983 the company build their first motorhome. In 2013 they received the award for the C'Go Dethleffs travel trailer, declared to be the "Best Luxury caravan under 3.5 tones". It was just a matter of time to see them once again coming up with a breaking news design. In 2017, at the Düsseldorf Caravan Salon, Dethleffs presented a concept of an all-electric C-class motorhome, hopefully opening the new era of "e.homes".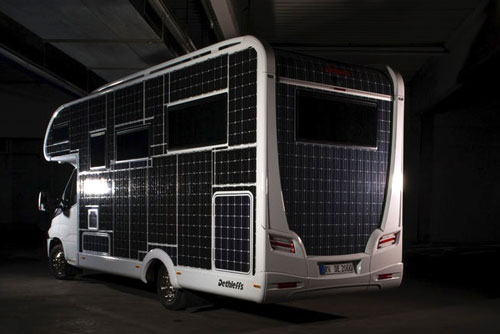 Not necessarily elegant but certainly futuristic-looking design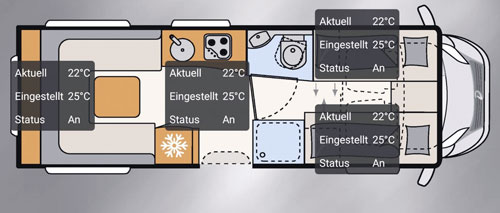 Dethleffs-ehome floor-plan (here shown the profile of interior temperatures) 

Following the "hot" trend seen in the automotive industry, Dethleffs motorhome's concept model has an electric power-train. Built on the Iveco chassis, it is equipped with a 107 hp (80 kW) electric motor powered by a pack of FIAMM 400V /3 x 76Ah/91kWh sodium-nickel-chloride batteries. Obviously at the current stage of development, its range per charge will not be impressive as it only promises something close to 100 miles (about 160 km) when fully loaded and furnished. According to the manufacturer, the batteries will be good for about 1500 charges before a replacement will be necessary what equals to mileage of about 150,000 (240,000 km).
From the outside, (despite the familiar shape of the typical C-class motorhome) the Dethleffs e.home looks like a futuristic RV due to an overwhelming number of solar cells all over its body. But I guess, given the huge benefits of solar power, no one will really complain about it!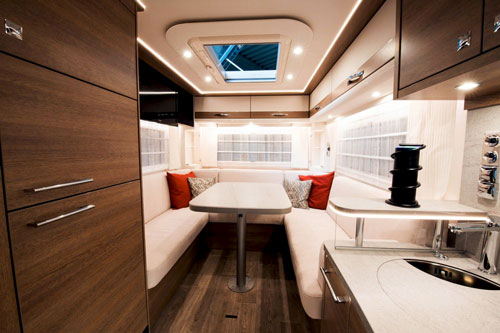 Dethleffs-ehome: Interior

          Needless to say, that most of existing motorhomes are really gas-guzzlers what not only heavily weights on your wallet but also forces to frequent stops for refueling. And as we all know, Tesla is already testing electric-power-train trucks so more advanced batteries (and in general technology) seem to be around the corner, promising lengthier distances between consecutive "plug-in" stops and obviously lower cost and "greener" way of living. 
          However, here Dethleffs made one more significant step ahead of RV industry "standards" – the motorhome is completely (one can say "head-to-toe") wrapped in thin-film solar cells supplied by Victron Energy. With 3kW of installed solar power on the roof and all sidewalls whenever it is technically possible and justified (in fact about 334 sq ft, or 31 m2), the Detheffs' motorhome is really a "mobile solar farm".  Additional "Super Capacitors" help to get high peak power when needed by power-train as well allow for faster charging (both important factors for e-vehicles). And here we are touching the main aspect of the concept design: Off-grid RV promising the boon-docking lifestyle.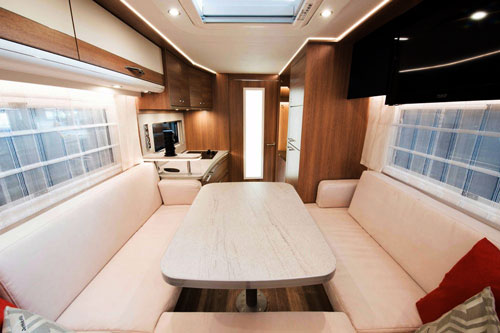 Spacious rear dinette
Rear section w/TV screen
Please note that even the most advanced off-grid RVs (including the sCarabane and Living Vehicle) still rely on LPG fuel for cooking as well as water and interior heating. Detheffs seems to move much further to solve the energy autonomy (freshwater autonomy and dirt disposal including used waters is still an open question waiting for answers, but let's focus here on energy).
Well, certainly the solar conversion efficiency will be low due to the fact that only one side of the motorhome at the time can be directly exposed to the sunlight. In other words, the 3kW of installed solar power will not deliver such peak power.  So far Dethleffs did not provide any details regarding the average solar output as well as how long it will take to fully charge the battery pack from solar panels.
While we can expect that the harvested solar power will boost the driving range, the main goal of the "mobile solar farm" is to make the future "home-away-from-home" fully energy-autonomous, running only on solar power. The powertrain battery certainly will need frequent plug-in "refueling" stops to move farther. But one can easily imagine even current prototype-version of Dethleffs motorhome quite suitable for so-called "slow travel", where the goal is not to go long distance but rather to explore the area at the "wandering pace" with overnight charging (plug-in operations) or long daily breaks (solar charging).
     To achieve this goal the company implemented several (often new to the RV industry) technologies.
For example, the traditional propane stove was replaced by high-efficiency inductive range. They are more efficient than popular these days ceramic ranges, but also more expensive and requiring special (and costly) ferrous pans. Inductive range transfers energy by an electromagnetic field, so it does not heat the hob of the stove but only the pan. The bonus – it's also safe as it prevents risks of burns (especially after cooking).
Dethleffs also paid attention to heating (and in a way to coolling) system. The shell (and interior) design is optimized to improve thermal insulation, cut energy inefficiencies and as much as possible use what offers the Mother Nature. RV's Interior is finished with heat-capturing phase-change materials (PCM). They absorb heat when temperatures rise above approximately 79 °F (26° C) and release the accumulated heat into the cabin when the sun goes down and the temperature drops below. When necessary, the heating is also provided by infrared heating elements installed in the floor, walls and even furniture.  
       Foil-based technology is used for control of windows' transparency. It enables the windows to darken in a sort of an "dimming" process, what offers privacy but also protects RV's interior from infiltration of sunlight and heat. The same technology is also used for lighting, creating inside the cabin bright planar light assisted by mirrored surfaces.
The outcome of implementation of new technologies is clearly visible and felt. It results in pleasant interior temperature (in a wider sense - warm interior atmosphere) without excessive consumption of energy!
Victron Energy has supplied all vital electrical components including solar charge controller w/battery protection, combined inverter/charger for onboard AC electricity, system monitoring, heating power supply as well as DC-DC converter for 12Vdc and USB stations.
Cabover bedroom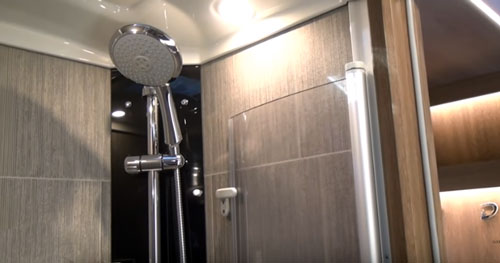 Independent shower cabin
Toilet and vanity w/sink is fully separated from the shower cabin
      Few words about the comfort and living quarters. Frankly as the Dethleffs e.home is only the prototype, built for testing new technologies, the interior does not matter that much (it rather represents some standard layout of popular Dethleffs motorhomes). The main sleeping area is located in the cabover section of the RV. It's large, looking very comfortable with an opening skylight above and something to improve your night experience – the starlight system casting an image of a starry sky on the ceiling above the bed. This way you can live your dreams even during cloudy and rainy days!
The main section of the motorhome includes large rear U-shape sofa with table (certainly convertible to the extra bed), galley with fridge, sink and electric stove as well as dry bath (actually separate shower cabin and toilet w/vanity sink and toilet. There is also an entertainment center including large TV screen and Stereo (with all the bells and whistles we already got used to).
But as mentioned, the floor-plan of a future commercial version of Dethleffs's e.home will certainly be different. What is sure however is that following the company traditions, it will be comfortable interior with touches of luxury, elegance and modernity on top of all futuristic elements of the Smart Motorhome.
Interior: view from the front
      The operation and control of all vital functions of the Dethleffs motorhome is supported by a CampConnect application that with the help of a single touch screen makes it a "Smart-Home-Away-from-Home" and serious candidate for future e.homes. This for example includes monitoring as well as control of heating, lighting, locking systems, etc….. In addition, the motorhome is also equipped with a driving-assisting system Mobileye (it identifies potential traffic hazards and warns driver by using visual and acoustic signals).
For obvious reasons, the weight and price of the commercial e.home was not disclosed yet.
As Mr.  Alexander Leopold, (Dethleffs Managing Director) explains: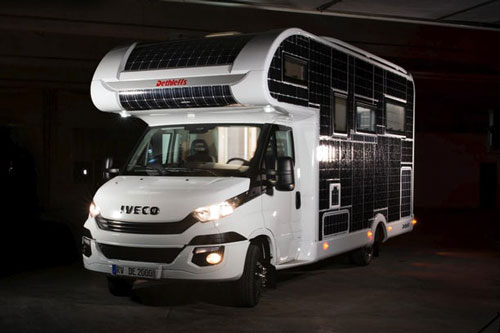 Dethleffs-ehome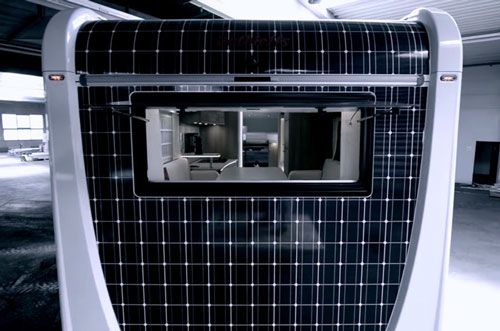 Dethleffs-ehome: rear part of the motorhome

"The development is unstoppable--it's only a matter of time [before we will see on the roads solar-powered campers]. That's why it's important for us to get into the topic of electromobility right now to be prepared for the future [even] knowing that the current state of the art does not yet meet the requirements for [an all-electric] motorhome."
And:
"Dethleffs knows this means a lot more than just putting bodywork on an electrically driven chassis. By implementing a fully electric powertrain there are many challenges and opportunities for the entire vehicle. One significant opportunity is to do without any additional type of energy sources for the vehicle. This means that a motorhome with electric drive will also supply all the onboard services with electricity for the living area instead of gas, for example – and that is why solar power production becomes very important. At the same time there are also several new technologies which will change the comfort, quality of life, plus the safety of future generations of motorhomes. Through this evolving process, systems will be further developed – and we expect rapid progress over the coming years for our e.home concept."
In other words (as Dethleffs sees it), the all-electric RV is now more a matter of "when" than "if". As a matter of fact, in 2018, the German Design Council honored the Dethleffs e.home with the Innovation Award. It will certainly boost the company's efforts to move forward and commercialize the project of the mobile e.home.

Summarizing – Dethleffs e.home offers zero-emission, low environmental footprint (you will still have to dump grey and waste tanks as well as dispose garbage), cozy environment and comfortably warm atmosphere. While so far, the company did not come up with the production plan, these days "things" (and plans) are changing quickly, so you may see the commercial e.home sooner than expected. And once it happens, it will also open wide doors for boondocking lifestyle and off-grid RV-ing.

Dethleffs' dedication to innovation seems to bring more fruits. The company also offers one of the first on the market (if not the first) electrically-assisted travel trailer. This e.home Coco is designed as a solution for drivers of electric cars who do not want to give up on RV-ing.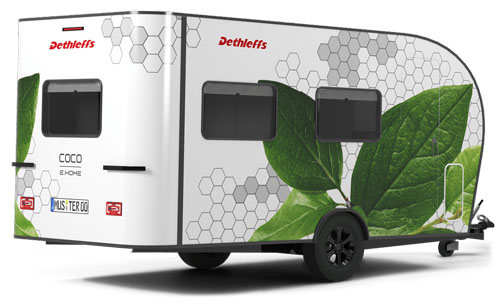 Dethleffs e.home Coco travel trailer
This e.home Coco has two hub electric motors in conjunction with high-performance batteries and intelligent control that transform the passive trailer into an active living vehicle. A traction relief module ensures in trailer operation that the two engines reduce the trailer load for the towing vehicle to a predefined value - for example 220 lbw (100 kg). As the result, the e.home Coco travel trailer meets the towing limits of electric cars. 
And because in addition energy is recuperated when going downhill, crossing the mountains without making a charging stop may not be a problem.

Go back to: --> Off-grid-RVs
All pictures are courtesy of Dethleffs
Note:  Check with the manufacturer and / or authorized RV Dealer for the up-to-date list of features, options as well as latest specifications. These written above may not be accurate and certainly are subject to change by the factory. We are not responsible for any inaccuracy, the above text is provided only for the general information.
This review was written based on publicly available information for the benefits of the community of RV-ers. We do not receive any gratification or financial benefits from RV manufacturers, dealers, and any other promoters of RVs. 
We are NOT involved in sale and/or retail of RVs!