sCarabane Travel Trailer
Smart High-Tech RVs
sCarabone is a new generation, "high-tech", energy self-sufficient smart travel trailer, boxy on the road, but very spacious, generously equipped and functional for off-grid RV-ing and living
        Since the beginning of this century the RV industry made significant progress in construction of recreational vehicles.

New, more robust, longer lasting and lite materials (fiberglass, aluminum, composites…)  replaced rot and corrosion prone plywood and steel. Comfort, stylishness and elegance became commonly sought characteristics of modern RVs. These changes however are mostly the result of technological progress, increased wealth of population and rising expectations.  The truth is that so far, the RV industry did not introduce models braking "traditional-RV-concepts" as we could expect. It's basically all about bigger (or when necessary smaller), more luxurious, "sporty", residential-like etc… It's the same concept of "box" with few more slide-outs, pop-tops, pop-ups….
       That is why with real pleasure we would like to present "futuristic" RV models bringing us to the new realm of energy self-sufficient, eco-friendly and more rather than less intelligent "Mobile Smart Houses". 
sCaranane on the road really looks unimpressive....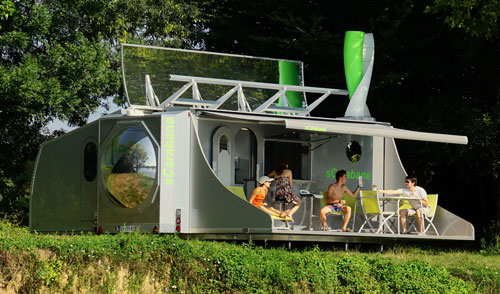 But once fully unfolded it looks like from another (RV)-World
Please click on the picture to see sCarabane's amazing features :-)
Note: The rotation speed is much slower (here shown accelerated to keep this movie short).
         sCarabane Travel Trailer seems to qualify to such class of RVs. The initial concept, design and physical implementation of innovative, out-of-the-box ideas comes from France as the result of combined efforts of the team of family members Mr. Clément, Antoine and Thomas Chassaing. 
On the road (in folded configuration) the sCarabane looks "boxy" and quite uninspiring (indeed someone compared it to a horse trailer). By European standards with its length of 25.5 ft (7.8m) and dry weight of about 5,500 lbs (2,500kg) it is relatively "massive" (on US roads it will be considered as a medium-size model).
This picture dramatically changes once the sCarabane starts unfolding. Slowly but surely (full set-up may take up to 30 minutes) the segments of sCarabane in a step-by-step process fold-down, flip-up, pop-up or swing-out converting an otherwise unimposing and almost windowless "wheeled box" into a large, bright open space.  It includes two bedrooms, large kitchen, spacious dinette (convertible to extra sleeping space for 2), bath (w/shower and sink), separate toilet and an almost 140 square feet deck with side protection from wind and retractable awning. Well, it's a tiny but well-furnished house on wheels.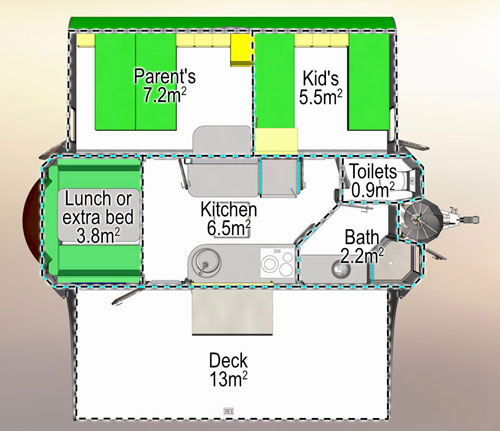 sCarabane: Floor-plane (for dimensions in feet see specs below)
Kitchen (on the back you can see doors to the bath and toilet)
Closer look at the galley. The only "problematic" element is the 3-burner gas stove as it does not "match" energy self-sufficiency and eco-design goals. Nevertheless - the kitchen is very elegant, stylish and well equipped!
       The spacious (70 sq.ft) kitchen is equipped with 3-burner gas stove, dishwasher (yes , you read it correctly), large fridge and freezer, microwave, sink with single-lever faucet and hot/cold water, storage cabinets, shelves and a lot of countertops providing working space. The large window, opening on the deck with sort of "mini-bar-extension" facilitates "communication and goods-exchange" with crowd taking sunbath on the deck (read it serving beer, wine, cocktails, snacks etc…. directly from the kitchen). 
The dinette can comfortably sit 6 people for meals but is also a nice place to play games, set the computer or simply watch the TV installed on the opposite wall. If needed, the dinette converts into an extra sleeping space for two. Dinette's external wall includes the only visible camper's window in its "road-configuration". It is not the traditional window but rather high-tech spherical one with an electronic "shade" function so it can control the amount of natural light penetrating the cabin as well as views into the outside. Comfort, panoramic views of nature in front of you and entertainment center will certainly make it your favorite place…. 
Fragment of the dinette (also visible interior window and door to the Master Bedroom)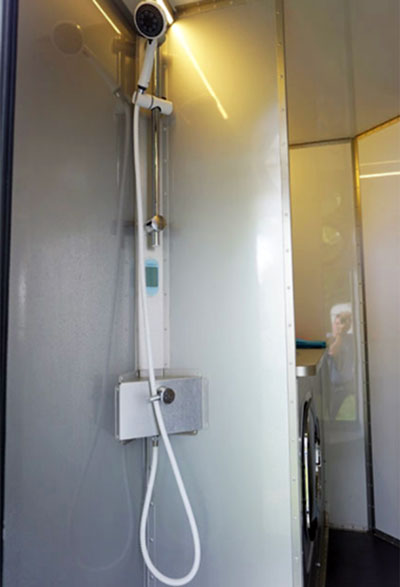 The walk-in bath (almost 24 sq. ft) includes the shower cabin, vanity with sink and mirror, medicine cabinet. It also houses the laundry machine, certainly very convenient appliance when you are "on the road". Next to the bath there is a separate toilet with one more (almost invisible from the outside) circular window (opening for ventilation purpose).
Both bedrooms are modestly furnished with beds (queen-size in Master Bedroom and tow twin ones in kids' room). Master bedroom includes set of shelves and small cabinet as well as very useful, attached to the wall drop-down table. Large window in the interior wall between dinette makes it bright, while blind offers privacy. Ceiling features two extra-large "rose" windows with sort of petals that can be rotated to create the dimming effect. It's not only practical concept but also very stylish, artistic feature. 
Each bedroom has door connecting it with the living and kitchen quarters, but also independent full-size door leading directly outside.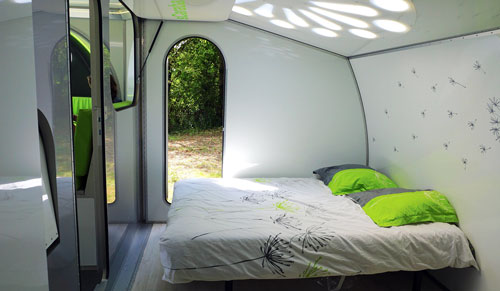 Master Bedroom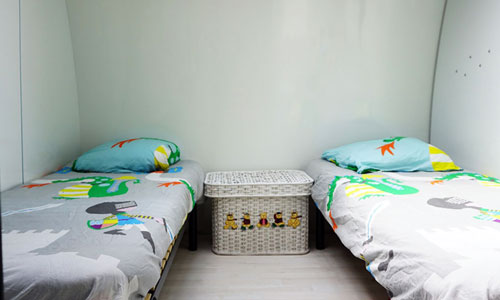 Kids' bedroom with twin beds
     sCarabane was designed as energy self-sufficient RV. For that purpose, it has built-in three independent energy systems (they act independently, however they all harvest energy more or less related to the same source: Sun). Roof-mounted solar panels can provide up to 500W of electrical energy.  Similarly, the retractable vertical wind-turbine may also generate up to 500W of electrical energy. Additionally, the large collapsible roof-mounted parabolic mirror acting like heat concentrator is used to warm-up the water. Weather permitting, with its surface of about 65 sq. ft it should be able to heat water for kitchen and bath sinks, shower, dishwasher and laundry machine.

     While solar panels and heat concentrator & collector can reach peak-efficiency for limited period of time during the day (gradually fading to zero for the night), the wind-turbine can supply relatively constant amount of energy 24/7. Thankfully, the daytime- limitations of solar panels and heat-collector are largely offset by accumulated energy in camper's batteries (electrical energy) and water tanks (if thermally insulated) so the outcome of day-time energy harvesting can last well into the night. I wouldn't be surprised if there is also an "in-line" electric water heater to cover "emergency" situations (in this case cloudy, rainy days).
 All electric functions are monitored and controlled from the touch-panel Station located in the kitchen.
sCarabane (Computer model) - visible are all three sources of energy: Solar Panels (dark blue), Vertical Wind Turbine (green) and the largest component: Parabolic mirror (Heat concentrator).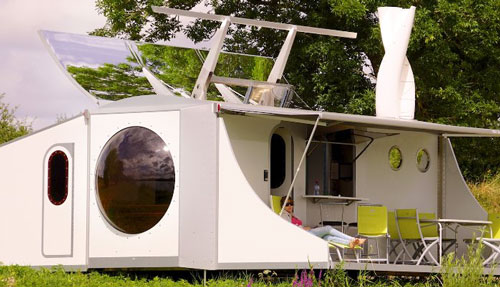 Pretty much the same "picture", although this time it's the real model (here you can't see solar panels)
        To farther increase efficiency of energy harvest (as the company claims), the camper can be set on a support ring (pod) allowing to track the sun. However, the set-up process (especially taking into account the high probability of an uneven terrain) may be too complex and laborious to justify this feature. For that purpose, equipping the heat collector (mirror) and solar panels with "local" sun-tracking system most likely would be more practical and less costly.
However, given the fact that the current feature (rotation ring with electrical drive) allows the folded-out camper (Including the deck) to endlessly rotate in countless 360 degrees cycles is probably more driven by "futuristic" aspect of the design and potential "fan". As such it has more "emotional" than practical value and so it is difficult to justify its usefulness. 
Rotation ring 
Setting-up the sCarabane on the rotation ring (pod)
       Well, coming back to camper's energy self-sufficient design - there is one exception to it and this is the LPG. Current model(s) of sCarabane use 3-burner gas stove running on propane gas. While it may be hard to eliminate the propane given the limited electrical power budget for typically "power-hungry" stove, it is feasible to replace it with the diesel fuel (probably more practical). This actually seems to be an attractive solution given the fact that modern diesel cooktops (see Webasto) come with much more stylish flash-mounted ceramic plates definitely more suitable for futuristic campers (after all, in Europe most likely the towing car will have a diesel engine).

Preliminary Specifications
---
Overall Length closed

Width closed

Height closed

Length opened (1)

Width opened

Overall Height opened (2)

Dry weight

Kitchen

Main bedroom

Children bedroom

Dinette (extra sleeping space)

Bath

Toilet

Deck

Sleeps (3)

25.5'

98.4"

9.2'

25.5"

23'

-

5,500 lbs

70 sq. ft

77.5 sq. ft

59.2 sq. ft

40.9 sq. ft

23.7 sq. ft

9.7 sq. ft

140 sq. ft

4 (6)
---
1. Length of fold-out areas (bedrooms and deck) is about 18 ft
2. Increased by unfolded parabolic mirror (heat collector) and raised-up wind-turbine 
3. Can sleep 6 persons when the dinette is converted into dual-size bed
sCarabane: You can't see often RVs equipped with the dishwasher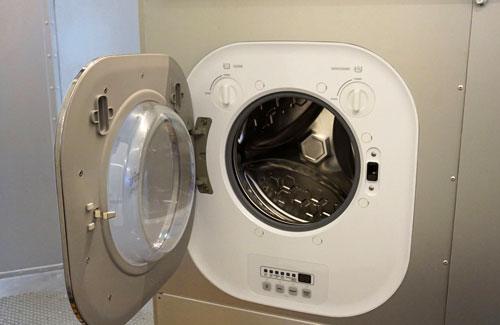 sCarabane: Washing machine
     Totally not clear from the so-far available written and graphic documentation is the interior infrastructure, namely:
Water installation including fresh, grey and waste tanks, their capacity, water circulation system (pump or gravitational), drains, city-water hook-up, etc…)
Electrical installation. There is no clear information regarding such essential components of the electrical system as shore hook-up (if needed), inverter, available wall plugs (12V?, 220Vac etc..), USB ports, bank of batteries (certainly they are there), fuse panel w/security switch, alarms, control and monitoring etc…
Storage compartments: you will need an ample storage space for 6 people. But there is no any info on that subject. Also, it seems that bedrooms cannot store beds/mattresses/linen and any other items in camper's folded (road) configuration. Most likely for the travel, all "stuff" is stored in the main "box" so arranging everything for campground requires substantial work (hence about 30 minutes set-up process). This also means that the sCarabane is rather designed for longer stays than frequent "hops" from place to place.
I guess all these features in this or other physical form are there, but are not officially disclosed given the fact that the sCarabane is still not commercialized.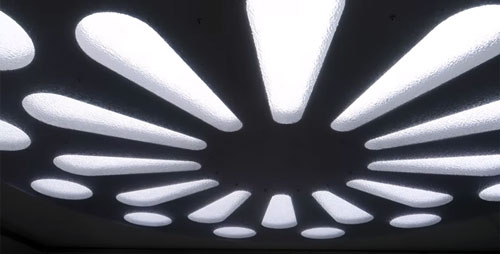 One of two Rose Windows (here with "petals" opened to let light in)
sCarabane's rotating system is an outstanding achievement rarely seen (if at all) in designs of smart-houses (certainly not seen in mobile ones). Regardless of how much it is an economically justified feature (maybe it is more for fan), manufacturer does not provide any details on how the support track is installed, how sCarabane is mounted on it, how much of weight it adds to the camper (already quite heavy), how much time is needed for fully set-it-up etc… 
With sCarabane you take with you your own private deck! And looking at this picture it is quite "inviting"...
Notes:
      sCarabane's is stuffed with typically energy hungry appliances like dishwasher, laundry machine, microwave, TV, all "housekeeping" electric actuators not mentioning lights and small appliances. They make the camper more home-like and very functional. Its energy self-sufficiency however may be challenged by season, geographical location, weather conditions (wind, clouds…) and obviously user behavior. It does not change the fact, that the sCarabane is clearly designed as "green" (eco-friendly) camper for off-grid RV-ing/living. It may be worth to mention that manufacturer also works on farther improvements for off-grid conditions including rainwater collection and water filtering systems.
        Historically, the conceptual work on sCarabane was started by Fillon Technologies (France) back in 2013. In July of 2017, after successful tests of prototypes and overwhelming public interest, Fillon partnered with Green Cat Technologies (Gellainville, France) with the goal to speed-up the final development process and eventually transfer sCarabane to successful commercial product.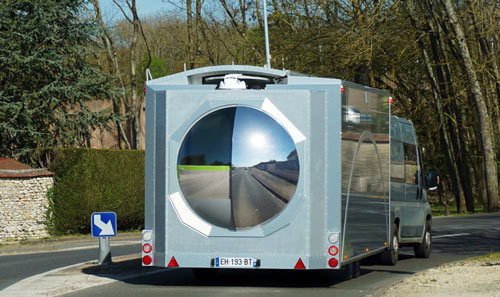 And then after great vacation you take the trailer and great memories back home :-)
BTW- France seems to be an "engine" of innovative RV designs. Good example of an "out-of-the-box" concept can be for example:
--> BeauEr Expandable Travel Trailer
If you would like to see other high-tech, futuristic, smart, amazing ... RV designs go to: --> Innovative RVs 
All pictures are courtesy of sCarabane
Note:  Check with the manufacturer and / or authorized RV Dealer for the up-to-date list of features, options as well as latest specifications. These written above may not be accurate and certainly are subject to change by the factory. We are not responsible for any inaccuracy, the above text is provided only for the general information.
This review was written based on publicly available information for the benefits of the community of RV-ers. We do not receive any gratification or financial benefits from RV manufacturers, dealers, and any other promoters of RVs. 
We are NOT involved in sale and/or retail of RVs!