Retreat Hyper ERV
All-Electric Travel Trailer
Retreat ERV Hyper is a full-electric travel trailer designed for luxury full-comfort off-road adventures

       These days due to growing concerns about the future of our civilization, "Eco-Friendliness" is on the front pages of all media. No wonder, that the RV industry joined the efforts to address public expectations. To be honest, all-electric RVs are still rather dreams than reality but as we speak, all over the world, prototypes of such engineering marvels are rolling down from factories' floors. While the E-conversion of towing trucks and all classes of motorhomes (A, B, and C) seems to depend on the development of dedicated, commercial-grade fuel-cell systems and supporting infrastructures, the required technology is almost there for travel trailers.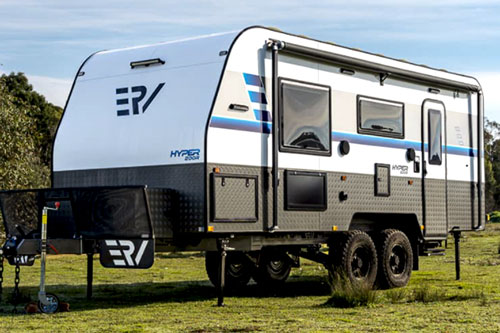 Australian Retreat Hyper 200R ERV
Source: Caravan Camping Sales (Australia)
Retreat ERV Layout (it's a 2021's model 199R that probably replaces the earlier model 200R)
Source: Retreat Caravans
To be clear- the definition of an all-electric RV encompasses the following:
Energy self-sustainability fully supporting typical home tasks (cooking, fridge, hot water, air heating and cooling, washing machine, and range of typical kitchen and home appliances, etc, with a possibility to run them simultaneously (at least in a short term).
Elimination of LPG. While natural gas is still considered as "almost" clean energy, it's a limiting factor in "out-of-grid" environment)
In other words, an all-electric travel trailer (ERV) should create the possibility of comfortable, long-term off-grid living (true – the drinking water may still be a limitation).
         For RV experts, it may not be surprising that one of the world's first all-electrical travel trailers was designed and commercialized in Australia. This country (continent) is mostly covered by "wilderness" (whatever it means in this case). So, practically whenever you turn your steering wheel, you will end up "in the middle of nowhere" where the "grid" will be only a memory.
Well, the "Necessity is a mother of inventions"! And here comes the Australian RV manufacturer Retreat Caravans (Campbellfield, Victoria). In collaboration with OzXCorp (local leader in innovative technologies), they commercialized the line of ERV travel trailers under the name ERV Hyper. The series includes five floorplans with body lengths ranging from 18ft 6" (ERV Hyper 186R) to 22ft 6" (ERV Hyper 226R) and, depending on it - installed power.
Roof-mounted solar panels leave just a little space for bath vent and antenna. 
Source: Caravan Camping Sales (Australia)

Energy System
    The Hyper (20ft model) was designed for Australian travel conditions characterized by large swaths of wilderness. It's an environment where if one day you will see an electrical outlet, or LPG refill station, most likely it will be a dream or fata-morgana. However, what you will certainly see (and feel) will be the sun (actually, often a lot of it). Well, perfect condition for "trouble", but if you are "innovative" you can turn it into a "blessing". 
 The goal was to come up with a "workable solution" for the travel trailer that can provide enough electrical energy for daily use of typical home appliances including AC/Heating system, washing machine, water heater, cooktop, fridge/freezer, BBQ, hairdryer and range of traditional small kitchen appliances. No wonder, it was quite a challenge.
Battery bank is housed in a crush (and water)-resistant box 
Source: Caravan Camping Sales (Australia)

It is well protected by the frame
Source: Retreat Caravans

    The "heart" of the concept al an all-electric RV trailer (ERV) designed for long off-grid journeys in an ambiance of a comfortable "studio" on wheels is the OzXCorp Centralized Energy Management System (CEMS). It includes:
Automotive-grade Lithium-Ion Battery bank capable to store 16 kWh of energy (conservatively downrated to 14.3 kWh),
Battery Management System (BMS)
A thin-film photovoltaic array of roof-mounted solar panels (depending on the model's length from 15 to 22)
Fully integrated 5 kW Inverter/Charger/Solar Control system
        The currently released 20 feet long Hyper 200R model is equipped with 15 (or 16) 107W solar panels capable to generate an impressive 1605W (or 1712W) of peak electrical power. Only the very small section of the roof is reserved for the bath's vent and an antenna (the AC unit is designed for installation in the storage area. OzXCorp claims that the battery is designed for more than 4,000 full cycles (full charge to empty) and still retains up to 80% of its nominal capacity. Theoretically, with a typical pattern of use, it's about 20 years of service. However, a more conservative approach must also consider the time. (Unused battery losses its capacity with time).
Central Energy Management System (CEMS)
Source: Caravan Camping Sales (Australia)

        The bank of batteries and inverter are integrated into the chassis. Located under the belly, protected by 2" strong chassis beams and diamond-plate shell, the whole crash-resistant box is also dustproof and water-resistant (up to 1 meter of depth for at least 10 minutes) – which seems to be sufficient when crossing creeks and/or small rivers). Its current version weighs about 254 lbs (115 kg).
The OxZCorp's CEMS opens new opportunities for the RV industry starting with up until now unthinkable off-grid operating AC/Heating system. The ability of Inverter to deliver 5kW of peak power allows also for simultaneous use of a wide range of home appliances like inductive cooktop, AC/heater, convection oven/microwave, kettle, hairdryer, and even electric BBQ as well as rarely seen in RVs – washing machine.  This eliminates the need for LPG gas. While the propane is still considered as an "almost-eco" energy source, eliminating it from the off-road "menu" largely increases RV's energy autonomy.
And there is an extra, often unseen benefit: the increased RV's body airtightness. The safety measures for the use of LPG in closed areas (especially in small ones as are RVs) impose the presence of air inlets and outlets for required ventilation. While it is not the biggest problem in RVs using paved roads and staying at campgrounds, it is a nightmare for off-road RV-ing due to the infiltration of dust.
      According to OzXCorp it is very unlikely that under normal circumstances, the battery can be emptied. However, in the case the battery gets too low, the CEMS will be turning off some appliances following pre-programmed priorities (the most power-hungry first). For sure, the refrigerator and lights will be the last to go off!
The system also includes the shore power hook-up for cases you decide to stop in a campground. Interestingly, typically campgrounds' "rustic" areas are in a shade. However, the Retreat's Hyper does not need the shade, it needs the sun!
Note that while driving, the ERV is fed from the towing vehicle. Solar panels keep charging the CEMS system (depending on weather conditions), but the harvested energy is conserved in the battery bank for future use.
Cross-section of the body's structure
Source: Retreat Caravans

 and the skinless body
Source: Retreat Caravans

Construction
         Retreat Caravans developed its own technology for RV's "body" to make sure that it's "on-the-road" energy-efficient. It means good thermal insulation of the whole body (walls, roof, and floor) to minimize the amount of precious energy (cooling or heating) necessary to maintain a comfortable interior temperature.
The proprietary RXP body's structure is a sandwich of closed cell XPS foam (polystyrene) w/outer aluminum and an inner fiberglass finish. XPS foam has high thermal resistance (high R-value), very low water absorption, and high mechanical strength. Additionally, composite (polyurethane) cross-members are eliminating heat-bridges typical for metal frames.
The minimum number of vents (typically required by law when LPG is used) minimizes the unwanted air infiltration, which contributes to the cabin's better thermal characteristic.
On the left: 3 water tanks protected by the chassis' frame
(on the right: Battery Box) Source: Retreat Caravans
Water System
     Water is another factor severely impacting the RV's autonomy during off-road adventures. However, compared to solar energy, your choices are much more limited. So, unless you are RV-in in a rainy period (who would?), or venture in the lake district, your water autonomy is limited by what you carry with you and determined by your daily needs and habits.
In any household, the toilet is the biggest consumer of water. To significantly lower the water consumption, Retreat's designers decided to replace the standard water-flushed toiled with Thetford, ceramic cassette toilet. It has its two, dedicated independent tanks – a flushing tank (filled with necessary liquid chemicals) and a small, portable "black tank" (cassette). The latter can be easily removed and discharged into a traditional toilet, waste disposal, or RVs' dump stations (if available) or eventually in an off-road environment, into nature. In this case, make sure that you know and follow the local regulations.
Just in case some typical guidelines:
Dig the hole in the ground (about 6" to 8" deep, it's a compromise between the distance from the surface and the "richness" of 'decomposing" bacterial life),
Dump the waste and then cover the hole with dirt.
Make sure that hole is at least 100ft (about 30m) away from any water source (lake, river, well …)
Bedroom with the walk-around bed.
Source: Tilly & George w/ Macca on the ERV's Amazing Features | Caravan Industry News 2019 (YT)

Interior
       The ERV Hyper 200R trailer is designed for adventure-hungry couples ready to take on long, out of civilization journeys. However, in sharp contrast to the "backpackers-type" of settings, the trailer offers residential-like comfort.   
The Hyper's 200R comes in a configuration with a front bedroom, center kitchen w/dinette, and rear bathroom. The bedroom consists of a walk-around (almost) queen-size bed (72.8" x 60.6") with an innerspring mattress (if needed, a slide-out extension can accommodate a longer mattress). The bedhead is surrounded by clothing cabinets with shelves, drawers, and (most likely) hanging bars. The cubbyholes-mounted reading lights and power outlets help to extend the bed's functionality well beyond the sleeping place. Spaciousness and two large side windows make the bedroom an excellent area for daily relaxation, reading, entertainment. A swing-arm 24" smart TV is available right across the bed (also note a stereo w/indoor and outdoor speakers).
There is storage under the bed, although about 1/3 of it is used for housing the AC/Heater module.
View from the rear side of the trailer: Kitchen, dinette and the sleeping quarter
Source: Caravan Camping Sales (Australia)

          The ensuite is located on the opposite (rear) side of the trailer. It includes the shower with its own cabin, sink, mentioned earlier ceramic cassette toilet, washing machine, and ceiling vent. All sorts of white cabinetry beautifully contrast with black colors of mirror's frame, black sink, and faucet as well as numerous similarly black towel and clothing bars. All that together with a sizeable side window can match your home experience.
Bathroom with the strong accent of black colors
Source: Caravan Camping Sales (Australia)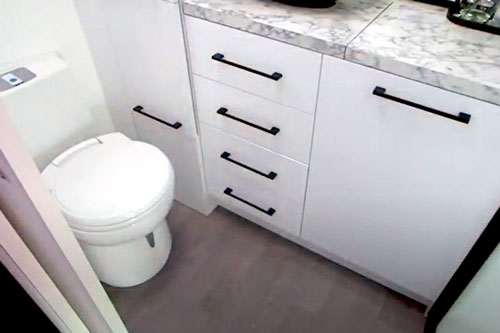 Cassette toilet
Source: Tilly & George w/ Macca on the ERV's Amazing Features | Caravan Industry News 2019 (YT)

       The kitchen and dinette are in the central part of the trailer. The two-burner induction hob (Thetford Topline 902) is much more energy-efficient than the traditional "heat-transfer" stoves. And thanks to the instantly available high power at burners (up to 1.8KW at small, 2.3 kW at big), the cooking process is fast!
But there is a catch- you will need pans and pots with a flat, ferromagnetic bottom. To make it clear – the traditional cast-iron and magnetic-grade steel cookware will perfectly work, but forget about aluminum, copper, or glass, it won't!  
Kitchen's cabinetry with the sink
Source: 2019 ERV - 17,000km in a Fully Electric Caravan | Truly Off-Grid Experience (YT)

Full view on the kitchen w/fridge and dinette - at the back thanks to the open door you can see the bathroom.
Source: Retreat Caravans (Australia)
         The microwave with convection oven (just under the induction cooktop), floor-to-ceiling 7.9 cubic feet compressor fridge w/separate freezer (in its own cabinet compartment), black sink bowl with equally black lid and high faucet, cabinetry w/self-closing drawers and overhead storage makes the kitchen functional and elegant. The window all along the countertop makes the working space bright, allowing at the same time contact with the surrounding nature.
All-electric, luxurious studio on the wheels obliges, so probably you will also have a kettle and small coffeemaker, who wouldn't like to start a day this way? Yes, it will slightly decrease the kitchen's countertop working space. However, it's still more than needed for the family of two adults as the trailer is designed for.  
The dinette across the kitchen invites with leather upholstery. The table seems small, but it's a well-thought design allowing one to easily take or leave the seat. However, the table has two extra extensions, so you can play with its size, according to your needs.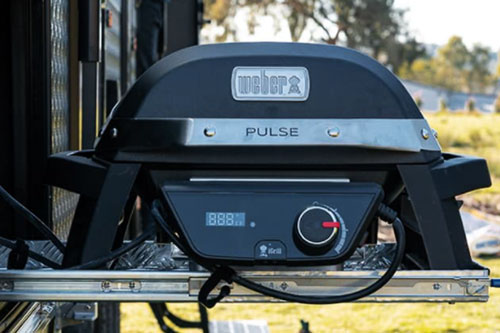 Exterior: Slide-out mounted electric BBQ
Source: Caravan Camping Sales (Australia)
Below: Model 199R with the Fridge and BBQ both on exterior slide-outs
         Most of us are addicted to BBQ, on top of a tasty meal (whatever it is), it also promises an open-air fiesta. After all, one of the reasons that you are on an off-road adventure is exactly the outdoor ambiance far from the hectic city life and crowds.  Retreat Caravans will not disappoint you. The ERV Hyper 2200r is equipped with an electric Weber Pulse BBQ and a 9.5 gallons Coleman fridge (both mounted on exterior slide-outs). The power awning stretches all along the trailer, offering a weather-protected (sun or rain) outdoor space.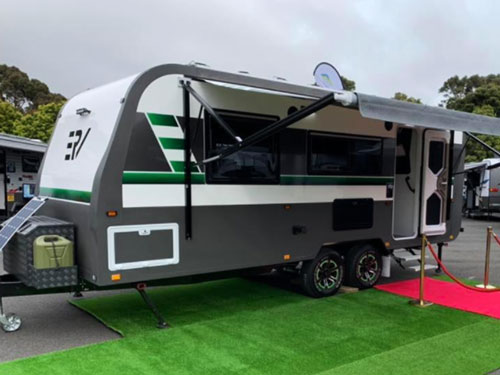 Retreat Hyper 200R ERV: Exposition Model
Source: Retreat Caravans
To continue, see the next page:
--> Retreat ERV Hyper Specifications
or, go back to --> Innovative RVs
Note:  Check with the manufacturer and / or authorized RV Dealer for the up-to-date list of features, options as well as latest specifications. These written above may not be accurate and certainly are subject to change by the factory. We are not responsible for any inaccuracy, the above text is provided only for the general information.
This review was written based on publicly available information for the benefits of the community of RV-ers. We do not receive any gratification or financial benefits from RV manufacturers, dealers, and any other promoters of RVs. 
We are NOT involved in sale and/or retail of RVs!