Kimberley Karavan Classic Hybrid Off-road Trailers
Kimberley Karavan Classic is a hybrid off-road travel trailer, it offers compactness on the road, while when unfolded - comfort, space, and headroom, protected by hard sidewalls....
            It's not a secret that our agglomerations became the modern-day "Jungles" although the only similarities with the real ones are immenseness, dangers, and a sense of being lost in a web of buildings, roads, and traffic….
No wonder that more and more city dwellers chose Mother Nature as a weekend destination. Such a trend dramatically increased demand for off-road travel trailers.  This put tremendous pressure on RVs' manufacturers because their off-road designs must meet several contradictory requirements:
Kimberley Karavan Classic in a road configuration
a) Comfort
          Mother Nature offers much sought "Emotional Luxury" in the form of unspoiled beauty, sincerity, a rich spectrum of sounds of "silence" (to make it short). But we still appreciate the reasonable level of comfort and security that our "cottage" on wheels must provide on our journeys. And one of the most important requirements is an interior headroom allowing us to move freely around instead of "crawling". The bottom line – the off-road travel trailer must be high enough!
b) Stability
         An off-road environment means uneven, rugged paths! Keeping any vehicle stable on such terrain must be guaranteed by design- in this case making sure that it has the low center of gravity. In practice, it means that most of its mass must be concentrated next to ground level. On the other hand, the trailer's ground clearance must be high enough to allow it to freely navigate creeks, big stones, holes as well as sharp slopes on the path. As a result, the margin for interior headroom is even smaller. That's why most off-road RVs offer just the "crawl-in" sleeping space within walls of hard-side shells or canvas-based RTTs (Roof-top-tents).

Kimberley Karavan Classic: Make it comfortable for living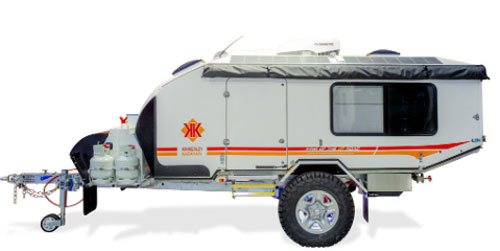 Kimberley Karavan Classic: .... and small when traveling
c) Low Profile
           Another important factor limiting RV's "travel height" is imposed by nature itself – mainly paths crossing areas overgrown by trees (think about branches extending over the potential path). While it's hard to define the trailer's height limit, we can certainly say, "Lower is better" (or if you wish – "lower can get farther"
d) Low weight
         This is quite an understandable requirement – "Less is more", so no gadgets distracting from the main goal of your escapade: Keeping in touch with Nature.

          Why such a long introduction? Well, it's because before going further, we should understand that Off-Road journeys require special solutions. One of them answering the above conflicting requirements is the special class of Hybrid Off-road Travel Trailers (also known as Hard-side pop-ups).
And here comes an Australian company: Kimberley Kampers.
The first Kimberley Kamper left the factory doors in 1994. In the words of the founders (Michael Lowe), Kamper's design reflected the following principles:
Make it small when traveling, and large when camping!
Suspension can't let you down. Only the best will do.
Add lightness. Wherever possible, without losing strength.
Ready electric power is the secret to comfort. More is better. Renewable is best.
If there's a better system, use it.
Design with technology. Build with craft.
Now, almost 30 years later following the change of ownership (now James Cockburn and Brett McLaren), Kimberley Kampers offers: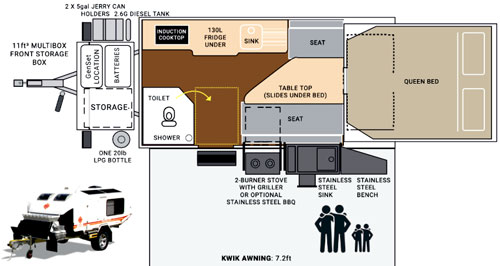 Kimberley Karavan Classic: Floor plan (here version for 2+2)
Modernized version of an off-road Hybrid Classic Karavan (including an upgraded Eco-Suit version).
But also:

Off-road Camper Trailer (single axle platform for a canvas-based sleeping area including fully equipped exterior kitchen, toilet, water tanks, water and air heater, solar power…
Kruisers (E, S, and T-classes), more than comfortable (if not luxurious) modern designs, share a similar exterior look of traditional hard-shell campers, while differentiating by lengths, sets of standard features, and resulting price).
And what's important - the company now has branches all over the world, including traditionally RV-oriented UK and US markets.

Kimberley Classic Karavan
Karavan Classic: Interior (rear section)
Source: caravancampingsales.com.au (Michael Browning)
          The newest model of Karavan Classic proves that the company all-along the time kept implementing the original principles like "add lightness; more energy is better, but renewable is best; or if there is a better system, use it. What also didn't change is the company's practice, best described by the motto:
We don't manufacture campers; we design and craft them. From the ground up, by people who care.
Hybrid Construction
The A-frame is made from laser-cut, interlocked, hot-dip galvanized steel. Modern CNC machining technology cuts the unnecessary "fat" to keep the frame's weight as low as possible while offering the characteristics of galvanized steel – strength, and weather resistance!
The shell (lower section as well as popping-up upper section and sliding out rear one) is made from 1.2" thick, high molecular weight thermoplastic (HMVT) material. While at first, "high-density" may sound not compatible with the requirements of "Ultra-Lite" design. However, thanks to their closed-cell structures, HMWT materials offer excellent mechanical strength, abrasion resistance, and water-repelling – properties so much required in an off-road environment. Whenever traditional materials are required, these will be high-grade alloy and marine-grade stainless steel.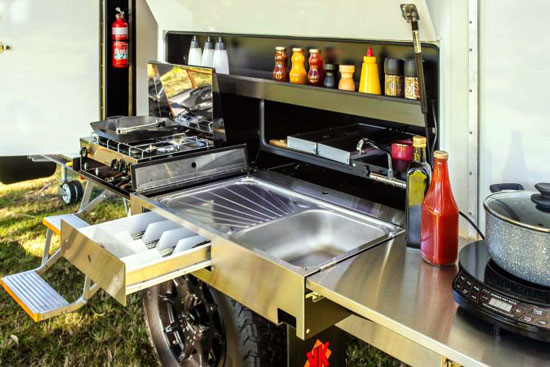 Karavan Classic: outdoor kitchen
            Another strong point is the floor. It's made from Armacell's 100% recycled plastic (ArmaPET) and on top of excellent mechanical strength, durability and thermal insulation. But it also gives a strong message of sustainability (highly appreciated by enthusiasts of off-road RV-ing wanting to enjoy unspoiled nature).
The hard-shell pop-up concept combined with the rear slide-out "bed-ensuite" section greatly meets the initial criteria. The very low profile and reasonable length when towed ( L = 17'8", H = 6'11") but at the same time a full-size camper with generous space and headroom when "unfolded" (L = 22", H = 10'2")! And all that with a very reasonable weight of just 3,600 lbs!
The setting-up process is easy and straightforward.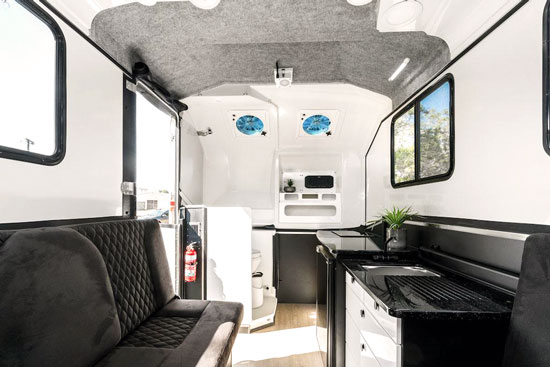 Karavan Classic: Interior (front section)
Source: caravancampingsales.com.au (Michael Browning)
Set both rear stabilizers down.
Release 6 exterior latches securing position of the upper half-shell.
Open the entry door and secure it by a dedicated latch.
Unfold the shell's rear panels (necessary to push out the rear section)
Open the rear hatch and unlock 3 bear latches
Activate the lifting mechanism (touch of the button or remote control)
Step inside, unlock the "bed section", push out to its rear "campsite position", then secure it.
         The electrical Linak Actuator Lifting System makes use of the self-locking "worm-gear" mechanism, which prevents uncontrolled drops. But just in case (or for peace of mind if you wish) - the manual crank backup is also available.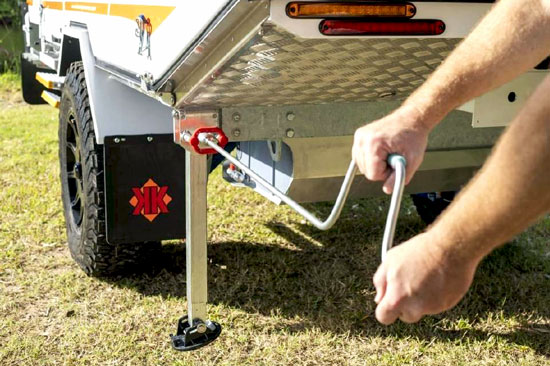 Karavan Classic: Set the rear stabilizers
Source: RVTrader.com (USA)
Karavan Classic: Off-Grid 
 Off-road adventures imply off-grid camping. That's why designers took care to make such journeys fully enjoyable.
Karavan Classic: if you had a doubt - It's really off-road 
Water
          Two (15.4 gallons front and 26.4 gallons rear) freshwater tanks come with dedicated water pumps and outlet taps w/integrated spouts so they can be easily connected to the municipal water grid. Both tanks are equipped with level gauges connected to the monitoring system. Additionally, at the front there are 2 holders for optional Jerry Cans (2 x 4.2 gallons).
One may ask, why there are two separated water tanks and 2 pumps? Well, it's because when off-grid, in one tank you can keep clean drinking-quality water, while the 2nd one (when needed), can be refilled with potentially "lower quality water" from lake, creek or pond.
To make it even better, the manufacturer offers an optional Visi-Flow System bypassing camper's water tanks. It allows to feed the outdoor shower directly from creeks or lakes.
           What may be a bit surprising is that the Kimberley Karavan (Classic) does not come with a greywater tank (although the greywater 13.2 gallons tank is an available option). This may come from an assumption that the "regular" greywater (shower and kitchen sink) can be directly discharged into the ground.
Note: While probably it is legal in Australia, in your country, you must check it with the relevant government office. 
And not surprisingly, the Karavan Classic does not have a blackwater tank. It's because it is equipped either with the Composting Toilet, or Waterless Toilet. The latter separates solid waste from liquid and on average can be used up to 80 times before the necessary discharge. The toilet is installed in a shower cabin in a swing-away "booth", so you can comfortably take the shower.
Karavan Classic: Tongue-mounted Multibox houses major part of the Electrical System.
Source: caravancampingsales.com.au (Michael Browning)
Karavan Classic: Plenty of Merlin solar panels
Source: caravancampingsales.com.au (Michael Browning)
Energy
           Karavan Classic uses three sources of energy: Electrical (for all modern-day appliances, lights, and electronics), LPG (for exterior stove),, and diesel (for heating the water).
Electrical Energy: Kimberley Campers' electrical power systems run on 48V (it increases power efficiency compared to 12V systems). The Power system includes:

48V, 2,000Wh lithium battery (equivalent to 166.7 Ah at 12V).
X-Stream fast charging 3,000W AC/DC charger w/ 70A at 13.6Vdc output
1,000W DC/DC charger
3,600W pure AC Sinewave inverter
2 x Solar Controllers (up to 1,6kW/60A)
Ultra-Thin Merlin Solar 240W roof-mount solar panels w/30Amp MPPT Reg
48V Power Control & Monitoring System including Bluetooth and Wifi,
Anderson cable to charge the battery from the towing vehicle.
        This already impressive system can be upgraded to a bank of batteries of up to 10,000Wh at 48V and to 600W of roof-mounted solar power.
LPG: Standard package includes space and holders for two optional LPG tanks (8.8 gallons each) and an almost 9ft long stainless-steel flexible gas line. It's providing propane gas for the exterior, 2-burner stove w/grill.
Diesel tank (2.6 gallons) is used by Webasto Water/Air Heater, but it can also feed an optional diesel-burning cooktop.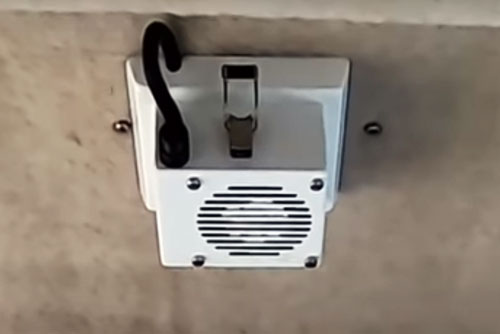 Karavan Classic: Positive Pressure Cabin System
Source: T&T Overland (Expandable Trailer Goes Anywhere: Kimberly Karavan)
Technical Off-grid Features
Airbag Springs:
        Kimberley's campers do not use traditional steel-based springs (or leaf) suspension, instead, the frame is sitting on Air-Bag Springs. They improve the quality of the ride, especially on bumpy roads. The additional benefit of air-bag springs is the adjustability of the frame's height (it is achieved by increasing or decreasing airbags' interior pressure. For that purpose, Kimberlay Karavan offers an optional Air Suspension Kit including Air Compressor, Air Tank, Electronic Filling System, Airbag Monitor & Remote Control.
Hi-speed PosiVent Air Pressurizer.
       By creating a slightly higher interior air pressure, the system prevents the infiltration of dust. The Air-Pressurizer is deactivated when the trailer is not in move (unfolded).
Gravel protection
        The standard protection includes an extra layer of polyurethane on all stone guards. Optionally (for a more demanding "no-road" environment), the manufacturer offers a custom A-frame-mounted Stone Deflector.
Anti-sway bar
         During towing, it prevents (reduces) lateral movements of the trailer, increasing its stability on bumpy roads.

Karavan Classic: Features
Karavan Classic: Interior floorplan (Sleeping for 2 version) 
Interior Features
        After unfolding, the camper's interior is quite roomy, with clearly defined sections including rear sleeping space, central living/eating area, and front kitchen as well as shower/toilet ensuite.
The sleeping place is located in the rear slide-out section and consists of a full-size queen bed with dual layer foam mattress. Interestingly, you can opt for no mattress version (discount) to arrange your own sleeping quarter. Another manufacturer's options are either innerspring mattress or the newest solution – AIRSOFT mattress. The latter consists of 1.6" layer of memory foam and 4.3" thick Aired Core section, allowing you to independently control the level of firmness on each side. Also to consider is an optional underbed Di-Electric Membrane Heater (comfort on chilly nights but also helpful in eliminating condensation).
          The central part houses a dinette with seats along both sides of the trailer. A cleverly designed slide-out table is housed under the bed, to clear access to the sleeping area. Artificial leather-covered seats with color of choice also serve as storage (smaller one), while the space under the bigger one is used for exterior slide-out kitchen. (note that solid leather is available as an option). You will also find as a part of the standard features 2 under-bed pull-out storage drawers, magazine racks, small storage net, mirror and privacy screen.

Karavan Classic: Interior kitchen
            The interior kitchen includes a large, Cordian-equivalent benchtop, stainless-steel sink w/hot & cold water, 4.2 cu. ft compressor-based fridge w/freezer and energy-efficient induction cooktop. The standard version is a stand-alone, portable 1-burner cooktop. If you worry about electrical energy, you can replace the induction cooktop with a diesel one. Both offer precious portability, doubling the workspace when not used.
Also, from the large list of options you can choose a 2-burner induction cooktop, fully integrated into the benchtop and microwave oven. Due to the pop-up concept, you cannot count on wall cabinets, nevertheless, two large under-countertop cabinets with drawers and front shelves and cupboards are still offering a lot of useful space.
          Across the kitchen, there is a Shower/Toilet fiberglass ensuite w/curtain. It's a clever combo design. The swing-away composting (waterless) toilet, when rotated, allows you to enjoy an unobstructed cabin to take the shower. A dedicated power vent used to removes odors, is backed by a powerful Fantastic Fan above the shower. They should guarantee "freshness".
Note another Fantastic Fan above the countertop - it's dedicated to kitchen!
Thanks to 5 sliding tinted windows (2 in the central section are very large), the trailer's interior is light during the daytime and well-ventilated when opened.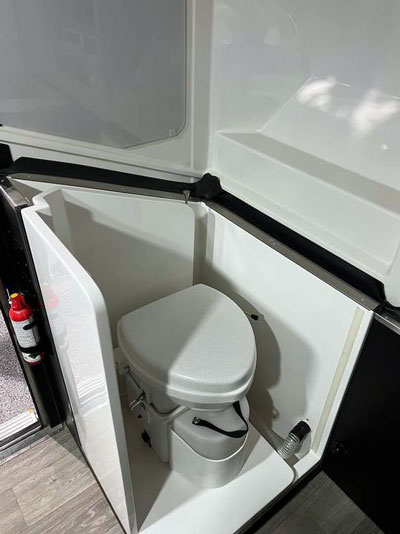 Karavan Classic: Combo Composting Toilet/Shower
Source: RVTrader.com (USA)
Exterior Features
         Assuming good weather, outdoor cooking in the company of Mother Nature is always a preferred option. Fortunately, Karavan Classic's exterior galley makes it not only easy but also enjoyable. The large sink with hot and cold water, 2-burner stove with griller, prep bench, and a small drawer for utensils (all from shining and easy-to-keep clean stainless steel) comes as standard. Two shelves behind provide modest storage space. However here you have a large list of options to customize this place according to your needs. And so, you can opt for a stainless-steel marine hooded BBQ, Weber BabyQ BBQ, or 2 x WOK burners. All these appliances run on propane gas and will require optional LPG tanks (fortunately at a reasonably low cost). However, there is also an E-(No LPG) option. For that purpose, the exterior galley comes with a standard AC power outlet. In such case, you have available optional electric Weber BabyQ BBQ, or single-burner induction cooktop. The latter, with its 1,800W of power and auto temperature control, seems to be a good option given the 'massive instant power" that is NOT affected by strong winds (as all propane burners are).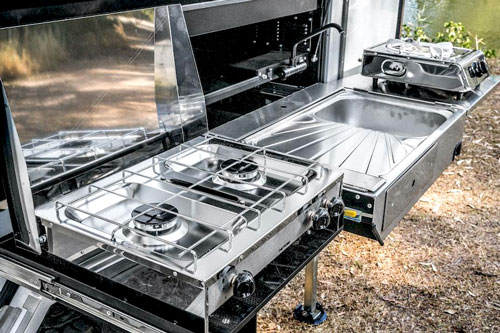 Karavan Classic: Exterior galley (all stainless-steel) 
Source: caravancampingsales.com.au (Michael Browning)
The extra benefit of E-option is that you will not need LPG bottles so the place taken by them can be converted to extra storage (also available from the list of options).
You probably realized that the exterior galley does not have a fridge or cooler. And it can be frustrating if you have to frequently go back to the trailer's fridge (especially that "on-the-way" you have 3 entrance steps to conquer). Having that in mind, the manufacturer recently introduced a new option for the galley: it's a Drawer Fridge. Is it enough to solve the problems? Not sure, the time (and customers) will show.
        Obviously, all these extras come at $($), but the latter one may be worth of extra bucks.
The large (7.2' x 9.8' ) awning w/valance and zip for walls covering the galley offers the first level of weather protection (be it rain or burning sun). For more protection from the wind (but also including animal intruders) you can add optional walls.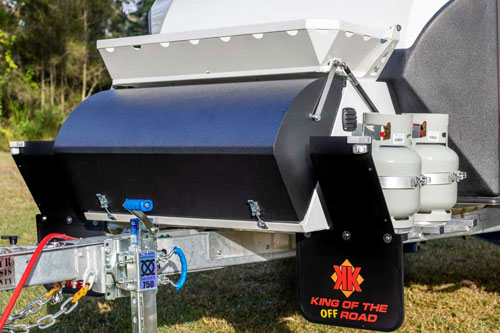 Karavan Classic: Front Multibox with a Kargo Karrier on top.
Storage
         Off-road journeys are much more demanding than traditional (but boring) trips to campsites. However, most likely a "nearby" campsite shop will be a rather "far-away" one. So, if you do not count on Amazon's delivery by drone, you have to carry with you all you may need. Unfortunately, Karavan Classic does not offer much general storage area. The best you have is the tongue mounted, 10.6 cu.ft Multibox. It's impressive and ideal for all kinds of camping gear, tools, etc… As a matter of fact, part of it is dedicated to a generator, but given the availability of solar energy, it may be unnecessary to carry it with you (and less costly). Another full-width storage compartment is at the rear and of the trailer.
Notes:
          Optionally, the manufacturer offers Side/Rear Storage Pack and a Kargo Karrier (Luggage Rack). But keep in mind that while Kimberley offers an almost endless list of options, the truth is that "More is Less" (Eco-friendliness also obliges!).
Note that thanks to a high-capacity battery (especially if you opt for extra ones), and a powerful Inverter, using an induction cooktop is not a problem. If we already talk about electrical energy needs -              Much more demanding is a roof-mounted AC unit. It's optional and can be also used for heating, however, unlike the induction cooktop, to feel its impact on the interior temperature, you will have to run it for a much longer time.
BTW – when it comes to heating, the better option will be an optional Space Heater "recycling" unused heat from a standard "On-demand" water heater!

Multimedia
          Well, here Kimberley is very resourceful. The Bluetooth Soundbar (Compatible with smartphones / USB / MP3, w/ Integrated Bluetooth music streaming) comes as a standard feature. But options include tons of other modern-day "tempting" services. Some of them can be useful (GPS tracking or Anti-theft will certainly increase your safety in "no-man's-land"), but some are purely entertaining. My personal view is – when you go off-road, leave the hectic city life and "soap operas" far behind. Enjoy the sound of nature!

To see specifications, construction details and list of standard and optional features go to:
--> Karavan Classic Specifications
Or go back to:
--> Innovative RVs
---
Unless otherwise indicated, pictures on this page are courtesy of Kimberley Karavans
Note:  Check with the manufacturer and / or authorized RV Dealer for the up-to-date list of features, options as well as latest specifications. These written above may not be accurate and certainly are subject to change by the factory. We are not responsible for any inaccuracy, the above text is provided only for the general information.
This review was written based on publicly available information for the benefits of the community of RV-ers. We do not receive any gratification or financial benefits from RV manufacturers, dealers, and any other promoters of RVs. 
We are NOT involved in sale and/or retail of RVs!