Camp365: Fold-Out Trailer
AWOL Outdoors RVs
Camp365 - a highly innovative design of comfortable, spacious cabin on wheels on the campground, but also very compact box when on the road or in the garage.
          The story behind the Camp365 does not fit well to our "computer-assisted" times. It's rather reminiscent of the past, when big inventions were born "out-of-nowhere" and sketched on a table napkin in some uninspiring café-bar. Well, that's pretty much what happened when Mr. Scott Davidson sketched out the images from his fuzzy midnight dream on the first available piece of the paper to make sure that the concept won't fade in the darkness of the night. The rest is history…..
It took nine years for Minnesota-based AWOL Outdoors to "polish" the initial concept. Finally, in 2019 the Camp365 made its debut on the crowded market of recreational vehicles. As it turned out, it was a very successful introduction because shortly after, the Camp365 was recognized by "2020 RV Business" as one of five RVs of the year!
Camp 365 - above: Spacious Cabin, below: compact, aerodynamic box in the road configuration (in the storage configuration the wheel-base's width is further reduced to just 48")
             Undeniably, the Camp365 travel trailer represents the very innovative concept setting it apart from the competition. Camp365 could be characterized as an Expandable RV, although some (due to its unique structure) would rather claim that it belongs to the new class of "Fold-out" RVs. In fact, in campground configuration the usable footprint of Camp365 increases three-fold to almost 100 square feet (8'5" x 11'8") from approximately 32 square feet (8' x 4') in storage configuration. What's even more important - it's a fully habitable space with up to 7.5 feet headroom over major the part of the cabin. Such significant transformation from an easy to store box in a garage to large living space on the campground does not have equals in the RV industry.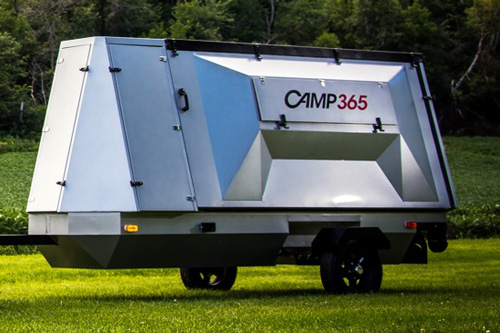 Camp365: Here a real model in a road configuration
1. Lightweight design
          Camp365 camper belongs to the class of ultralight travel trailers. Its frame is made from steel-reinforced aluminum, rear and front walls from aluminum alloy and remaining part of the cabin (roof and sidewalls) from synthetic Aqualon. As a result, trailer's dry weight comes in the range from 1,495 lbs (basic model) to 1,800 lbs (fully loaded version). Thanks to this engineering achievement, the Camp365 can be towed by most family cars (yes, even Mini Cooper can do it!) as well as some ATVs. Its low weight combined with highly aerodynamic profile (minimum "drag" on the road) makes it fuel-efficient. It's important for the wallet, but also Eco-friendly (term gaining popularity and "meaning" among eco-conscious population of RV-ers). 
Thanks to its low weight, Camp365 can be pulled by an ATV
2. Durability
              Most pop-up, pull-out or expanding travel trailers make use of canvas for their soft walls. Unfortunately, traditional canvas suffers from mold, mildew and inevitable wear & tear process. To avoid (or at least to reduce) these limitations, designers of Camp365 selected marine-grade material known as "Aqualon" for soft-walls. It's a flexible fabric that neither stretches nor hardens. It's remarkably resistant to mechanical stresses (rips, punctures) but also to the impact of weather (UV, water penetration, mold and mildew…..). For these reasons. Aqualon is largely used in marine applications (protecting covers, boat tops, upholstery etc.). 
Note that Camp365's structure does not include any form of wood or nylon (the latter, even in its ripstop form, still rips). The frame from steel-reinforced aluminum alloy is powder-coated, which offers quite lasting protection from weather's impact (corrosion). Remaining hard sections of the trailer (front and rear walls as well as entire floor) are made from aluminum alloy. The bottom line is – Camp365 is designed and manufactured with more than just one goal in mind (in other words to offer comfortable RV-ing experience). Thanks to no rust, no rot, no mold and mildew design, it's fair to say that it is designed to last!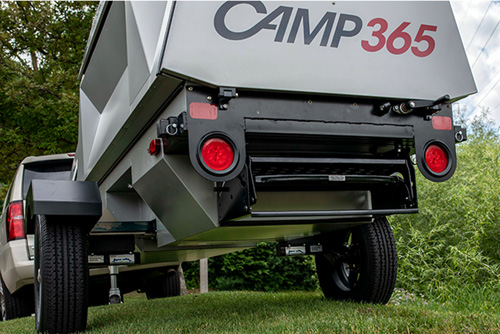 Off-road trip: Underbelly engineered for all-terrain conditions. 
3. Compactness
               In the storage configuration, the Camp365's cabin resembles 4 feet narrow and 8 feet long trapezoidal box on wheels (6'8" tall - wheels included). Adding the length of the nose cone and tongue increases overall length to 15'6", but in a typical garage, it is not the length of an object that causes headaches, but rather its width. Well, thanks to its narrow 48" width, the Camp365 can often be stored in the typical garage in parallel with the car.
The final words about compactness should be always expressed by numbers and these are very convincing: the cabin with almost 100 square feet of living space and volume of 700 cubic feet when folded takes only 32 square-feet in storage. 
It is assumed that for an average-skilled person the set-up or set-down process should take no more than 10 minutes. Thanks to a proprietary, lift-assisted system, it seems to be quite straightforward and effortless process (company claims it to be "grandma-proof"). 
           In road configuration the geometry of the folded cabin does not change. However, for better stability on highways, designers equipped the Camp365 with an adjustable wheelbase. Using a built-in manual cranking system, camper's wheelbase can be expanded from 48" (storage) to 72" in under 2 minutes. Wider wheelbase offers significantly better tolerance to side wind-gusts, especially at higher speeds. It's worth noting that by design, the Camper365 has a low center of gravity which greatly helps to keep it stable on the road.
The adjustable wheel-base has an extra benefit - the narrow (48") setting can be safely used at low speeds on dirt roads. Such scenario opens new possibilities – for example towing the Camp365 by an ATV you will be able to explore narrow off-road trails otherwise inaccessible for traditional cars and travel trailers. Obviously, it is a very attractive "opening" for adventurers and nature lovers (In fact, there are numerous local trails accessible only for vehicles under 50").
4. Spaciousness
           Popular pop-up travel trailers can considerably increase their interior space thanks to side-expanding tents (typically front and rear). However, this is only an extra sleeping space, because the full headroom living space stays unchanged. It is determined by the original design of the "hard-box" and by "definition" it's quite small.
In contrast, Camper365's ingenious fold-out concept expands the living space to almost 100 feet square creating a spacious cabin with an impressive headroom of up to 7.5 feet. The queen-size bed and twin/bunk beds offer comfortable places for sleeping, but the interior is still more than half-empty leaving a lot of standing room to move around!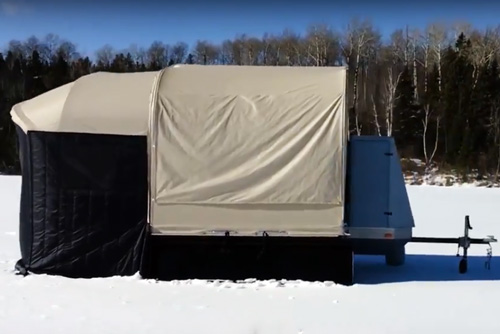 Winter camping: Here Camp365 with an optional, insulated exterior zip-in room and skirting. BTW- the name "Camp365" expresses the fact that you should be able to camp throughout 365 days of the year!  
5. 3-4 Seasons Design
      Camp365's soft part of the shell (roof and sidewalls) is built from two, air-gapped layers of Aqualon. Such structure not only offers better mechanical strength and longer-lasting performance but also much needed air barrier serving as a thermal insulation. Given the fact that front and rear hard walls have R-7 equivalent layer of composite insulation, the Camp365 can be used over extended seasons. In fact, the manufacturer advertises this model as a 4-seasons cabin ideal for ice fishing….  In fact, it can be achieved with the "little help" of an optional heating system, an extra zip-in layer of internal insulation and skirting. What may be questionable however is how the water system (if included as an option) will survive freezing temperatures? 
Note, that basic models (without water system) can offer safety and comfortable living conditions even in temperatures slightly below freezing point, although we have to point out that to great extent the notion of "comfortability" is a highly personal and subjective matter.
6. Living Space and Amenities
       The Camp365 unfolds into a large cabin with a respectable headroom over a major part of its footprint. Indeed, when you walk-in, your first and overwhelming impression is the large empty space ready for any daily activities. Forget about "crawling" into the bed, about efforts to pass each other in cramped quarters, about omnipresent feeling of crowdedness so typical for all small RVs. 
Folding queen-side bed (60" x 80" and either twin beds (30" x 60") or bunks (30" x 80") promise a comfortable sleeping environment for up to 6 persons (the 2+2 scenario is optimal). When needed, curtains suspended on two dividing rails can offer privacy. 
Five tinted, screened glass windows on hard walls and two large (38" x 26") zip-in mesh windows on soft side walls make the space not only bright but also more "open" to outdoors. The zip-in mesh windows come with extended rain and shade awnings for better protection from weather. Thanks to their sizable dimensions, awnings also offer shelter for outdoor activities.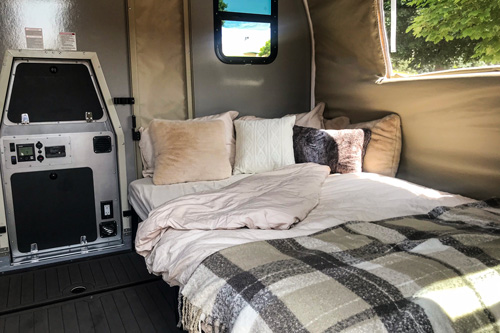 Interior: main fold-out bed. On the left is visible access panel to the front nose cone (area where all optional appliances are housed)
The manufacturer (AWOL Outdoors) rightfully underlines the spaciousness of the Camper365 as its main asset. As the matter of fact, the camper is advertised as:

The Cabin that goes Everywhere

However, even the best cabin, when far from the civilization (in this case bars, restaurants, showers, toilets, grocery shops and grid) may quickly lose its attractiveness (especially the one designed for off road and extended seasons RV-ing). No wonder that designers did everything to bring some solutions without any visible impact on spaciousness, so characteristic for the cabin

Interior: View from the entrance (visible two storage bins under the floor and two bunks on the left)
      Camp365 does not have a traditional kitchenette with bulky cabinets and worktops. For obvious reasons (camper's fully folding concept) you wouldn't also find overhead cabinets on the walls. Basically, interior houses relatively small dry storage bins under the floor (with the inside access) and hanging (optional) soft shelves, mostly for clothes. 
Everything else (if selected from a long list of options) will be "outside" of the cabin, although thanks to the clever design, you can also appreciate some amenities when comfortably sitting inside of the cabin.
          The secret is in the nose cone installed in the front of the cabin on the tongue. The "box" has access from both: outside and inside and in Camp365's basic version it serves entirely as the huge (39 cubic feet) storage space (or security protected by locks. Note that this storage space is accessible from outside in any configuration of the camper (be it storage, road or campground). It allows you to freely reach the stuff when on the road.
However, in fully loaded models, the nose cone is fitted with essential features like 2-burner stove, 12Vdc fridge, water system including on-demand hot water, stainless-steel sink with hot and cold water, shower) and LPG tank (adjustable Propane Mounts can hold any LPG tank of your choice outside of the storage when in use). Accessible from inside on slide-out trays they can provide working conditions for preparation of meals (If needed, the stove can be removed from the tray for outside use). Camper's large trapezoidal back cover (hatch in road configuration) is designed for dual use. When installed inside, it serves as a worktop for preparation of meals, table for serving them as well as available 24/7 working space (yes, you do not have to put it down for the night).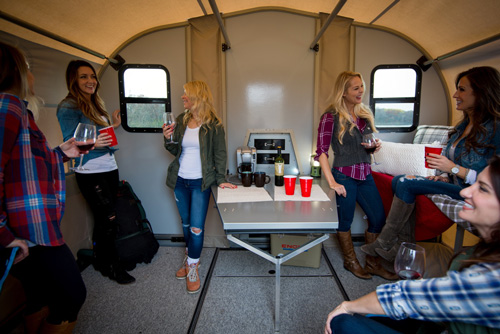 Party time (seeing greatly helps to believe it - yes, it is a spacious cabin!)
The stove sliding-out from the nose-cone means that meal is coming 
          The 12 gallons fresh and grey water tanks are located under the floor with access from the cabin. It's obvious that this is quite a limited amount of water (especially for more than 2 people). Well, let's be honest - there are physical limitations of what can be done within the targeted range of camper's weight and space. You have to accept the fact, that while the Camper365 can safely access dirt roads and narrow trails, it is hardly an off-grid RV. 
On the campground (thanks to city water and shore power hook-ups) you will have all the water and power you need. Also, when exploring unbeaten paths, you will still have basic amenities necessary to make your RV-ing experience memorable, but due to limited resources (water and energy), it wouldn't last very long! The 90W solar panel (part of an optional Zamp kit) can help, but it will not solve the fundamental problems with energy and freshwater.
Having in mind shorter escapades into nature, the manufacturer also offers a zip-in side room with hot/cold shower (it can be used also as a dressing room) and a marine-grade, slide-out cassette toilet as options.
Slide-out stainless-steel sink with hot & cold water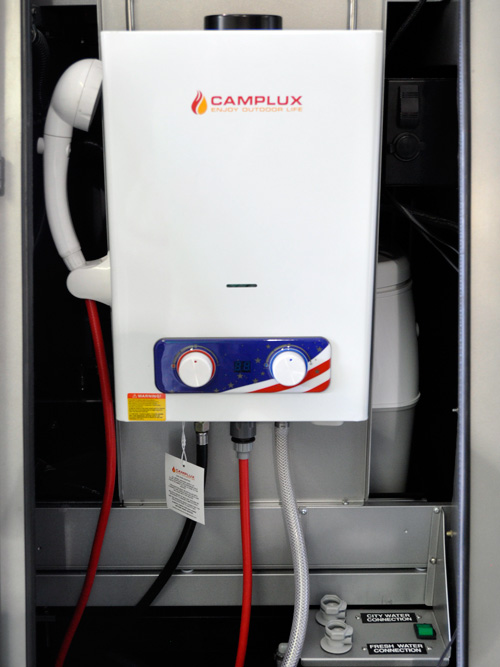 On-demand water heater certainly improves off-grid RV-ing experience
7. Storage
           Your RV-ing experience (especially for nature lovers) largely depends on how much camping and hiking gear you can pack into your trailer. And here is good news – the Camp365 (despite its compactness in road configuration) offers surprisingly a lot of space for "stuff".
The nose cone even when fitted with optional amenities still offers substantial storage capacity.  Add to that exterior side bins, mentioned earlier interior storage bin located under the floor and you still have some free space for stuff inside of the camper in its road configuration (accessible from the outside).
Bigger items like kayak, canoe, bikes, skis, snowboards etc.  can be carried on the side of the camper thanks to designed for that purpose carriers. They can accommodate most off-the-shelf rack systems (Thule, Yakima etc), so it should not be a big problem to find a solution for your needs. And (according to the manufacturer) there is still more to come!
That's what you will see inside (road configuration) after removing the rear hatch (Source: YouTube - onza04 channel)
Camp365 can easily accommodate bikes
Specifications
---
Overall Exterior length

Exterior height (storage)

Exterior width (Storage)

Exterior width (road) (1)

Exterior height (campground)

Ground clearance




Cabin (interior)

Max length 

Interior width (Campground)

Headroom




Dry weight (2)

GVWR

Cargo

Hitch weight (3)




Fresh water tank

Grey water tank

Sleeps

15'6 

6'8"

48"

71.5"

10'

11.25"





8'5"

11'8"

7'6"




1,495 lbs 

2,200 lbs

705 lbs

160 lbs




12 gals

12 gals

6
---
1. For increased stability on the road (towing mode) the wheelbase expands from 48" to 72". 
2. Standard version (with options up to 1,800 lbs)
3. Standard version
Construction:
Chassis: Powder coated, steel-reinforced aluminum-alloy
End-side walls: Aluminum alloy
Side walls and roof: Aqualon (puncture-resistant, waterproof marine-grade synthetic)
Floor: Aluminum-alloy, marine-grade coated (optional marine grade snap-in carpet)
Insulation: R-7 equivalent composite (end-side walls and doors,          Dual-layer air-gapped (side walls and roof) 
Windows: Tinted glass w/screens (end-side walls),                               39" x 26" zip-in mesh w/sunshade (side walls)
Axle: Hand-cranked adjustable wheel-base (spans 48" to 72")
Suspension: Independent torsion
Wheels: 12" w/black or silver rims (15" option)
Brakes: Electric (option)
Hitch: Standard 2" ball
Leveling system: 7-points all-terrain (dirt, mud, snow, sand…)
Lift Systems: Proprietary, assisted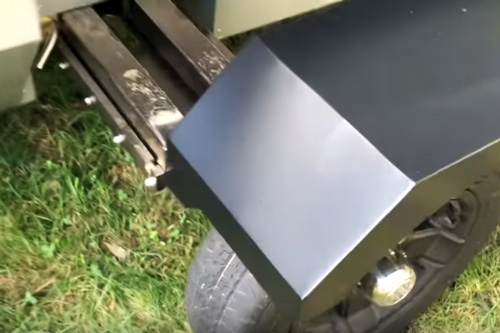 Extended wheel-base to 78" for better stability on the road.
Source: YouTube - onza04 channel)
Interior features
Raised, folding Queen-size bed (60" x 80")
Folding twin beds (30" x 60") or bunks (30" x 80")
Divider rails for curtains
Storage bins
Electric Installation
LED lights (cabin, interior and exterior storages) 
Outlets: 12Vdc (3), USB ports (4) and 110Vac (2)
Shore power hook-up
Tow vehicle connection (for battery re-charge)
Solar ready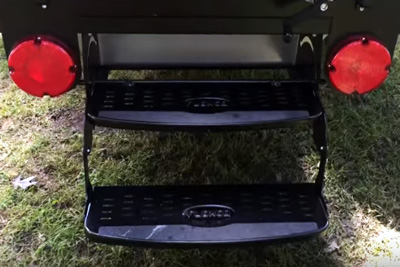 Fold-out steps
Exterior features
Rear hatch door (transforms into interior table)
Folding steps
Manual Tongue Jack w/wheel)
Floor stabilizers
Side awnings
Storage
Interior dry storage (floor bins): 10.8 cu. ft
Nose cone dry storage: 39 cu. ft
Exterior dry storage (side bins): 5.6 cu. ft.
Exterior dry storage (road configuration): 28 cu. ft
Dual 12V batteries storage
Side-racks (for kayaks, bikes, skis, snowboards etc)
Safety
Detectors & Alarm (smoke, C02 and Propane)
Fire extinguisher
Keyed entrance door lock
Exterior storages locks
Electric brake (optional)
Options
Kitchenette
Portable on-demand water heater (kitchen/shower)
12V Refrigerator w/freezer (installed on the pull-out tray) 
Portable pull-out 2-burner cooktop
Pull-out stainless-steel sink with faucet and hot/cold water
Optional refrigerator/cooler
Water:
Exterior shower
12 gallons Fresh water tank
12 gallons grey water tank
City water hook-up
Water tanks are housed in interior (under-floor) storage. They can be easily accessed for cleaning!
Toilet
Marine-grade, pull-out cassette toilet w/privacy curtain
Top: Solar Ready, bottom: deployed "fold-out" portable solar panel.
All together: Happy RV-ing :-)
Electrical
Zamp Solar kit w/90W fold-out panel
Thermostat (heating or cooling control system)
Bluetooth Speaker System
Heating/Cooling:
12.5 kBTU propane heater/w fan
A/C unit
Interior:
Marine grade snap-in carpet
Portable shelving
Zip-in insulation (extra protection for colder climates)
Portable, hanging shelves
Exterior:
Waterproof, insulated marine-grade zip-in side room
LPG Tank w/mounting brackets
Zipped-in side rooms (screened, standard or insulated)
Rear awning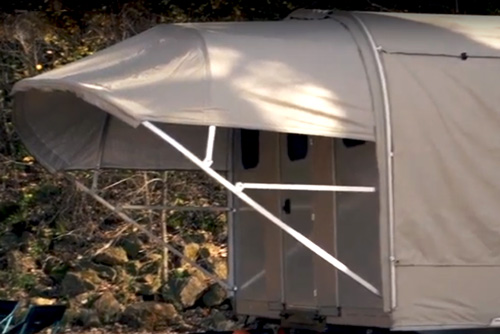 Rear awning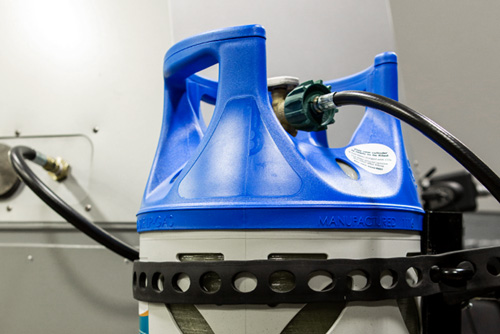 Optional LPG tank is attached to the camper by dedicated mounting brackets
Off-road Kit
15" off-road wheels, rims offer increased clearance (16.25"). Wider fenders are added for better protection on dirt roads (gravel, mud etc…). 
Summarizing: The Camp365 by AWOL Outdoors (Eden Prairie, Minnesota) is an amazing example of the innovative RV design maximizing precious living space in otherwise very compact trailers. For good reasons, it is called "Cabin that goes everywhere", and everywhere also means the web on narrow country trails normally inaccessible for traditional travel trailers.

Go back to: Innovative RV Designs
or directly to other innovative models:
--> sCarabane  Futuristic Travel Trailer 
--> BeauER-3E Expandable Travel Trailer
--> Caraboat: RV and Yacht all-in-one
Note: Unless otherwise indicated, all pictures are courtesy of AWOL Outdoors (Camp365)
Note:  Check with the manufacturer and / or authorized RV Dealer for the up-to-date list of features, options as well as latest specifications. These written above may not be accurate and certainly are subject to change by the factory. We are not responsible for any inaccuracy, the above text is provided only for the general information.
This review was written based on publicly available information for the benefits of the community of RV-ers. We do not receive any gratification or financial benefits from RV manufacturers, dealers, and any other promoters of RVs. 
We are NOT involved in sale and/or retail of RVs!