Amphibious Travel Trailers
Amphibious travel trailers like CaraBoat or Sealander thanks to their ability to serve as traditional campers but also as motor-boats made the revolution in the traditional RV World....
      Extending the travel experience from land to water adventures takes the camping to the whole new level.

For most of RV-ers the encounter with water is limited to crowded beaches. Some "water-aficionados" may opt for carrying a canoe or kayak on the roof of their RVs but this solution offers only very limited options. Others may eventually rent a motor-boat (pulling one behind may be impossible) to enhance the water experience beyond the beach settings.  
Fortunately, in recent years, with the emergence of amphibious campers we can observe the real breakthrough in the RV world, a huge leap forward making an old dream a reality. 
       Amphibious (floating) campers (travel trailers) are designed as kind of "three-in-one" units that can serve as a regular travel trailers when on the road or a campground as well as motor-boats and boat-houses when on the water. In other words, the only difference between these operating modes should be determined by the fact that stepping out of the trailer on the campground puts you on the hard-ground, while the same process when on the water requires you to swim (and you better know how to do it)!. Otherwise, you should be roughly able to live similar life as on the campground (sleep, cook, wash, relax etc…). 
Needless to say that amphibious camper opens possibility to explore otherwise inaccessible by land unspoiled areas hidden by our Mother Nature, to enjoy fishing or simply to escape from the crowds. 
---
CaraBoat
Caraboat: "Three in one" combined with stylishness, elegance and comfort....
As the traditional camper (above) and motor-boat (boat-house) - below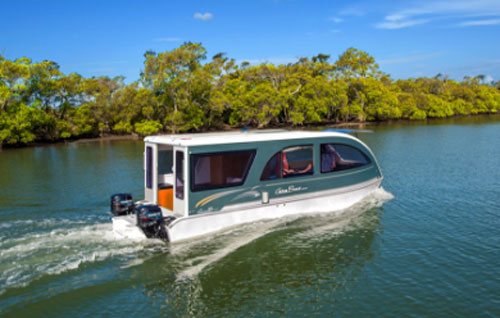 Australian-made Caraboat is probably the best example of a modern amphibious travel trailer. While a bit "pricey" (some 120k$) for an average RV-er, it offers quite luxurious "Land-Yacht" ambience and wide range of new possibilities. Stylish design, elegance, generous set of features offering almost residential-like environment and providing good performance on both – land (aerodynamics, lite-weight) and water (powerful twin engines and low draft) makes it a real hit and King of both Worlds. 
With good water, energy and storage autonomy it opens countless new possibilities for all nature lovers, adventurers or simply these looking to escape from the hectic life in the city and hide far from the crowd. 
See details at  --> CaraBoat- Amphibious Travel Trailer 
---
Sealander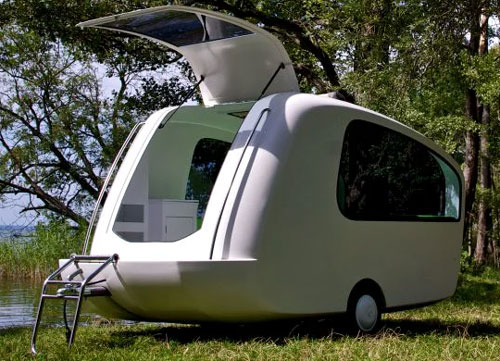 Sealander in two modes of operation: traditional camper (above) and motor-boat (below)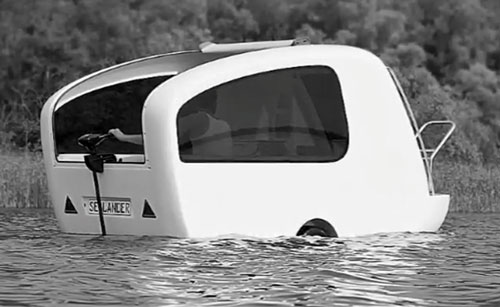 More accessible for an average RV-er is a German-made Sealander. Contrary to what the name suggests, the Sealander is designed for relatively calm land-waters. Relatively small it is rather a "two-in-one" design offering the functions of small camper and motor-boat. Although a plethora of available options offers functionality of the "mini-house" (1-burner coo-ktop, electric cooler, kitchen sink, portable toilet, table, convertible bed for two, sound system etc. – to keep it short), it is still too small for comfortable living. But undeniably, with an extra 5hp electric motor run from an on-board battery, it can serve as a motor-boat.  And that is a game changing capability opening new horizons and countless new possibilities for water aficionados. Think about escaping crowded beaches, fishing (facing nature instead of "competition"), or just enjoying the beauty of unspoiled nature far from the camping's crowd.
The good news is that the Sealander is already available in North America and at an affordable price around 20k$ for basic version (options will still take extra some $$). 
If this sounds interesting than see:
--> Sealander: Travel Trailer and Boat in one.
---
Classic American Dream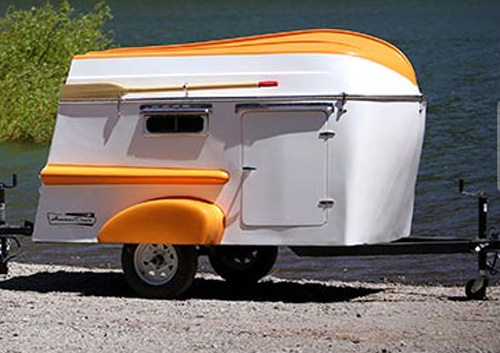 Classic American Dream Trailers is not "Two-in-one" but rather "Two separate units attached together". The good news however - for many it will do the job are a reasonable amount of $!
Trailer with the boat upside-down on the top (above) and the boat ready to go (below).
     May be the most modest of land/water camper solutions is the Classic American Dream Trailer. Although it is not an amphibian camper, thanks the clever design, the floating part of the trailer (boat) is integrated into the shell. Detachable it can be equipped with an engine and offer plenty of fun that only motor-boat can. At the same time, the camper's shell and interior "mini-home" will wait for you weather-protected by an extra roof.
     The American Dream travel trailer belongs to the class of small (compact) campers, however it definitely offers more than any of competing RVs of this class. Thanks to fiberglass construction it is lite-weight, easy to maneuver, provides decent living conditions and what is most important for water lowers – you can explore inland waters without facing the usual headaches: renting or towing with you the motor-boat. 
Please see this interesting design at: --> American Dream Trailer
---
      With the emergence of new class of campers being able to equally easily explore the land as well as waters, the quite new horizons are opened for nature lowers. The pessimists may say that the real goal is to have a camper that can not only conquer the land and waters but also reach to clouds and sky. Well – that may still be a dream (at least for a while), but frankly, it is always good to have some dreams…..