Tipoon - Expandable TT
Innovative RV Designs
Tipoon is and expandable, modular travel trailer; small on a road and in garage, but at the campground at the touch of a button opens increasing 3-times its interior living space....
        Not for the first time I found how difficult it is to think in "out-of-the-box" way. Being under the constant pressure of media-created "environment" invading (and "killing") almost every inch of our imagination we seem to lose the capability to "create our own paths", following instead "roads frequently traveled". 

Well, here is another French idea that after already very innovative projects of travel trailers like --> sCarabane and --> BeauEr-3x is about to come on the market.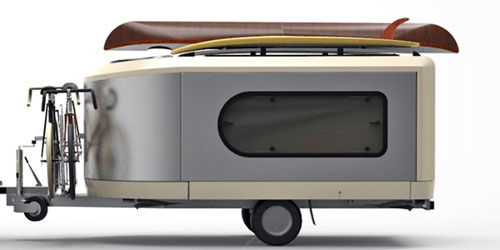 Tipoon travel trailer in road configuration
      The Tipoon travel trailer came to life (and now to serial production) in the workshop of the little town Olonne-sur-Mer (Western France, near Nantes).  To make it happen, you probably need the team of sort of "crazy" but highly dedicated and ready to break existing rules people like Mr. Jean de Lavau (interior designer), his son Charlie and Laurent Hudhomme (technician). The rest is history – written by the mentioned above team when the first model of an expandable pocket-size travel trailer left the workshop doors in 2014. It got an instant recognition by the community of RV-ers while the designers' team received well-deserved award of "Laureate of Innovation". Over the next two years, the design was optimized and close-to-final versions of Tipoon were presented on several RV shows across the France.  Now, at the beginning of 2019, the commercial version of Tipoon is about to come from production lines with plans to also reach the North-American market.

Tipoon can be removed from the chassis (A-frame trailer)
         In short words one can say that the Tipoon is a combination of the concepts of vertically expanding Hi-Lo travel trailers with the addition of horizontally extending slide-outs. According to designers, once fully unfolded, its volume increases 3-fold compared to that in road's configuration! This impressive "expansion-ratio" guarantees low aerodynamic profile on the road (fuel economy), high maneuverability and small storage footprint (important not only in the garage, but also on city's parking lots) and at the same time comfortable living space on the campground.

It's magic!
But there is more "magic" in this revolutionary design. The shell is designed as a stand-alone, self-supporting unit, that is only "temporarily" attached to the trailer. Such solution has two important benefits.  Firstly, it takes much less storage space in the garage. Secondly, when needed, the trailer can be detached and used for other purpose. One can easily imagine situation when for example a canoe transported on the campers' roof, can be hauled from the campground on the trailer towards the lake, while the deployed camper firmly stays on its own pads.  BTW- the company also provides optional side-panels for the Tipoon's A-frame trailer (chassis) so it can be used for all kinds of purposes.
Thanks to lightweight construction (honeycomb aluminum and composite materials) the Tipoon falls to the range of travel trailers towable by standard SUVs and eventually larger family cars.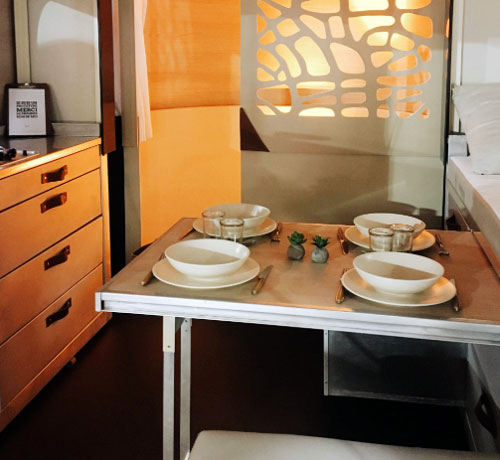 Interior modular setting: dinner table w/benches
It's true that in its fully folded configuration the Tipoon looks modern but frankly being very similar to numerous small-size travel trailers available on the market - quite unimpressive. For some, with its U-shaped design it may resemble famous Airstream Basecamp model (although for practical reasons without the stylish panoramic front window, because Tipoon's front-end houses a bathroom). However, the similarities end here.
      The Tipoon opens at the touch of a button on the remote-control unit, smoothly deploying and stabilizing practically in no time. On the camper's curbside, almost an entire wall slides-out of the "box". It houses the main dual-size bed for two adults. However, the cleverly designed under-bed area hides several modular pullout platforms that according to needs can be effortlessly set to one of the following configurations:
Dining area with table and two bench-type seats with pads for 4 people
Two single beds for children
One dual bed (75" x 43") – hardly for 2 adults, but certainly good for two teens.
Extension of the master sleeping area to a king-size bed, or
left as an open space.
Interior modular setting: extra dual-size bed
Interior modular setting: two small extra beds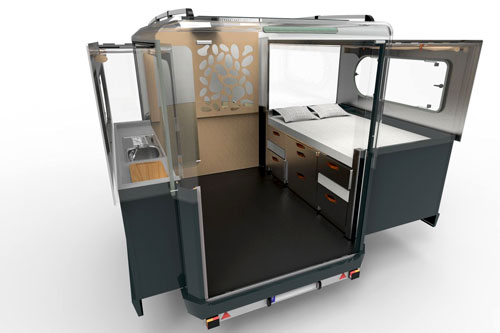 Interior: Open space setting
      On the camper's street-side opens similarly wide but much narrower slide-out housing a galley. Ample cabinetry with storage and countertop is equipped with 2-burner stove, sink with water and fridge (the latter is optional). Two across-the wall windows in both slide-outs make the interior bright. The entrance door covering the full width of the camper is located at the rear-end. The upper section of the door opens upward making the sort of an "awning" covering the entrance from weather elements (be it scorching sun or rain), while door's lower section opens 180 degrees to the right. Frankly, large windows and the open door at the back make the Tipoon looking more spacious than it really is. It also allows for closer connection with the surrounding nature. 
Tipoon's U-shaped front houses the bathroom with shower, sink and portable toilet. The bath's section separated from the living quarter by solid doors guarantees needed privacy. The roof-mounted skylight promises natural light and ventilation.
Well, it's hard to travel without supplies, extra camping gear and in general what we call "stuff", but do not worry - storage space is available in kitchen's cabinets and in modular underbed sections.
Turns-out, that Tipoon has also one more operating mode, sort of half-way between folded and fully opened. It was designed for short stops "on the way" and allows access to the interior part of the camper to "strategic" areas like bath, kitchen and bed. In this mode, the Tipoon fully expands upward (75" headroom), but only narrow galley slide-out expands sideway. It opens passage to the bath as well as access to the kitchen (read it - food!) and bed (if needed to stretch-out legs or take a short nap inside). Note however, that in this mode of operation, the camper is only slightly wider (98.5" versus 77" in fully closed mode) so it still fits on the typical parking lot for family cars.
Knowing that "If anything can go wrong, it will" (and usually at the worst moment), designers equipped Tipoon with the manual "crank-up/down" system, so (hopefully on very rare occasion), the Tipoon can be still kept functional. But that may be not the biggest concern – personally I would be rather worrying about accidentally activated camper's folding process with people inside. As we all already experienced it in our lives, our computers live their "own lives" - quite often incomprehensible for us and almost always frustrating. We can only hope, that Tipoon's activating system has some sort of "safety" setting preventing such situation.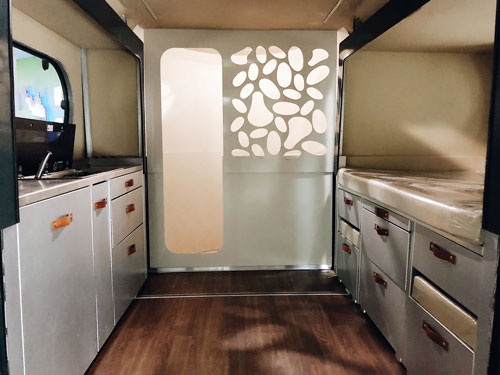 Interior - on the back behind the door there is a bathroom section
     The Tipoon certainly does not pretend to be a luxurious rig with residential furniture, fire-place enhanced ambiance and grandiose living area with an entertainment section. Basically, it is designed for young people with adventurous spirt and inclinations for outdoor activity. However, it can certainly meet needs of family with children or senior citizens as an affordable and comfortable "home-away-from-home", that on the road can shrink to very compact size matching dimensions and towing capabilities of a typical car. And then, once back home, can be easily stored in the garage.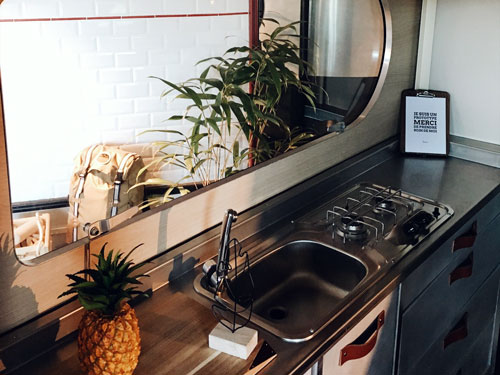 Galley
Specifications
---
Parameter


Cabin ext.  length (2)

Road config.

Ext. length (closed)

Ext. width (closed)

Ext. height (closed)




Parking Conf.

Ext. length (semi-opened) 

Ext. width (semi-opened)

Ext. height (semi-opened)




Campground

Ext. length (opened)

Ext. width (opened)

Ext. height (opened)

Headroom (opened)




Dry weight (3)

GVWR (4)

Cargo

Fresh water tank

Grey water tank

Black water tank

LPG

Awning

Sleeps

Imperial (1)

10'2"




13'6" – 14'9"

77"

77"






Same as closed

98.5"

8'4"






Same as closed

10'6"

8'4"

6'3"




2,100 lbs

2,400 -2,900 lbs




13.2 gals

13.2 gals

cassette

? 

Optional

Up to 4

Metric

3.10 m




4.1 -to- 4.5m

1.7 m

1.7m






Same as closed

2.50m

2.55m






Same as closed

3.2m

2.55m

1.9m




950 kg

1,100-1,300 kg




50 liters

50 liters

cassette
---
1. Approximative numbers (rounded-conversions from metric values) 
2. This is the length of the shell. The Tipoon is a standalone unit, the trailer's frame adds the length to about 13'6" – 14'9" (depending on the trailer).
3. With trailer (chassis) and standard features
4. This is the expected GAWR range for Tipoon's trailer
Construction
Design: Independent trailer w/self-supporting shell
Shell: Stainless-steel, honeycomb aluminum and poly-composite materials
Insulation: Polyester and honeycomb structure
Exterior finish: White, also available Green, Tan or Blue
Interior features
Fixed bed w/mattress (75" x 47")
Leather pockets
Modular area:
Pull-out 2nd bed (75" x 43" dual-size bed, or two smaller individual beds, or king-size extension of the master bed)
Pull-out dining table
Pull-out benches w/cushions  
Underbed storage space (about 70 cubic ft)
Underbed modular section
Dining table with benches for 4 people
Kitchen 
Slide-out galley w/2-burners stove, sink and storage cabinets 
Working space (countertop)
13 gallons fridge (optional) 
Panoramic window in the galley opens interior to the nature
Hard-wall bathroom
Shower
Sink
Portable Toilet
Skylight
Electrical
Battery
Shore power hookup
Solar prep
LED lights
Portable magnetic light
Remote-Control (programmed for closed, half open, and full open configurations)
Exterior Features
Manual (crank-up/down) opening/folding system
Stabilizing jacks
Tongue jack w/wheel
Here with tongue-mounted bike racks
Options
13 gallons fridge
Awning
Roof-mounted crossbars
Wi-Fi Backup camera
Aluminum trim
A-frame (chassis)
A-frame mounted bike rack
Tipoon is an Expandable Travel Trailer (opens upward and sideways)

        Probably commercial Tipoons are already leaving factory doors, however the truth is, that it may still take few months to clearly see all technical details of this highly innovative design. Despite this luck of some specifics regarding the current model, the company already disclosed future plans including Tipoon's off-road version as well as an integral chassis-mounted model. All to be seen!

Go back to: --> Innovative RV Designs
Pictures: Courtesy of "Tipoon - The Travel Machine"
Note:  Check with the manufacturer and / or authorized RV Dealer for the up-to-date list of features, options as well as latest specifications. These written above may not be accurate and certainly are subject to change by the factory. We are not responsible for any inaccuracy, the above text is provided only for the general information.
This review was written based on publicly available information for the benefits of the community of RV-ers. We do not receive any gratification or financial benefits from RV manufacturers, dealers, and any other promoters of RVs. 
We are NOT involved in sale and/or retail of RVs!