Hi-Lo Campers
Small Travel Trailers
Recently Kerola's Group designed modern Hi-Lo travel trailers reviving an old iconic design: Wanderer-16SD and 16RB – both with exterior length of about 16ft belong to the class of small campers.....
       When back in 1956 Jim Snyder lunched the series of Hi-Lo trailers it was a kind of "revolution" in RV industry. 
      These "collapsible" travel trailers brought a clever solution to two difficult to meet requirements.
They offered a weather-tolerant "hard-side design" and an easiness of "towing & storage" typical for "folding" (pop-up) campers.
The whole idea of Hi-Lo trailers was based on a concept of moving up (and down) the whole upper shell thanks to the hydraulic lift system (hence the name Hi-Lo).
In more descriptive words, the upper shell fits over the bottom one when on the road and slides up (during the set-up operation) or down (during folding operation) thanks to the telescoping system.
     The campers gained some popularity among RV-ers, but at the end, these relatively "heavy" designs  lost their competitiveness to modern "lightweight" travel trailers and newer collapsible hard-side A-Frame designs.   Jim Snyder's company closed operation in 2010 and it seemed that his iconic trailers will become part of the past occasionally revived by enthusiasts of vintage trailers carefully restoring the surviving "Old Beauties".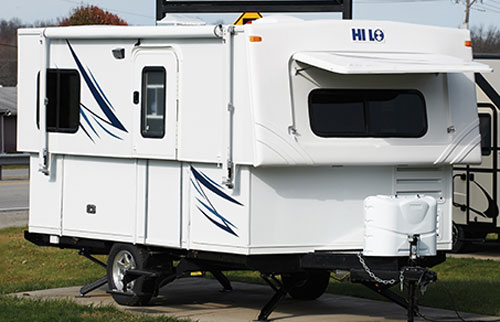 New "incarnation" of the Hi-Lo travel trailer:
2016 model Wanderer 16xx
     Well, "things" rapidly changed when in 2014, Mr. W. Kerola (President of the Kerola Group) acquired Hi-Lo's design, IP and trademark from Mr. Snyders family. With Mr. Kerola's financial resources, energy and vision, the new, modern version of Hi-Lo trailers is about to enter the RV market, bringing back to life the iconic retro design. 
Currently the Kerola's Group designed two models of campers known under the name of Wanderer 16. With external length slightly exceeding 16 foot they belong to the class of small travel trailers. Their main difference is the floorplan arrangement.  The Wanderer 16SD (Side Dinette) offers larger and more comfortable living area as well as an extra sleeping place when the dinette is converted in the bed. The Wanderer 16RB (Rear Bed configuration) has folding down table instead of classic dinette but offers an extra wardrobe/porta pot/storage space at the expense of the living area.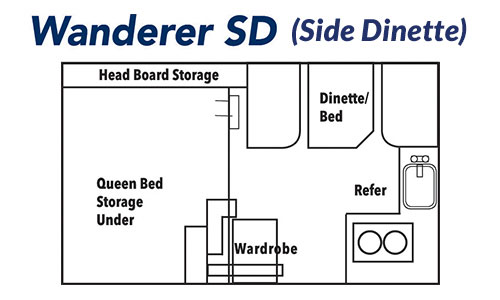 Wanderer 16SD - floorplan
      Both versions of the camper are generously equipped offering quite comfortable living and sleeping conditions.  Queen-size bed makes sleeping environment similar to home-like experience.  The kitchen is equipped with 2-burner cooktop, large sink bowl w/faucet, 3-way, 3 cu. ft refrigerator and spacious cabinetry.  Side-wall Air Conditioner unit with its 5,500 BTU and 11,500 BTU furnace allow for an extended camping season well beyond the traditional summer. But first of all, Wanderers 16xx offer a "bridge" to the nostalgic past of 60's. 
Hi-Lo Travel trailer: Model Wanderer 16RB - floorplan
Specifications:
Exterior length

Exterior width

Exterior height (road)

Interior height

Dry weight

GVWR

Cargo capacity

Fresh water tank

LPG tank

Sleeps

16'4"

7'11"

6'4"

6'2"

2,630 lbs

3,500 lbs

870 lbs

10 gals

20 lbs

3-4
      While Wanderer 16 still did not hit the road and some details still can change in the final models, the following features are their best description as of summer 2016.
Wanderer 16SD - Dinette
Wanderer 16RB - interior
Construction:
Powder-coated heavy duty frame
One piece seamless rubber roof
Laminated fiberglass walls
Independent rubber torsion axle
14" tires
Galvanized steel wheel wells
Hydraulic over electric Hi-Lo lift system w/ manual backup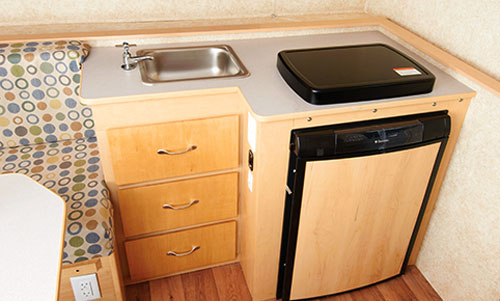 Wanderer 16SD - galley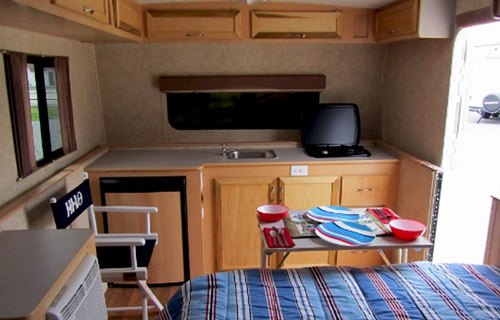 Kerola Hi-Lo Wanderer 16RB - galley
Interior standard features:
Rear Queen-size bed w/mattress
Dinette (convertible to bed)
3-way, 3 cubic feet refrigerator
Stainless steel sink
11,500 BTU furnace
5,500 BRU side AC unit
2-burner cooktop
3-speed Fantastic Fan
12V water pump
30A converter w/charger
6 internal electrical outlets
Ample lighting including porch light
Exterior Standard features
10ft awning
City water hook-up
Detachable power cord
2 external electrical outlets
20 lbs LPG bottle w/cover
12V battery
Electric brakes
Four front & rear stabilizer jacks
Entry door double step
Go to: --> 2017 Hard-side Folding Campers
or       --> Small Travel Trailers
Note:  Check with the manufacturer and / or authorized RV Dealer for the up-to-date list of features, options as well as latest specifications. These written above may not be accurate and certainly are subject to change by the factory. We are not responsible for any inaccuracy, the above text is provided only for the general information.
This review was written based on publicly available information for the benefits of the community of RV-ers. We do not receive any gratification or financial benefits from RV manufacturers, dealers, and any other promoters of RVs. 
We are NOT involved in sale and/or retail of RVs!
---