Top Mini Travel Trailers
Best Models for 2017
Best Mini-Campers for 2017 - small, easy to tow and ready to use models under 1,000lbs offering affordable way of traveling and great camping experience.....
     Mini-Campers are not for everyone. While for sure they do not provide luxury, they can certainly offer inexpensive way of traveling and fantastic camping experience....

Usually designed without typical bells and whistles, most of them provide basic features making life "on-the-road" if not comfortable, then definitely by far much better than that under the classic tent.
      There is no really clear definition of "mini-campers", it's mostly perception based on their size (hence the name "mini").  Given the fact that the "small" is rather subjective opinion, probably one of the best objective parameters that could characterize such class of RVs will be their weight – with generally accepted limit of below 1,000 lbs. So let's stick to this definition! BTW - to fully explore the world of small (little) campers we will also introduce the class of micro-campers (trailers towable by motorcycles and even by bikes) …… 
      Majority of mini-campers have teardrop shape. Some may think that teardrops popularity is related to nostalgic feelings reaching to 40's when the design was first introduced on the market. Although this is partially true, the main reasons of their popularity these days are "measurable" benefits. 
And these are: 
Lite-weight, small size and good aerodynamic profile (so fuel-efficient and economic), 
Reasonable standard features(including  much appreciated galley with exterior access…... ) 
Practicality on the road (easy to tow, maneuver and store), 
Practicality on the campground (let's call it "ready to use" and "weather-indifferent" – clear difference compared to pop-ups and tents),
Compatibility with modern production technologies (molded-fiberglass…)
     Indeed, most of modern mini-campers are made from composite materials (either molded fiberglass or fiberglass panels). It's part of the modernity in a continuous process to "make it better". In this case better means: no rot, no mildew, no leaks, easy maintenance and great durability (shells lasting almost forever).
Of course you can also find campers made more traditional way - from plywood. The main reason is usually lower initial cost (you can start production on your backyard), easy customization of the shell, better thermal insulation, possibly lower final price… But all that is achieved at the expense of also "traditional" headaches…..
     Following we will propose our best picks of mini-campers for 2017. It will be the spectrum of travel trailers from some really impressive (and let's face it – a bit pricey) designs through more "humble" (and affordable) ones to the simplest and possibly least expensive (kind of DIY) models. 
---
T@G Basic (Little Guy)
T@G Basic travel trailer
     Little Guy's series of T@G campers offers several teardrop models including classic Basic and Max as well as their larger versions labelled with an extension XL.  Out of them the standard T@G Basic (also known as TaG) with its weight of less than 1,000 lbs fits into the class of Mini-Campers. Seen from the outside it strikes with stylish look and sophisticated elegance enhanced by colorful trims. 
The shell includes two compartments – the largest one (cabin) serves as a comfortable queen-size bedroom. But with the "little help" of options, the cabin can also meet your entertainment needs ( 19" Entertainment Center), provide controlled "climate" (optional AC) and much more….
 The fully-equipped rear galley with large worktop area is accessible from the outside (so you can fully enjoy cooking not being squeezed by tight interior space and low headroom). The upwards opening lid provides good protection from sun or rain. Generous set of standard features and long list of options should make happy most travelers….
See details at: --> T@G Basic Travel Trailer
---
Pino Pi Travel Trailer
     The series of Pino travel trailers includes several models starting from the smallest one Pi to the largest one P425 (almost 14 ft long). The model Pi with the length of only 6'11" truly belongs to the class of "Mini-travel trailers"). Beautifully stylish shell is really small but compared to traditional teardrops it is quite tall offering enough of headroom (and interior space) to house modestly equipped galley. 
The cabin made from multi-layer sandwich of composite materials promises not only durability but also good thermal insulation. Optional heating system, solar panels, entertainment system and awning (to keep long list of options short) will certainly surprise most first-time observers. It's because this little "baby" despite of its "mini-size" can provide comfortable camping conditions…. Add to that the rear bike rack and you have all you need to explore treasure of our Mother Nature. And if I did not mention it earlier – it is lite (only about 660 lbs dry weight), comfortably sleeps 2 and not sure – maybe it is good, maybe bad news - thanks to its shape and graphic it attracts attention of bystanders……
See details at: --> Pino Pi Mini-Travel Trailer
---
Kulba Teardrop Camper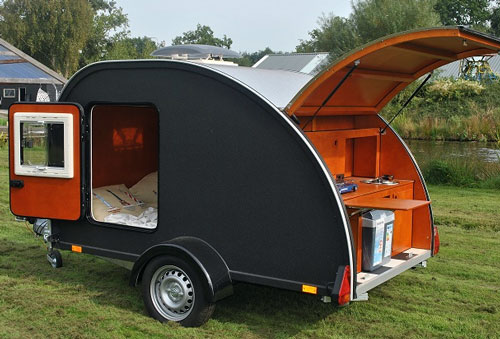 Kulba mini-camper is "traditionally" wooden
     We decided to include Kulba travel trailer in the class of mini-campers despite the fact that its dry weight slightly exceeds 1,000 lbs.  It is because this teardrop is made from high-quality Baltic birch, wood very much appreciated for its strength, stability and beautiful texture. 
Kulba is not manufactured in mass quantities, it is rather hand-crafted and can be easily tailored to reasonable customer's needs.
The cabin with interior length of 6'7" offers just enough of space for comfortable sleeping. The rear galley accessible from outside is modest, but sufficient to make typical camping meals. The tongue can house an extra storage box or the rack for two bikes. Similarly of great use can be an optional roof rack (for example to carry the kayak). 
     Bikes, kayak – it almost invites to explore the beauty of nature. Maybe, it's because being made from wood obliges to leave highways and take unbeaten, out of civilization paths?  Indeed, Kulba (its off-road version) is designed to explore wilderness – I guess great news for nature lovers…..
See details at: -->  Kulba - woden mini-camper
---
MyPod Basic Mini/Micro-Camper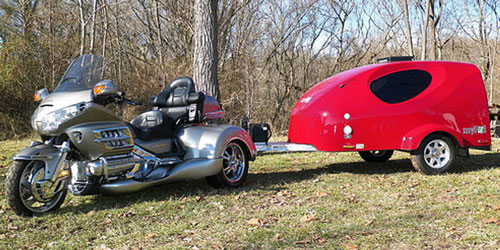 MyPod can be towed by tricycles
     Another Little Guy – this time MyPod Basic as the lightest from the series of trailers proves that the company is very serious about the meaning of "Little". MyPod Basic with its dry weight of just about 500 lbs actually fits in the bottom range of Mini-Campers and upper range of Micro-Campers. So the good news for bikers is that MyPod can be towed by a tricycle. Its fiberglass cabin can provide decent sleeping space.
The optional Entertainment Center (TV/DVD/CD/FM seems to be an "Extravaganza" not compatible with what the camper rally is. Because frankly, MyPod is basically a hard-wall, weather-protected and lasting forever sleeping shelter on wheels that will easy follow you on your adventures.  It does not have the galley, so you will have to "borrow" from perhaps already forgotten scout's skills. 
The interior features include sofa convertible to full-size double bed.  Front-end includes some wooden cabinetry serving as a handy but "limited-capacity" storage.  On the other hand, due to high GAWR (2,200 lbs) you can carry with you a lot of gear! When saying "gear" – I mean stuff useful in wilderness, but by no means an extra "stuff" that will simply "pollute" your camping experience (and mind). 
All-in-all, MyPod is great for short weekend escapades to meet the nature at its best – away from hectic cities, crowded campgrounds…..

See more at: --> MyPod Mini-Travel-Trailer
---
Alpha ProCamp Mini-Camper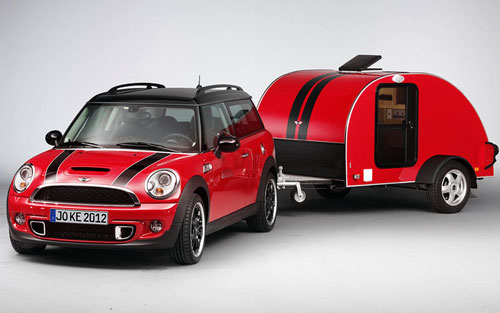 Alpha (Mini-Cowley) travel trailer and its interior!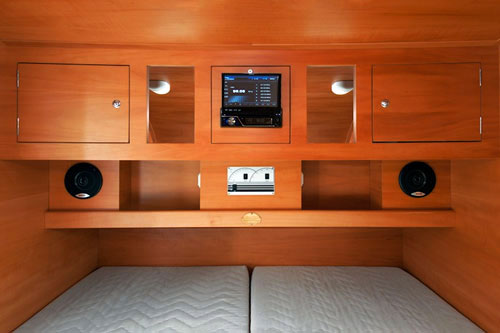 Alpha travel trailers are made by Slovakian company ProCamp and distributed all over the Europe. Company also offers the models of Pioneer, Escape, Buddy (all teardrops), Bushcamp (as the name suggests off-road camper) and the smallest one Wave. The Alpha (and its "tuned-up" English version known as Mini Cowley designed to match the famous BMW-owned Mini) is the most popular model. It was designed according to ProCamp's design philosophy: Maximum camping pleasure on the Minimum footprint" ….
The sleeping space is roomy and comfortable for two persons. The cabin also offers surprisingly "generous" (and elegant) wall of cabinets, drawers and shelves.  Well-equipped rear galley accessible from the outside completes the set of much needed features making the life "on-the-road" easier (some "stuff" may be optional). 
Interesting options is a so-called "Automatic Park Assistant" – allowing you to remotely park your camper in tight spaces. Well, probably it is great news for "weekend-drivers" not accustomed to pull/push-back trailers.  Certainly it may help many of us…..
     Now the bonus – optional rack for two bicycles or believe or not – for scooter will greatly enhance your contact with nature (I would suggest one of these modern electric-scooters to prevent pollution)!
See details at: --> Alpha Mini-Travel Trailers
---
So-Cal Sierra Mini-camper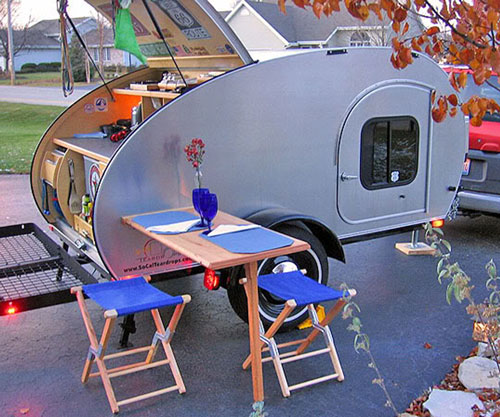 SoCal Sierra Mini-Travel-Trailer 
     SoCal Teardrops (founded in 2004 with main plant in Upland (CA)) is another American company operating in RV business. They offer several models of travel trailers including: Rover (the smallest one), Sierra and Cal-Delux (the longest one) as well two off-road models Krawler and XS. 
Sierra, with its dry weight of just 1020 lbs may be still classified as an example of Mini-camper.  One foot wider than Rover (5ft versus 4ft) , Sierra offers comfortable sleeping space and much more spacious rear galley. Yes, 1ft longer work-space in the kitchenette is precious when it comes to preparing meals! 
Sierra's cabin (like other SoCal travel trailers) is made from plywood finished with anodized aluminum on the outside. And as the company claims, it represents "Hand-built American Quality".
The sleeping area has pass-through window to the galley making "things" easier. Talking about galley – it seems to be meticulously designed with the series of pulling-out drawers, sliding-out stove and fridge. But the real bonanza comes with the long list of options allowing for high level of customization. It simply opens possibility to make the camper a "little warm place" where you will love to be….. 
See more at: --> Sierra - SoCal Teardrops
---
ProLite Eco12 Mini-camper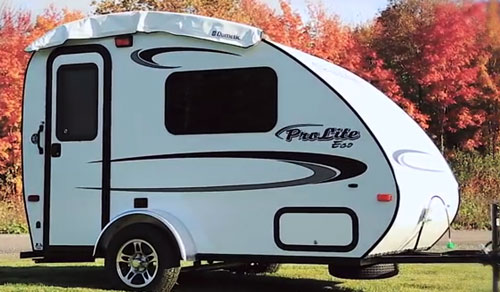 ProLite Eco12 fiberglass mini-camper
      ProLite's Eco12 travel trailer is one of the smallest (6'10"), lightest (725 lbs), most durable (fiberglass) and at the same spacious and well- equipped mini-camper.  Compared to classic teardrop mini-campers, Eco12 offers very decent interior headroom (almost 6ft). It makes it a very comfortable mini-camper with decent living space, especially appreciated in the case of bad weather (it happens as we all know). 
Cozy interior with large dinette converting to the queen-size bed,  interior galley equipped with all you may need "on-the-road" (burner, sink and large fridge) seems to contrast with the very modest perceptions regarding mini-campers. Indeed, made in Canada, Eco 12 will make happy many RVers. 
It may be worth to mention that 16,000 BTU furnace with thermostat is also part of the standard package (apparently a "must" in the climate North of 49th parallel)….
See details at: --> ProLite Eco12 Mini Travel Trailer
---
RangeRunner Runaway Camper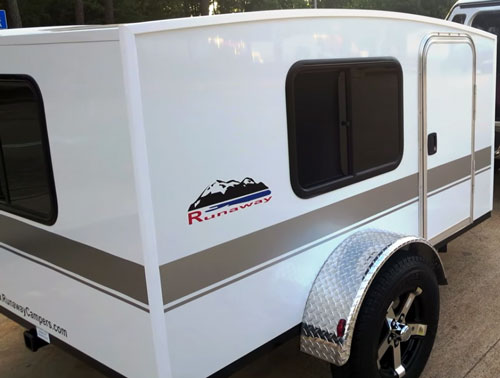 Wide-body RangeRunner (Runaway Campers)
    RangeRunner is the wide-body (6 x 8) travel trailer made by Runaway Campers. The company was founded quite recently (2012) and operates in Ocala (FL). It also makes three narrow-body travel trailers (4 x 8) – BaseCamp, CoolCamp  Navigator. Out of mentioned models, the RangeRunner is definitely the most interesting one! With its weight of 900 lbs, it definitely belongs to the class of mini-campers. With roomy interior it promises comfortable camping.
What differentiates Runaway Campers from competition is the unusual approach to the business.  First of all as they claim "We believe our business is a gift from God, how we handle it is our gift to Him" (and I would say to customers).  Secondly - They "... focus on basics, not the bells and whistles".  The result is obvious – Runaway Campers offer the least expensive travel trailers on the market (believe or not the prices range from $2,500 for narrow-body models to just under $5,000 for RangeRunner). 
RangeRunner is basically a spacious, boxy shelter on wheels with very modest (although well thought) set of standard features. The final "tune" belongs to customers opening almost unlimited possibilities to all DIY folks. Standard 5,000 BTU AC, front storage box, rear receiver for bike rack – these are just few features making a good starting point in the mission to make the RangeRunner your own enjoyable "little place"….  
See more details at: --> Runaway RangeRunner Mini-Camper
or:
Explore the -->  Best Small Travel Trailers
The bottom line is – regardless how small are Mini-Campers, you can always find The ONE that will not only meet your financial capacities, but first of all, will fulfill your dreams of exploring the nature, dreams of traveling to discover unknown, dreams of living an exciting life when "on-the-road". ….

---