Best
Small Travel Trailers


Part 1
The top small travel trailers including famous Airstream Bambi, Coachmen Clipper but also less known Opus, Gidget Brumby, Chalet LTW, Prolite, Safari Condo Alto, TaxaOutdoors Cricket, Lance, Scamp and many more….
     Increased demand for small, easy to tow and store, fuel efficient and economic travel trailers that can also offer the decent level of comfort reflects the new reality on the RV market. 
     And this reality is a growing number of young as well as on the opposite side of the demographic spectrum "active" retired families with no financial means for luxury RVs but strong wish to "connect" with nature.
Both groups represent families with either no children (not yet or already grown-up ones living their own lives)) or having very young kids.
And majority of these potential customers search for inexpensive ways to explore the "World", to discover unknown, to live their adventures…  
They are ready for excuse to just "hit the road" and such excuse can be availability of small travel trailers - typically inexpensive, economic and easy to operate but at the same time providing "good enough" comfort to follow dreams :-).
     Below is the short presentation of best small travel trailers for 2016 with links to detailed information including description, specifications, features and obviously pictures and videos.
Vistabule
         Once the founder of Vistabule (St. Paul, Minneapolis), Bert Tylor was overheard saying: 
"I wanted to take the cave on wheels and turn it into an observatory on wheels," he says. (source: St. Paul Pioneer Press, Dave Orrick).
In fact, he achieved his goal. Keep in mind, however, that the Vestibule teardrop trailer is designed for campers, not for RV-ers! It offers the level of comfort exceeding expectations for this class of RVs and still has all advantages of small (compact) travel trailers – lightweight, easy to tow by most cars, and easy to store in the typical garage....
See details at: --> Vistabule Teardrop Travel Trailer
Geo-Pro G15TB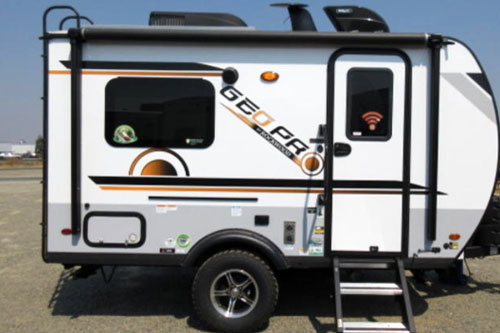 Rockwood Geo-Pro G15TB travel trailer.
       It's not the smallest model in the Geo-Pro family - G12RK & G12SRK with lengths correspondingly 11'3' and 12'3" are smaller, however, they offer just the protected sleeping space and a rear hatch space for an outside kitchen. The next in size model - G15TB (with the length of 15'10") is the smallest walkable Geo-Pro travel trailer. The decent "living space" combining two twin beds, a portable dining table, an interior kitchen, and a wet bath makes it an attractive model for journeys into nature.....
See details at: --> Geo-Pro G15TB Travel Trailer
Jay Feather Micro 12SRK
Jayco Jay Feather Micro: Model 12SRK
            The smallest and lightest model– 12SRK targets the specific group of RV-ers, (solo or young couples) enjoying all-day outdoor activities like biking, hiking, canoeing, beachgoers. In other words - all those adventurers that by conviction keep away from luxurious RV resorts, trying rather to enjoy the beauty of an unspoiled Mother Nature…. 
For details see: --> Jay Feather Micro 12SRK
Winnebago Hike 170S
Winnebago Hike 170S travel trailer
       The shell of Hike 170S is built from aluminum and Azdel (as an insulation layer) with a fiberglass finish. The one-piece fiberglass roof offers much-needed structural continuity promising a long life. The frame is NXG-engineered from High Strength Low Alloy (HSLA) prime steel. It's the technology used for the production of strong, light-weight frames for towable RVs (travel trailers, fifth wheels wheels).
The Hike 170S comes with an adjustable ground clearance designed for off-road adventures. However, if preferred ....
See details at: -> Winnebago Hike 170S
nuCamp TAB-400
nuCamp TAB 400 teardrop trailer
   The TAB-400 preserves traditional attributes of teardrop trailers (light weight and legendary shape). However, by significantly increasing its size, nuCamp raised the standard converting mobile sleeping space into a small studio apartment on wheels with all the amenities necessary for longer journeys on the road.

Unlike traditional teardrop campers, with its overall length of 18.3 feet and interior headroom of 79 ", it offers good base not only for affordable but also comfortable vacations. The model comes in three floorplans:
a) Standard w / 2-way refrigerator
b) Standard w / 3-way refrigerator
c) Solo
For details see at: --> nuCamp TAB 400
Polydrop K-17 & KJ-20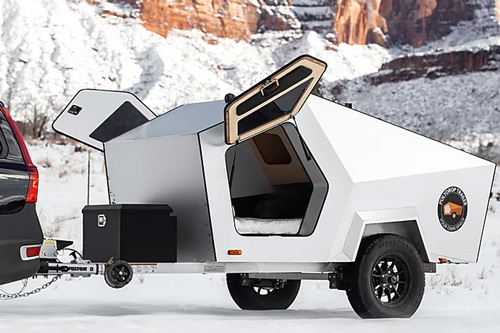 Polydrop: basic model K-17
         Polydrop Inc. designed a series of compact travel trailers offering comfortable private space for sleeping. By definition, the ultra-light design puts clear limitations on set of standard features, but in return, makes Polydrop trailers towable by typical, 4-cylinder family cars, what was the main design goal. Very good thermal insulation offers the opportunity to enjoy all-season RV-ing while optional off-road capabilities allows for exploration of Mother Nature. However, clearly minimalistic design (even in fully loaded KJ-20 version) does not make it straightforward. In other words, Polydrops trailers are not for everybody…. 
See more at: --> Polydrop Ultra-light Travel Trailers
Hélio O2 Travel Trailer
Hélio O2 ultra-light travel trailer with shape-matching awning

                  All Helio travel trailers are made to last. The aluminum frame makes it not only corrosion free and by that long-lasting, but also light. The monocoque shell is a sandwich of insulation (expanded polypropylene) and fiberglass. Overlapping molded parts making the shell are glued with resins making it not only rot and mold free but also a watertight. Keeping in mind specifics of Canadian climate (quite rainy), designers eliminated otherwise attractive rear panoramic window achieving this way better weather resistance.....
See details at: --> Helio O2 Ultra-Light Travel Trailer
inTech RV Luna
Luna travel trailer with its impressive windshield
        All Luna models are designed and manufactured to last (and obviously to serve the best possible way their customers). To achieve this ambitious goal, all chassis and frame are made from welded aluminum, while shells from fiberglass.  Thanks to such design, the two most destructive enemies – rot and rust are eliminated while the trailers are lightweight and extremely durable. Combination of founders' vision, good engineering practices and quality work of finest Amish craftsmen, led Luna travel trailers to conquer the RV market by storm.  In fact, already in 2018, so less than one year after Luna travel trailers hit the road, they received recognition as some of the best RVs of the year by RV Business....
See details at: --> Review of Luna Travel Trailers
Airstream's Bambi Sport 16
Airstream Bambi travel trailer  - Model Sport 16ft and its floorplan.
       The first Airstream's Bambi camper was lunched back in 1961. It was a 16ft long rounded-shell design that with time only gained popularity thanks to nostalgic sentiments of new generations of customers. Now, more than 50 years later the name Bambi was extended over Airstream's family of single-axle travel trailers including the series of Sport, Flying Cloud, International Signature and International Serenity trailers.
Sport – 16ft model proves that "great things really do come in small packages".  This smallest Bambi thanks to lightweight design offers outstanding fuel efficiency, but it is also surprisingly spacious and comfortable. The bedroom with 78" x 48" bed is located at the back of the trailer and offers not only a sleeping place for two persons but also privacy and entertainment (LCD TV in mounted on the wall, so when a cloudy sky prevents watching the natural spectacle of stars you can watch your favorite TV programs. Two hampers are handy for all kind of stuff you would like to keep in the bedroom…..
See more details at --> Airstream Bambi Sport 16
---
Classic American Dream Trailer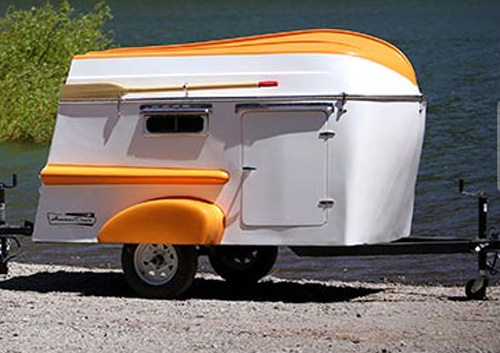 Classic American Dream Trailer in road configuration (boat attached on the roof).
        Portland-based American Dream Trailer Company is not like any other in RV industry. Company's goal was to address a specific group of travel enthusiasts – these loving the Mother Nature and appreciating simplicity of traveling and camping conditions.  
Their Classic Dream Camper vintage design revives nostalgic past by proposing to meet the Mother Nature "leaving unnecessary (stuff) behind" and "embracing simplicity". Indeed the camper is very simply, but offers something very precious: a combo integrating the small travel trailer and the rowboat that "will follow you and your dreams" on the roads less traveled, out of beaten paths…..  
See more details at --> Classic American Dream Trailer
---
Opus Drifter XT
Luxurious Pop-up Camper
Luxurious pop-up travel trailer - Opus
        Australian Purple Line's Opus Drifter XT folding camper thanks to the "out-of-the-box" concept and ingenuity of designers set a new standard in pop-up campers industry: Luxury! 
The Opus is a revolutionary design. 
a) It is ultra-lite (so easy to tow even with small car)
b) It is strong and rugged so it can go for off-road trips
c) Thanks to two reinforced lids and racking system, Opus can carry boats, bikes, kayaks, even two motorcycles( with the option Opus Moto allowing to load them on the top)
d) It matches the practicality with luxury (unexpected in tent campers)
       Double end-beds with inner "tents" provide the comfortable sleeping and privacy. Well equipped kitchen with stainless-steel sink w/glass lid, 2-burner gas stove w/piezo ignition and glass lid as well as cabinet-mounted 3-way refrigerator and work surface with drawer offers great conditions for making not only fresh morning coffee but frankly, gourmet meals. But may be the most stunning Opus' feature is the sitting area with its large, horse-shoe-shaped sofa and table .....
For more details see: --> Purple Line's Opus Drifter XT 
---
Chalet LTW A-Frame trailer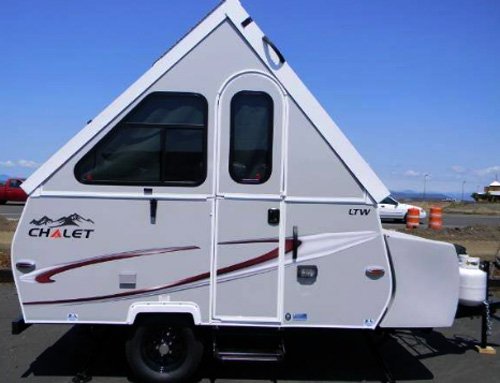 Chalet LTW Travel Trailer
       Chalet Inc. (Albany, Oregon) is one of American RV manufacturers known for its series of A-frame travel trailers. In recent years, these hard-wall folding campers gained considerable popularity thanks to their undeniable advantages. They are lightweight (so can be towed by almost any family car and fuel efficient), folding (so easy to tow on the road, maneuver on the campground and store in the garage), weather "resistant" and easy to set-up. The latter characteristics make the clear difference compared to tent pop-up campers.
They can be fully set-up and fold-down in about 30 seconds (just by touching the button!). And hard-side walls provide full protection against any weather elements (no headache typical for tent-campers that have to dry before folding, no risk of mold due to humidity etc…
The series of Chalet's A-frame travel trailers includes: LTW (smallest one presented in details here: --> Chalet LTW A-Frame Travel Trailer
---
Gidget Brumby Teardrop Camper
Gidget Brumby Teardrop trailer with its slide-out unit and roof-installed solar panels makes the new standard in RV industry 
        Most modern teardrop travel trailers are designed for specific customers – young nature lovers and/or retired couples sharing common characteristics: an adventurous spirt but no enthusiasm for backpacking and tent. Providing sleeping place for two, these lightweight and economic campers (not only due to fuel efficiency and towing by a typical family car, but also due to the low initial cost) have one serious disadvantage.  Usually, they do not offer any living space, and on the campground feel tiny and crampy….. They are just like a hard-wall tent on wheels, always ready to provide a place for sleeping! 
    Well, it seems that this limitation was eliminated once an Australian company introduced an innovative Gidget Brumby Teardrop Camper. Thanks to the slide-out module (the solution often used in larger travel trailers) the old idea of retro teardrop trailers got new life.....  
For more details see: --> Gidget Brumby Teardrop camper
---
Lance 1475/1575 Trailers
Lance 1475 - floorplan shows an impressive interior
    The 1475 and 1575 Lance's travel trailers are the two smallest models of campers with the floor lengths correspondingly 14'10" and 15'9". However, despite such small difference in dimensions, these two models have completely different interior layout thanks to the slide-out module in longer one. 
     The Lance 1475 is an example of camper designed based on customers inputs. One of the results of this approach is no dinette as many customers expressed a wish to eat either outside or when sitting comfortably in the lounge chairs! Another wish was to have a decent size bath - and when you put that all on the 14ft floor, obviously you have to make some "tough" choices. But from looking at the layout and attached pictures, it is clear, that despite the very small size (and benefits coming with it), the Lance 1475 Travel Trailers makes a "mini-home" with warmness and comfort you would like to experience when on the road ......
See details at: -> Lance 1475/1575 Travel Trailers
Here are some of the best small travel trailers for 2023
Airstream Bambi: A sleek and stylish trailer that is perfect for solo travelers or couples. It comes in a range of sizes and configurations, so you can choose the one that suits your needs best.
Forest River R-Pod: The R-Pod is a lightweight and compact trailer that is easy to tow and maneuver. It comes with all the essential amenities, including a kitchen, bathroom, and sleeping area.
Escape Trailer Industries Escape: The Escape trailer is a compact and lightweight trailer that is perfect for off-road adventures. It comes with all the essential amenities, including a kitchen, bathroom, and sleeping area.
Happier Camper HC1: The HC1 is a unique and stylish trailer that is perfect for those who want something a little different. It has a modular design, so you can customize the interior to suit your needs.
Winnebago Micro Minnie: The Micro Minnie is a compact and lightweight trailer that is easy to tow and maneuver. It comes with all the essential amenities, including a kitchen, bathroom, and sleeping area.
---
To continue the review of best small-size travel trailers see:
-> NEXT (part 2)
Presentation of: Safari Condo Alto R1723, Cricket Treck, LivinLite Camplite 11FK, Prolite Plus "S", Hi-LO Camper: Wanderer 16xx and Jay Flight SLX 145RB
as well as:
Scamp: Model 13ft, Ameri-Lite 14RBC, Starcraft AR-ONE 14RB, Travel-Lite Express E14, Casita Patriot travel trailer, Coachmen Clipper 14R and Riverside Retro 155XL.
---