TrailManor 2720QB Camper
2017 Hard-side Folding RVs
TrailManor Travel Trailers are some of most unique RV designs, lite and small when folded, they match characteristics of large hard-wall trailers when opened.
       TrailManor began manufacturing travel trailers in 1983 in Lake City (Tennessee) but surprisingly even after almost 35 years of operation their campers are still little known among RV-ers. 

. Interestingly, TrailManor designed some of the most innovative travel trailers you can find on the market. They combine fundamental properties of tent pop-up campers and large hard-wall trailers. These are correspondingly:
Low profile in road configuration
That means – easy towing and fuel economy on the road as well as fitting into standard garage for out-of-season storing 
The benefits are clear: The beds not interfering with living space (like for example in A-frame campers) and offer the permanent sleeping space for 4 adults.
Weather-protected hard-wall shell
Large living space with all vital amenities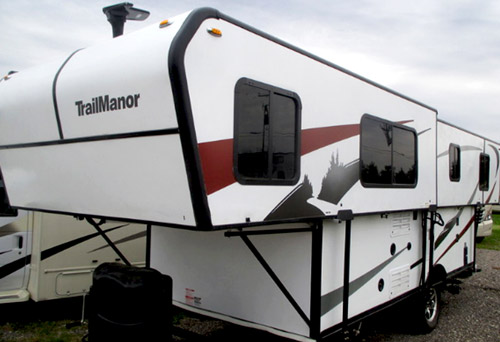 TrailManor - model 2720QB in camping configuration (open)
2270QB in Travel configuration
And its floor-plan
     The TrailManor travel trailers consist of bottom half-shell and two upper half-shells. When collapsed (travel configuration) they all overlap together forming one box slightly higher than half of the height of the camper in its opened configuration. During the set-up process both upper shells are lifted-up (like in classical Hi-Lo camper), however at the same time in contrast with the latter they are also shifted lengthwise toward the ends of the bottom shell.
In fact, TrailManor travel trailers do not really belong to the class of folding RVs like for example A-Frame or traditional tent pop-up campers. Some (including the manufacturer) call them Rise Travel Trailers, or "Collapsible" campers, but it seems to me that more accurate name will be Retracting campers (although technically it describes reverse-sense operation).  To make things even more complex, some TrailManor floor-plans include slide-outs. However, in difference to typical lateral slide-outs seen in modern RVs, in TrailManor trailers they are built-in the front of the camper and open lengthwise.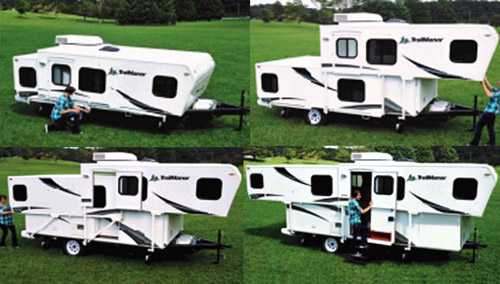 These pictures capture the whole set-up process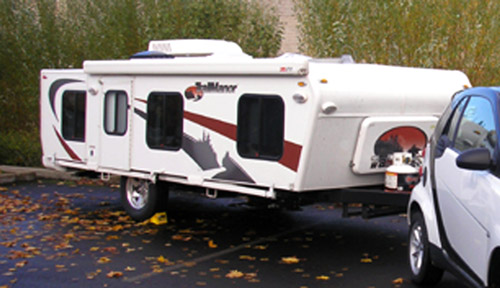 And impressively "lire" towing :-) (note - this one is not 2720QB, the picture just emphasizes the easiness of towing TrailManor travel trailers)
        Whatever you call them the end effect is impressive. Imagine the lite travel trailer (dry weight under 3,000 lbs) that can be easily towed by SUV, crossover or even minivan, yet comes with space and comfort offered by large hard-wall travel trailers. While A-frame and Hi-Lo RVs provide practicality of hard-wall shell (like thermal insulation, weather protection, no problems with wet canvas etc…), the TrailManor extended these benefits by offering also more permanent sleeping and living space. And this is something that current A-frame and Hi-Lo travel trailers cannot achieve. The fact is that TrailManor trailers are some of the most innovative designs in RV industry. 
Summarizing – TrailManor campers once opened are as weather-proof and solid as traditional hard-wall campers, they match them in terms of sleeping and living space however they can be towed and stored like tent pop-up campers!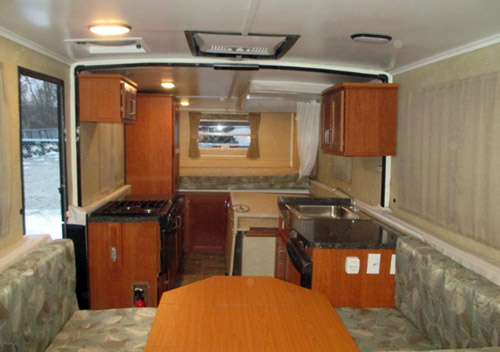 View from the front of the camper (dinette, galley, the tall cabinet on the left is the wardrobe, opposite to it is wet-bath (here folded) and in the back - Master Queen-size bed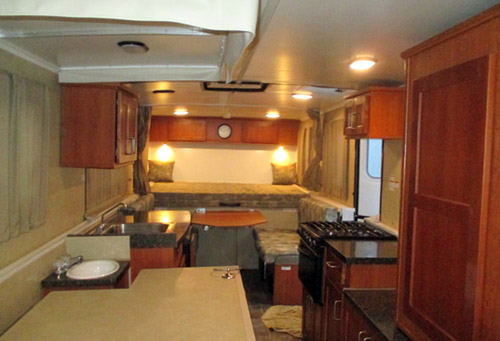 And the view from the opposite side - now in the back seen dinette with benches and dual-size bed(room) w/overhead cabinets
      The proprietary Torsion Power Lift System is another great technical solution – it turns out that the camper can be fully set-up/down with easiness of opening/closing car's trunk. You can do it using just one hand! Actually it will take you more time to arrange interior features (like wet-bath, wardrobe, dinette table etc…), but keep in mind – you can do it being fully protected from weather conditions and out of late evening darkness… 
BTW – the Torsion Power Lift System has a lifetime warranty (this tells you how much TrailManor has confidence in its design). And equally important – it is not too heavy to significantly increase the overall weight of the camper (what seems to be the problem of Hi-Lo campers)!
Talking about innovative designs – the -->  Caraboat concept (combination of travel trailer and speed-boat) is another example of "breaking-rules" design.

TrailManor (today operating out of Nebraska) offers four series of retracting travel trailers: correspondingly 2417 Sport, 2720, 2922 and 3124 (each series including few floor-plans). Before we go farther – the numbers approximately represent the camper's length in open and closed configurations, so for example the most popular series 2720 represents 27 feet long travel trailer when open and 20 feet long when closed (road configuration).
For this 2017 presentation we selected the model 2720QB (QB stands for Queen-size bed). It is probably the only hard-side collapsible (retracting) travel trailer that offers two permanent beds for 4 adults (queen and double-size) and extra sleeping place for 2 more (convertible dinette).
      The series includes also models 2720QS (Queen-bed & Slide-out Living Room as well as 2720QD (Queen-bed & Slide-out Dinette). The popularity of the 2720 series comes from attractive layout with generous space and "manageable storage length" that with the help of "Swing-hitch" comes down to only 18 feet. This makes it possible to store the camper in most home garages!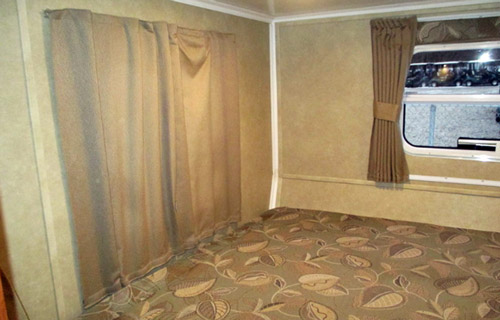 Rear queen-size bed(room) with side and rear windows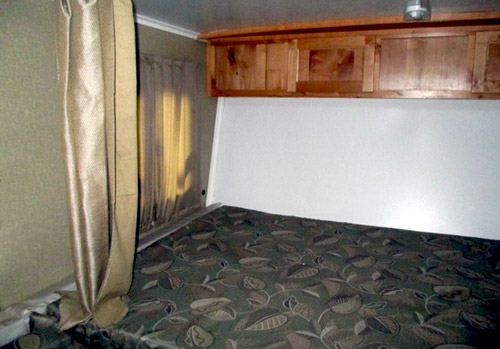 Front duel-size bed (note the overhead cabinets - they are permanently attached so you do not have to remove them before folding the camper)
Description
     The queen-size bed is located at the rear end of the camper. With its dimensions of 60" x 78" it offers generous sleeping space for two. The curtain separating the bed from the remaining part of the camper provides some sort of privacy. The dual-size bed (48" x 78") is located on the opposite side of the camper. The queen "bedroom" has two side-windows and one rear window so it is bright and "connected" to the surrounding nature. The dual-size "bedroom" has only two side-windows as the front wall is partially used by overhead cabinets.  All windows have curtains to assure privacy.
Both beds are permanent and using the tent pop-up's terminology they represent the "over-the-end" concept.  In other words they hang above the ground firmly held in place by self-opening supporting poles and interior locks. Everything in-between "bedrooms" makes the living space shared by galley, wet-bath and large dinette with two sofa-type benches.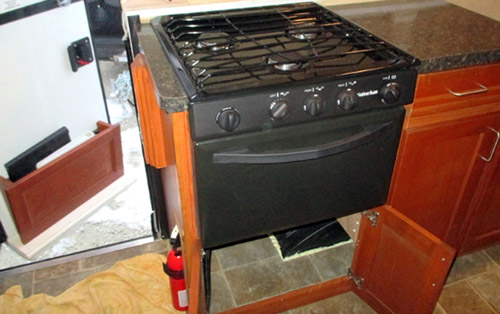 Range with oven and storage space under...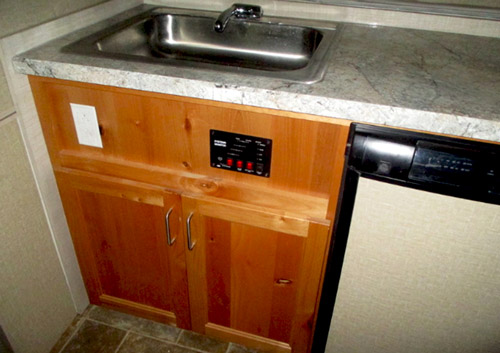 Sink cabinet (it houses Control & Monitor Panel and 110V GFCI outlet). On the right seen refrigerator)
Above and below: If you have any doubts (and yes you could) - plenty of storage space in kitchen's cabinetry
     Galley is located centrally on both sides of the camper. It includes 3-burner range with oven, 3 cubic-feet 3-way refrigerator and oversized, single-bowl stainless-steel sink with folding faucet. What may be surprising (for this class of travel trailers) is the large amount of cabinetry and countertop space. Storage space, drawers, shelves – you will find plenty of room for all kind of "kitchen-stuff" (pots, pans, utensils, dry food, small kitchen appliances and so on…). But that's not all – there are also two hanging kitchen cabinets with shelves (one above the range and the other one above the sink). Well, like in every folding camper, they are stored on the floor when in travel configuration and have to be moved-up and hanged on the wall when the trailer is opened (camping configuration). Nevertheless, they are optional and once you decide to buy them you will have to move them up to clear the floor from stuff.
It is worth to mention that solid-surface countertops are very elegant thanks to their "marble-like" look.  Obviously these days nothing is like it looks at first so be sure, the countertops are made as solid as possible, but also lite to fit into camper's lightweight design.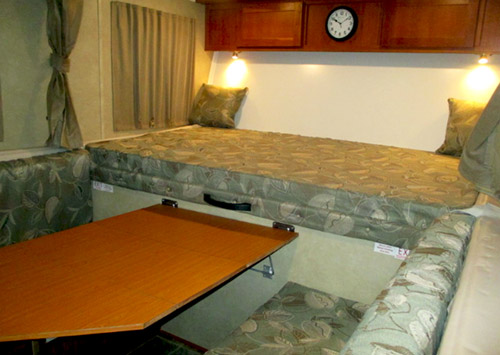 Above and below: Dinette booth seems to be large and comfortable
The dinette "booth" includes folding table (with an extension) and two sofa-like benches on both sides of the table. If required, the dinette can be converted into extra sleeping place for two persons.
       Compared to any other folding camper, the TrailManor 2720QB travel trailers seem to have abundance of storage space. The under-the-(queen) bed storage is accessible through the door from the living space. Next to the bed there is also a wardrobe cabinet with rod for hanging cloths. In camper's travel configuration it is stored on the floor, but then once the camper is set-up it takes very little effort to place it higher on the countertop of galley's end cabinet. You just have to pull-it up by 90 degrees and then slide to the camper's side. Also there is a large storage space accessible from outside (rear end of the trailer). While it is not pass-through storage, it is easily accessible and spacious enough to carry camping gear….
     Please note that when the camper is in travel configuration you will not have access to the exterior storage (obviously the interior will be also out of reach)!  

Wet-bath: here Recirculating Toilet and vanity with sink and generous storage and counter-top space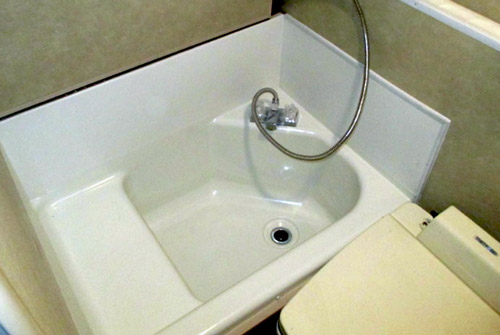 Shower tub is quite deep (what you can't see here is the curtain, but do not worry, it is there :-))
Well, here it is (if you do not believe it)
     The wet-bath also has to be set-up from folded configuration but it's an easy process. Surprisingly, the bath is quite spacious and includes shower with generous tub and curtain, recirculating toilet and generous-size vanity with sink. For practical reasons the company also offers optional exterior shower with hot/cold water. 
Note: For those not familiar with the recirculating toilet (Thetford Magic) - it is a 100% self-contained sanitation system which does not require pressure water connection or separate holding tank. You have to initially charge it with water (about 3 gallons) and chemicals using wet-bath hand shower. An indication gauge located on the top of the toilet will show the charge level and when to empty the toilet. It works by dissolving the solid waste and recirculating it for multiple flushes (operates on 12V).
The obvious advantage – such toilet uses very little water and there is no need for black tank, it is all contained in the toilet system. The bad thing is that with prolonged use (growing number of recirculating flushes) you may experience more and more "smell" .  Is it bad? It all depends on used chemicals as well as frequency and level of use within one charge/discharge cycle. Practically, be ready to "dump" it after few days of use.
       To make it clear - recirculating toilets are common solution in small boats, buses and in most planes! In TrailManor, you empty the toilet system by using the exterior dump valve (either to portable tank or directly at the dump station). 
Summarizing:  If we put aside opinions about the recirculating toilet (there are pros and cons), contrary to usually negative opinions about wet-baths in folding campers (kind of tight space, very limited privacy and use), this one seems to be practical, spacious and well serving the purpose. 
      Throughout the travel trailer you will find generous amount of 110V receptacles (GFCI protected whenever necessary) as well as TV hook-ups (power and cable).  

Set-up process.
      To make it short – it is easy and effortless, but requires multiple steps in the right order (well, still less time consuming and less complex then the large tent camper). First you have to release 4 white corner latches and 4 black latches near the axle keeping the upper half-shells attached to the bottom box. Once half-shells are unlatched, torsion springs take over the heavy part of the job. You just grasp the lower edge of the front upper shell, start lifting it up in circular motion finishing by pulling towards you. The half-shell will smoothly move to its final position. All you have to do is to latch (lock) it in this new position. Now you should pull-out the bed until its stops (the bed's support will open automatically, you will have to lock its position once you step inside.
Similar process should be repeated for the rear half-shell and bed. Note that the front slide-out (2017 models 2720QS and QD) opens at the touch of the button thanks to the power-system.
Set-up process: Isn't it amazing?
TrailManor 2720 slide-out models
Obviously the two remaining models with slide-out dinette or slide-out living room offer much more living space and associated comfort (for example real dining or lunge corner with sofa). We picked the 2720QB model to emphasize the permanent sleeping space (something that folding hard-wall campers usually miss), but you should consider the model and floor-plan that answers your needs.
      TrailManor also offers bigger models from series 2922 and 3124. The latter represents the largest and most luxurious TrailManor travel trailers with king-size beds and generous amenities. However with them you will lose the advantage of being able to store your trailer in a standard garage. The model 3124 will have storage length of 24 feet (22'3" with swing-hitch). 

TrailManor Model 2720QD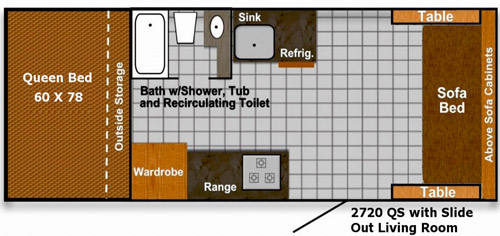 TrailManor - Model 2720 QS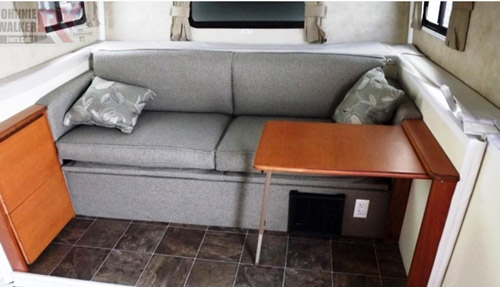 And here you can see how it looks inside (I guess we agree it is nice lunge area with two folding tables that can be used for work and for eating...
Courtesy of jwrv.com
Construction:
      TrailManor travel trailers are built using aircraft technology and materials (aluminum, composite materials, foam….).  For example the shells are made from foam sandwiched between vacuum-bonded aluminum sheets. But it's not only body – in an attempt to reduce the weight of campers TrailManor also uses this technology to make floor and countertops. And frankly, you will never guess that because the latter look like being made from residential marble! But the result is obvious – the model 2720QB weight just 2,700lbs and the largest models 3124 are under 3,000 lbs. 
In order to minimize tendency of trailers to sway, the axel is placed farther back (optimal position is calculated by the computer).
Due to innovative design, TrailManor had to find "innovative" solution to weather-seal lifted-up and extended shells. For that purpose, there are padded trims along shells' edges. In good weather you may leave them unfastened for improved ventilation….
Cost
      The TrailManor travel trailers may be a bit costly (up to $30k's), but keep in mind – you get what you pay for. And with TrailManor you get the best combination of three worlds: tent pop-ups, hard-side folding and traditional hard-wall travel trailers. Also think about the obvious financial gain – spacious camper without the need to buy new more powerful towing car!
Specifications
---
Exterior length (travel)

Exterior length (open)

Exterior length (open box)

Exterior height (travel)

Exterior height (open)

Exterior width

Interior headroom

Dry weight

Hitch weight

GVWR

Cargo capacity

Fresh water tank

Grey water tank

Black water tank

LPG

Sleeps

Layout

20'0" (1)

27'0"

24'4"

79.5" (2)

116" (2)

95" (3)

6'4"

2,743 lbs

346 lbs

4,075 lbs

1.333 lbs

40 gals (4)

30 gals

None

2 x 40 lbs

4 (6)

Rear over-end master bed
(1) Subtract 2 feet if the unit is equipped with swing hitch (applies only to the length in storage configuration )
(2) Includes low profile roof A/C and HDTV antenna (subtract 6" if not equipped with these options)
(3) Add 2" if equipped with awning
(4) 20 gallons in models with slide-outs
---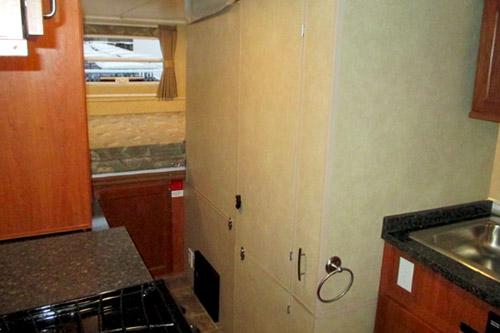 Here the wet-bath "box" seen after being set-up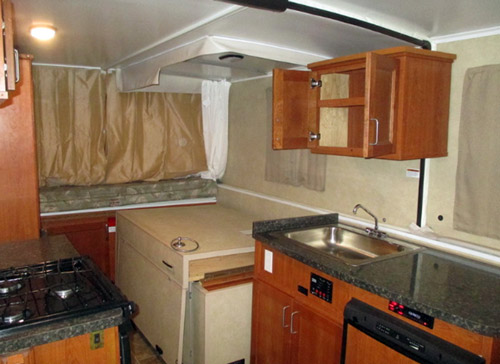 And here still folded (note ceiling permanent fixture for shower curtain). BTW- the curtain is always there.
You see also the kitchen overhead cabinet on the wall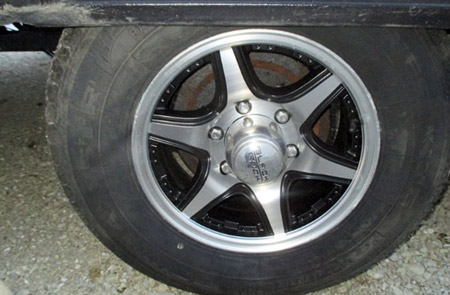 Alloy rims with 15" radial tires
Construction
Chassis:  2" x 5" steel frame
Body:  polystyrene sandwiched between vacuum-bonded aluminum
Shell: 3-pieces (overlapping when closed)/lifted-up and extended lengthwise when opened
Floor:  3" laminated w/metal underbelly
Slide-out: Power (2720QS and 2729QD only)
Suspension:  Independent, rubber torsion 
Axle(s): Single
Wheels:  Alloy rims, R15
Hitch: swing-away (optional)
Cabinets: Maple wood
Oven (can be replaced by optional microwave)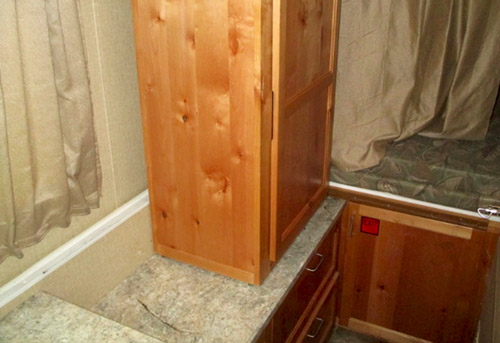 Wardrobe in its "camping" position (no worry, it is very easy to lift-it up)
Refrigerator w/freezer (above you can see the optional Stereo)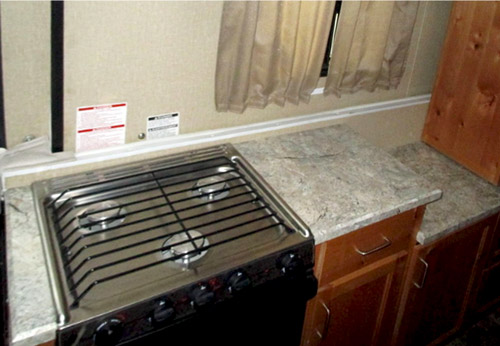 Galley - working space next to the range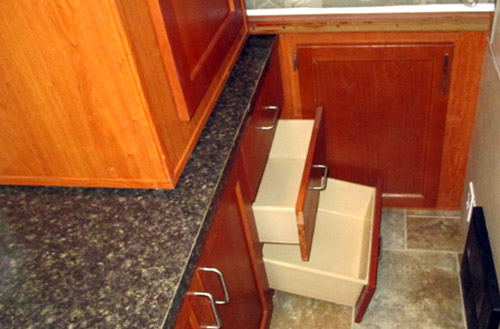 Set of drawers
Standard interior features
Queen-size over-end rear bed (60" x 78") w/mattress and under-bed storage 
Bedroom privacy curtain
Double-size over-end front bed (48" x 78") w/mattress
Dinette (2 soft benches & folding table (48" x 78") (convertible to sleeping place)
3-burner range w/oven
3 cu.ft 3-way refrigerator w/freezer
Large, single-bowl stainless-steel sink w/faucet
Kitchen cabinetry w/solid surface countertops
Wardrobe w/hanging rod
6 gallons DSI gas/electric water heater
Hard-walled wet-bath (shower w/tub and curtain, recirculating toilet, large vanity w/sink)
20k BTU Suburban Furnace
Fantastic fan
Roof vents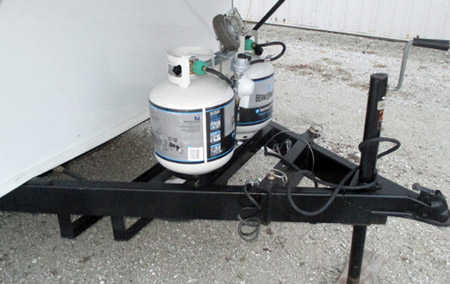 Two 20lbs LPG bottles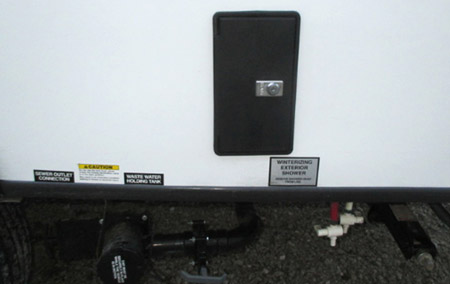 Water hook-ups, drains and exterior shower
Standard exterior features
2 x 20 lbs LPG tanks w/ automatic changeover switch
4 stabilizing jacks (manual)
Tongue jack (manual)
Large storage
Patio light
Folding entrance steps 
110V GFCI outlet
Water hook-ups (fresh and city water, sanitation, drains…
TV cable hook-up
Shower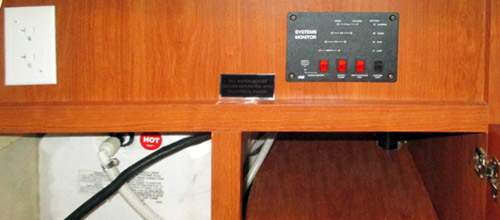 Kitchen sink cabinet with Control & Monitor Panel and 110V GFCI receptacle. Below visible water heater
Fantastic Fan
Electrical
55A Power Converter w/power cord
Battery charger
110V GFCI outlets (galley, wet-bath, exterior….
12V water pump
2 - TV outlets 
LED Interior/exterior lights
Monitor & Control Panel (water pump, heating, water tanks levels, battery…
Stereo pre-wired (power, speakers) 
Tow connector: 7-pins
Safety
Spare tire w/carrier
Electric brake
Alarm/Detectors (smoke, CO, Propane)
Fire extinguisher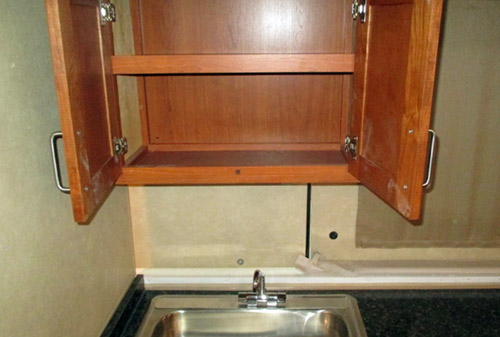 One of two optional overhead cabinets with shelf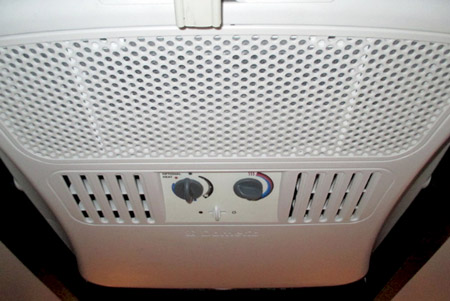 Roof-mounted A/C unit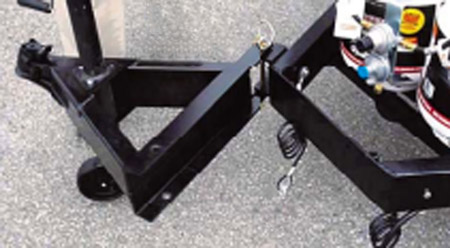 The beauty of Swing-Hitch!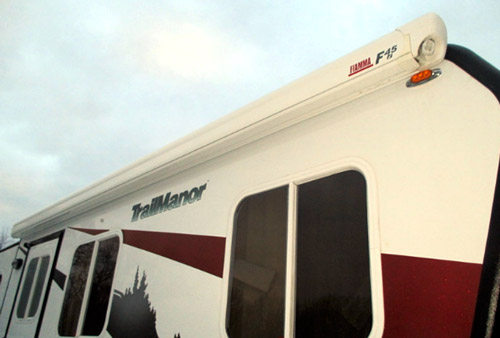 Awning
Options
13.5k BTU Low profile A/C unit (roof-mounted)
Awning (manual)
Electric Tongue Jack
Swing-Hitch (reduces exterior length for storage by 2 feet)
Hanging Kitchen Cabinets (over sink and stove)
Front window w/curtain and stone guard
Microwave in place of Oven
Rear Bike Hitch Receiver
95 Watt Solar Panel System w/control
Amplified TV Antenna
Amplified TV Antenna w/ Satellite Dish
AM/FM/CD/MP3 Stereo
Folding Stove Cover
LP quick-connect (for grill)
Microwave Box w/ Drawer
3 Drawer Cabinet (2720QS only)
Here is the opening process of the 2720SD (unit with living-room slide-out). It's the 2006 models, but from this point fo view not much changed (the only difference is probably the slide-out opening, not anymore manual, but power-driven at the touch of a button). Nevertheless, it is good idea to see this short video...
Photos: Most of the pictures presented on this page are courtesy of Prossserrv.com (congrats, they are by far better than those from TrailManor!
Go to: --> Top 2017 Collapsible Hard-side Travel Trailers
Note:  Check with the manufacturer and / or authorized RV Dealer for the up-to-date list of features, options as well as latest specifications. These written above may not be accurate and certainly are subject to change by the factory. We are not responsible for any inaccuracy, the above text is provided only for the general information.
This review was written based on publicly available information for the benefits of the community of RV-ers. We do not receive any gratification or financial benefits from RV manufacturers, dealers, and any other promoters of RVs. 
We are NOT involved in sale and/or retail of RVs!