Newest Best Off-Road Campers
Exploring wilderness requires adventurous minds and off-road campers. To help you in such endeavour. Find at the bottom our list of best off-road pop-up campers for 2023.
Kimberley Karavan Classic
Australian Kimberley Karavan Classic - A Hybrid - solid walls pop-up travel trailer designed for no-road journeys 
         The first Kimberley Kamper left the factory doors in 1994. In the words of the founders (Michael Lowe), Kamper's design reflected the following principles:

Make it small when traveling, and large when camping!
Suspension can't let you down. Only the best will do.
Add lightness. Wherever possible, without losing strength.
Ready electric power is the secret to comfort. More is better. Renewable is best.
If there's a better system, use it.
Design with technology. Build with craft.
            Now, almost 30 years later following the change of ownership (now James Cockburn and Brett McLaren), Kimberley Kampers offers a modernized version of an off-road Hybrid Classic Karavan (including an upgraded Eco-Suit version)....
For details see: --> Kimberley Karavan Classic
Mink 2.0 Camper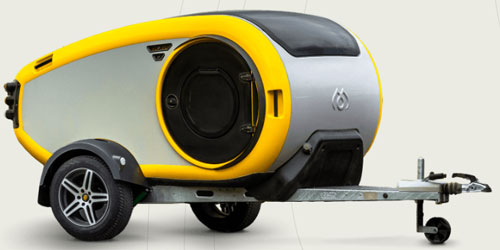 Mink 2.0 Camper represents Scandinavian version of the traditional teardrop
           Mink 2.0 Teardrop is an extremely well-designed camper for journeys into nature. The minimalistic design does not offer all you may need on the road. However, despite some shortcomings, Mink 2.0 isn't just a regular "budget" camper. Yes, it is not an embodiment of luxury, but certainly, it's a fascinating work of art and imagination turned into a comfortable "bed on wheels".....
     The frame (as well as other crucial components) is coming from Al-KO. The reinforced frame made from galvanized steel is supported by an independent, torsion suspension assisted by shock absorbers (all from Al-KO). The frameless Solid Shell Structure™ is made from 1.2" thick Injection Molded ABS plastic lined with a 0.75" thick layer of Armaflex insulation.....
For details see: --> Mink 2.0 Ultra-Lite Camper
Escapod Topo-2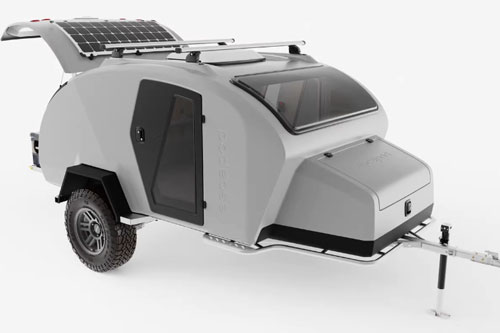 New generation of Escapod Off-road travel trailers: All-fiberglass Topo-2
       As it often happens in life, our "appetite grows as we eat", so not surprisingly, Escapod came up with a new "upgraded" model under the name Topo-2.  The new model is a bit larger than its predecessor to accommodate new features that seem to answer customers' expectations as well as includes numerous TOPO's options as standard features. Sadly (for some RV-ers), to fully focus production efforts on the new TOPO-2 model, its predecessor TOPO was discontinued....
     The TOPO-2 with its all-fiber, single-piece shell represents a radical technological change compared to the previous model (TOPO). It is made of high-density polyethylene (HDPE) and a lightweight honeycomb PET core.....
See details at: --> Escapod Topo2 Off-road Travel Trailer
Escapod Topo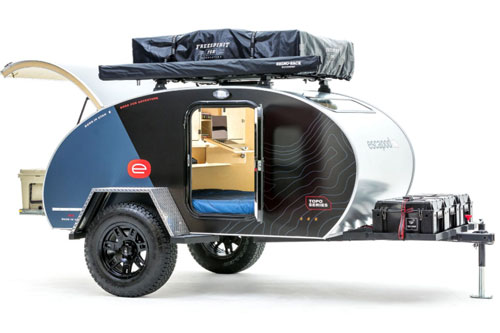 Escapod Topo Teardrop off-road travel trailer
       The Escapod Topo is a rugged camper designed for off-road environment. With its huge cargo capacity (dry weight of 1,600 lbs and GAWR of 3,500 lb), functional design and furnishing as well as stylishness not only due to warm interior's birch-ply finish but also exterior graphics and inherent to teardrops charm, it offers a simple "hitch-and-go" solution for nature aficionados.
It combines the best of few worlds:
-          rugged, clearly over-built compact design, guaranteeing good reliability and handling of dynamic loads on uneven paths, well within built-in safety margins).....
See details at: --> Escapod Topo Off-Road Teardrop
Airstream Basecamp X20
Airstream Basecamp 20X travel trailer
      The Airstream Basecamp 20X (similarly to its older but smaller brother - Basecamp 16X) is specifically designed for off-road environments and short boondocking expeditions. However, do not be confused - all that is still offered in an "envelope" of Airstream's traditional silver-shining aluminum superstructure. 

Basecamp's shell does not exactly exemplify a typical Airstream's bullet-type shape. But frankly, there is not much to complain about.  It's because the elegance of panoramic, tinted-glass windows spanning the front and extending deep along the trailer's sides offers unmatched elegance.....
To read the review and see technical details, go to:
--> Basecamp 20X
XTender Alpine 
     XTender Alpine pop-up trailer is one of six models from the series of off-road campers designed and manufactured by a small American company VMI Off-Road. 
      The company is located in Bellingham (WA) close to the Canadian border and certainly the vast areas of wilderness opening in the North were the main inspiration behind company's decision to design campers able to explore the Mother Nature. Quoting Mr Mike Harbic (President of VMI Offroad) – " If we are going to build it, we will build it to last. This is our commitment to our customers and to ourselves". And it seems that the company follows this strategy….
On top of the Alpine model the XTender family also includes: Explorer, Crawler, Ox, Canyon and coming soon Compass. All of these campers belong to the class of lightweight travel trailers. It is accomplished by using for construction marine and aerospace-grade aluminum as well as "cutting-edge" techniques .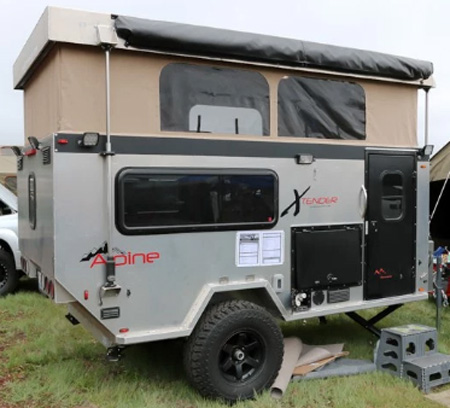 XTender Alpine Travel Trailer - Open configuration
 The Alpine model is currently the largest XTender's off-road camper (once available, the Compass will be the biggest and most luxurious one). It was designed to allow adventurous minds to go off the beaten paths, enjoying not only the nature but also some of the comforts of their home. 
The interior provides convenient living space with LED-TV and audio system (rRaising the roof nicely opens the area). The wet bath with cassette toilet and optional kitchen sink and cooktop answers the basic needs when you are "away-from-home". The convertible dinette /queen bed at the floor level and optional upper loft bed the camper can sleep whole family with children.  And finally, the heater allows for the extension of the traditional camping season.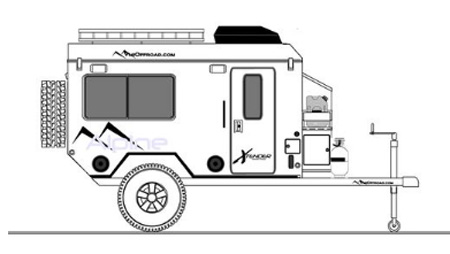 and in travel configuration
Specifications:
Overall length 

Body length 

Interior closed height

Interior open height

Body width

Gross weight (GVWR)

Dry weight

Sleeps

Fresh water tank

17'

12'

4'7"

6'9"

80"

6000 lbs

3000 lbs

4 (with optional upper loft)

20-25 gals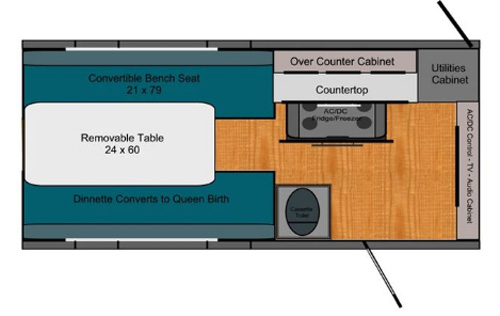 Floorplan (without optional upper loft bed)
Exterior features:
Electric brakes
Leaf-spring suspension with Nytro Shocks
Utility cabinet
Exterior shower
Dual Gas strut assist roof raising system
48" slider windows
Exterior galley
20 lbs LPG bottle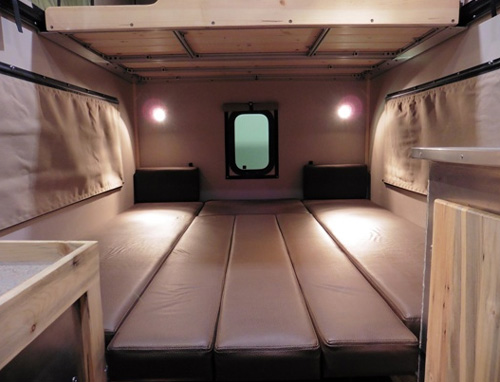 Interior in "sleeping config" (also visible the upper loft bed)
Interior features:
Bench Seat/Convertible Queen –size bed
Fridge cabinet w/countertop
Casette Toilet Cabinet
Storage cabinet
Real wood cabinet doors and trim
Deep-cycle Battery, 20Amps charger and power plug
12V fridge w/freezer
LED lighting
12V pressurized hot/cold water system
2-0-25 gallons water tank
Propex LP forced-air central  heating system
Realtree Basecamp
       LivinLite's Realtree Basecamp trailer belongs to the class of pop-up tent Toy Haulers engineered for off-road travel conditions and exploration of wilderness. In an attempt to "not disturb" the Mother Nature, the camper's tent fabrics and external aluminum walls have the pattern of "real" tree. Thanks to this ability to blend with nature the camper's name is "RealTree". 
The basecamp is all-aluminum and composite construction on tubular aluminum frame (manufacturer's name LivinLite obliges). In other words (no wood – no rot – no problems). The heavy-duty tent with camouflage pattern has zippered windows and extra emergency exits.
Interior cabinets are made from aluminum with composite countertops. Bunks come with mattresses. Standard features include 12V and 110V outlets, removable table, interior lighting. The front-deck comes with ramps for ATV, the smaller rear deck allows for extra storage. The large range of options offers the possibility to "design" your own configuration according to your personal needs.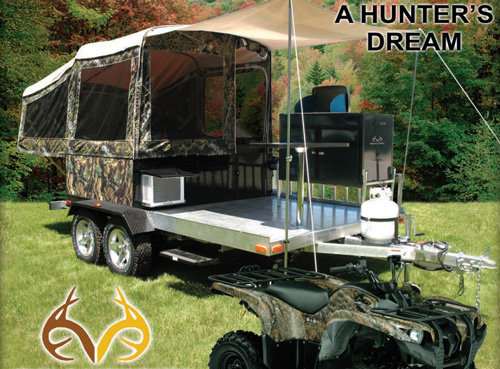 RealTree Basecamp Pop-up Toy Hauler
Specifications
Exterior travel length 

Exterior open length 

Travel height

Interior camping height

Exterior Travel width

Gross weight (GVWR)

Dry weight

Cargo capacity

Sleeps

16'8"

20'3"

4'6"

8'8"

6'6"

2400 lbs

1200 lbs (standard)

1200 lbs (standard)

4 (w/kids)
It's floorplan
Interior features:
Heavy-duty tent
Interior cabinetry
Bunk mattresses
12V interior lights
12V/110V outlets
Removable table
76" Sofa-bed 
Double bed 58" x 76"
Interior details:
Left: sofa w/bunk behind; Right: Kitchen galley on the front deck
Exterior features:
All-terrain tires
Front-deck w/ramps for ATV
Real aluminum deck
Stabilizer jacks
Electric brakes
Battery box
Spare tire (stored under the camper)
Options:
Portable exterior kitchen (2-burner range, stainless-steel sink, 5 gals water jug, 20 lbs LPG tank)
12V/110V Cooler
5,000 BTU A/C
Awning over the deck
Awning room
Portable radiant heater
Turtleback Weekender
      Turtleback Trailers was founded by Dave Munsterman – as a culmination of his experiences from back-country RV-ing. The Weekender trailer reflects Dave's love for extended trip away of civilization. It is a well-engineered but simple "Box-on-Wheels" designed to carry your gear and "essentials" to the wilderness (not only on dirt roads but also to the areas where there are no roads at all). As Dave points it out:
We set out to offer a camping unit unlike any other made in the us. Crafted with the best quality components and computer designed. Hand built with everything you could need on an expedition or a family weekend camping trip. Simple in design and usage to offer years of trouble free travel.
Essentials include full kitchen with stainless-steel 2-burner stove and sink with faucet as well as slide-out pantry. 42 gallons fresh water tank with "on-demand" water pump and LPG water heater serving kitchen and external shower are standard features – definitely much needed on trips to the nature.  Unfortunately, Weekender does not have dedicated space for fridge (front compartment is designed for larger cooler).
A birch lined kitchen and interior storage is a very nice "touch" making the camper "friendlier" and somehow "blending" with nature. 
The AGM Battery feeds LED lighting (electrical installation includes marine-grade components and automotive-grade wiring and connectors).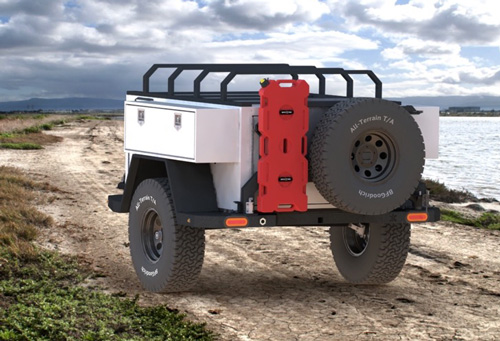 Turtleback Weekender is w well-designed "Box on the Wheels"
     Weekender comes with roof rack that can be used for larger equipment (canoe etc..). You can also buy (as an option) an RTT (Roof Top Tent) if ground tent is not a favorable option. Although such configuration adds some "extra" complications (ladder and climbing up) it may solve many potential problems (rainy weather, or visits by "unwanted" animals, sneaks….).
Summarizing – the Turtleback Weekender is not for everyone. It is designed for true nature lovers and "explorers"….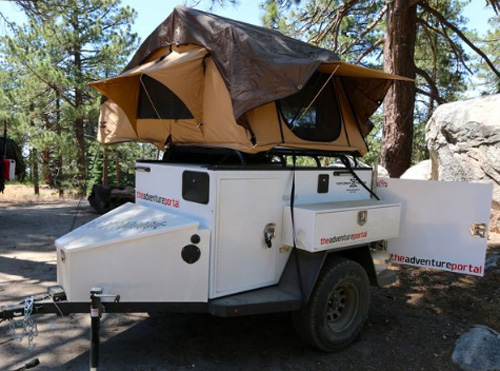 Weekender -here shown with an optional Roof Top Tent
Standard features:
Kitchen (stainless-steel 2-burner stove, sink w/faucet)
Slide-out pantry
Drop-down stainless-steel table
42 gallons of fresh water
Hot/Cold external shower
50 cu. ft of storage
12V Water pump
LED lights
LPG Atwood 6 gals water heater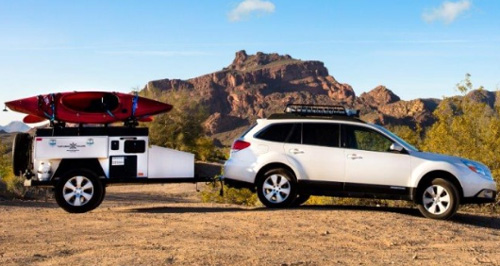 With its 1200 lbs weight it can be towed by a family car (although to explore unbeaten paths you will need some all-terrain vehicle) 
External features
Steel-frame
All aluminum body
Battery
Electric brakes
All-terrain tires
Side and Rear compartment doors
4 Rails Cargo Bar Roof Rack
Battery charger (shore power)
10 Amps Solar Controller w/voltmeter
Spare tire
Campa USA All-Terrain-Trailer
         Campa's ATT (All Terrain Trailer) is a "box-on-wheels" designed for toughest off-road conditions. It is a rugged stainless-steel modular construction allowing for high level of customization based on individual needs. 
Thanks to the large list of options, Campa's ATT can provide quite good comfort for everybody even if you are in the middle of nowhere surrounded by Mother Nature. The "main-box" together with side side-containers provides a lot of storage space for gear and "stuff". Built-in kitchen with 2-burner stove, sink w/faucet, drawers and shelves with cooking pots, plates and utensils, 10 lbs LPG, two - 20 gallons fresh water tanks allows for preparation of much more than just morning coffee (actually it can serve up to 6 people). Fridge is another valuable addition (think sitting on a chair in the shade and enjoying a cold bottle of beer !). External hot water shower, Port-a-Potty serve basic needs. 
Water purification system (may be essential when out of civilization) adds to your travel autonomy. LED lighting and water heater are fed by   12V deep cycle battery that can be charged by solar panels and/or generator.
Racks for bikes and kayaks allow you to carry your favorite recreational equipment.
Roof top Tent (RTT) provides sleeping from two up to eight persons (several versions are available).
Campa ATT in road configuration 
Specifications
Exterior travel length 

Exterior height

Exterior width

Ground clearance

Gross weight (GVWR)

Dry weight

Cargo capacity

Tow Coupler Capacity

Sleeps

11'1"

6'0"

71"

13"

4500 lbs

1900 lbs

2600 lbs

7700 lbs

2-8 (depending on the tent)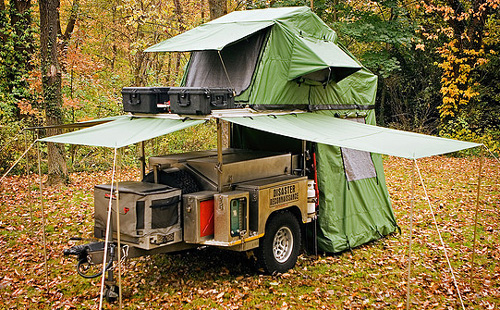 and in camping configuration with RTT
General Specs
Electric Brakes / Manual Park Brakes
Shocks
Leaf Springs
Spare Wheel
Mud Flaps
Safety Chains
Stabilizers (Hi-Lift Jacks mounted in Bumper)
Rear Kitchen
Storage:
Main Container: 57" x 43" x 24"4
Two side-containers 39" x 12.5" x 9" each
Water tank (40 galls)
10 lbs LPG bottle 
And now it is time to see it yourself!
Kitchen (Dimensions 24" x 10" x 43") includes:
Brinkmann SS Stove (2 Burner)
Stainless-steel sink w/faucet
Cutlery Set (6 Person)
Crockery Set (6 Person)
Pots
Tupperware
Everest 1 Camper Trailer
        Latitude's Everest 1 trailer belongs to the class of "Soft-Top" camper trailers. These relatively new products on the RV market combine the benefits of rugged off-road trailers with large fold-out Roof-Top tent providing comfortable living and sleeping space.  Such trailers allows for exploring the nature "away from civilization" while enjoying much higher "living comfort" than traditional tent campers.  Everest's massive tent with queen inner spring mattress and plenty of space provides great place for sleeping and comfortable living area (especially when bad weather forces us to stay "indoor").
See it yourself: The Everest I is designed as a tough, lightweight camper for the camping enthusiast.
Specifications:
Load Capacity (GVW): 

Weight: 

Length:

Width:

Box dimensions: 

Coupler Height:

3500 lbs

1950 lbs

14ft

6ft

7ft x 4ft (depth 21 ")

18"
Everest 1 in road configuration (w/extra rack for canoe)
Features
Suspension: Heavy Duty multi-leaf (7) with nylon bushings and suspension shocks
Construction: Zinc-Coated Steel plate body, fully welded and sealed
Finish: Custom zinc baked powder coating
Axle: 2 inch solid square 3,500lbs GVWR
Tailgate: Swing gate door with rubber seal
Full-size spare tire
Brakes: Heavy Duty 10 inch electric brakes
Extra Storage (large toolbox, 2 x above fender boxes, Tent pole box)
Kitchen: Tailgate mounted stainless steel kitchen with sink, 12v faucet, and two burner LP gas stove with preparation cover
18 gallon water tank with external fill port and hand pump
11 lbs gas bottle
Marine Battery (140 Ah)
110V Power Inverter, Charger
4 x 12V plugs, USB plug
LED Lights for tent and kitchen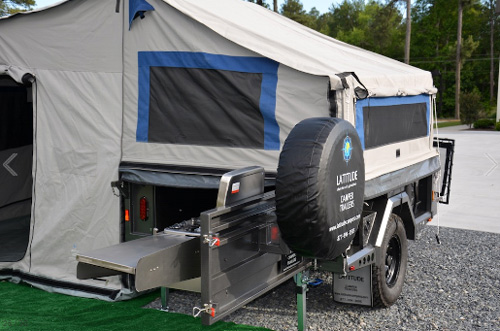 Everest 1 - Camping configuration with the"massive" tent fully unfolded
Tent Specifications
Everest 1 Delux 10ft  (full size 16ft x 14 ft including annex) It is self-supporting design freestanding without guide ropes.
Quality Rip-Stop cotton, water proof and UV protected canvas
Duralex vinyl floors
Heavy Duty Duraflex vinyl Trailer Soft Tonneau cover with tie down points
4 x inside ventilation vents
6 x large windows 
80 x 60 bed w/ Full Queen Size mattress
8 x storage pockets (6 inside main tent and 2 outside)
All poles, ropes and stakes (including all awning poles, ropes and stakes)
Gas struts on main tent bows for ease of opening
Options
Outside shower kit
Extra holder for LPG bottle
2nd 140 Ah marine battery
80W or 120W Solar power system
110V/15 charger
Kayak/Boat/Utility rack
Tropical roof for tent (better ventilation)
Raven pop-up Truck Camper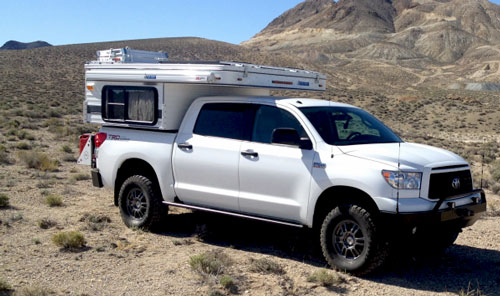 Raven pop-up truck camper in road configuration
    Technically speaking, a truck camper can embark on any trip where a truck can go. Given the fact that typical trucks can easily go off beaten roads, truck campers offer an ideal solution for those committed to explore Mother Nature. 
However, "things" get a bit more complicated when it comes to off-road driving. The truth is that when driving on uneven terrain, the location of the gravity center is of crucial importance for the overall stability of the truck and sitting on its bed camper.
Fortunately, the new class of truck campers – called "Pop-up truck campers" greatly helps to make such trips smooth and safe. These models when opened offer all comfort (and headroom) of traditional hard-wall truck campers. However, when folded (road configuration), they only slightly increase the location of the gravity center and so are ideal for off-road adventures. 
And here comes the Raven: lite and robust (aluminum), low cost solution ideal for off-road environment.
See details at: --> Raven Pop-up Truck Camper
Best Off-road Campers 2023.
Boreas XT: It is a lightweight camper that is designed for off-road adventures. It has a rugged exterior and comes with features such as a roof rack, off-road tires, and a durable aluminum frame.

EarthRoamer XV-LTS: It is a luxurious off-road camper that can accommodate up to six people. It is equipped with a solar power system, a water filtration system, and an off-road suspension.
Turtleback Adventure: It is a versatile off-road camper that is designed to handle any terrain. It comes with a spacious interior, a full kitchen, and a rooftop tent.
Escapod Topo: It is a compact off-road camper that is easy to tow and maneuver. It is equipped with a rooftop tent, a full kitchen, and a durable aluminum exterior.
Black Series Dominator: It is a heavy-duty off-road camper that is designed for extreme off-road conditions. It comes with a reinforced chassis, off-road tires, and a spacious interior.
Remember to always do your own research and consider your own specific needs when choosing an off-road camper.
---