Fiberglass Travel Trailers
       RVs built from molded fiberglass are made to last forever. They are lite, don't leak, are quite resistant to mechanical stress and weather elements. Below is the presentation of best molded-fiberglass travel trailers for 2017 ….
    For decennia hard-wall travel trailers have been built following the all-familiar approach inherited from the housing industry.
A wooden frame structure from "2 by something" studs with distinctive elements such as floor, walls and roof covered by aluminum and/or vinyl siding as a protection from weather elements.
Later on, with the introduction of composite materials, the outside walls received a tiny coat of fiberglass (lamination) mainly used as a seal against water infiltration, but also as a "decorative" improvement.
Recent more-or-less all-aluminum and even composite structures made the trailers not only lightweight but also more durable thanks to elimination of corrosion and rot. However, even these modern technologies did not make big change in protection against leaks. And this is because all these "box" structures have common weak point – they are assembled from sub-components with the help of screws, rivets, seals and thus prone to water infiltration.  
As Murphy's law states – all sealed joints leak, and because all RVs are subject to shocks and vibrations (unless you keep them only in the garage) it will happen sooner rather than later!
    All-fiberglass technology was first introduced to RV industry by a Canadian company Boler back in late 60's (over 10,000 Boler trailers was manufactured from 1968 till the company closed doors in 1988). The Boler's box was made from two molded fiberglass "half-shells" glued and sealed together. In early 70's the all-fiberglass box technology was introduced in US by Scamp!.
This technology changed the RV industry forever, although it took few more decennia to see it taking deep roots especially in the manufacturing process of small travel trailers, truck campers etc….
What is the fiberglass?
Typical example of the fiberglass panel
(courtesy of http://www.diseno-art.com)
      Fiberglass tissue is a thin layer of minuscule glass fibers usually spread over a layer of gelcoat (epoxy or unsaturated polyester resins). Stacking several layers of fiberglass tissues one on top of another (till desired thickness is achieved), results in a strong, rigid fiberglass panel. In RV (and in general in automotive) industry the molding process is used to form the useful shapes.  
The gelcoat, usually applied in a liquid state, after curing provides the high-quality finished surface that is waterproof and UV resistant. The whole process leads to strong, relatively lite and reasonably inexpensive components (in this case camper's half-shell) that can take any, even the most exotic shapes determined by the molding form. Addition of pigments defining colors adds extra aesthetic dimensions to anyhow nice, glossy surface.
The end result is obvious – RVs built from molded fiberglass "half-shells" are made to last forever. The shell does not leak, is quite resistant to mechanical stress and weather elements (UV, hail, rain, sun etc… keeping its initial colors rather intact throughout the time), the exterior layer does not peel-off (like it happens with laminated walls).
    In RVs made from molded fiberglass in a process where two pieces making "box" clamshell together, the resulting shell serves as a framing element, thermal barrier as well as interior and exterior skin. In difference to all other RV's technologies the molded-fiberglass body has only one seam which is located around the center belt line.
    Some manufacturers went even farther with molded fiberglass technology. To improve the thermal insulation (while keeping shell's integrity) they insert the layer of the insulation between the layers of fiberglass during shell's manufacturing process (see Lil-Snoozy).
Another step was taken by Oliver Trailers – the company made their trailers from two molded fiberglass shells: inner and outer (each one made up from two half-shells). This design opens new possibilities, like insertion of adequate insulation in-between inner and outer shells, creating an air-gap as an extra insulation barrier and as a "side-effect" – hiding most of wiring and plumbing between shells (not only aesthetically better solution but also more reliable one).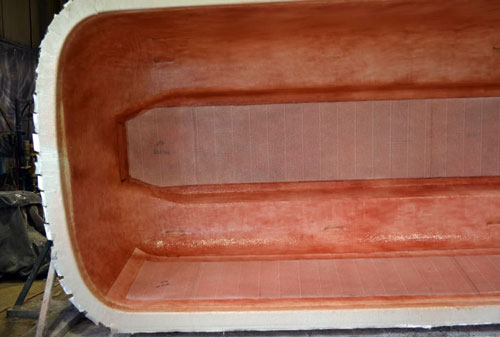 An example of molded fiberglass production process: here a half of the outer shell of Oliver Travel trailer shown covered with the layer of Core Mat (brownish) and extra layers of honeycomb-like composite Nida-core (whitish) ....
Source: http://olivertraveltrailers.com/
The extra bonus of fiberglass campers? Typically, molded-fiberglass shell RVs have lower center of gravity compared to traditional campers. This greatly improves their handling on higher-speed highways. So as of today - the only trade-off seems to be a bit higher cost (although it is expected that in the future their cost will go down thanks to the technological progress and higher production volumes….).
It is worth to mention, that thanks to the extraordinary durability of molded-fiberglass campers they keep their retail value quite well and for long…..
Lil-Snoozy travel trailer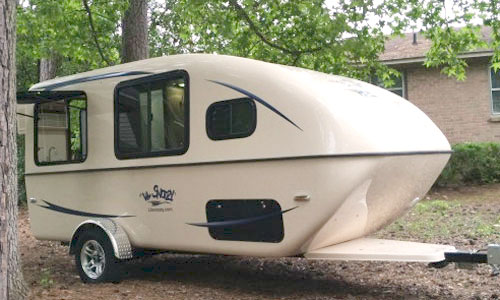 Lil-Snoozy attracts a lot of attention thanks to its beautiful silhouette
     The Lil-Snoozy travel trailer is manufactured by Smoakin Concept Composites (South Carolina) since about 2012.  The unique manufacturing process proves that not all fiberglass trailers are the same. Smoak, thanks to his experience in fiberglass industry came up with the shell made from five layers of fiberglass with high density foam laminated in between. This manufacturing process called "coring" (fiberglass w/foam core) is used throughout the entire structure including floor and results in improved thermal insulation. This technology differentiates Lil-Snoozy camper from other manufacturers of fiberglass campers.
    All Lil-Snoozy travel trailers are manufactured and built per custom order. The shell can be left "empty" so the camper can be used as a toy-hauler. It even can be sold without the frame (just a box) if that is customer's wish.  But thanks to Mr. Smoak ingenuity, the company came up with a well-thought standard layout plan offering seemingly impossible: generous living area,  full-size queen bed, folding sofa, galley and wet bath - all that within the walls of let's face it – small travel trailer. Actually the living space in camper's standard configuration is so large, that .....
For more details see: --> Lil-Snoozy Camper
---
Oliver Legacy Elite Camper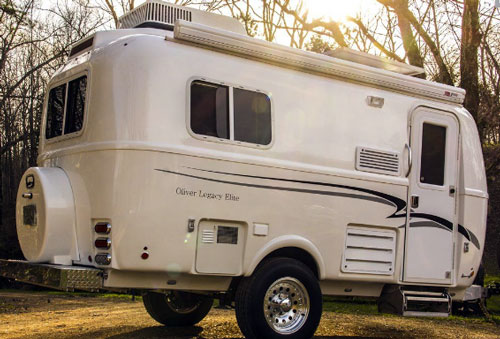 Dual-Hull, All-molded-fiberglass, 4 seasons - Oliver Legacy Elite travel trailer
     The Oliver Legacy Elite 18'5" (similarly as Elite II) is offered in two floor-plan versions: 
Standard (Sleeps 3) - with a full -size bed at the rear-end (converting to large dining table with sofas for a day) and a single bed along the side wall (converting to small dinette and two seats). 
Twin-Bed (Sleeps 2 or 1+2 children) – with rear-end seating than can sleep one adult or two children and seating along the side wall serving as a single bed for a night. Additionally, this layout includes desk w/small folding table for eating.
    Out of two floor-plan versions, the standard one offers more than decent living, dining and sleeping conditions (as for small camper),but the twin-bed one seems to miss the purpose. It's quite difficult to justify giving up on a comfortable sleeping (for 2) and dining (for 6) space to get a desk with small, folding dining table (clearly only for 2).
 Let's face it – the standard dining table can be easily used as a desk, place for any board game, computer-work space or as the matter of fact an "office" if needed.  And this is especially true, given the fact that in the standard version there is also an additional side-table with comfortable (soft) seats on each side. If needed, it will certainly accommodate lunch for two persons without disturbing the office temporarily set at the back of the camper. ....
To find details about this still rarely seen on the road (but truly great) camper see: --> 2017 Ollie Legacy Elite Travel Trailer
---
Bigfoot 25B21FB
Bigfoot 25B21FB - 21ft molded-fiberglass travel trailer (visible seam around the center belt is the place where the upper and lower "half-shells" met together... )
For the 2017 season, the Canadian company Bigfoot's offers travel trailers with seven distinctive floorplans – all belonging to the series 2500B. They are ranging in length from 17.5 feet to 25 feet.  Here we decided to make detailed presentation of the mid-range (21.5ft long) model 25B21FB.
At the front of the trailers there is a large full-size bed (54" x 74") with spring-filled foam mattress. Together with spacious night stand, wardrobe and overhead cabinets it makes a comfortable bedroom. It is an open space without private walls, but thanks to this arrangement, the travel trailer feels more spacious than it really is.  The TV shelf brings to the bedroom a chance for entertainment and/or contact with civilization (if needed)!  Because next to the bed there is a large, panoramic, opening window with shades and screen allowing for special "connection" with the surrounding nature – something that nature lovers will certainly enjoy!
The central part of the trailers is used by the kitchen and the spacious dinette (on the opposite side of….
For more details see: --> Bigfoot 25B21FB Travel Trailer
---
Dub-Box camper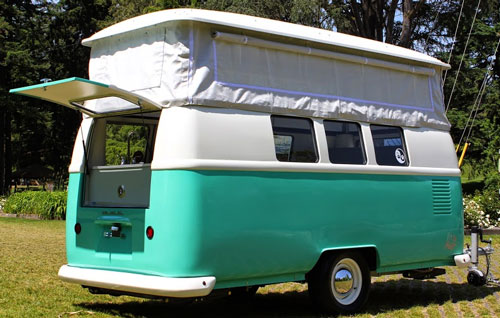 Dub Box Camper - Iconic T2-like shape in modern version
    Dub-Box is a fascinating story brought to life by lovers of famous T-2 style VW Vestfalia campers. Those "earlier-born" still well remember that T2 was a symbol of freedom, symbol of youth; it was an expression of individualism breaking the rigid social rules…..  And although the standard of life as well as "lifestyle" significantly changed since those times (not necessarily for better) the vibes of old times never vanished …. 
So here it is – a molded-fiberglass T2-like shell with features offering warm nostalgic feelings from the past and modern day comfort and amenities… 
It's kind of "All-in-One" package inviting for the trip to the past of our youth…..
See more details at: --> Dub-Box campers
---
Casita "Patriot Deluxe"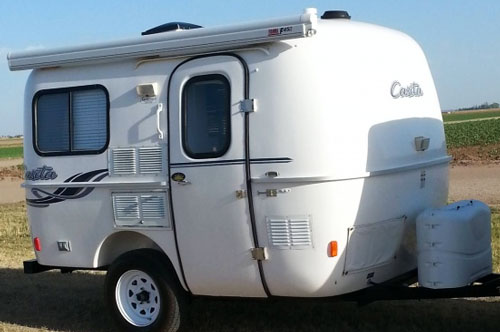 Casita's "Patriot" Deluxe - 13ft molded-fiberglass travel trailer
   Since 1983, Texan company Casita Enterprises Inc. dedicated its resources to the design and manufacturing of molded-fiberglass travel trailers.  Currently the company offers five models of travel trailers correspondingly: the smallest one in the family – 13ft long Patriot Deluxe,  16ft (Standard) and 17ft long (Deluxe) versions of Spirt, Freedom and Liberty and the largest member of the family – Independence (both versions Standard and Deluxe are 17ft long).
All mentioned models belong to the class of Lightweight Travel Trailers with boxes assembled from two pieces of molded fiberglass "half-shells".
     The main difference between Standard and Deluxe versions of Casita's trailers is that the former have an extra sleeping place to accommodate more people, while the latter have the wet bath with toilet, sink and shower to offer more comfort, "autonomy" and privacy.
The Patriot is the only Casita's trailer that is offered just in version Deluxe, but that is what makes it may be the most interesting on the list. It is clearly designed for two persons, but in exchange offers all they may need when "on-the-road"….
Thanks to small dimensions and weight, it is easy to tow and may be as important – easy to store in the garage, but at the same time...... 
See details at: --> Casita's Patriot Deluxe
---
Scamp 13ft Travel Trailer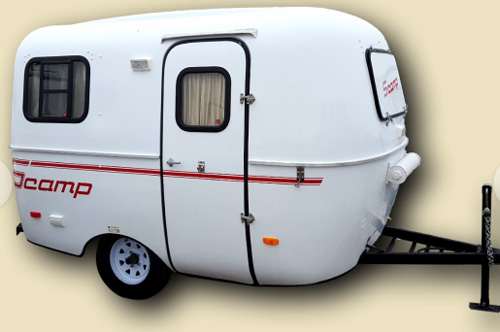 Scamp 13ft molded-fiberglass travel trailer (visible characteristic "belt-line" where the upper and lower shells connect together)
     Scamp is an American, family owned RV manufacturer operating since 1971. It was the first US company that successfully implemented the technology pioneered by Canadian company Boler.  Today, some 45 years later Scamp is well recognized for its campers assembled from two pieces of molded fiberglass: upper and lower "half-shells".
     The series of Scamp Travel Trailers includes 13ft, 16ft and 19ft models – all coming with several floor-plans and versions (standard and deluxe). The smallest 13ft model was the first one introduced into production back in 1972. 
Today's 13ft models come in four different configurations:
Standard w/front bunk
Standard w/front bathroom
Deluxe w/front dinette
Deluxe w/front bathroom (toilet and shower)
For more details see: --> Scamp 13ft Travel Trailer
---
Escape Travel Trailer
Escape Travel Trailer - Model 19
    The company offers 3 different models of Escape trailers – correspondingly 17ft, 19ft and 21ft long as well as Escape 5.0TA Fifth Wheel camper - all made from molded fiberglass. 
Here we will present in details the mid-range trailer model – 19 foot long Escape. It is the trailer, Escape Industries are especially proud of, because its floor-plan and standard features were largely designed based on the customers' inputs!
    It is a spacious, tandem-axle trailer designed for 4 people. The permanent, queen-size bed (60" x 80") is located at the rear-end of the camper.  The kitchen is located in the central part of the trailer. Equipped with 2-burner stove (3-burner optional) with power range-hood w/light, stainless-steel sink with single-lever chrome faucet and cover, 5-cu. ft 3-way refrigerator ("enormous" compared to similar-size trailers), and microwave-ready cabinet (Microwave is optional) even in its standard version offers more that needed when on the road. The kitchen cabinets (with countertop extension), overhead cabinets throughout the trailer, large wardrobe....
For more details see: --> Escape Travel Trailers
---
Weis-Craft LJ Ponderosa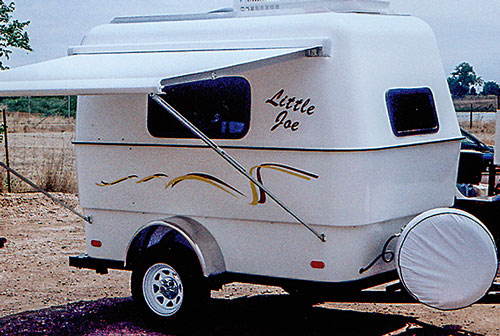 Weis-Craft Little-Joe Ponderosa fiberglass travel trailer
      Weis-Craft Trailers was founded several years ago by Marty Weis. The company located in Henderson (Colorado) offers some of the smallest hard-wall travel trailers on the market under the name "Little Joe".  The model is offered in two versions – basic one (Little Joe) and as it is proudly called by Mr. Weis – the Deluxe version known as Little Joe Ponderosa.
Both versions share the same shell and frame but the Ponderosa has more features considerably improving the comfort of living.
     Mr. Weis goal was to design and offer to customers a compact, lightweight and durable camper that can be towed by 4-cylinder family car. But at the same time, despite the limits imposed by camper's compactness (in other words "small dimensions"), Mr. Weis wanted it to be unique, fun, functional and practical. Obviously it was not an easy task, and as it seems - the company did not win by storm the RV market. Even now, after so many years, the factory does not have production line. The trailers are made on demand (it takes about 8 weeks to make one) and are sold directly from the factory......
For more details see: --> WeisCraft Little Joe Ponderosa Camper
Trillium Outback camper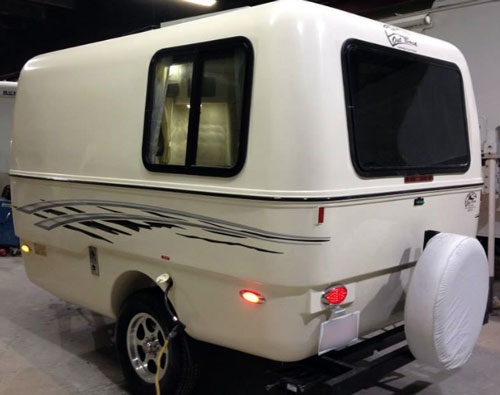 Trillium with its Outback camper proves that the famous vintage design is "alive" ....
      It's not possible to write about new 2017 Outback Trillium trailers without touching the history of its famous predecessor. It all goes back to late 60's when the Canadian Company Boler introduced first molded-fiberglass "egg-shaped" travel trailers. It was a real revolution in the RV industry thanks to first hard-wall, all-fiberglass, water (and time)-proof designs. Trillium all-fiberglass travel trailers were introduced shortly after Bolers (early 70's) and were manufactured till 1980 when the company closed the doors. Obviously, the time was still not ripe for Lite, Fuel-efficient, Green technologies. 
Fortunately, some ten years ago Joe Thoen picked-up what survived from legendary Trillium trailers (name, vintage shape, molded-fiberglass technology and may be the most important – their fame still resonating among RVers). The new company - Team Trillium Trailers Manufacturing Ltd. started operation in Calgary and in 2007 with introduction of a new Trillium camper.  The idea was to keep all for what the old Trillium trailers were appreciated and recognized: compact size, light-weight (easy to tow by typical family cars), , all-fiberglass shell (no rot, no water leaks), durability etc…), while applying modern manufacturing technology.....
See details at: --> Trillium Outback camper
---