Top Lightweight Travel Trailers
Find best 2017 models of lightweight travel trailers – from small through mid-size to big and luxurious models....
      Since few years the "Lightweight RV" is the word of the day and favorite keyword for search engines. And this happens for the good reasons. 

The lite RVs have several unquestionable advantages, like correspondingly:
They can be towed by smaller vehicles, (some even by 6 cylinders family car instead of a truck)
They are more ecologically-oriented. Although this does not sound the same way to everybody, for sure we all appreciate their better fuel economy
The "lite-design" challenges manufacturers to use more aluminum, fiberglass and in general composite materials to bring down the weight of RV. With these efforts come much better reliability, durability (no rot, mold, less rust, leaks (if any)…). We all benefit from these improvements regardless of our eco-orientation.  
And obviously new technologies and construction materials contribute to stylishness, elegance, practicality (to name only few benefits all of us will gladly embrace). 
The following presentation aims at showing new lightweight (as well emerging class of as ultra-lite) travel trailers. Different sizes, from small to large luxurious ones. But they all will have to meet two fundamental requirements: 
Lightweight design
Hard Walls Body
      Obviously the "weight" is not an absolute criterion, because "pounds" have only relative meaning (in other words the classification of "lite" comes from comparing the weight with "typical" models of the same class). So the "lite" numbers will largely vary from small, through medium-size to big RVs, not mentioning even these residential-like rigs.
     Hard walls requirement excludes tent campers from the following presentation. It's not that they are bad choice, as the matter of fact, for many owners pop-up campers will make an excellent choice. We exclude them because for obvious reasons they are always "lighter" than any other hard-wall RV so if will be unfair to put them together "on the same scale".
OK, so here is our continuously updated  selection of top Lightweight and Ultra-Lite travel trailers.
Travel Lite: Rove-Lite 14FL
Rove-Lite 14FL: Ultra-lite travel trailer
          The whole structure of the Rove-Lite 14FT trailer is made from a combination of aluminum, composite materials, and fiberglass.
The frame (chassis) is made from aluminum (all parts are fully welded). It's more expensive than steel, however, sheds a lot of pounds from the overall weight of the trailer (not to mention that it's also solving the problem of rust and corrosion).
Shell's side walls are made from Azdel. As a sign of time (and modernity), these composite panels replaced traditional lauan plywood in the construction of RV shells. To increase the strength, composite walls are reinforced with aluminum (along the peripheries, door as well as across the wall). 
The layer of thermal insulation is made from a new generation of so-called "Hydro-Lite" materials. Such block-foam insulation is more hydrophobic (water-repellant) than traditional "closed-cell" composites (hence the name).....
For more details see: --> Rove-Lite 14FL Review
InTech RV "Sol" Travel Trailer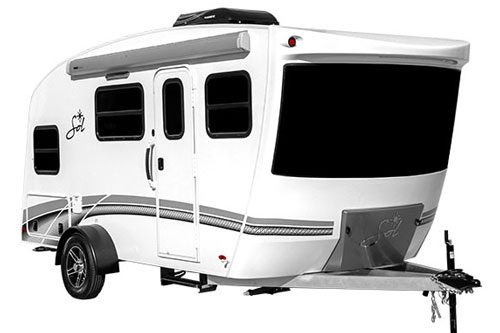 InTech RV's newly released model of Sol
       InTech's Sol is a newcomer on the RV-market, but since it's late-2018 launch it already made "waves" in community of RV-ers. This medium-size, ultra-lite travel trailer meets towing ratings of most popular SUV. What is equally important, it is very stylish, thoughtfully designed, generously equipped and very bright inside what makes it "visually" spacious despite its real dimensions...
See details at: --> Sol Ultra-Lite Travel Trailer
Venture's Sonic SN220VRB
      Our selection of the model Sonic SN220VRB out of series of Sonic and Sonic-Lite travel trailers was determined by several of its characteristics. These include: ample living space (one slide-out), well-thought design, much sought and widely appreciated features promising comfortable RV-ing (like for example an exterior slide-out kitchen), as well as enclosed underbelly and tandem axle (for easy towing and maneuverability).
All models of Sonic and Sonic Lite travel trailers are designed as ultra-lite RVs (similar design, construction materials and techniques... 
See more at: --> Sonic SN220VRB Travel Trailer
Prime-Time's Tracer Breeze TTs
Tracer Breeze Travel Trailer: Model 22MDB
         Out of impressive line of RVs by Prime-Time Manufacturing, clearly standing-out is series of ultra-lite Tracer Breeze travel trailers. It offers 7 floorplans ranging in length from 22'11" (19MRB) to 34'6" (31BHD).
The company's goal was to offer a series of large, super-lite RVs within the towing range of many popular crossovers and mid-sized SUV. Following this objective, Primetime designers pretty much fixed the maximum permissible weight of fully loaded Breeze trailers to about 7,500 lbs trading the numbers of individual Dry Weight (Unloaded Vehicle Weight) with Cargo Carrying Capacity (CCC).
All Tracer Breeze models have walk-in wet bath, six models have at least one slide-out unit (the largest model has two), the main sleeping space is either the Murphy-Sofa of Queen-size bed (the latter comes with the privacy wall and door). Bunk beds and collapsible dinettes offer plenty……
See details at: --> Tracer Breeze Travel Trailers

Travel-Lite Falcon 21RB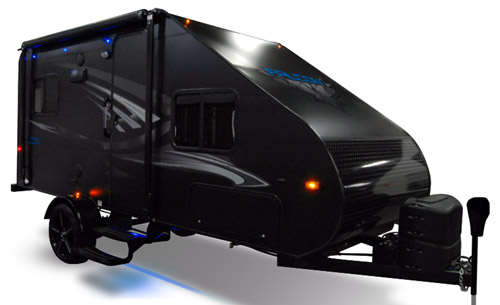 Travel Lite - Model from the series of Falcon travel trailers
       Just coming on the market the 2017 Falcon 21RB travel trailer seems to be ideal for get-away vacations. It is ultra-lite, super-aerodynamic, easy to maneuver and towable by most 6-cylinder cars. Thanks to its attractive floor-plan and features it should provide comfortable vacations for family of two w/children or ideally – just for two. Needless to say, that its streamlined shape will guarantee good fuel economy and also "Public attention" ....
See details at: --> Travel Lite's Falcon 21RB

Ford 220RB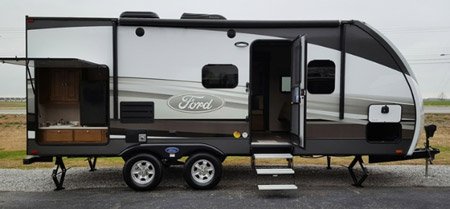 Living-Lite / Ford 220RB Travel Trailer
        The 2017 Ford 220RB travel trailer is a result of combined efforts by Livin-Lite and Ford Motor. It's an ultra-lite camper thanks to Livin-Lite's superior all-aluminum technology. The innovative floor-plan, features and let's call it "accents" (or final touches) give this modern camper unique characteristics.  They will be certainly appreciated by many RV-ers but also by owners (and aficionados) of F-xxx series trucks. It's because the 220RB travel trailers in many aspects match characteristics of famous F-series.
The front window is not typically seen in travel trailers. In 220RB the window was integrated into front-cap thanks to Ford's huge level of expertise with windshield designs. And the final effect is striking not only when it comes to stylishness but also due to interior benefits (brightness, panoramic sky view from the bed)....
The additional, well equipped exterior kitchen is another successful attempt to reach-out to the nature… 
See details at: --> Ford 220RB Ultra-Lite Travel Trailer
Lance 2375 (or 2295)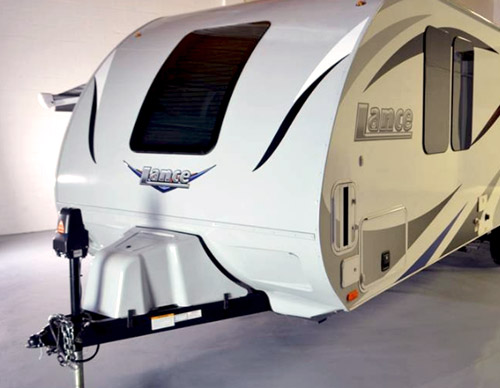 Lance 2375 Ultra-Lite Travel Trailer
      Lance 2375 Travel Trailer is an ultra-lite "higher-end" coach designed for prolonged-season vacations for family of 2 (or 2+2 kids) in stylish, well-furnished "environment". Built from most advanced lite materials like aluminum, Azdel, Lite-ply, fiberglass and as Eco-friendly (toxin-free) it offers attractive layout with rear lounge, elegant kitchen and comfortable bedroom. It also promises durability thanks to no rot, no mildew, no corrosion (at least in its most common version).
Thanks to good insulation and "Weather Package" the trailer can be used over extended period of time during the year. Similar characteristics although quite different and equally attractive layout presents the model 2295, so…..
See details at: --> Lance 2275 Ultra-Lite Travel Trailer
Keystone 220RBI Bullet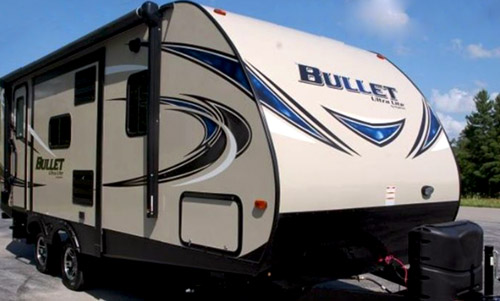 Keystone ultra-lite 220RBI travel trailer
        Bullet travel trailers characterized by aerodynamic "bullet-like" front nose (name obliges) are very popular among RV-ers. The model 220RBI with its length of 25'7" is the smallest one in the series (the largest one reaches 37'6").  
Definitely it is not the luxurious trailer although has some characteristics of residential-like ones. The popularity of 220RBI RV is certainly determined by its dry weight of just 4,664 lbs. Given the respectable length of 25 feet 7" it clearly belongs to the class of ultra-lite travel trailers that can be towed by popular pickup trucks....
See details at: --> Bullet 220RBI Travel Trailer
Kodiak 264RLSL Ultra-Lite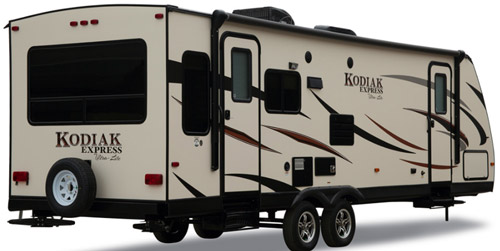 Kodiak Express - 264RLSL Ultra-Lite Travel Trailer
      Dutchmen's Kodiak Express 264RLSL travel trailer clearly belongs to the class of higher-end coaches. Although not luxurious, certainly it's close to residential quality, especially in terms of space, ambiance and features. Thanks to its length of more than 31 feet, the floorplan offers spacious living area with enough of place for sofa and lounge "corner" with leather chairs (on top of traditional dinette and central kitchen). And as the Ultra-Lite class obliges, its dry weight is below 5,700 pounds meeting towing limits of most SUVs, light trucks and some minivans......
See details at: --> Kodiak 264RLSL Ultra-Lite Coach
Highland Ridge UT 2604BR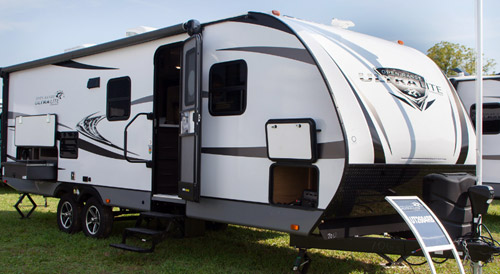 Highland Ridge RV: Model UT2604BR Ultra-lite travel trailer
     Currently the Highland Ridge RV offers series of travel trailers, fifth wheels and toy haulers. For this 2017 presentation we selected the model UT2604RB. It is an ultra-lite travel trailer designed specifically for towing by medium-duty pick-up tracks and some SUVs. 
Despite its low weight (dry weight in the range of around 5,500 pounds depending on options) it is a large and spacious trailer (box length 26'7" and 250 square feet of space) with single slide-out, rear bath and may residential-like features. 
It seems that two of UT2604RB internal features 'exceed" expectations and so are worth of special attention:
The 39" slide-out is deeper than industry standards (24" to 36") making the living/kitchen area .....
See details at: --> Highland UT 2604BR ultra-Lite TT
Jurgens Exclusive Deluxe
      Jurgens is the largest South-African manufacturer of RVs.  Operating since 1952 the company offers an impressive product line including On-Road and Off-road travel trailers as well as cargo (they call them "luggage") trailers and utility trailers.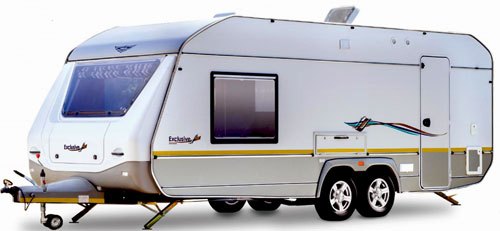 Jurgens Exclusive Deluxe travel trailer
As the company states – "RV-ing (caravanning) is all about adventure, including the process of choosing the right RV model".  To make it happen, Jurgens offers four models of "On-Road" travel trailers (caravans) and two models of Off-road travel trailers. The family of on-road models includes correspondingly: Fleetline, Penta, Classic and Exclusive trailers (all in standard and 2017 versions, the latter one also in a Deluxe version).....
See details at: --> Jurgens On-road Travel Trailers
---
Note: This section is a "Work-in-Progress", so more presentations are on the way :-)
You can also check: --> Benefits of Lightweight Travel Trailers
---