Luxurious Travel Trailers
Luxury RVs
See top luxurious travel trailers extending residential-like environment and ambiance "away-from-home" making you feel as comfortable as in your own residence....
       For many of us, luxury RV-ing may have quite different meaning. So let's first agree on what we will consider here as the Luxurious Recreational Vehicle.  

Well, in our (may be not so humble opinion) the class of luxurious RV represents models offering comfortable family vacation in "familiar" residential-like environment. This right away cuts the "lavishness" out of the picture, because the "residential ambiance" (if we can call it this way) should be affordable to most of us. So here are our criteria for RV-luxury:

Residential-like and "functional" Layout
      I know what you will say - it is very vague definition so let's make it clearer. It means distinctive areas (bedroom, bath, salon, kitchen… ) should follow familiar practical residential pattern. In other words the Master Bedroom should have private entry to the bathroom (so the bath should be next to it). The kitchen should rather be on the opposite side of the bedroom not only preventing food's smell to "invade" your sleeping quarters, but also to prevent the kitchen area serving as the "passage way" to the salon (just imagine how many (un)healthy soft-drinks and crackers-alike you will take with you on the way to the salon? Two entrance doors (more "private" to the bedroom area and more convenient next to the kitchen… But these are just general lines of why good, functional floor-plan matters!
One of t of the he most appreciated floor-plans with the lounge making central part of the RV.
Here shown Prime Time's LaCrosse 337RKT
---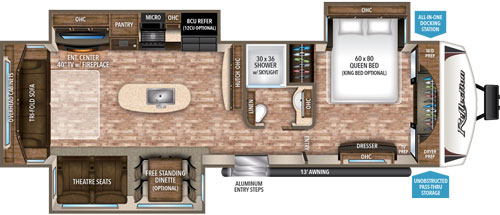 This layout puts kitchen at the focal point, pushing the salon to the back of the trailer. At your home - access to the living room through the kitchen wouldn't be considered as the best choice, but we have to agree - RVs (even these residential), do not follow all rules...
Here the floor-plane of Grand Design RV- Reflection 315 RLTS
---
This design offers two entrance doors - one private to the Master-bedroom area and the second one to the common space of Living Room and Kitchen.
Here shown: River Wind 280RLS Travel Trailer
---
Residential-like, elegant, comfortable and durable furnishing.
      I guess here we will more likely agree that the true leather is preferable for sofas and recliners, that real-wood doors and frames are essential for cabinetry, stainless-steel appliances  and Corian-type counter-tops look more elegant (and last longer), that meals eaten  at free-standing dining table with chairs "taste" better, that there is no lovelier place to relax than recliner…. I guess we know what I'm talking about
Ambiance
     Here the charm, personal "feel" and warmness (not only temperature-wise) are the right keywords. It's highly personal, but pretty much we know what is behind – little details, dimmed lights, soothing music, fireplace…..  (not mentioning a cup of freshly brewed coffee or glass of good vine) 
Spaciousness
      Well, we know that even the most lavish "home-away-from-home" (as long as it is on the wheels) has its practical and road's code determined limits. But there are few known solutions and "tricks" that will make an RV roomier not only physically but also subjectively in terms of perception. Slide-outs are certainly popular and well-recognized technical solutions. However although the generous headroom and arched ceiling do not increase the footprint (area), it brings the feeling of more open space and thus roomier "residence". Windows play also important part of subjective feelings – large, panoramic windows somehow remove the "border" between interior and the outside world, especially if the latter one is "painted" by the Mother Nature.
Extended Living Space 
     It means available features like large "one-touch" power awning, external speakers, hook-ups for external BBQ and sink w/hot water (why not?), external shower, ample but also romantic lighting and obviously enough of external storage space to carry all needed outdoor equipment (table, chairs and whatever you may think of as useful…)
Extended-Stay capability
      Luxury RVs are not for short weekend escapades (it's possible but does not make sense). They must be designed for comfortable Extended Stay. That means – friendly (read it "close-to- noiseless") ducted A/C and heating system, ample thermal insulation and in many cases (4-seasons) enclosed and heated underbelly and water system. Many will also expect electric/plumbing prep for washer/dryer (including suitable appliances as an option) 
Exterior elegance, stylishness
     These two words speak for themselves. I guess you do not want every passerby to stare at your RV (after few moments of proudness you will quickly realize that they violate your privacy), but certainly, you would like to be proud of it! 
Quality
      It's importance cannot be underestimated. While we want to live with "peace-of-mind" in our main residence, when needed we can always jump to the garage, grab a hammer /screwdriver or whatever it is and try to fix the problem. Unfortunately, it is much more difficult to do in our "Home-away-from-home". First of all, we do not have the garage with us (and its "deep treasure" of tools and "stuff"). And secondly – we are on vacations and you know what I mean…
      OK, so once we agree on above assumptions (or at least "agree-to-disagree" after deep thinking process) let's start the presentation of top affordable luxurious RVs for 2017.

PTM: LaCrosse Lite 337RKT
LaCrosse 337RKT - residential furnishing, large panoramic windows,generous headroom largely contributes to the familiar warm "homey" ambiance.....
      From the long list Prime Time's RVs (Travel Trailers, Fifth Wheels and Toy Haulers) we selected LaCrosse model 337RKT as one of top luxury travel trailers. And there are valid reasons for that starting from company's claim:   
Luxury and value are no longer contradictory, they have been combined... the result is LaCrosse.
The 337's layout   with front bedroom, rear-end kitchen and central living area seems to match the preferable concept for residential-style RV

It somehow separates the kitchen from the remaining part of the "residence" exposing the living room (salon) as the main section of the trailer. Two- opposite side slide-outs make the living room spacious (and it's is not only feeling, it's the fact). The front bedroom also takes advantage of the slide (trailer's 3rd one) offering enough of space for king size bed. And surprise-surprise – its decent price (mid 40k) makes it available for many potential RVers. As the company rightfully claims: Your search for the (almost) perfect combination of Luxury and Value is over – Prime Time Manufacturing created it! Welcome to LaCrosse.

So let's see description and details at: --> LaCrosse Lite 337RKT
GDRv: Reflection 315RLTS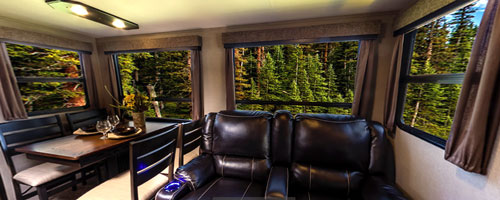 Reflection 315RLTS - Look how panoramic windows can "expand" the living space.... I guess you do not see that often even in your primary residence.
     Out of long list of models from Grand Design RV (Lite and High-End Travel Trailers, High-end and Luxury 5th Wheels and Toy Haulers) we will present here the Reflection 315RLTS travel trailer. 
According to company – this trailer is a "Celebration of luxury and value, example of convenience with high-end style and residential charm" – and all that at an affordable price. 
     The layout offers front master bedroom, bathroom (unfortunately w/o private access), central kitchen with dining table and rear lounge with entertainment center. While the bedroom is clearly separated from the remaining part of the trailer to ensure full privacy, the kitchen and the lounge make one spacious living-working and dining area. This seems to "violate' our expectations for luxurious RVs, however we give the reason of doubt and chance for potential customers to make their own decisions. 
Reflection 315RLTS is designed and built for Extended Stay. That implies not only powerful 35k BTU furnace, unclosed and heated underbelly (water tanks, valves …), insulated slide-out floors and improved (double) insulation for roof and front-cap but also much appreciated installation for washer/dryer…..
And may be the most important numbers – new 2017 models go for just below 50k$ (what seems to be very reasonable given what you get). To make it clear – certainly you have to add to this number few packages (certainly "Power Package" and most likely "Peace of mind" one), so some extra k-bucks ….

See details at: --> Luxurious Reflection 315RLTS
ORM Wind River 280 RLS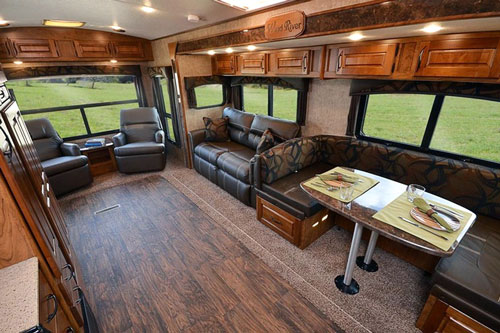 Wind River 280 RLS in & out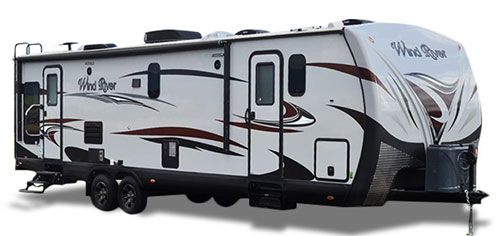 Outdoor RV Manufacturing started operations just few years ago, but the management team brought with them more than 300 years (combined) of experience in RV industry. So while the company's start was fresh – design ideas and manufacturing process were already deeply rooted in best industry practices. The company dedicated their RVs (travel trailers and Fifth Wheels) to offer the best outdoor experience. And that means – possibility to go off beaten tracks, ability to function out of grid and to do it year round. The best however is that the travel trailers from ORM's series: Wind River and Blackstone allow you to bring off-road and keep throughout all seasons "Residential-like" elegance, stylishness and comfort. Here we present the Wind River 280 RLS Travel Trailer. 
It's a model with front bedroom, central kitchen and rear lounge. What differentiate it from other travel trailers is the layout with two entrance doors. One to the private quarters (Master Bedroom) and the second one at the back – common entrance to the Living Area…
See details at: --> Luxury Wind River 280RLS trailer
---