Coleman Pop Up Campers Trailer
"What is so great about Coleman Pop Up Camper Trailers Americana, Destiny, Evolution and Highlander series?"
For many travelers pop-up campers offer unique means to re-connect with nature in a comfort of your own "little house on wheels" at relatively low cost.
Not surprisingly, among several manufacturers Coleman pop-up camper trailers are considered as the best in class of folding campers.
Most of us are quite familiar with this more than hundred years old brand name thanks to camping gear and outdoor equipment (lanterns, stoves, coolers, sleeping bags, etc…) well visible on the shelves in any Sport Experts shop.
 But Coleman is also one of the oldest manufacturers of pop-up camper trailers. The first folding camper left the Coleman Camping Trailer Division in Somerset (PA) in 1967. Since then it was a continuing success as Coleman quickly became America's number one in this competitive market.
In 1989, Coleman sold the design and production of campers to Fleetwood Folding Trailers Inc. licensing them to use the Coleman name (the license agreement lasted till 2003). In 2008 the Somerset plant was purchased by FTCA but this venture turned out to only seal the destiny of these once the most popular pop-up campers in America. The Somerset operation was closed in January 2011.

Buying the Coleman pop-up camper trailer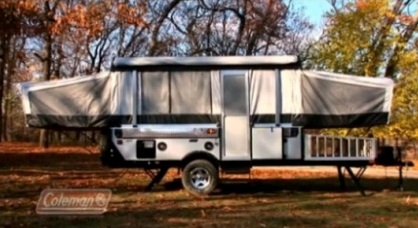 Coleman Pop Up Campers Trailer: Example of an opened Coleman Americana pop-up camper trailer

Source: PopUpPortal

Nevertheless, Coleman pop-up camper trailers still belong to the most appreciated pop-up campers and certainly their image did not lose any of its glamour.
The reasons behind this success can be summarized in these simple words – Coleman Pop-up Trailers are one of the best on the market. They are known for well engineered light weigh and easy to tow design allowing for effortless setting-up or taking down.
Add to that the unsurpassed quality, high reliability and many amenities you will hardly expect to find in this class of recreational vehicles. Kitchen appliances (stove, fridge, sink, microwave, oven…) air conditioner, bathroom, slide-out sections, foam mattresses, electronics (AM/FM/CD Stereo, TV cable connection…), fan – these are just few items from the long list of popup campers' basic equipment and accessories.
No wonder that Coleman popup campers are considered as the "Golden Reference" to which other manufacturers can be only compared.
Coleman pop-up campers come in few series differentiating by GVWR (Gross Vehicle Weight Rating), length, mechanical structure, standard amenities and finishment….). These are:
Americana Series
Destiny Series
Evolution Series
Highlander Series
Americana Series represents mid-range models with the GVWR from 3000 to 3500 lbs (1350 to 1600 kg). They feature outside shower and water heater, "luxury" quilted mattresses, well equipped kitchen and in some models the power lift system making the setting-up/down process painless.
Americana Bayside and Utah are standard models while Americana LE models - Cheyenne, Sun Valley and Santa Fe represent more value oriented versions with some extras (external storage trunk, more indoor cabinets and larger living and sleeping space as well as more refined finish).
Technical parameters:

| | | | |
| --- | --- | --- | --- |
| | Length open/closed | GVWR | unloaded weight |
| Sun Valley | 25'0" / 17'2" | 3500 lbs | 2175 lbs |
| Cheyenne | 21'4" / 17'2" | 3000 lbs | 2140 lbs |
| Santa Fe | 21'4" / 15'2" | 3000 lbs | 1890 lbs |
| Bayside | 25'0" / 19'2" | 3500 lbs | 2655 lbs |
| Utah | 25'0" / 19'2" | 3500 lbs | 2680 lbs |
Coleman Pop Up Campers Trailer: New Coleman Utah Pop-up Camper .
Jim Snyder shows us around the new Coleman Utah Pop-up Camper at American RV. American RV is a West Michigan RV dealer that sells fifth wheels, travel trailers, pop up campers, truck campers.
Destiny Series represents low-end (let's call it rather "more economical") models with the GVWR in the range from 2200 to 3000 lbs (1000 to 1350 kg). These are the smallest Coleman popup campers. Although their standard features and living space are reduced compared to models from other series, they still provide the high level of comfort at lower cost for its users. In other words they combine affordability without compromising the quality….
The series includes Sedona (lightest Coleman folding camper), slightly larger Yuma, Westlake (the longest model) and Sea Pine. The very large selection of optional accessories made available by Coleman allows you to upgrade your standard of vacationing by carefully balancing your needs with means….
Technical parameters:
| | | | |
| --- | --- | --- | --- |
| | Length open/closed | GVWR | unloaded weight |
| Westlake | 24'10" / 16'4" | 3000 lbs | 2155 lbs |
| Sea Pine | 20'9" / 14'1" | 2500 lbs | 1805 lbs |
| Yuma | 20'9" / 14'1" | 2400 lbs | 1645 lbs |
| Sedona | 16'9"/ 13'1" | 2200 lbs | 1470 lbs |
Evolution Series represents the heavy-duty (and in general "heavy-weight") steel-reinforced models intended for off-road adventure. As all-terrain designs they allow trips to remote (potentially "out of civilization") locations.
For that reason Evolution models provide not only large living area but also huge cargo space letting you pack more stuff than you may need (the bottom line is that in "wilderness you never know what you may need and once you know, then it is already too late!) Their GVWR ranges from 3500 to 7000 lbs (1600 to 3200 kg) so you may need more horsepower under your hood. Their features include large water tank and an interior bathroom with shower and flush toilet (still the great thing even in the wilderness).
The Evolution Series comes with E1, E2, E3 and E4 models as well as a "lightweight" and small size version Cobalt.
Technical parameters:
| | | | |
| --- | --- | --- | --- |
| | Length open/closed | GVWR | unloaded weight |
| E1 | 21'8" / 16'7" | 3500 lbs | 2285 lbs |
| E2 | 25'1" / 20'1" | 4400 lbs | 2545 lbs |
| E3 | 27'1" / 21'9" | 4400 lbs | 2965 lbs |
| E4 | 34'0"/ 29'0" | 7000 lbs | 3995 lbs |
| Cobalt | 16'9" / 12'10" | 2300 lbs | 1245 lbs |
Highlander Series represents high-end models with GVWR in the range from 3500 to 4600 lbs (1600 to 2100 kg). Their main difference compared to other models is a high side-wall (rigid part of the "box") allowing for more "fixed" interior amenities in ready-to-use form.
As a result Highlander models offer a home-like feel in the middle of nature. The kitchen is equipped with double-bowl sink, 3-burner stove, oven and microwave, slide-out dinette but probably the most important feature is a solid-walled bathroom with shower and flush toiled. King-size quilted mattresses promise dreams as sweet as in your home bedroom. Factory installed power-lift system does the "dirty" job for you.
The model Avalon is the largest one in this series followed by Niagara and the shortest one Saratoga. These models mostly trade storage versus living area and all of them offer the home-like feel and elegance.
Technical parameters:
| | | | |
| --- | --- | --- | --- |
| | Length open/closed | GVWR | unloaded weight |
| Avalon | 28'10" / 21'10" | 4600 lbs | 3800 lbs |
| Niagara | 26'10" / 19'3 | 3970 lbs | 3275 lbs |
| Saratoga | 24'5"/ 17'3" | 3500 lbs | 2850 lbs |
 About Us / Privacy Policy / Resources
Go from Coleman Pop Up Campers Trailer to Pop Up Campers Trailer Home
 Coleman Pop up Camper Part and Accessory /  Coleman Pop up Camper Sales / Small Pop up Camper /  Coleman Camper Accessories / Coleman Camper Repair/ Coleman Camper Manuals