10 Best Camping Beds 2015
Comfortable, lightweight, easy to use camping beds are essential to fully enjoy outdoors so let's see best camping beds for your 2015 adventures.....

    If you love camping, the year 2015 will bring you new adventures and great new places to discover.
Enjoy the most you can the beauty of nature and spend quality time in the great outdoors.
But keep in mind to plan not only your outdoor activities, but also the time spent resting.
Thus, a great camping bed can make the difference between a good night sleep and an awful morning.
Here is a selection of the best camping beds you can take with you in 2015, for your camping trips.

---
Thermarest LuxuryLite UltraLite Cot


          An ultra-light camping cot, which can be very easily folded and packed. Its light weight makes it great for people who like camping out with backpacks and like moving their camp to new horizons. The patented BowFrame eliminates crossbars that can prove to be uncomfortable during sleep and the annoying squeaking of the joints.
This version of Thermarest camping cot is an award winner for being the lightest on the market, so you will not fail if you choose this one to carry around. It has a waterproof and stretch nylon covering. It requires no tools to install, and it takes only a few second to put it up and take it down.

---
Helinox Cot One

        It is a cot great for family camping experiences, which does not imply too much moving the camp around. It is a cot heavier than the Thermarest version, so it may be difficult to carry it in a backpack. But if you have no transportation problem, it can be an excellent solution for a comfortable sleep. Its structure system makes it a reliable and sturdy bed on which you can have a great rest.

---
Thermarest NeoAir Xlite Sleeping Pad

            It is a sleeping pad that is worth the money you have to spend on it. Most campers and outdoor experts will recommend it, due to its protection against the cold ground and very light weight. Because of the materials used for its manufacturing, this pad can be packed into the size of a bottle, making it the most compact pad made by this company.

---
SoundAsleep Dream Series Air Mattress

            Voted to be the most comfortable and resistant air mattress on the market. It has a multilayer structure that makes it take punctures without risking any breaks. The surface of the mattress is extra thick and waterproofed. It has a set of 40 internal air coils for enhanced comfort during sleep. The bottom is made out of a gripping material that prevents the mattress from sliding. All in all, it is an excellent mattress, having all the required features for a great camping bed.

---
Insta-Bed Raised Bed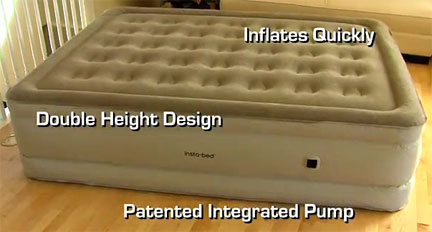 The manufacturer guarantees, with the integrated NeverFlat system that this inflatable bed will never loose air during your sleep. With its particular pump, the bed will inflate and deflate in less than 4 minutes. The pump will turn off automatically when the bed reaches the maximum of inflation. So you don't need to sit and watch the bed until it is completely inflated. The top of the bed is made out of a durable flocked material, designed to keep your sheets steady. People that bought it gave it a pretty good review, so it worth the investment.

---
Coleman QueenCot With Airbed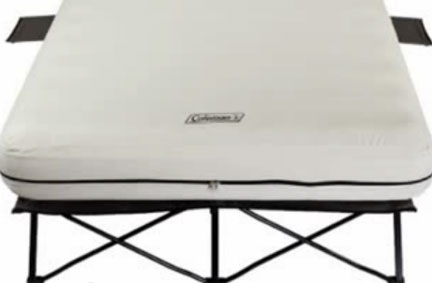 A luxury extra size camping cot for two persons. The size makes it great for a comfortable sleep in the outdoors, and for indoors as well, but the big metal frame will be easy to carry around only with a car.  It has glass supports for other personal items, on each side of the bed. The raised legs will keep you off the ground for a better protection against cold. The airbed will have to be re-inflated after a while because it tends to lose its firmness.

---
AeroBed Classic Inflatable Mattress

               A PVC-vinyl resistant inflatable mattress. The manufacturing material is thick and puncture-resistant.  The surface is made of out flocked fleece, which is being very easy to clean, and offers extra comfort during sleep. It has an internal oval coil for proper support of your body during nighttime. It also has a hands-free inflatable pump, so you don't need to keep your hands busy. The average inflating time is 15 seconds, so you don't have to wait that much.

---
Insta-Bed Queen Raised Sure-Grip Bottom with Built-In Pump


             A camping mattress with a dual-chamber internal design for an even air movement that keep the bed steady during sleep. These chambers will also maintain the edges of the mattress firm, allowing you to sit down and get up without that sinking effect. A queen size bed will allow a comfortable rest, without having to squeeze in. It has a specially designed space, in shape of a cup, where you can place the cable when it is not in use, avoiding any accidental trip-offs.

---
Coleman Double-High Quickbed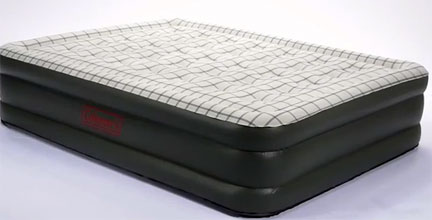 A great air mattress, which offer a good amount of quality for the paid price, this is what the customers are saying. It has an AirTight system that prevents air from leaking out during nighttime. It also had a Wrap 'N' Roll Storage System that makes it a very easy mattress to store. It can be quickly folded and wrap for a more convenient storing, even in tight places. The interior structures hold 35 coils for a comfortable sleep, no matter where you are.

---
Aerobed Adventure Air Mattress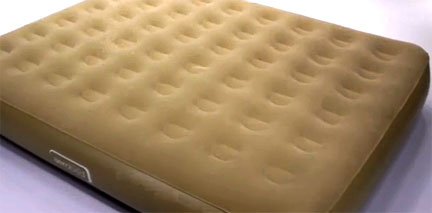 A mattress which has a surface similar to velvet, excellent for preventing sheets from falling off during sleep. Made out of a sturdy vinyl structure, it is ready to take in any dangerous punctures without the risk of being damaged. The air pump is adapted to 12V power supplies, so the mattress can be inflated using a car power supply, making it easy to install in the outdoors. The size and internal coils make it a very comfortable bed. And the air pump, even if recharged, can hold its power for several uses of the mattress.

 About Us / Privacy Policy / Resources
Go to: Pop-up Travel Trailers and RVs