Innovative Travel Trailers
"Out-of-the-Box" Concepts
New designs of folding, collapsible or expanding travel trailers present innovative ideas eliminating the problems of traditional tent pop-up campers....
            Most RV-ers are familiar with traditional recreational vehicles. Since decennia, they are offered by big, brand-name manufacturers like Newmar, Airstream, Winnebago, Grand Design, Lance, Coachmen, Oliver, and so on… No doubt, they design and manufacture everything from small travel trailers to big, luxurious rigs, from small vans to large, "deluxe" coaches, from low-cost models like classic pop-ups to lavish "Homes away from homes". However, usually, their design concepts follow rather "roads most traveled" than "off-road paths".  

       But fortunately, Mother Nature does not support vacuum, so this so-far "niche RV market" slowly but surely is filled with new names offering "out-of-the-box" concepts. Let's call them – "Innovative Designs", breaking with traditions, proving that what yesterday was impossible today can become feasible, what yesterday was unimaginable, today can become the part of reality . Following are some examples:

Kimberley Karavan Classic
Kimberley Karavan Classic - here in the road configuration (folded down)
          The first Kimberley Kamper left the factory doors in 1994. In the words of the founders (Michael Lowe), Kamper's design reflected the following principles:

Make it small when traveling, and large when camping!
Suspension can't let you down. Only the best will do.
Add lightness. Wherever possible, without losing strength.
Ready electric power is the secret to comfort. More is better. Renewable is best.
If there's a better system, use it.
Design with technology. Build with craft.
       Now, almost 30 years later following the change of ownership (now James Cockburn and Brett McLaren), Kimberley Kampers offers a modernized version of an off-road Hybrid Classic Karavan (including an upgraded Eco-Suit version).....
See details at: --> Kimberley Karavan Classic
Retreat ERV Hyper 200R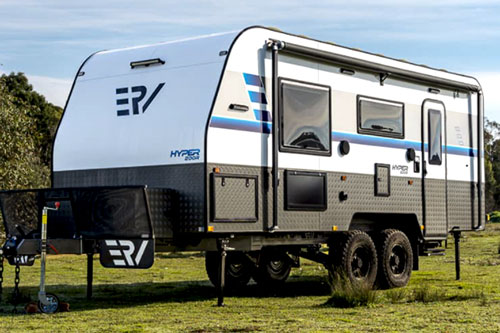 Retreat ERV Hyper 200R (Australia)
        The Hyper (20ft model) was designed for Australian travel conditions characterized by large swaths of wilderness. It's an environment where if one day you will see an electrical outlet, or LPG refill station, most likely it will be a dream or fata-morgana. However, what you will certainly see (and feel) will be the sun (actually, often a lot of it). Well, perfect condition for "trouble", but if you are "innovative" you can turn it into a "blessing". 
 The goal was to come up with a "workable solution" for the travel trailer that can provide enough electrical energy for daily use of typical home appliances including AC/Heating system, washing machine, water heater, cooktop, fridge/freezer, BBQ, hairdryer and range of traditional small kitchen appliances.....
See details at: --> Retreat All-Electric Hyper Travel Trailer
Camp365: Fold-Out Camper
Camp365 can be towed even by some ATVs....
             Camp365 travel trailer represents the very innovative concept setting it apart from the competition. Camp365 could be characterized as an Expandable RV, although some (due to its unique structure) would rather claim that it belongs to the new class of "Fold-out" RVs. In fact, in its campground configuration the usable footprint of Camp365 increases three-fold to almost 100 square feet (8'5" x 11'8") from approximately 32 square feet (8' x 4') in storage configuration. What's even more important - it's a fully habitable space with up to 7.5 feet headroom over major the part of the cabin. No wonder, company promotes it as "The Cabin that goes Everywhere".....
See details at: --> Camp365 Fold-out Camper
Tipoon Expandable TT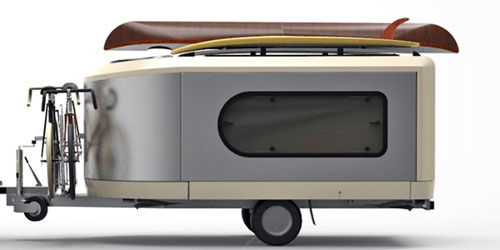 Tipoon Expandable travel trailer opens upward and sideways
         In short words one can say that the Tipoon is a combination of the concept of vertically expanding Hi-Lo travel trailers with the addition of horizontally extending slide-outs. According to designers, once fully unfolded, its volume increases 3-fold compared to that in road's configuration! This impressive "expansion-ratio" guarantees low aerodynamic profile on the road (fuel economy), high maneuverability and small storage footprint (important not only in the garage, but also on city's parking lots) and at the same time comfortable living space on the campground.
But there is more "magic" in this revolutionary design. The shell is designed as a stand-alone, self-supporting unit, that is only "temporarily" attached to the trailer. Such solution has two important benefits.  Firstly, it takes much less storage space in the garage. Secondly, when needed, the trailer can be detached .....
See details at: --> Tipoon "Travel Machine"
sCarabane Travel Trailer
          On the road the sCarabane looks "boxy" and quite uninspiring. By European standards with its length of 25.5 ft (7.8m) and dry weight of about 5,500 lbs (2,500kg) it is relatively "massive" (on US roads it will be considered as a medium-size model).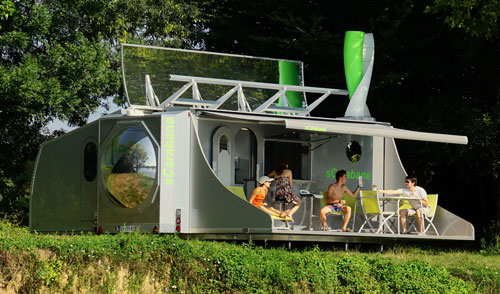 sCarabane is an energy self-sufficient, high-tech travel trailer
       This picture dramatically changes once the sCarabane starts unfolding. Slowly but surely (full set-up may take up to 30 minutes) the segments of sCarabane in a step-by-step process fold-down, flip-up, pop-up or swing-out converting an otherwise unimposing and almost windowless "wheeled box" into a large, bright open space.  It includes two bedrooms, large kitchen, spacious dinette (convertible to extra sleeping space for 2), bath (w/shower and sink), separate toilet and an almost 140 square feet deck with retractable awning. Well, it's a tiny but well-furnished house on wheels.  
      The spacious (70 sq.ft) kitchen is equipped with 3-burner gas stove, dishwasher (yes , you read it correctly), large fridge and freezer, microwave, sink with single-lever faucet and hot/cold water, storage cabinets, shelves and a lot of countertops providing working space. The large window, opening on the deck with sort of "mini-bar-extension".....
For details go to: --> sCarabane Futuristic Travel Trailer
BeauEr-3X Travel Trailer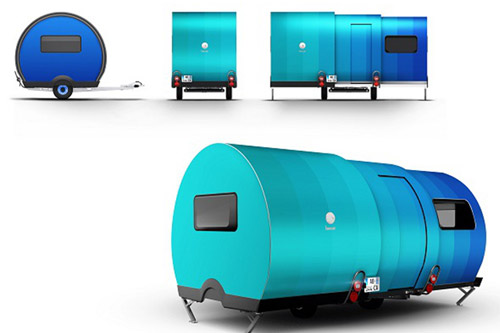 BeauEr-3X travel trailer expands sideways
        This truly innovative design was invented by Mr. Eric Beau and then built by his father Pierre (both French enthusiasts of RV-ing).  It consists of the central module where all bulky and heavy features are located and two sliding-out "telescopic" modules (one on each side of the central one) containing sleeping and living areas. Once fully opened, the camper triples its usable area (from 43 sq.ft/4m2 when closed to 129 sq.ft/12m2 when opened) hence its name BeauEr 3X reflecting both – inventor's name and properties. 
While slide-outs are not new to RV industry, the clever part of BeauEr's design is that features located in both pull-out (expandable) modules will automatically fold-down and perfectly fit into the "packed" central module when the camper is contracting (closing). Obviously the opposite happens when the camper is expanding (opening)....
See details at: --> BeauEr-3X Expandable Travel Trailer
Dethleffs C-class motorhome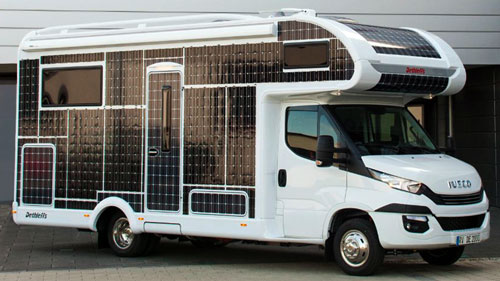 Dethleffs e-home

     In 2017, at the Düsseldorf Caravan Salon, Dethleffs presented a concept of an all-electric C-class motorhome, hopefully opening the new era of "e.homes". Following the "hot" trend seen in the automotive industry, Dethleffs motorhome's concept model has an electric power-train. Built on the Iveco chassis, it is equipped with a 107 hp (80 kW) electric motor powered by a pack of FIAMM 400V /3 x 76Ah/91kWh sodium-nickel-chloride batteries. Obviously at the current stage of development, its range per charge will not be impressive....
See details --> Dethleffs e-Home
Amphibious Travel Trailers
 Amphibious (floating) campers (travel trailers) are designed as kind of "three-in-one" units that can serve as a regular travel trailers when on the road or a campground as well as motor-boats and boat-houses when on the water. In other words, the only difference between these operating modes should be determined by the fact that stepping out of the trailer on the campground puts you on the hard-ground, while the same process when on the water requires you to swim (and you better know how to do it)!.
See what's on the market: --> Amphibious RVs
---