Top 10 Vintage Travel Trailer Models
See Top 10 Vintage travel trailers – these sturdy and beautiful designs with the touch of nostalgia bring you to the remote past with the comfort of your home…

Vintage camper trailers gave birth to a new pastime and a culture in the 1920s, that of caravanning across America.
They celebrate the spirit of freedom, the urge to break loose from the mundane and the familiar and fulfill the need to explore and be part of nature, without of course ever missing the comfort home.
The retro campers are sturdy and beautiful with their innovative design and shiny looks.
They are built to endure the harsh nature of the outdoors without ever compromising on the safety and comfort of the travelers.

Top 10 retro camping trailers:
1. Airstream Trailers: These "aluminum skinned, gleaming silver bullets" enjoy an iconic status in the world of retro trailer campers. Its aerodynamic design, akin to the shape of a sausage with the rounded top has many advantages compared to the flat top models in negotiating the elements. Created by lawyer Wally Bryum in 1936 this model enjoys a great fan following even today.
See more details by going to: Airstream VintageTrailers

Contemporary Airstream camper trailer in the "nostalgic" old shape....

2. Shasta Trailers: Built originally in 1941 in Los Angeles, California for housing members of US armed forces, these time-honored trailers has been a rage with campers all over the western United States. The 'wings' on the rear side were essential identifiers and the most distinguished feature of Shasta model since 1960s. The first model rolled out was bread loaf shaped and was very aptly named as "Cozy cruiser". The cozy feeling has endured among camper lovers and the model is witnessing great revival interest in the recent times.
For more details go to: Shasta Vintage Trailers

3. Aristocrat Trailers: These sharp angle biggies were rolled out during the period from 1956 to 1974. Garage storage was advertised as their attractive feature. With a spare set of metal wheels height of these retro trailers could be reduced to fit them in garages. People loved it for its height and roomy feeling inside.....
For more details go to: Aristocrat Vintage Travel Trailers

Authentic Aristocrat travel trailer from the early 1970-ies

4. Avion Trailers: First rolled out in 1957 these glistening aluminum campers became instant hit with RV camping enthusiasts. Attention was given to top quality furnishing such as hardwood boards and dovetailed cabinets and sturdy material such as treated fiberglass and anodized aluminum.
For more details see: Avion Vintage Trailers

5. Aloha Trailers: Aloha Trailers were manufactured between 1954 and 1970. Despite their basic features and small inside space Aloha campers enjoyed great popularity. These trailers are amenable to great user customization. Hammocks, storing space over rear bed, benches-you just need to give shape to your imagination and Aloha will provide you the right space.
Find more at: Aloha Vintage Trailers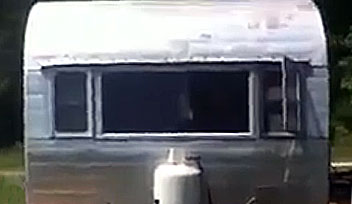 Aloha camper trailer from 60-ties....

6. Kenskill Trailer: Manufactured from 1946 to the mid 1970's these trailers are loved for their big head room. Stand up and do your things inside without discomfort. About 18000 campers had been rolled out by 1959, which indicates the success it enjoyed among enthusiasts. Now these retro trailers lend themselves to great restoration work.
For more details see: Kenskill Vintage Trailers

7. Airfloat Trailer: Airfloat had a long dream run among American camper enthusiasts and movie crew between 1930 and 1957. With their corrugated aluminum exterior and ribbon mahogany woodwork Airfloat became an instant hit with the connoisseurs. These trailers are distinguishable by the tiny unopenable round windows on both sides. Subsequently these windows were replaced by rectangular ones which could be opened.
See more by going to: Airfloat Vintage Trailers

This is a rarity these days - an Airfloat Landyacht camper trailer from 50-ties

8. Spartan Trailers: These are supposed to be house trailers which incorporated the structural technology of aircrafts. With the front window wrapped around the sides like a windshield, the design ushered in a great change trailer in designing and looks. Built between 1945 and 1961 these sturdy trailers catered to the discernible buyers who were ready to pay high price for assured quality.
More details at: Spartan Vintage Trailers

9. Forester Trailers: Manufactured between 1958 and 1979 these compact trailers saw some success among enthusiasts in the 1960s. The trailers come in many different sizes and models, the smallest being just 1550 lbs in weight. With the pull-out bed and couch Forester has an eye for camper comfort.
Find more details at: Forester Vintage Trailers

Vintage Teepee travel trailer

10. TEPEE Travel Trailers: These were manufactured in Oklahoma in the 1960's. Very few TEPEEs exist today because the company that manufactured them "folded up" soon after itself. But its rarity makes TEPEE a precious possession among retro trailer enthusiasts. Some lightweight campers weighed as low as 1200 lbs.
More details at: Teepee Vintage Travel TTrailers

And now a real jewel: Panorama of Vintage RVs from classic to the odd designs. If you cannot drive them, then  at least enjoy watching!

 About Us / Privacy Policy / Resources
Go to: Home Page  (Pop-up Camper Trailers and RVs)