Toy Hauler Camper
Learn the various advantages of owning a toy hauler camper.
Toy hauler camper is a type of a travel trailer, a motor home or a fifth wheel that is designed for the RVers who have an active outdoor lifestyle and who require additional equipment while on camping holiday.
These RVs allow campers to get their "toys" like jet skis, snowmobiles, motorcycles, dirt bikes or ATV's along for the outdoor adventurous activities.
No matter if they are designed as a motor home, travel trailer or fifth wheel, each toy hauler camper is set up to have two separate parts-a living area which is in the front and a garage area in the back which is meant for the "toys".
These unique RVs are made in almost every size from a small 23 feet camper to a 39 feet totally decked out fifth wheel that offers all the comfort you have at home.
Toy hauler campers have a fold down ramp for loading and unloading the equipment and the "toys". Because they are designed for hauling lot of stuff, toy haulers are well build and they are very sturdy.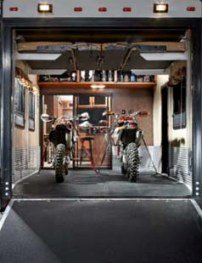 Back side of the Crossroad Voltage Toy Hauler
Toy hauler campers equipment
This type of RVs are equipped with all necessary amenities you need while travelling. Apart from the garage space, in the living area they feature kitchen, sleeping area with queen beds in some models, toilet. Most of them have a built-in generator so you won't even need any hook-ups.
The toy hauler campers' price
 The price of the toy haulers may range a lot according to the each additional feature that is added starting from the $18,000. Also the price will depend on whether you're buying a new or used one. If you find used toy hauler camper that is in an excellent condition and your budget doesn't allow you to get a new toy hauler, than buying the use done will be a real hit.
What to look for when buying a toy hauler
 As buying a toy hauler is very serious movement, and this vehicle should serve you a longer period, you must consider two important features before deciding on the purchase. They are storage space and living area. You must know which part you need to be larger. Of course it depends on the size of the trailer, but very often the living and the storage space are split 50/50.
The most popular toy haulers' brands are Dutchmen, Crossroads, KZ and others.
 -          Dutchmen is one of the largest brands of toy hauler campers in the world. Some popular Dutchmen's models are: Kodiak, Rubicon, Voltage, Razorback. They are all lightweight trailers and can be towed by most SUV's, minivans and most light trucks. Each model has spacious storage space, some models are equipped with large counter tops, cabinet space where you can place everything you need while on the trip. Some models have foldaway dinettes, sofas, while some top luxurious models come with a back up camera and a memory foam mattress.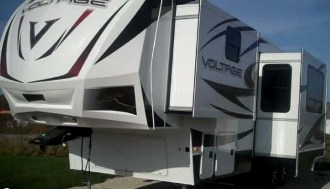 Duchman Voltage Toy Hauler camper
-          Crosssroads is a brand famous for its quality designed toy haulers. Popular models from Crossroads are Elevatio and Crossterrain. Both models are lightweight with enough garage space for the "toys" and enough living space equipped with tub, toilet, double kitchen sink, fridge, slide-out dinette, queen bed. They are designed for outdoor enthusiasts and adventurers.
Crossroads Toy Hauler
-          KZ is a well-known toy hauler brand that has been present on the camping market for over 30 years. The most famous KZ models are Sportsmen classic, Sportsmen Sportster, Spree Escape, and Inferno. Some of these models are designed as travel trailers and the others are fifth wheel. Each of them is lightweight with spacious cargo space and enough living space equipped with all necessary features you need.
KZ Sportsman Toy Hauler

 Visitor's Story:

Toy Hauler Campers are a wonderful way to transport your expensive toys like dirt bikes and quads. Dirt bikes, quads and other toys are get ways to have fun outdoors. But one of the main drawbacks is that the ideal place to ride these bikes cannot be found in one's backyard. You might often have to travel far to find good locations to ride these bikes.
An ideal form of transportation is therefore required to safely cart your expensive toys to the location. Toy hauler campers are the best solution for this problem. They are almost like a garage on wheels. You can store your vehicles safely inside them, cart them to the location of your choice, and ride them once you reach your destination.
Toy hauler campers come in different configurations and flavors. They come in traditional designs like travel trailers, motor homes and fifth wheel trailers. They also come in designs that are more outlandish with the front deck equipped to haul dirt bikes and other similar toys.
The travel trailer models can either be a single room hauler that have in built furniture that fold into the wall, or they can have their own bedrooms separate from the garage space. Fifth wheel trailers usually have the garage space separately due to the larger space available. Some versions of toy hauler campers are really enormous and come with all additional features possible. Toy hauler campers are used not only for hauling vehicles but also for other uses such as having a mobile music studio or video production facility on wheels.

Larger models with separate storage space for the vehicles would be more ideal so that the living quarters are not soiled with oil and dirt from the bikes. But the larger models would however be more difficult to drive and maneuver. You may not be able to take them to all locations. You therefore need to go for a compromise between comfort and accessibility.

 About Us / Privacy Policy / Resources
Go from Toy Hauler Camper to Pop Up Campers Trailer Home

Pop Up Camper Trailer for Sale / Puma Toy Hauler / Top Ultra Light Toy Haulers /  Fuzion Toy Haulers /  Stryker Toy Hauler