Top RV Air Conditioners
Even best RV-ing vacations can be ruined by hot and humid environment, so a good, reliable AC in your RV is an essential element, see best models for diy installation ....

There are many choices for cooling your recreational vehicle. 
You can go with a professional unit, professionally installed, and very likely with some sort of warranty or guarantee. 
That way you'll have the assurance that it is done in a reasonably professional manner, and if something goes wrong you'll have someone who has the responsibility of fixing it. 
Of course that's not going to help you much if you are hundreds of miles away from where the work was done when your AC starts breaking….

Inexpensive solution
    On the other hand, there are people that like to do it themselves.  In the following video a fellow has purchased a two part home unit where the condenser coil is separate from the evaporator coil and connected by pressure hoses.  It is called a "mini-split system" and it's available for approximately €300/US$400 all included.
The installation is sound; the operation of the unit is very, very quiet; and the unit appears to be working efficaciously, dehumidifying at a prodigious rate, and cooling the  RV substantially.  It draws 7 amps, when its compressor is running.  Being a DIY (Do-It-Yourself) man this is probably a route that I would consider.

As I approach my 60th birthday I find that I'm still perfectly capable of picking up an air conditioner and installing it.  Many of my friends, some older, some and younger, haven't maintained their physical condition as rigorously.  They would be wise to go the professional route.
    For my mother's 44 foot park home, she had me install a little $89 Danby A/C unit in a window opposite the kitchen area (5,000 BTU at 4.7 amps), which she found quite adequate.  This is exactly the sort you would pick up at your local wholesale electronics store.  It was great at removing the humidity; cooling the bedroom and office was a simple matter of leaving the furnace fan running with no heat on, circulating air throughout.
Most replacement units can be purchased in-the-box, and in truth, it usually only takes an hour to replace an existing unit.

The Coleman®-Mach® 3 PLUS™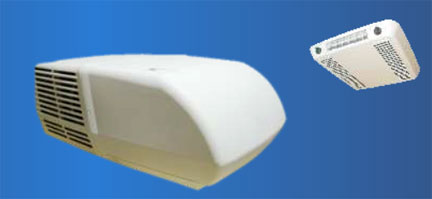 The Coleman-Mach 3 PLUS is among the best roof-mount air conditioning units for larger RVs.  You have the assurance of a brand name with an excellent reputation and a two year warranty.  Its larger evaporator and condenser make its heat exchange particularly efficient, giving it 13,500 BTU of cooling capacity, at 320 CFM (cubic feet per minute) airflow.  It draws 1,600 to 2000 watts when cooling or 1800 watts (15 amps at 120 volts) when heating (with optional Heater Assembly). 
Generally we find that the heating capability is the equivalent of a 1600 watt electric heater, so it is probably better to pick up a small €10/US$15 electric heater and simply plug it in where you need additional heat.  It's more versatile and less expensive.  The mini-split units come configured to run hot or cold.

ClimateRight CR5000 A/C & Heater
The ClimateRight unit weighs in at 5000 BTU with the price tag of €400/US$500.  People seem quite content with them for Teardrops because they both heat and cool automatically according to your pre-set temperature. For convenience they are supplied with a remote control.  The main workings of the unit are mounted outside near the tongue thereby making it reasonably silent inside the trailer.  The thermostat settings include heat, cool, fan, dehumidifying, auto and sleep modes.

The Pet-Cool
For those with Tiny Travel Trailers & Teardops, there is an interesting solution that is a bit on the expensive side (€400/US$500 brand new, occasionally available for under €250/US$300 used) but entirely workable.  The Pet-Cool air conditioner (also manufactured by ClimateRight) is only 2500 BTU, and is designed to cool and heat a small space like a dog house. 
People have been adapting them for use in their trailers because they can be powered by a 1 kW generator and they fit underneath the teardrop or can be mounted.  By utilizing a window insert you can completely avoid cutting new holes in the body.  The twin hose system supplies chilled, dry air and exhausts hot, humid air making the system very efficient.  It also runs in reverse automatically and heats when it gets cold.  It is essentially like the unit above (including remote control) but not as overpowered, requiring more run time to remove humidity.

More conventional
         As an alternative, Danby among other manufacturers such as Whirlpool and Frigidaire, makes portable units on wheels (that use window inserts) for your home.  You can find a 5000 BTU Danby unit for €80/US$119.  It draws 4.9 amps at 115 volts meaning it is only 560 watts.  It has a single hose to exhaust hot air.  Obviously this means it draws exhaust air from the interior. 
         This minor inefficiency might make it ideal for a small trailer as some of the chilled air is used to exhaust the hot air.  This would let it run a little bit longer so as to decrease the humidity before it chills all of the air inside sufficiently to cycle off.
         This unit is ideal for surreptitiously cooling your mobile home in a park where they charge an additional €160-250/US$200-300 per season for a 30 ampere extra circuit in order to have air conditioning.  We know they are merely squeezing us for extra cash that really isn't necessary unless, of course, you are running an 18 amp roof mount air conditioner.  And at less than €160/US$200, depending on where you buy it, it's a real bargain!

Conclusion
If you are a do-it-yourselfer, you stand to save a substantial amount of money, either by the purchasing of a replacement system and installing it yourself, or by using a household system in your trailer, which is intrinsically less expensive.
    The former requires a little bit of skill; the latter requires virtually none.  If that is outside your comfort zone, at least get some estimates and don't commit to the very first thing you see.
  
Remember: an overpowered unit will cool fast but leave too much humidity in the air, and in my experience being cold and damp is not a formula for comfort.  Conversely an underpowered unit will run and run and make the air extremely dry and possibly never cool the interior to an adequate temperature.  Get some advice from friends and fellow trailer-people; take advantage of their experience.

Meanwhile to paraphrase the song of an old cowboy singer and his gal:
♪♫♪Happy trailers to you… ♫♫♪until we meet again…♪♫♪
Roy Rogers & Dale Evans – 1957
Duoterm RV Air Conditioners  /   Portable Air Conditioners  /   Coleman Air Conditioners

 About Us / Privacy Policy / Resources
Go to:  Pop-up Travel Trailers and RVs