Pop Up Camper Trailers Review
Find reviews of pop up camper trailers you may be interested in...

1. SylvanSport
SylvanSport is a relatively new company that manufactures pop up campers.
Compared to the original companies that started pop ups it has a more modern and more innovative approach to camping.
It has been founded in 2004, making campers that are not only handy and easy to use, but also referred to as cool.
Good points
The latest model of Sylvan Sport pop up camper trailers is a new version of pop up campers, made for the younger crowd of today. While it kept the benefits of the original pop up campers, it also brought some innovative features into the world of pop ups. It is successfully maintaining the simplicity of a tent, while giving more protection against bad weather, comfortable sleeping space and dining space inside.
The main aim of Sylvan Sport is to create campers that make camping easier and more fun. Their campers are versatile and offer enough comfort, while they are very easy to use: they can be easily towed on any road, easily set up, and easy to pack. With their campers you can just go out into the wold without worrying about anything. The Sylvan Sport campers won't give you trouble while driving or when you need to set them up.The design itself is very innovative.
The Sylvan Sport pop ups are low profile for minimum drag, and they also won't cost you a lot of fuel. They have a torsion suspension and 13" ground clearance. The campers come with UV resistant storage boxes and waterproof canvas. Sylvan Sport pop ups have a more advanced technical side as well, such as self lubricating hubs, cast aluminum wheels, a perfect suspension geometry and diamond-plate flooring.
The Sylvan Sport Go model weights only 840 pound, which make sit possible for the owner to drive it around with any car, event the smallest one. It can carry up to 800 lb. of gear, such as bikes, kayaks and anything else you might need for your camping. It has high flotation tires that are very suitable for off road driving, thus making camping more free.
Probably the best point of the trailer besides its light weight is its small size. It has a strong aluminium frame, and it can be packed away into a very small trailer with racks for transporting bikes and other things.
The tiny size of the Sylvan Sport pop up camper can be misleading, since when it is raised it has a spacious interior, windows, zippered doors, bed and even a table for dining comfortably safe from rain. It can be easily raised in just a few minutes, and it is ready to be used. It has 6 feet and 6 inches of interior standing height and space for 4 people to sleep. It comes with an awning, self inflating air matresses, a spare tire and other smaller things for storage. For a comfortable sleeping there are insulated bed platforms included.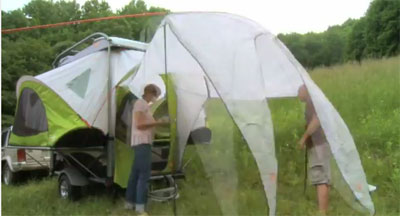 Sylvan Sport pop-up camper
Weak points
While the latest Sylvan Sport pop up is surely a great design, it also has some downsides. One of the biggest one is its price: when the latest model first appeared on the market, it was unaffordable by most people who would use such a camper. The idea of a tent trailer or pop up is to offer an affordable way of camping, but the latest model of Sylvan Sport doesn't follow this criteria.
While this pop up provides a lot of comfort and a lovely camping experience, it misses some facilities such as a toilet and a bathroom. It is also not powered inside, it has LED lights only. Technically there are no flaws in its constructions, so if you have the money for it the Sylvan Sport pop up camper is the perfect choice.
2. PALOMINO RV
Since 1968, this company has been creating various models of pop ups both for families and for couples as well. Their pop ups are quipped with many facilities, and they also come with further options for the buyer to make camping even more comfortable.
Good Points
Palomino RVs have 8 floor plans, with models ranging from 12 to 19 feet in length. All models are equipped with high quality facilities, that are not so common for pop ups.
The Palomino RV Pony Folding pop up campers for instance have a compact size, which makes them easily towable.
They offer comfort for an entire family for a great camping.
The Pony folding camper is equipped with all kinds of things that make it complete and make your travels even more comfortable: it comes with a rear twin bed and double tent end beds, dinette, storage space, sink,cabinets, 2 burner stove, and toilet storage.
The size of the RV Pony is one of its best points: it is big enough for a family, but not too big. It has a length of 11'10", a width of 7'1" and an interior height of 6'7". It weighs 1,393 lbs, which makes it towable by most SUVs and also many other types of cars. There are some other versions of the Pony with slightly different sizes, but all of them are family size pop ups.
From a technical point of view the RV Pony pop up has a lot of benefits and strong sides. It has an aluminum exterior surface, which gives enough durability to the camper, while also keeping it light weight. It also has a torsion independent suspension with easy lube and 3" tubular steel frame with powder coat.
This pop up model comes with 25 amp converter w/battery charger, exterior 120 volt GFI outlet and 18 gallon under floor water tank. The Palomino Pony pop up camper is also affordable, so you won't have to dig too deep in your wallet to buy such a pop up.
Another model of Palomino, quite different in size as the former one, is the Elite folding camper. Just as the name of the model suggests, this pop up has more comfort with more headroom, storage space and simply a more homy feeling.
It comes ready loaded with all kinds of facilities that only a few pop up campers have. Its popularity is due to its two king size beds, a spacious dinette area, and even a sofa that you can use to relax. It also has a shower and toilet, a fridge and a microwave oven. Needless to say in such a camper you won't miss the comforts of your home while traveling
Though the Elite pop up camper is somewhat larger than most pop ups, it has a sturdy construction. Its has a filon fiberglass One-piece roof and a five piece tent, which makes it easy to set up.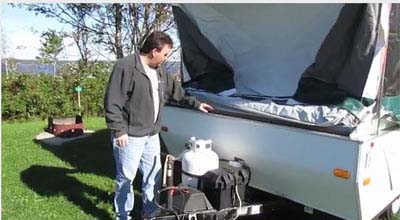 Palomino Lite pop-up camper
Weak points
While comfort wise Palomino campers such as the Palomino Elite are really flawless, there are some weaker points that are worth to mention. Most types of the Palomino models have sleeping space for up to 8 people, which is convenient but also implies that the camper is not lightweight, therefore you cannot tow it with any car. The dry weight of the Elite model is around 3000 lbs.
You have to make sure that you have the right type of car to tow such a pop up camper. The other downside is fuel cost: the Palomino Elite and some other models of Palomino are not very efficient, therefore you have to keep in mind that your fuel costs will increase if you drive these pop up campers around.
3. FLAGSTAFF/ROCKWOOD
These two pop up campers by Forest River are both quite popular in the USA. The Flagstaff pop up camper is a family trailer, made for those families who want to enjoy the fun of camping together. The somewhat smaller Rockwood pop ups are very functional, containing all kinds of facilities that you might need on your journey.
Strong points
The Flagstaff/Rcokwood hard side campers belong to the newest designs of pop ups. This model can be found in 5 floor plans, ranging between 13 to 15 feet in length. The hard sides have 10- to 12-foot interiors to provide more space.
The major pros of the Flagstaff/Rockwood model are more comfort and more space to relax, since the hard sides are protective against weather and they are also safer. The hard sides create the impression of a small room rather than a big tent. The Flagstaff/Rockwood pop up camper is perfect for colder weather conditions, and makes you feel safe even during a big storm. The hard sided pop ups fold down into a smaller trailer in travel mode, therefore they won't be too much trouble while driving.
The Flagstaff Rcokwood model also has many other great points, such as durable laminated A-frame fiberglass walls and independent torsion axles. It comes fully equipped with stove, microwave, outside shower, fridge, and more, so you only have to bring food with you before you take off.
Flagstaff hard-side pop-up camper
Weak points
The Flagstaff/Rockwood pop up is hard sided, therefore it cannot be folded into such a small trailer as most pop ups can. It is also heavier than canvas sided tent trailers, which makes towing more difficult. This model is quite small, ideally designed for couples, so it is not suitable for families or for larger groups for camping.
4. JAYCO RV
Jayco, one of the most popular RV manufacturers has been making all types of RVs, offering comfort and a great camping experience. They have a patented lift system, which makes set up much faster and easier than before.
Strong points
Jayco RV pop ups are the favorite of many families. All models of these tent trailers come with a king size bed, and another double bed for a comfortable sleeping area for a whole family. They also have a model which is perfect for a family dinner inside when the weather is bad. The largest Jayco pop up camper is 18-foot 2-inch long, with two dinettes and facilities just like in a real kitchen. One of the major benefits of Jayco pop ups is that they can come with a hard sided shower, which can be folded for easy usage.
Jayco has three models of pop ups, the Jay series, the Jayco Baya and the Jayco Select. They all have space for at least 5 people, being all family pop ups. The Jayco Select is a bigger camper than most pop ups are, with high walls and a lot of extra space inside. A great feature of the Jayco pop ups, such as the Jayco Jay series is that they come with air conditioning. These pop ups therefore are perfect for hotter states, they are cool even in the hottest summer.
From a technical point of view Jayco pop up campers are popular for a reason. They are sturdy and they will last long even in bad weather conditions. These campers have a coated and sealed floor, which keeps cold and wetness outside where they belongs. The Jayco Select series have oak hardwood cabinets and wall to wall vinyl flooring. They can come with many extra facilities at choice, providing the ultimate comfort for camping.
Though technically each model of Jayco is perfect, due to their big sizes it isn't so easy to assemble these pop-ups. You need at least two people to raise the top and the awning, and also two to take the camper apart. Compared to the newer pop ups that can be raised in just a few minutes, this makes Jayco campers less convenient. However, the high quality of Jayco RVs cannot be diminished by this, therefore these campers are still the leading ones on the market.
5. STARCRAFT RV
Starcraft has been manufacturing RVs since 1964. They have been known for being innovative from the beginning on: they have introduced the hard top of pop ups and the lifter system with the crank-up. Now they have already many types of pop ups which all have a good reputation on the market
Strong points
The latest pop up model of Starcraft is the Starcraft Comet, which has been released in 2012. It's greatest benefits is that it is green: it has been certified environmentally friendly having a TRA Certification. Tis makes this pop up stand out among all the others, and for those who live green it is certainly the best choice for camping.
The construction of the Comet is not only green, but also durable. It has lightweight yet strong aluminum sides, diamond-plate front and rear wall covers and a system that makes set up easier. There are more models, some smaller and some big enough for families with king sized beds.
The Comet Starcraft comes with a lot of facilities such as stove, fridge, cabinets, sink and comfortable sleeping area. It also has a Customer Convenience package, which includes extra facilities such as outdoor speakers, water purifier, stereo and more.
Weak points
While Starcraft maintains up to today a good reputation, there are some complaints from customers about the wiring system that is sometimes defective. If you have trouble with your Starcraft camper, you should contact the dealer. All pop ups made by Starcraft have many years of warranty, therefore even if something goes wrong, it will be fixed right away.
---
Visitor's Story
The pop up camper reviews of Fleetwood tent pop up trailers finds Fleetwood to be the largest selling pop up camper there ever was.
This is due in part to Coleman pop up camper selling this division to Fleetwood pop up camper manufacturers. This now make Coleman and Fleetwood pop up campers the top selling camper trailers. So when someone asks what is the best pop camper? You can say Coleman and Fleetwood.
Pop up camper trailers review is going to give you some information on some certain tent pop up trailers and a truck pop up trailer. If I was to go to Florida and Georgia, the results would be different; everyone has a different view of pop up tent trailer comparisons.
The main thing is the interior and exterior of the pop up camper trailer. Now some comparisons are accessories and options. This is the top comparison of pop up campers.
The next pop up camper trailers review would be how setup pop up tent is easier with one camper and different with another. Setting up a Starcraft pop up camper finds you leveling the trailer left to right with the use of two by fours. Keep in mind it is still attached to the vehicle. Check all stabilizing jacks and pull the vehicle up.
Now you will want to use the crank to open the top up and raise it to full extending height. The rest is just arranging your screen flaps and setting the interior up for the duration of your stay. The whole process can be accomplished in less than a half hour. It is probably the easiest thing you will have to do all the time your at the campground.
Apache and Jayco pop up campers are next in line. They are just as easy to set up and come equipped with an EZ crank which allows for a smoother cranking motion and it is very easy as well. The pop up camper trailers review of these campers are just as good as Palomino, Viking and Rockwood campers. All the pop up camper trailers review at a real close rating.
If you ever get to Delaware you will want to see some of the beautiful pop up campers in the state parks. These people have everything down to the ice dispensing machines. But like everyone camping, everybody around them has the opportunity to use it. Camper's vacation and travel around the United States camping are very friendly. They are always willing to share and help out.
The pop up camper trailers review is a good way to go about finding the right camper for you and your family. Some people swear by one camper and some have another one that's better. Either way you decide to view the reviews of pop up campers is always your choice. Looks and needs also have to be considered.
Camping is so enjoyable that I believe anyone who buys a camper regardless of the reviews will be at peace while camping and enjoying the outdoors and all that it has to offer. You'll never find anything more enjoyable than camping in your pop up camper. So always remember that pop up camper trailers review can be good and can be less than useful if your tastes are different than others.
So now get out and enjoy the weather and relax in the great outdoors. You will enjoy camping just as much as my wife and I do once you get out there and see everything that is offered to you.
Pop up camper trailers review will sure be useful in one way or another.
 About Us / Privacy Policy / Resources
Go from Pop Up Camper Trailers Review to Pop Up Campers Trailer Home