Australian RV Manufacturers
Australian manufacturers offer some of the best RVs designed for on-road and off-road adventures; Review of most popular models

        Australia is much more than just the country, it's a big continent with very diverse landscapes and climate zones.  

         Relatively well developed "belt" along the continent's shores, mountains, but also incredibly vast areas of wilderness, wasteland and desert offer diversity much sought by RV-ers. It promises "adventure" for tourists (especially for nature lovers), but also creates significant challenge for designers of RVs. Indeed, RVs designed for Australian continent must combine several, sometimes contradictory characteristics like smooth driving on paved roads, with equally comfortable off-road (or actually "no-road") driving abilities, expedition-grade capacity and quality for out-of-grid (quite often  "out-of-civilization") conditions and obviously always welcomed modernity (including stylishness) ….
No wonder, that Australian manufactures offer some of the best and in many aspects very innovative designs of recreational vehicles in the world. 

Bolwell Air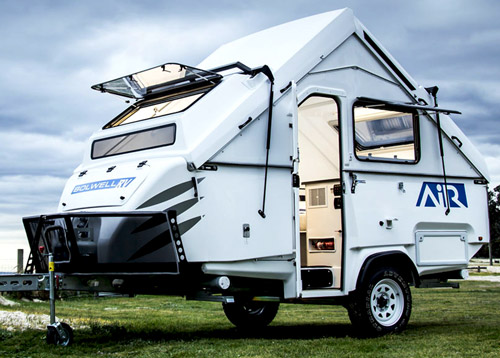 Bolwell Air A-Frame travel trailer
          Melburne (Australia) -based Bolwell RV started operations more than 50 years ago but for long the company was recognized only as the manufacturer of sport cars. 

    Bolwell entered the RV business in 2010 with introduction of very modern and stylish clam-shell Edge travel trailer.  Two years later factory introduced another model – this time an A-frame travel trailer Bolwell Air. It is a compact hard-side folding travel trailer designed for towing by small SUVs. The shell is made from molded fiberglass with foam core for improved thermal insulation. 
The company calls it "Expandable" camper (instead of more familiar North-American names "Foldable" or  "Collapsible" camper, but from the technical point of view it is (as its American "cousins") – an A-frame camper.....
See more at: --> Bolwell Air A-Frame RV
Bruder EXP-6
All-terrain Bruder EXP-6 travel trailer
          Rugged, harsh, wild terrain requires at least matching (if not exceeding) terrain's challenges "go-anywhere" type of RV. Usually only "military-grade" expedition trucks can meet such difficult and very demanding requirements, but their "exorbitant" initial and maintenance costs made them out of reach for most RV-ers. 
That's where two Australian brothers of German origin Toby and Dan Bosschieter saw the opportunity to come-up with their own design of an off-road RV. The final product exceeded initial expectations!

        The Bruder EXP-6 belongs to the class of medium-size "go-anywhere" off-road RVs. However, due to its outstanding AT capabilities combined with equally amazing (as for this class of vehicles) level of comfort (if not luxury), Bruder seems to create its own class of Super-Extreme Off-Road RVs...

See more at: --> Bruder EXP-6 All-terrain RV
---
Work in progress!
---