Review of All-Terrain RVs
Extreme Off-Road RV-ing
Review of manufacturers and models of all-terrain, "go-anywhere" RVs; specifications, features, description and pictures…
       Raising popularity of "Extreme" RV-ing expresses recent trends in our society. 

       It's constant search for challenging actions, for gaining new experience, it's an attempt to escape from "business as usual" type of lifestyle to live adrenaline-fueled "adventures". Indeed, many of us start giving up on crowded campgrounds, swarming beaches, congested cities choosing instead memorable moments face-to-face with the Mother Nature.
For those aficionados of unspoiled nature ready to experience challenges of unfortunately quickly vanishing raw nature we dedicate this Review of Extreme All-Terrain RVs. While this trend is just starting in North America, it is well rooted, I would say "matured" in South Africa and Australia. As the result, today some of the most advanced models of off-road RVs, tested out of labs in African bush or Australian desserts are designed and manufactured in mentioned countries.
Before going farther to the review of top off-road models, you may want first to see the presentation of "What makes good All-Terrain (Off-road) RV" at:
--> Basics of Extreme Off-Road RVs) 
The above article may help you to choose your favorable model from the list below.
Hiker Trailers: Extreme Off-road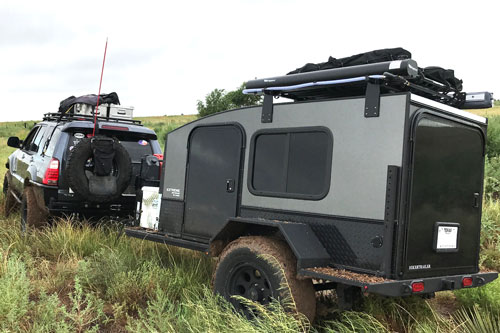 Hiker Trailers: Extreme Off-Road model
          The Extreme Off-Road Hiker Trailer is an "older brother" of both – Mid Range and Mid Range XL trailers. After all, only off-road trailers can follow hikers along unbeaten paths, leaving behind new trails (from this point of view, the Highway model is rather a "hitchhiker" on the road).
The Extreme model is based on the same initial concept of an "entry box", however, for obvious reasons, its frame, suspension, wheels, ground clearance, and standard features are designed for a much more demanding environment. While the Highway trailer must bring you from point A to point B over smooth paved roads, the Extreme Off-Road one must accomplish this task over rugged terrain and still arrive at point B in good shape......
See details at: --> Hiker Trailers
Kwik-Kampa 2 Off-road Trailer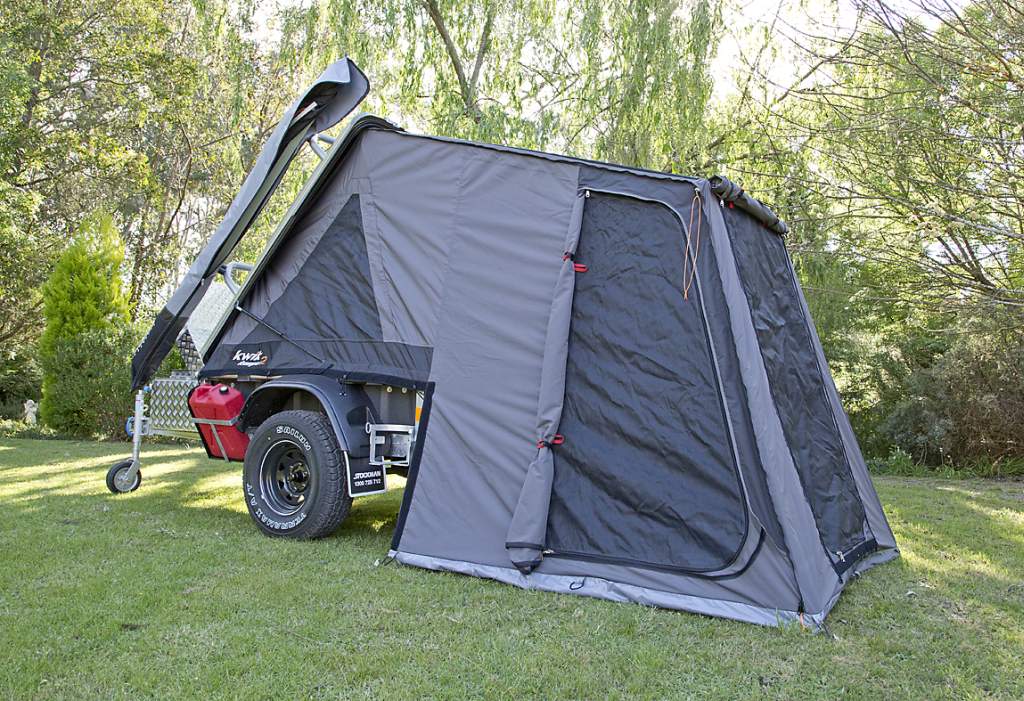 Kwik-Kampa-2 Xpedition Travel Trailer
          Kwik Kampa-2 is the second-generation camper trailer designed by Phil Savory, founder, and owner of Stockman (Melbourne-based Australian manufacturer of ultralight travel trailers). In Phil's words, it's an almost indestructible, multipurpose travel trailer that can be towed by any car. 
Stockman makes 3 versions of pods: Pod Trailer, All-Roada and Extreme Off-Roada. The main difference between them is the suspension, designed correspondingly as "four-leaf slipper springs" for beaten roads, "fife-leaf eye-to-eye springs" for off-road, and "Cruismaster independent coil-spring" for extreme off-road conditions.....
See more details at: --> Kwik-Kampa-2 Epedition 
Mobi-Lodge Continental
South-African Mobi-Lodge Continental belongs to the class of "Go-everywhere" campers
          One of the recent raising stars of the South-African RV industry is Mobi-Lodge (Middelburg, Mpumalanga, SA). You got it right – the company name suggests a new "breed" of mobile homes specifically crafted for African wilderness: a "Mobile Log Cabin" that can go everywhere!

Continental – is the first from the series of Mobi-Lodge travel trailers offered with the new floor-plan version. It's the flagship model with slide-out bedroom targeting international adventurers, so with no hesitation, we selected it for this presentation hoping that it may soon find its way to North American markets....
See details at: --> Mobi-Lodge Continental
BRS Offroad Sherpa
Sherpa off-road travel trailer
         BRS Offroad's Sherpa trailer is ahead of the pack in its class of small, "go-everywhere" campers. The truth is that its designers were able to come out with a robust, in many aspects innovative and comfortable model. Thanks to impressive energy and water autonomy, it can take you for off-grid adventures. Thanks to its stylishness and elegance of exterior finish, it will attract RV-ers attention. Given that fact that it is also well-equipped, it will offer comfort making your vacation a memorable experience....
See details --> Sherpa Off-road Camper
Black Series HQ15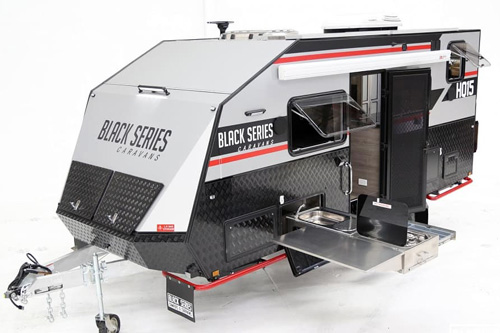 Black Series Campers: model HQ15
           Black Series HQ15 off-road travel trailer sets new standards for this segment of the RV industry. It's an example of robustness, ingenuity, quality and elegance that will be difficult to match by the competition. Designed for families of 2+1, it is a very reasonably priced model that can be towed by larger SUVs or F150 -class of trucks. With more than 30 thousand of HQxx models already on Australian Outback trails, its well matured designs in versions modified for the North American market are now available in the US.
The HQ15 was designed for Australian Outback (for those unfamiliar, Outback is an imposed by nature "no-go" zone for traditional RVs)....

See details at: --> HQ15 Off-Road Travel Trailer
Conqueror UEV-440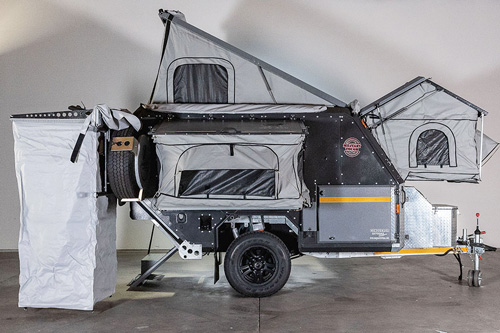 Conqueror-UEV-440 in camping configuration

       Conqueror series of Urban Escape Vehicles includes models: UVE-310, 310 Lightning, 330, 390, 440ST, 490 ST and 490 Platinum. The good news is that most of these models in their re-engineered for US-market configurations are now offered by Conqueror-USA.
All UEV models are built not only to last (as we would usually say) but first of all, to Deliver (in other words keep their original performance in challenging surroundings of wilderness). The selected for this presentation model UEV-440 is not only compact (easy to tow), rugged and reliable but also well-equipped and highly practical trailer. It is loaded with features and accessories promising not only safe but also enjoyable adventures....
For details see: --> Conqueror UEV-440 Extreme
Bear Teardrops Apache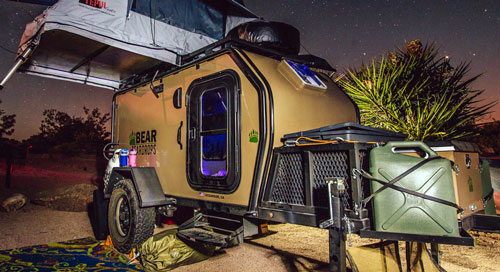 Bear Teardrops off-road Apache trailer (here with an optional Tepui RTT and cargo platform)

       Apache is an "almost classic" teardrop trailer in the sense that it offers typical configuration with an interior sleeping space and exterior rear galley. Well, "almost" reflects the fact that its expected characteristic teardrop's shape is slightly altered by 50 deg departure angle necessary in off-road driving environment. As most of "no-roads" RVs designed for serious adventures, Apache's design is mostly determined by its off-road and obviously off-grid functionality.
Its frame is made from 2" x 3" x 0.12" powder-coated square-tube steel.....
For more details see: --> Bear Teardrops Apache
Oregon's TerraDrop Alpha
Oregon Trail'R: TerraDrop Alpha off-road travel trailer

      Oregon Trail'R offers three models of off-road teardrops, correspondingly: Do-Drop (smallest one), TerraDrop (most popular model) and FronTear (highly customized model to meet users' requirements). All these models are also available in new, upgraded Alpha versions representing the next level of evolution in technology and expectations of customers.
All these teardrops are offered in their basic, reasonably priced versions. However, customers have long list of available options to choose from as well as the manufacturer who is willing to "make extra steps" in order to meet your requirements. Nevertheless (as the owners spell it out) – the Oregon Trail'R does not design and manufacture entry-level trailers for customers with tight budgets. They target specific class of RV-ers: adventurous spirit, lovers of Mother Nature understanding importance of quality (in wider sense) and obviously - being able to pay for it.....
See details at: --> TerraDrop Alpha
Mantis
       Mantis is the newest addition to the series of Taxa Outdoors' trailers, and it is the biggest one. So far Taxa is probably known for its already famous Cricket, as well as extreme off-road trailers Tiger Moth and Woolly Bear.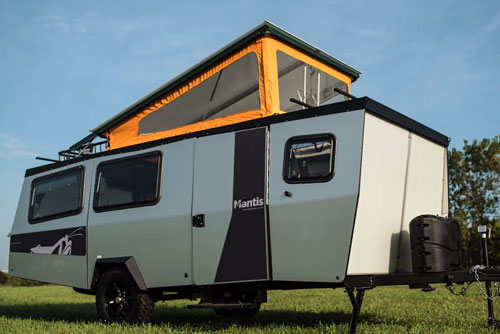 Taxa Outdoors' Mantis Off-Grid travel trailer
      Mantis, likewise all other Taxa's trailers is designed for all-terrain adventures. But in contrast, Mantis was designed not only to travel across a no-man land but also to provide comfortable RV-ing conditions, as well as energy, water, supplies and gear autonomy for days in out of grid environment. These demanding design goals require larger size RV what automatically set challenges to keep its length and weight within reasonable limits. As if this was not enough, Taxa Outdoors also wanted to make the new trailer storable in a typical residential garage….

See details at: --> Mantis Off-Grid Travel Trailer
Kavango Xtreme
         Echo 4x4 was founded some 35 years ago in South Africa by Mr. Willi Grobler, an experienced aircraft engineer and enthusiastic rally driver. His good engineering skills combined with experience gained on countless rallies across African bush greatly contributed to the company success. Currently, Echo 4x4 offers 2 models of motorhomes (Echo Truck and Echo Chobe) as well as several models of travel trailers: correspondingly Chobe (version Standard and Tec), Kavango (versions Standard, Tec and Xtreme) and Namib (versions TX and SX).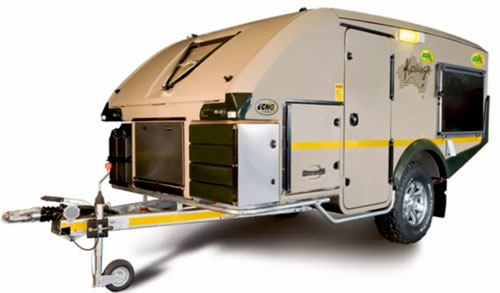 Kavango Xtreme off-road travel trailer
         Kavango Xtreme combines the "best" of few worlds. The trailer is definitely designed for off-road/all-terrain driving conditions. Monocoque, low profile fiberglass shell sitting on full-length chassis with protection not only from gravel and debris but also thanks to underbelly's rock sliders from crossing uneven bumpy terrain and tricky water streams guarantees its "survival" in 4WD-environment…..
See details at : --> Kavango Xtreme Travel Trailer
Safari Xplorer
      It should be not surprising that Jurgens (South-African manufacturer of RVs operating since late 1950's) offers the series of off-road travel trailers. As we know, this region of Africa is rather dominated by vast areas of no-man lands (bush, savannas…) than modern network of highways. Off-road campers seem then to be an obvious choice for anyone attempting to explore wilderness.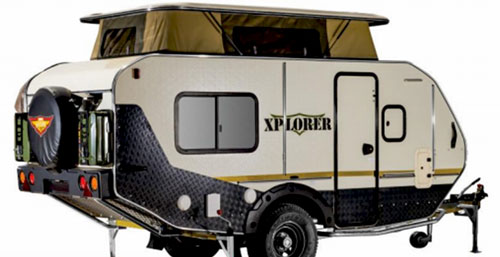 Jurgens' Safari Xplorer off-road travel trailer
The series of Safari off-road travel trailers includes models Xcape and Xplorer (both in standard and 2016 versions). Both designs show strong influence of challenges, namely: 
limited trailer's dimensions, height and weight well within the towing range of traditional Jeep-likes 4WDs (note that in Africa quite often off-road condition means "no-road" condition, in contrast with US where mostly it means "dirt-road") .....
See details at: --> Jurgens' Xplorer Travel Trailer
Bruder EXP-6
        Good engineering sense Toby and Dan Bosschieter, (Australian brothers of German origin), as well as their experience learned on numerous escapades into wilderness of Australian Outback combined with expertise acquired during years of development of military vehicles greatly paid-off.  After about year and half of R&D efforts (by all accounts remarkably short time), the final product-  Brüder EXP-6 travel trailer left the Brisbane's factory doors (Note that the name "Brüder" means "brother" in German so it symbolizes joint efforts of funding brothers Toby and Dan in this project).

Bruder EXP-6 effortlessly negotiates bumps in "no-road" environment...
     The Bruder EXP-6 belongs to the class of medium-size "go-anywhere" off-road RVs. However, due to its outstanding AT capabilities combined with equally amazing (as for this class of vehicles) level of comfort (if not luxury), Bruder seems to create its own class of Super-Extreme Off-Road RVs.....
See details at: --> Bruder EXP-6 Extreme Off-Road Travel Trailer
XPCamper 
         It's time for a US company: XPCamper....  It took Mr. Marc Wassmann several long years to materialize his dream of an ideal camper for off-road adventures. Indeed, given his high expectations (reliability, practicality and comfort), firm list of non-negotiable requirements (it takes a lot of effort to understand what we really want!) and well-known German strive for excellence, it was not an easy task. 
However, thanks to his resilience, with the "little help" of his wife (professional graphic designer taking responsibility for stylishness of the final product), few years ago the first V1- camper left doors of the Grass Valley (CA) based manufacturer XPCamper.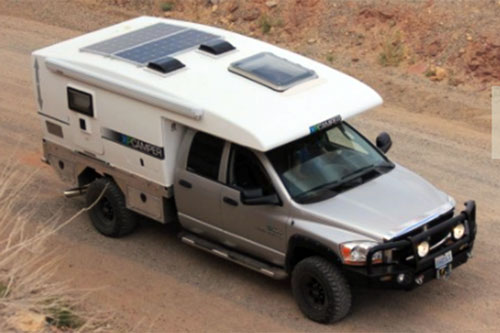 XPC-V1 off-road truck camper in travel configuration 
       The V1 XPCamper belongs to the class of truck campers. It was Mr. Marc's conscious decision offering future owners good level of flexibility to use their trucks for a daily business ....
For details see: --> XPC-V1 Off-road Truck Camper
Jeep Action Camper
        Jeep Wrangler is recognized as a rugged, all-terrain vehicle able to take you on almost any imaginable exploration trip. In fact, sometimes it is hard to believe how far courageous, skilled driver can push the "combined" human & vehicle limits. The truth is that the Jeep Wrangler is probably one of very few popular Off-Road vehicles especially designed for "No-Road" conditions.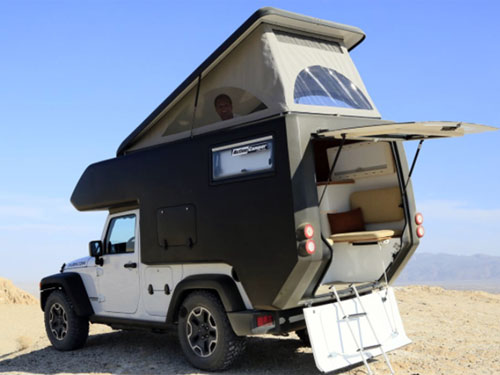 Jeep Action Camper was designed for revamped version of JK Wrangler Unlimited
       The challenge to "adapt" Jeep Wrangler to a comfortable AT RV for two persons was taken up by Mr. Mario Donovan; co-founder of Adventure Trailers (Phoenix AZ).  Known as an aficionado of anything that can take him anywhere on two or four wheels, having experience from exploring vast and mostly wild territories of Eastern Africa (and to lesser extent rural California) Mr. Donovan commissioned his "dream-project" to an Austrian company Thaler Design....
Read details of this successful story at: --> Jeep Action Camper
Lotus Off-Grid
       Lotus (Australia) Off-Grid travel trailers (available in 5 dimensions correspondingly: 14ft, 14.6ft, 15ft, 15.6ft and 19ft) are off-road models especially designed for longer journeys into remote out-of-civilization areas. In practice it means they have larger water tanks and better energy sufficiency. 
Out of 5 available models for this presentation we selected the smallest 14ft long one (shell's length) because we strongly believe that "small is beautiful", especially when we want to "embrace" the Mother Nature.....
Lotus OFF-Grid travel trailer
       The 14 feet long Lotus Off-Grid comes in two floorplans. The main difference between the two is more storage cabinets or dedicated vanity with sink....
Lotus Off-Grid travel trailers are built with a lot of care and attention to make sure that they can survive harsh "no-road" travel conditions. The galvanized steel A-frame chassis is made by G&S Chassis- an Australian leading manufacturer of chassis, frames and suspensions for RV industry and mobile homes. This seems to be a good "warrantee" and the promise of reliability. Underbody armor, heavy-duty independent 2.5T Control Rider suspension with twin shock absorbers and 17" wheels....
See details at: --> Lotus Off-Grid Travel Trailer
Extreme Tears XTRs
Extreme Tears XTR Travel Trailer
       Extreme Tears offers four series of classic and off-road travel trailers - correspondingly Limited, Weekender, Overland and Extreme. All models are offered in various sizes ranging from 4x8 (WxL), 5x8, 5x9 and 5x10 (dimensions in feet). The main difference between the mentioned series is determined by the list of standard features. The Limited series (as the name points out) is the most economic (Entry-Level) solution with prices starting at around 8k$. The Weekender represents "Best Value" models, Overland correspondingly "Top Sellers" and Extreme fully-loaded ones with prices in the range of 14k$-15k$. It may be worth to mention....
See details at: --> XTR Extreme Tears Travel Trailers
---