RV Motor Mobile Home Camper
Find out if RV motor mobile home camper can be a new opening in your way of living and habits?

Yes, you too can enjoy RVing!
Have you always dreamed of a RV motor mobile home camper vacation?
Maybe you even have an idea of which of the several different types of recreational vehicles you are interested in.
My wife and I decided to spend a few months traveling through the U.S. and Canada.
Well some how those months turned into a four year road odyssey.
We had never done this before so were not fully prepared and made some mistakes.
This site was developed as a result of that trip and the mistakes we made. We plan to explore both traveling in motor homes and living in a mobile home.
Let's begin with traveling in RV motor mobile home campers, which is what we did. These motor homes are designed for traveling for more than just a day or two. Normally you "overnight" in a private RV park or state/national campground resort. You use the camper as living quarters while traveling but keep your house as your primary residence.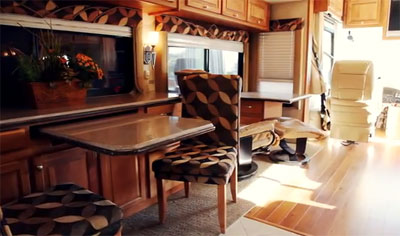 Doesn't it look warm and comfortable?

Living in a mobile home is when your primary residence is the trailer. These mobile homes are most often situated in "trailer parks". Hundreds of families along the U.S. Gulf Coast from Alabama to Texas took up residence in trailer homes after hurricanes Katrina and Rita in 2005.
Motor home sales are rising all the time as more and more people adopt this free wheeling lifestyle. What is the cause of the increased popularity of traveling in campers? There are many possible reasons including the freedom to go where you want. Also a recreational vehicle if often cheaper than staying in hotels, eating out and all the other expenses of the traditional vacation.
The most luxurious of the RV motor mobile home campers is the motor coach and the most basic is the pop up tent trailer. Which you choose depends on your budget and personal choice.
You can find the RV of your choice by visiting a RV motor home camper dealer or do a web search. You can also locate a rental mobile home dealer this way.
I have a friend who just recently found a used diesel motor home for sale. Joe and his wife plan to spend several months living in their RV motor mobile home camper. We will stay in touch via email so you may read about some of their camper van adventures on this site. Other RV motor mobile home camper fans will also contribute tips to this site.
Many senior citizens are joining the ranks of full time RVers. They are in general healthier and wealthier than their parents were at this stage in life and so seniors are in part responsible for the increase in mobile home sales.
 About Us / Privacy Policy / Resources
Go from RV Motor Mobile Home Camper to Pop Up Campers Trailer Home
New RVs
RV Motor Home Sales / RV Motor Home Wholesalers / RV Diesel Motor Home 
Used
 NADA for RV Motor Home / Used RV Motor Home Price Guide Online /
Dealers
Arizona RV Sales / Kelley - Kelly Blue Book RV Motor Home Guide
Parks
 Anaheim Resort RV Disney Park /