Fleetwood Pop up Camper Trailer
Fleetwood pop up camper trailers were part of Fleetwood Enterprises, Inc. of California (known as Fleetwood RV) - one of the largest RV manufacturers in North America and most importantly, one of the leading and most respectable brand names in this industry.
Fleetwood was founded in 1957 by John Crean.
Currently it offers a long line of Motor Homes (luxury, gas, diesel), Travel Trailers, Fifth Wheels and Toy Haulers.
In 1989 in an attempt to expend its market position into folding camper trailers, Fleetwood RV acquired Coleman's division of Pop-up Camper Trailers.
From that time on, the former Coleman factory in Somerset PA continued the best traditions combining the well recognized and respected heritage of its founders with innovative designs of new owners. Fleetwood acquired also rights to the legendary brand name. Thanks to this decision some pop-up camper trailers coming from new Fleetwood Folding Trailers division based in Somerset were also marketed under their original Coleman name.


For potential buyers of the Fleetwood/Coleman pop-up camper trailers that period can be summarized as follows: Fleetwood is a New Coleman. But actually, one could say that that Fleetwood pop-up camper trailers slowly but surely turned out to he better versions of Coleman. Thanks to Fleetwood's experience in RV business, ingenuity of their designers, as well as quality of manufacturing, new versions of pop-up campers coming from factory lines were dominating the market.
Well, things are never as simple as they appear to be. The happy marriage lasted till 2003 when Fleetwood and Coleman ended collaboration and Fleetwood lost right to market its pop-up camper trailers under the name Coleman. For RV enthusiasts it was definitely not the best news because frankly, Fleetwood/Coleman folding campers were considered as one of the best on the market (if not the best).
Fleetwood Pop up Camper Trailer: Matt Olds takes you around the New 2008 Fleetwood E1 Pop Up Camper...
The year 2008 brought the signs of hope when the newly formed FTCA – an affiliate of Blackstreet Capital Partners LLC (Bethesda MD) purchased Fleetwood Folding Trailers (in other words Somerset factory) with rights to carry the Coleman brand.
Unfortunately the initial "euphoria" was short-living, and due to well known difficult market conditions, on January 21, 2011 FTCA Inc. went out of business. That is the short story from the beginning to a "temporary" end. And I say temporary, because the Fleetwood/Coleman brand is simply too good to vanish in the dust of history.
Certainly someone will pick it up in the near future to continue great traditions started by let's make it clear - "fathers" of this branch of the recreational industry. To make it clear – Coleman has been manufacturing world's best camping equipment since 1900 (and it still does). The Somerset PA factory started its operation in 1967 …..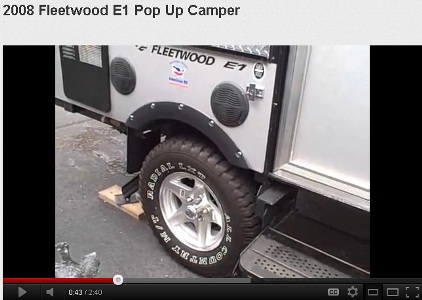 Details of the Fleetwood pop-up camper (Source - Matt Olds video shown above.
Well, if you are looking for a Fleetwood Pop-up Camper Trailer (obviously that is why you visited this site), then let me tell you something: you already made right decision.
The truth is that Fleetwood folding campers are considered as industry standards. Thanks to their innovative and "user-friendly" designs, outstanding quality, long list of standard and optional amenities.... (to keep it short) they have a large community of "convinced devotees". And thanks to their very good reliability (coming with brand name) they also very well hold their market values.
So despite the fact that you may not find on the market new 2012 models, the used ones are as good as ever.
Certainly it will be wise to seriously consider all pros and cons of buying used Fleetwood Pop-up Camper Trailer before turning your back to this brand name just because their production is (I believe) temporarily suspended :-)
Few notes about "pros" of Fleetwood Pop-up Camper Trailers.
Canopy
The canopy is one of the most important parts of each folding camper. Its robustness, weather handling properties, easy maintenance and low tear & wear factors are important to assure you the comfort not only during your vacations but also the "peace of mind" during usually long storage time. Since 1992, Fleetwood uses exclusively developed for company Sunbrella 302 ® acrylic fabric. On top of excellent qualities of regular Sunbrella (used of all outdoor awnings, canopies, car tops etc…) Sunbrella 302 ® has the following properties:
exceptionally resistant to mildew and rot,
breathable (does not trap heat and moisture like vinyl or coated fabrics). That is why Fleetwood pop-up campers do not need roof vents (potentially leaking spots found in other pop-up trailers). The easy to clean vinyl coated fabrics is used only in areas where dirt is most likely to accumulate.
color is "built-into fabrics" so it will not fade out or wash-out with time.
Stain and odor resistant maintaining the comfort even after years of use);
water repellent (fast drying)
extremely strong and abrasion-resistant, UV-resistant, not hardening, cracking etc due to the long exposure to the harsh weather conditions.
lightweight (it is important because normally the canopy is a substantial part of the overall weight of the trailer).
Meets all Federal Standards for flammability.
Does not require periodic treatments!
If it comes to worst – Fleetwood's canopies are sectionalized to make replacement easier and less costly.


Lift System
Folding camper's lift system must work reliably each time you need it and its seamless operation should last for years! Achieving such goal is not an easy task because components of the lifting system are exposed to always unfavorable weather conditions (we may enjoy hot sunny days, but for mechanical parts they are as bad as cold and wet ones). To guarantee the flawless and durable operation of the lifting system Fleetwood designed it as follows:
posts are manufactured from stainless steel (compared to plated tubes that can corrode from inside)
cables are made from aircraft-grade stainless steel
lifting system is self-protected from over-cranking (no need to watch for warning signs)
each post has its own individual cable (compared to a single cable for all posts). In an unlikely event of damage to one of cables the folding camper still can be used!
Proprietary "Posi-Lock" (Positive-locking system) allows stopping and re-starting cranking operation at any time without risk that the canopy may collapse.
Lift system is reliable and does not require any extra "safety-posts" to secure the raised roof.
Fleetwood Pop up Camper Trailer: An instructional video for setting up a folding (pop-up) camper.

3. Frame
Almost by definition, folding camper trailers must be designed for rough roads. Contrary to Motor Homes spending most of their life-time on high quality highways and paved parking lots, every "Tent-based" camper sooner or later will find its way into some kind of wilderness, off the beaten path. That is why the frame structures of folding camper trailers must be designed for rough (if not "all-terrain") towing conditions.
Fleetwood in its folding campers used a proprietary superstructure combining a heavy duty tubular steel chassis, thick aluminum upper body rails, steel bulkheads and galvanized steel body panels riveted to the superstructure. Interior walls are designed to "float". Such design combines "external" rigidness with flexibility required by camper's internal components.

4. Warranty.

Although since 2011 there are no factory-new Fleetwood/Coleman pop-up camper trailers to fully take advantage of this excellent offer, the "past numbers" still talk for themselves. In its warranty package Fleetwood was offering:
Limited Lifetime Warranty for the frame and Lift System!
Limited 25 years warranty for floor and bed platform wood.
Limited 5 years warranty for roof assembly and canopy materials
Limited 1 year warranty "hitch-to-bumper"
5. Safety

Electric brakes, CO and Propane Detectors with Alarms systems, Fire Extinguisher, Posi-Lock lift System are standard in all Fleetwood models. Five-bolt wheels provide increased safety for "rough" towing conditions (EZ Lube Axle lubrication system makes maintenance an easy task).

These are only few out of long list of features clearly distinguishing Fleetwood Pop-up Camper Trailers from competitors.
For more technical information please follow the following link:
Coleman Pop-up Camper Trailer

Keep in mind that Fleetwood = Coleman when it comes to pop-up camper trailers.
5 Best Fleetwood Campers / Used Fleetwood 

 About Us / Privacy Policy / Resources
Go from Fleetwood Pop up Camper Trailer to Pop Up Campers Trailer Home
  Pop Up Camper Trailers Review / Pop Up Camper Manufacturers /  Four Wheel Pop up Camper Trailer / Pop up Camper Trailer Texas / Coachman Pop up Camper Trailer / Hardside Pop up Camper Trailer /  ATV Pop Up Trailer / Fleetwood Campers Parts / Pop Up Camper Trailer for Sale / Aliner Pop up Camper Trailer