Pros & Cons of Trailer Tents
Trailer Tents offering off-ground sleeping space represent an upgrade from classic tents at much lower cost than any pop-up camper....  
        Quite often Trailer Tents are associated with traditional pop-up (folding) travel trailers. 

      While certainly there are big similarities between them (trailer as a "mobile" support of canvas-based sleeping section), in reality these are two different "animals". In traditional pop-up travel trailers, the "tent" makes an integral part of the "mobile" base (trailer) while the latter plays the role of an "integrated living, dining and kitchen section" (modern pop-ups may even include "toilet/shower"). Also, in pop-up travel trailers the expanding canvas-based structure is always kept above the ground level (central segment above the trailer and horizontally extending sleeping segments).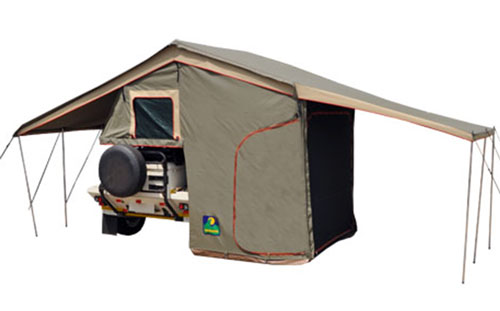 Howling Moon XT-Classic Trailer Tent (comes with an Annex Room)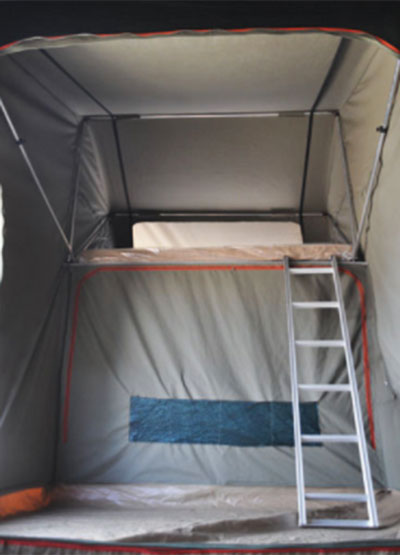 ... and the view from the Annex Room
       In Trailer Tents usually the tent itself is a separate item (often sold independently) and it can be easily attached /detached from the trailer according to the needs. While modern Trailer Tents may be also "substantially" integrated with the trailer itself, in general the trailer tents are designed as tents that can be installed on any pull-behind cargo trailer. Looking from the outside you may not be able to see the difference between the trailer tent and the classic ground-based tent because usually the trailer tent will have attached "annex-type' section(s) placed on the ground.  
Typically, the combined unit of trailer tent and cargo trailer is small and lightweight so it can be pulled by any car, tricycle and even some motorbikes.
It may be then safe to make the following statements: Pop-up Travel Trailers are less/least-expensive (down-scaled) means of RV-ing lifestyle. The Trailer Tents represent an "up-scaled" (upgraded) version of camping gear for backpackers.  One may also say that trailer tents combine the best of both worlds: some level of comfort offered by pop-up travel trailers and joy of tent camping.
      It may be worth to mention that these days several manufacturers of 4WD-style Rooftop Tents also offer trailers tents (as "closer-to-ground" versions of RTTs).

This actually brings an important observation. Among available designs of trailer tents you will find two quite different classes:
1. Models sharing similarities with classic tents.
        In these units the cargo trailer is designed to "fit for the task". In other words the trailer makes part of the "deal". For example it houses the main tent's structure, opens the way to provide sleeping platform, stores dedicated kitchen, fridge, includes electrical outlets etc.... Also all add-on rooms fully integrate into one big "tent-complex" which seen from the outside often cannot be identified as the trailer tent. Actually only towing tongue can shed light on what it really is.
These models really represent a "mobile" version of traditional tent-camping and is very popular in Europe. Good example of such designs is for example French Raclet 
See --> Raclet Trailer Tents.
2. Models derived from Rooftop tents.
        They share many similarities with rooftop tents. Usually they can be mounted on most commercial cargo trailers as the trailer is not part of the "tent design". The only difference compared to RTTs is that the Annex Room (if any) has to be designed to accommodate a lower mounting platform (trailer, truck bed...). 
These models of trailer tents are more popular among adventurers exploring wilderness where the first rule is safety. Exploring areas "out of civilization" often requires to carry a lot of stuff and in such case the trailer may be a "must". In such case, location of the tent on the trailer gives more "freedom" to the use of vehicle. For example you can run short exploration trips without the need to fold the tent. 
Good examples of such trailer tents are for example Eezi-Awns models (definitely designed for African bush or Australian Outback).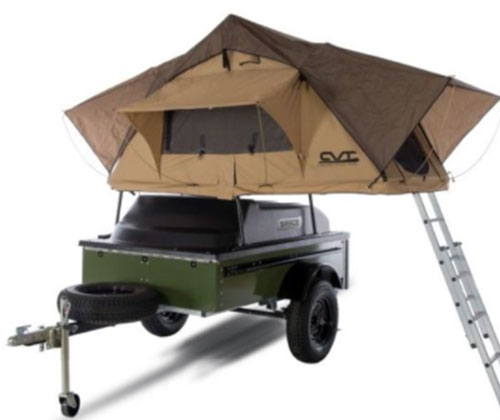 Cascadia's Mt. Bachelor RTT: this time mounted on the top of the small cargo trailer.
Is the Trailer Tent for you?

Pros
Sleeping space above the ground level
     It minimizes the impact of rain water and mud (if any), improves thermal insulation barrier (floor above the ground) and to some extent "isolates" from small crawling "stuff". It's also easier to get in and out of the bed what many users will greatly appreciate.
Easily "expandable" living and sleeping space 
     Usually manufacturers of trailer tents offer additional annex room, awning, shower room etc…. While they all are ground-based (so more vulnerable weather) they nicely add the weather protected living (and if necessary sleeping) space. 
       Usually, trailer tents are built as "Flip-top" units (tent's lid unfolds to become part of the floor, while canvas opens in form of a "pram hood") or "Two flaps box" units (each half/lid unfolds to opposite side of the trailer making the sleeping platform) . Both designs have "built-in" supporting structure so during the set-up and folding process you do not have to do much with poles. It should be noted however that all extras (annex rooms, awnings etc… as in any other case will add extra time to set them up or fold down.
Cascadia's Manzana Trailer Tent
      Due to lite weight (typically from 300-to- 600 lbs, but no more than 1000 lbs for larger structures), trailer tents can be towed by any passenger car, most tricycles and even some motorbikes. And more positive news – for the same reason tent trailers may not need brakes. 
(Relatively) inexpensive solution for motorized nature lovers.
       While trailer tent solution is certainly much more expensive than the classic tent, it is much less costly than any other RV in including pop-ups. And it's not only about initial cost but also winter storage (can be stored on the side), maintenance, fuel efficiency, insurance ….. .
       Trailer solves the problem of the limited storage space in cars (not even mentioning tricycles and motorcycles with almost non-existing storage space). The fact is that the cargo trailer will not only carry the tent (usually with bedding) but also will have room for additional camping gear (including annex room, awning, etc…
      Unlike traditional tents (made from nylon) most trailer tents are made from higher-grade, sturdier, ripstop  poly-cotton fabrics. Such canvas are waterproof, breathable, UV-resistant and thanks to woven rip-stop patter more durable.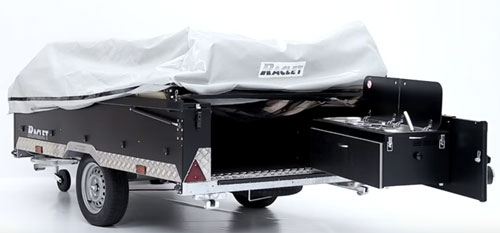 More luxury - French Raclet's Quickstop trailer tent (folded) with an exterior kitchen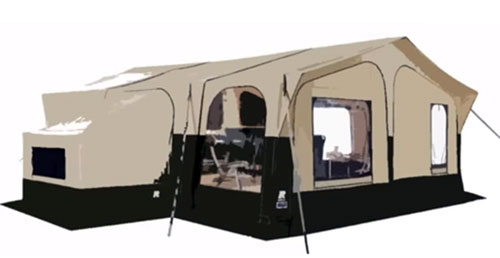 Raclet:  here in an open configuration with a lot of extras, makes very nice living quarters
Cons:
Trailer tent does Not provide increased safety during expedition-grade adventures.
       The bottom line – Unlike Rooftop Tents (RTTs), Trailer tents will not provide better protection from larger wild animals than classic ground-based tents.
Vulnerability to weather (same as any canvas-based campers and classic tents).
       Indeed, you cannot fold wet canvas and forget about if for more than few days. Mildew will rapidly start to do its devastating job…. Also, as any canvas-based sleeping space, trailer tents are basically designed for summer seasons (those more "dedicated" may use them from spring to fall given the fact that the sleeping space is "isolated" from the ground)
Here is the short presentation of Reclet's Quickstop trailer tent
Summarizing: You can certainly find more pros and cons depending on your individual requirements and limitations. We hope however, that this short introduction to Trailer Tents at least inspired you to do some farther research.

If it sounds interesting, then go to:
--> Review of Trailer Tents Models
You may also check on rooftop tents. See:
--> Canvas-based Rooftop Tents
You will be amazed seeing what these days is available on the market not only to increase your safety, but also to offer more fun, "adrenaline" and well - I guess also romantic "environment"....
Note: All pictures on this page are courtesy of mentioned manufacturers
---