Soft Roof-Top Tents
Are RTTs for You?
Everything about soft, canvas-based roof-top tents, their pros, cons, inconveniences combined with presentation of their major manufacturers....
       The popularity of Roof-Top Tents (RTTs) is gaining traction in last few years. 

While Hard-Shell RTTs seem to make difference in "Safari-like" environment, the practicality of their soft (canvas-based) siblings is more questionable. 
       Without doubt roof-top tents offer opportunity to explore potentially "hostile" wilderness in some level of comfort and safety. The truth is that many areas of "No-Man's Land" are not easily accessible for off-road RVs (not even mentioning that for many, a good quality off-road RVs are not affordable). This creates an opening for Jeeps, Land-Rovers and similar all-terrain vehicles and that's where roof-top tents come into picture. The bottom line is - any tent installed on car's roof offers natural protection from most of predators and smaller but often even more dangerous crawling creatures. The extra bonus – they also offer better shelter in rainy climate zones.
However, given the large selection of soft RTT models on the market it seems that their popularity grew largely above the level of common sense. It's probably driven by "fashion" and attractiveness of "out-of-the-box" sort of novelty but not necessarily by practicality.
An example of the soft rooftop tent mounted on the roof of a family car: Here Tepui Baja XL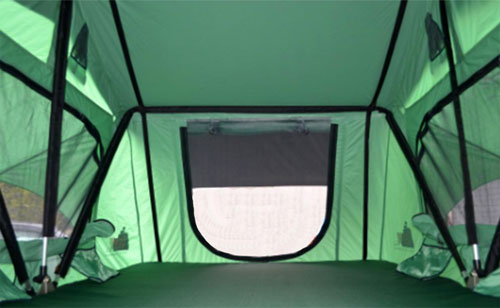 And here is how does it look inside
Let's summarize the pros and cons of Soft RTTs:

Pros:
Safety (protection from animals) is the main advantage of the roof-top tents concept.
Better comfort in rainy weather (no mud around the tent, no infiltrating water on the ground) because all RTTs are located well above the ground level.
Bedding (foam mattress, sleeping bag(s)) and reasonable amount of clothing in interior pockets and cargo nets…) can be left in place when folding the tent. It is an undeniable benefit.
In many cases the "World" (Mother Nature) looks better and possibly even more romantic when seen from the top of your car (note that most RTTs are designed to provide almost 360 degrees panoramic views, some are even equipped with a sort of "skylights"). Obviously, there is no price-tag on emotional experience (feelings). They cannot be priced and shouldn't be ignored.
For those that like to "show-off" (and social media definitely make it "instant" and easy), this extra "pro-argument" may be tempting. In fact, many of us are lured by "Adrenaline and/or Novelty" spiced experiences. And it is hard to deny, that roof-top tents do (and at least for some time will) belong to this category.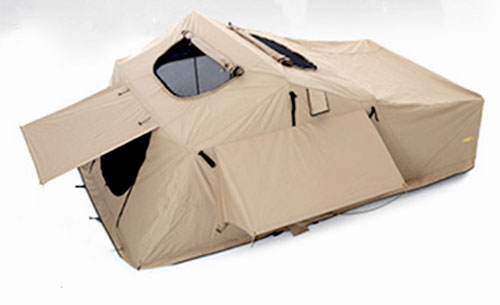 Smittybilt Overlander soft RTT (note two "skylight" panels)
Questionable benefits

Outside of campgrounds, finding the "good" place for traditional ground-level tent may be the problem. Stones, tree roots as well (as mentioned above "potential for rain water collection and all inconveniences coming with that) may considerably affect your comfort. However, RTTs are not immune to problems with finding the right camping place because finding a flat spot large enough for the whole vehicle may be not that easy. Please not that sleeping in an inclined roof-top tent is not only an uncomfortable experience but can be also dangerous. And so far, Jeeps, unlike RVs, cannot be leveled by stabilizers. 
Some claim that it takes a lot less time to set-up/fold RTT compared to traditional ground-level tent. While it is definitely true for hard-shell RTTs, it is not necessarily valid for soft, canvas-based RT tents. Yes, usually setting-up the large, few-chambers ground level tent is a laborious process, but when you compare "apples to apples" (in other words comparable size (read it -small) conventional tents) the difference is noticeable, but not overwhelming. The main difference comes from the fact that the system of supporting poles is embedded in RTTs, while in traditional ground-level tents you have to first assemble the supporting structure and then attach the fabrics into it.
       OK, let-s talk about numbers: Typically, after gaining some "experience", setting up a soft roof-top tent will take about 5 minutes (for hard-shell RTTs it can be done in few tens of seconds). And it will definitely take more time if you need an extra "Annex-room". However, what definitely helps is the fact that you do not have to remove "bedding & stuff" when folding an RT tent.
Cons

Smittybilt Overlander in road configuration does not have good aerodynamic profile (similarly as many other soft-RTTs)!
The roof-top tents are significantly more expensive than their comparable traditional "ground-level" siblings. The price of less expensive ones starts at around 1k$ and can easily reach 2.5k$ for more recognizable brands. 
While some can be mounted on traditional car's racks, most will need more robust "third-party" racks what adds to the overall cost.
Installation of the tent on the roof is a quite laborious project. It's not only about secure attachment being able to withstand aerodynamic drag when on the road and heavier winds when opened on the roof. It is also about considerable weight (typically 100 lbs and more) that has to be raised up. The installation process will take few persons and substantial time. As a result, once installed, RTTs should stay where they belong for the whole season.
In contrast to aerodynamic, sleek designs of hard-shell roof-top tents, the soft versions will definitely increase the aerodynamic drag. And both versions of RTTs will add unnecessary load you will carry around when your car is also used for daily activities (commuting, shopping etc…). This translates to higher fuel consumptions (extra $) and is especially true in a case you plan to install the RTT on a family car. 
Due to the extra (and quasi-permanent) load, car's center of gravity will move higher. This will change car's handling on the road and decrease driving safety. 
Inconveniences
Sleeping on the roof has its benefits (see pros), however there are also some inconveniences. One of them is the situation when you have to climb-down the ladder when a "need arises" in the middle of the night. It may be even dangerous if "you forgot" that you are on the roof!
Many soft RTTs are designed (and advertised) to sleep 3 persons. Obviously the 3rd person is a smaller rather than grown-up child. I'm not sure (unless absolutely necessary due to the safety requirements) that the "ladder-accessible" tent is the best and safest environment for children.
Unlike the traditional ground-level tent that you can leave in its open configuration on the campground, if you want to take your car for a ride, the roof-top one has to be closed. This is an extra step you have to do each time you need the car.
Higher exposure to winds may lower your sleeping comfort and feeling of safety. Although most soft RTT are "ruggedized" to withstand harsher weather conditions, spending a night exposed to furious gusts of wind may be not that funny!
       The bottom line is: It is your decision to go for one of roof-top tents be it soft or hard-shell one (see --> Hard-Shell RTTs). We just would like to help you to make an educated decision based on needs and facts instead on emotions only.

Before we go farther, let's watch this roof top tent buyer's guide titled:  "Are all roof tents the same?" 
     Below you will find list of soft roof-top tents' manufacturers. As expected, most of them are based in Australia or South Africa as environmental conditions in these countries created the "organic" need for such tents. Recently, rooftop tents became also popular in Northern America and in Europe so now many of these companies have their presentation on mentioned continents. Also, the "attractiveness" of the whole idea lead to creation of domestic businesses designing and manufacturing their own rooftop tents.
So here they are (in alphabetic order)
23Zero
Adventure Sole RT
ARB 4x4 Accessories
Bigfoot Tents
BunduTec
Camco
Cascadia Vehicle Tents (CVT)
Eezi-Awn RTTs
Front Runner
Gordigear
Hinterland Industries RTTs
Howling Moon RTTs
Mombasa Outdoor
Odin Designs RTTs
Smittybilt
Tepui Tents
TJM
TreeLine
Tuff-Stuff Overland
Yakima
and the list is probably growing as we speak (in this case you you read it).
See the detailed presentation of manufacturers of soft rooftop tents and description of their products at:
--> Review of Available Soft Rooftop Tents
or
If you decided, that that Soft RTT is not for you see if Hard-Shell Rooftop Tent can meet your criteria... They are more expensive, but more compact, easier to set-up and fold-down....
See details at: --> Hard-Shell Rooftop Tents
Also check on --> Trailer Tents
       Please note that this is very popular and as it seems now very "fashionable" way of camping so almost each day brings new products on the market.... It may be more and more difficult to make the right choice :-). But remember, there is no such an item as Best Soft Rooftop Tent, but certainly there is at least one that is best for you! 
---