Roof-Top Tents
Alternative to All-Terrain RV
Roof-Top tents are not for everyone and every car, but certainly it is a great and safe alternative for adventurers exploring vast swaths of wilderness......
       In recent years Roof-Top Tents (RTT) undeniably gained worldwide "visibility" and to some extent popularity. 

Due to "persuasive" power of social media flooding the net with pictures and videos of cars with roof-top tents, this relatively new camping idea quickly spread to every corner of the world. So it seems that it is time to look at pros and cons of roof-top tents to offer our readers chance to make an educated decision when it comes to this new camping gear.  
      The roots of RTTs come from explorers and adventurers "roaming" across vast areas of wilderness in Australian Outback and African bush. And the justified need for such solution was practicality and safety.
BTW - if you follow the Paris-Dakar rally (since few years moved to South America), you probably noticed that roof-top tents are being used by crew members.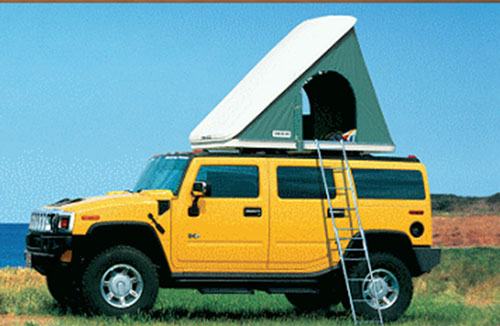 AutoHome's Columbus Carbon Fiber rooftop tent
Practicality, because in wilderness (be it dessert, wasteland or simply no-Man's Land) almost any robust all-terrain vehicle (Jeep, Land Rover…) will do better than off-road RV (not even mentioning the cost).
Safety – because in such "hostile" environment when you fall asleep in a classic ground-level tent you have chance to wake-up the next day dead! The truth is that in such conditions the roof-top tent offers protection from most of wild predators and other more or less "disgusting" (if not poisonous) crawling creatures.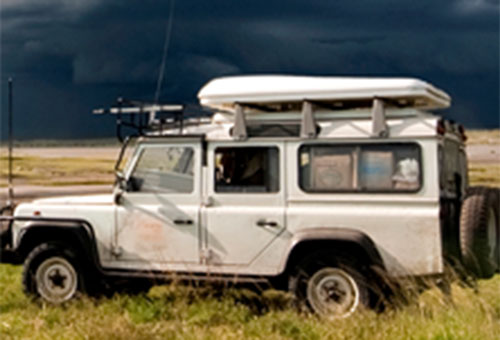 AutoHome hard-shell roof-top tent in road configuration
However, what is saving life and money in harsh environment of Australia, Africa or over the vast swaths of Asia is not necessarily justified and useful in continental US and Europe. Yes, it may be "fashionable" or "fancy", but certainly it will be costly and mostly impractical.
So, before we start the presentation of manufacturers and models of Roof-Top Tents, let's first discuss their pros and cons.
There are two categories of Roof-Top Tents: Soft and Hard-Shell 
       Soft RT tents are made similarly to classic tents. They have familiar pole-based support system, triangular shape and comparable fabrics. Usually, tey open out to the side of the car and often include a "vestibule" reaching the ground level. Unlike they ground-level cousins they are heavier as their structure must be more robust (due to safety requirements, exposure to wind and eventual consequences of "failure"). Unlike their traditional cousins, they are much more expensive with price ranging from 1k$ to 2.5k$.
See more at: --> Soft Roof-Top Tents - Are they for You ?
and : --> Review of Soft RTTs
Example of the Soft Roof-top tent: here the model manufactured by Front Runner
       Hard-Shell RT tents usually have robust, solid fiberglass roof as well as "heavier" side-walls. Usually, they open like traditional "pop-ups" along the vehicle's roof. They offer more comfortable sleeping conditions, usually come factory equipped with shredded, memory-foam mattress. On the positive side - once folded, they are very compact presenting relatively low aerodynamic drag. But there is more negative news: they are much heavier than traditional tents, they are usually attached "more" permanently to the roof and expensive (prices start at about 2.5k$).
Example of a Hard-Shell Roof-Top tent: here the model manufactured by James Baroud
Roof-Racks
   If this is still not cooling your enthusiasm for RTT, one more bad news.
All roof-top tents require special roof racks (in other words extra $$$). Traditional cars' racks may not be able to support the weight of the tent itself. To give you an idea – on the lighter end the weight of roof-tents starts at 100 lbs! 
To make it clear (and looking better). Car's manufacturers define the "Dynamic Roof's Load" and possibly "Static Roof's Load". The first is specified for the road conditions, when the car is in motion and is limited by car's road handling (safety). The maximum static load (when car is parked) is much higher and determined by the strength of car's structure (construction).  When choosing the rack, you must check its parameters against both, dynamic and static load). It is especially important for off-road trips where dynamic load caused by "shocks" can largely exceed the nominal weight of the load.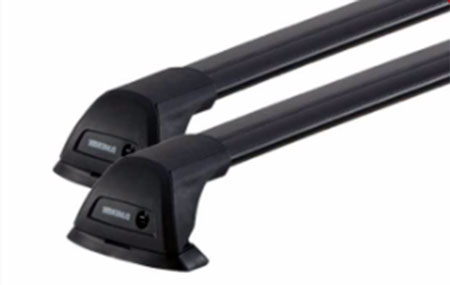 Example of a cross-bar roof rack: Here Yakima (model Flushbar)
RTTs are not for every car

     Originally, they were designed for off-road vehicles (Jeeps, Land/Range Rovers….) and in most cases, it should stay like that (these days you can also install them on some SUVs and (mini)vans). However, they are not really suggested for traditional family cars despite the fact that some models of RTTs are advertised as such.
There are many reasons for that and the most important are:
Usually roofs of family cars are not designed for such heavy loads. As the result, you can easily damage your car
If you exclude potential "fun" and "fashion" (subjective emotions) there are no real benefits of such decision unless you plan to stay for night in a Safari Park (I guess it is forbidden) or explore areas affected by long-lasting torrential rains (think about South-East Asia monsoon countries).
Warning: The increased load on the roof will raise car's center of gravity. This in turn will change the stability of the car on the road and handling at higher speeds (in other words it will affect your safety). Please note that off-road vehicles are better "equipped" (designed) to handle such situation than family cars. After all, dirt-roads or "no-roads-terrain" does not allow you to cruise at full speed! 
Installation
      Installing the RTT (especially the hard-shell one) takes a lot of effort and time so it's not something you will repeat each weekend. It's a complex process so once done you keep it there at least for the whole season. But there is more bad news – while you can leave the traditional tent on the campground and take the car for a ride (whenever needed), the roof-top one has to be folded back to its "road" configuration before leaving. Although the hard-shell tents can be folded relatively quickly and effortlessly, the soft ones will need more time and patience. 
And for the balance of opinions – this may not be the biggest problem for explorers of wilderness. While it is obvious that operating from the campground you may be tempted to visit a nearby city (museums, shopping, entertainment, romantic dinner….) or drive through some scenic oasis of Nature, it will not be the case when you are "In the Middle of Nowhere". It's very different dynamics because in most cases after making several miles this or other way you will be still "In the Middle of Nowhere". The bottom line – basically you keep driving on a daily basis so anyhow you will have to fold-down and store even your traditional ground-level tent.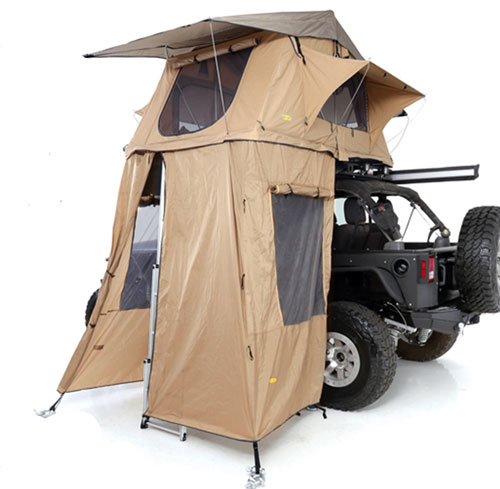 Example of a Roof-Top tent with the annex room (Here model manufactured by Smittybilt)
Practical notes: 
While you can find relatively easily flat spot for the traditional tent, you can also level any RV thanks to jack stabilizers, it's not the case of RT-mounted tent. Your only option is to find sufficiently large flat area for the car. This may Not be an easy process especially when the sun is already down.
Getting out of the tent at night (a need may "arise"quickly) is not as easy as walking out from the traditional ground-level tent. You have to climb-down the ladder so before you make the first step you have to be fully "awaken" to realize where you are and what it takes to get down in darkness!
Summarizing: Roof-Top Tents are not solution for everyone and for every car. They were not designed as a new "fancy" stuff to take the selfie in front of, but for extreme travel conditions. They offer safe sleeping conditions for adventurers exploring vast areas of No Man's Land usually inaccessible by classic Recreational Vehicles.
Due to relatively high cost of RTT's + Racks, and several other limitations (as mentioned above), we strongly suggest to think twice and carefully analyze their pros and cons based on your individual needs.
The most popular manufacturers and brands of roof-top tents are:
AutoHome
     To keep long story short, let's quote here company's statement: AutoHome – "The place where the latest in aerospace materials, European fabrics and Italian design are artfully blended with old-world craftsmanship."

Maggiolina Carbon Fiberglass roof-top tent
AutoHome is the manufacturers of hard-shell roof-top tents. It offers three series of RTTs: Air-Top, Columbus and Maggiolina in several versions of size, weight and trim.  
       Shells of Autohome roof-top tents are made from fiberglass or carbon fiber while sidewalls from synthetic Dralon or AirTex. For most models, the set-up process is a breeze thanks to gas-rams assisted auto-opening systems. Some models (mainly 4-season ones) makes use of manual crank-up systems to improve the wind resistance.
All Autohome RTTs come with mattress, washable mattress cover, pillows and a kit to mount to two standard crossbars (Yakima, Thule ….). Models have sleeping capacity from 2 adults to 2 adults and one or two children.
See details at: --> AutoHome Roof-Top Tents
James Baroud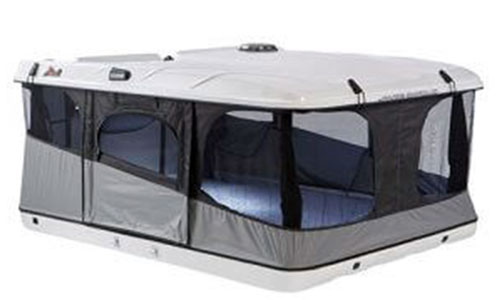 James Baroud largest from hard-shell roof-top tents:
Grand Raid
      Currently James Baroud offers several models of hard-shell roof-top tents including: Discovery, Extreme, Space, Evasion, Explorer/Grand Raid as well as two models of soft-shell roof-top tents, correspondingly Horizon and Nomad 160.
Each of hard-shell models comes in two sizes: Standard - for two adults and XXL for three persons (basically 2+1 child). For unknown reason Explorer's larger version is not called Explorer XXL but Grand Raid!

Shells (roofs and bottom platforms) are made from fiberglass-fortified polyester. Ribs on the outer side of the tent's roof are specially designed to improve aerodynamic profile and to minimize wind noise.....

For more details go to: --> James Baroud Roof-Top Tents
Howling Moon
        Howling Moon (South-African company with strong presence in Australia, as well as Europe and US) is a veteran in the business of roof-top tents. Founded some 40 years ago the company gained ideas and experience in roughness of African bush and later in Australian outback.
Although Howling Moon's offers impressive line of "expedition-grade" camping products including classic ground-based tents, vehicle awnings, gazebos, camping gear etc,, their primary products are soft (canvas-based) roof-top tents. 
However following the trends, recently the company also introduced the firs model of Hard-Shell rooftop tent: Lunar. Strong, sleek fiberglass top and bottom shell, gas-strut lifting mechanism, more than 3" thick mattress as well as unique locking system when open ensures effortless opening and stability in windy weather conditions.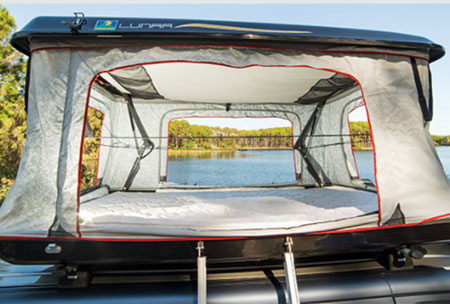 Howling Moon's Lunar hard-shell rooftop tent
With open interior dimensions of 85" x 57" x 41' it seems a bit low, but certainly large enough for comfortable sleeping. With its 13" height when closed, aerodynamic design and weight about 132lbs it promises fuel efficiency on the road. 
Note: So far the Lunar model is announced only on company's Australian Website.
Roofnest RTTs
        As pointed out by Roofnest's Founder, Tim Nickles - it all started on a road trip to Moab.... . Today, the company operating in Boulder (Colorado) offers an impressive line of series of Sparrow and Eagle hard-shell rooftop tents.
Sparrow (as the name suggests) represents smaller models while Eagle larger ones. They series Sparrow comes in three versions: Basic, X and Eye. The series Eagle is available only in two versions – correspondingly Basic and Eye…..
BunduTec
       BunduTec is a South African company founded in 2010. Despite its relatively "young age" Bundutec's designs of rooftop tents have long roots based on experience gained in harsh African wilderness. Company's product line offers several models of hard-shell rooftop tents 
BanduTec has distribution network in US, Australia, UK, Dubai and Kenya.
You may also check the pros, cons and models --> Trailer Tents
Note: All pictures on this page are courtesy of mentioned manufacturers
---