Medium-Size-RVs
Top models
Top 2018 RVs belonging to the class of "Medium-Size", Eco-Friendly and at the same time Comfortable models at an affordable cost….

         Each year brings new models of recreational vehicles reflecting new trends in the RV industry. The 2018 is not an exception, although probably due to significant financial progress observed throughout the past year there are several and often contradicting trends. Manufacturers of high-end models certainly noticed growing demand for luxurious rigs. Similarly, there is visibly increased interest in off-road and "Go anywhere" RVs proving that nature and adventure-oriented vacations are gaining traction. 
See: --> Review of Go-Anywhere RVs
or     --> Review of Roof-top Tents
      However, by far the largest group of future RV-ers is searching for smaller, less expensive but at the same time modern and well-equipped RVs. This reflects two dominant trends observed in modern societies:
disappearance of the middle class as a result of highly asymmetric wealth distribution ☹ 
growing eco-consciousness and with it - better understanding that "Small is beautiful"  
Regardless of these or other preferences the common characteristics like Green, Lite (if not ultra-lite) Eco-friendly, Durable, Comfortable, Modern and Stylish… are always high on the list of requirements. 
       Following these observations, we will try to present here top 2018 models belonging to the class of "Medium-Size", Eco-Friendly and at the same time Comfortable RVs. While the concept of Medium-size is quite well understood (here we assume the overall length lower than 20 feet), the notion Eco-friendly may be not that obvious. And obviously the meaning of Comfort is quite subjective.
By "Eco-friendly" we understand (ultra)-lite models (fuel efficiency, lower indirect costs like towing vehicle… ), durability (long lasting, no rot/no corrosion composite and aluminum construction materials) and low energy consumption (good thermal insulation, high efficiency appliances, renewable energy sources….
The Comfort is very much personal feeling but still it has some common factors. From our point of view its necessary "ingredients" are: good sleeping area, interior (possibly walk-in) bath, well-equipped galley, decent living space with "extended" outdoor features and for sure elegance….
    After this initial introduction clarifying our criteria for selecting the top RV models, let's see the what the RV industry proposes for 2018 (Please note that the presentation is shown in an arbitrary order). 

Terra Oasis by inTech
InTech's newest and largest travel trailer: Terra Oasis
         InTech is already a well-recognized manufacturer of Flyer, Luna, and Sol travel trailers. For 2021, the company is introducing its newest and largest model - Terra Oasis.  With all previous InTech models, Terra Oasis shares the revolutionary concept of all-aluminum frame & chassis, with Luna and Sol trailers, it shares a distinctive Tilt Forward Design. However, what differentiates Terra Oasis from its predecessors is the level of "residential feel" rarely seen in this class of RVs....
For details see:
--> Terra Oasis Travel Trailer
SylvanSport VAST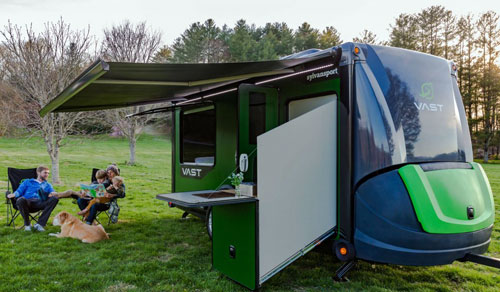 The revolutionary design by SylvanSport: VAST travel trailer
         Sylvan Sport is not a newcomer in the market of recreational vehicles. Founded in 2004 in Brevard (North Carolina) the company is known for its famous GO travel trailer. Small and light on the road, often underestimated when it comes to its ability to carry kayaks, bikes, and camping gear, on the camping, it transforms into a spacious tent that can sleep 4. No wonder it is frequently referred to as a "Swiss Army Knife"-type camper. 
The newest Sylvan Sport´s model VAST introduced in 2019, is designed for enthusiasts of outdoor adventure....
For details see: --> SylvanSport VAST
Jayco Hummingbird 17RB
Jayco's Hummingbird 17RB seems to be one of the best in its class of travel trailers for 2018
     The series of Hummingbird travel trailers represents the latest of Jayco's ultra-lite, medium size RVs. For 2018, they come with six different floor-plans correspondingly 16FD, 16MRB, 17BH, 17FD, 17RB and 17RK. 
For this presentation we selected the model 17RB as it seems to have the most favorable layout. It offers queen-size bed at the front of the camper, central galley located in the slide-out with a dinette on the opposite sidewall and by all accounts very large full bath at the rear end.  It can sleep 3 persons (one on the converted into bed dinette), but for the best comfort and travel experience it is suggested for 2 persons. 
  The bed with Jayco's exclusive Simmons mattress.....
For details see: --> Hummingbird 17RB
Forest River R-pod 190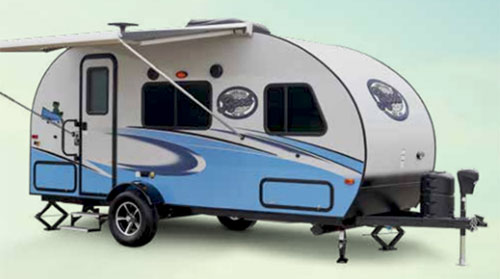 R-pod 190 (newest model for 2018)
       Forest River's R-Pod travel trailers found the place on our list of top medium-size RVs for 2018.  They represent the class of lite RVs with UVW under 3,000 lbs and spacious as well as well-equipped interior promising comfortable RV-ing experience.
Currently the R-Pod series comes with 11 floor-plans including two 2018 newcomers RP-189 and RP-190 (the main difference between these two models is the "dining section" consisting either of Sofa w/table or classic U-shaped Dinette). While most of 11 available models have some strong points that may weight on their popularity, what clearly differentiates the RP-189 & RP-190 from the "pack" is a walk-in bath. It's a great asset.....
For details see: --> R-Pod 190 Travel Trailer
Rockwood Mini-Lite 1905/05BH
Rockwood Mini-Lite 1905BH: Model 2018
      The Mini-Lite 1905 (and 1905BH) is a single-axle travel trailer, however unlike similar trailers, it was designed as "wide-body" model with full width of 96". And this makes a real deference in terms of available interior space. The most visible outcome is the "bedroom" area where you will find the lengthwise-oriented, "walk-around" queen-size bed. This arrangement will be certainly well-appreciated by RV-ers  as there is no need to "climb" over other person like in typical small/medium-size RVs with beds "squeezed" across their width.....
For details see: --> Mini-Lite 1905/05BH Travel Trailers
Lance Ultra-Lite 1575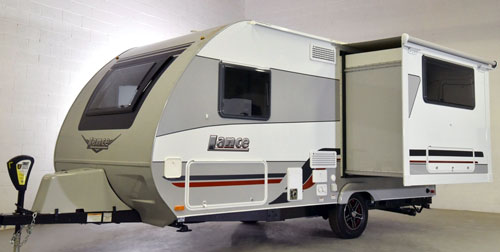 Ultra-Lite Lance 1575: model 2018
        The series of ultra-lite travel trailers includes models ranging from the smallest 1475 (overall length of 19'8", shell's length of 14'10" and dry weight of only 2,500 lbs) to the largest one – model 2375 (overall length of 28', shell's length of 23'6" and dry weight of 4,900 lbs). 
For 2018 presentation we selected the 2nd- lightest model Lance 1575 as it meets our fundamental requirements for top medium-size lite RVs. With its dry weight of just 2,650 lbs it addresses the large population of owners of small SUVs and compact trucks. With its floor-plan, set of basic and optional features as well as sleek aerodynamic lines and stylishness it answers the needs of most RV-ers believing that "small" is not only beautiful, but can be also comfortable.
The model 1575 shares the .....
See details at: --> 2018 Lance 1575 Travel Trailer
Travel-Lite Idea i18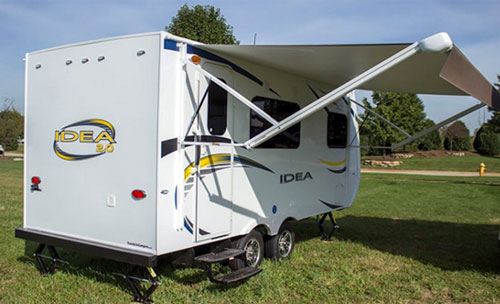 Travel-Lite Idea i18 travel trailer
      Travel-Lite (New Paris, IN) is known as manufacturer of high quality truck campers. Recently the company also gained recognition for its new line of medium-size, ultra-lite travel trailers. With lengths ranging from 15 to 21 feet and dry weight under 3,500 lbs, Travel-Lite series of Falcon and Idea travel trailers can be towed by most SUVs and small trucks. The i18 gained our praise for its stylish exterior shape, finish and graphics, spacious interior, practical floorplan including all basic amenities and features you need for comfortable RV-in. On top of that it is all finished the way creating an elegant and warm living environment - an essential "ingredient" of any home-like atmosphere..... 
See details at: --> Review of Idea i18 Travel Trailer
K-Z Escape E181RB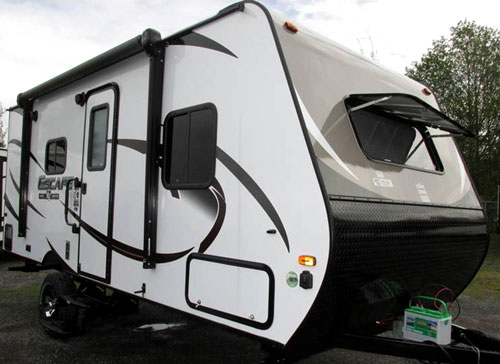 K-Z Escape E181RV Travel Trailer
        The series of K-Z Escape Ultra-Lite travel trailers includes variety of models of traditional hard-wall trailers, as well as expendable models (w/single slide-out) or hybrid (with pull-out tent beds) and even a toy hauler. 
From the mentioned above selection of 10 floor-plans with lengths ranging from 18'10" to 27'3" and dry weight correspondingly from 2,690 lbs to 3,760 lbs we decided to choose for this presentation a model E181RB. 
With its dry weight of only 3,099lbs (so very close to very reasonable towing limit of 3k lbs), length of 21'11" and very attractive floor-plan it seems to be a model of choice for a family of two (or young family with children)....
For details see: --> Review of K-Z Escape E181RB
Note:  Check with the manufacturer and / or authorized RV Dealer for the up-to-date list of features, options as well as latest specifications. These written above may not be accurate and certainly are subject to change by the factory. We are not responsible for any inaccuracy, the above text is provided only for the general information.
This review was written based on publicly available information for the benefits of the community of RV-ers. We do not receive any gratification or financial benefits from RV manufacturers, dealers, and any other promoters of RVs. 
We are NOT involved in sale and/or retail of RVs!
---