5 best 2015 Lightweight Folding Pop-up Campers
See our favorite models of folding pop-up campers offered by RV industry for 2015.

New Year is a great opportunity to introduce new RV models to the market.
Since few years when we became more and more familiar with the true meaning of "Eco", manufacturers work hard to develop and offer to RV-ers lightweight models.
And they are not only more economic in terms of gas consumption when towed. Usually, new light materials used to build these campers are
also more reliable, lasting longer due to better resistance to weather elements and visually more elegant.
These modern lightweight models also open a "new world" for owners of medium-size cars, now being able to experience the luxury of RV-ing in "closer" to home-like environment.
So let's see our picks from the long list of new models prepared for industry for 2015.

LivinLite QuickSilver 6.0 All Aluminum Automotive Tent Camper
Description:

Designed to be an ultra-light and easily towed tent camper that is suitable for even the smallest of cars like a Kia. 
It is light enough to be towable by large motorcycles as well
Is able to comfortably sleep up to four people which is unlike s other campers of its weight and market segment that are only able to sleep 2 people. 
Comes with an optional rear storage deck that is made out of aluminum which is great spot for extra camping must haves such as firewood and coolers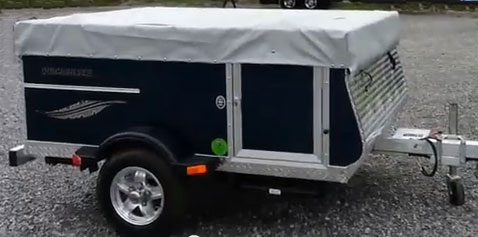 LivinLite QuickSilver Model 6.0 in travel configuration

Features
The tent camper takes only minutes to set up and is easy even for novices
It comes tri-color interior design that includes tinted windows and screens
The camper is designed with comfort in mind and has excellent headroom and foam mats beds that have removable for easy washing.
It is a heavy-Duty tent camper yet lightweight in structure due to the tubular Aluminium frame that makes it both durable and rust resistant
It has an Inter-Locking Aluma-Plank® Floor Deck, which is both lightweight and durable. 
It is better than traditional plywood floors that are typically used in campers because it will not succumb to sagging or rotting

2015 Jayco Jay Feather Ultra Lite X18D

Description
This is a hybrid camper model that is designed to mix in the features of a travel trailer with the feel of tent campers. 
Is easy to set up and dismantled taking only four steps to do so
It has an expandable design that makes it easily towable when compact and highly comfortable when expanded. 
It is best suited for crossovers, minivans and SUVs due to its lightweight floor plan 
It also comes with E-Z Lube axles and rubberized independent suspension for ease of towing

Model X18D: Floorplan

Features
It has great floor plans that are designed to create space allowing it to sleep 7-8 people even with the addition of a king sized bed. 
The tent camper comes with a full-featured kitchen, dinette that fits a family and wall-to-wall features. 
It is made out of a tubular Aluminium Frame which keeps it lightweight and rust resistant
Furnishings are made out of a vinyl material that is mould resistant as well as being durable against cracks and scratches

Specifications
- The tent camper weighs under 3,330 pounds , has extended length of 20 feet 9 inches and an extended height of 121 inches;
-   It is built on strong foundations incorporating custom sized frames that are specific to each floor plan as opposed to stock frames that are stretched and welded to fit.

2015 Forest River Rockwood 1910

Description
This folding camper comes fitted with a gas grill, heated beds, a patio awning and storage cabinets 
It is a lightweight tent trailer that is compact and allows easy towing 
Setting up the tent trailer is easy and can be completed in minutes
It is fitted with a galley kitchen which includes a three-burner stove-top, sink, 3-way refrigerator and dinette.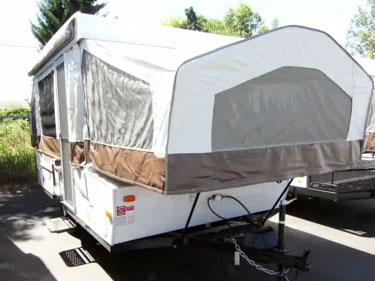 2015 Forest River Rockwood pop-up camper model 1910

Features
The tent trailer has a Gross Vehicle Weight Rating of 2,976 lbs which makes it one of the lightest in its market segment
It also features a Port-a-Potty, patio awning, 30 amp service, 20-gallon fresh water tank, electric brakes, and Four  4 stabilizer jacks
It has a power lift system for easy lowering of the trailer plus a 20,000 BTU furnace and an outdoor RVQue gas grill which attaches on the side of the trailer
The folding camper has an L-shaped sofa and a booth dinette that for comfortable
It has window coverings that use zippers for opening and closing depending on preference
It comes equipped with a small 48 x 80 inches bed as well as a larger quilted mattress queen sized bed.

2015 Palomino Solaire 163X Ultra Lite Expandable
Description
This expandable trailer is built to be a lightweight camper that has a hybrid floor plan which accommodates 2 queen sized beds. 
Its lightweight structure means that it weighs only 3,500 pounds which is suitable for towing by most standard cars as well as smaller versions. 
In total the bedding options allow the camper to sleep up to 8 people comfortably
Options that come with the camper include lightweight aluminum wheels, a spare tire, black tank flush, and fiberglass coating for the exterior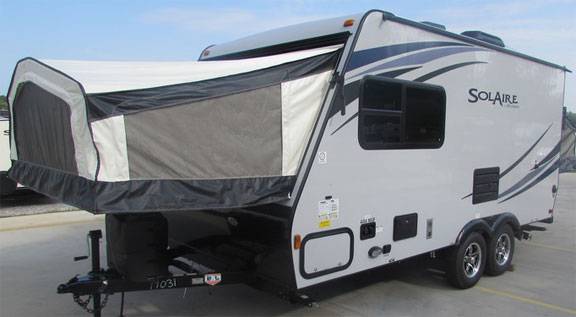 2015 Palomino Solaire 163X Ultra Lite Hybrid Travel Trailer

Features
The camper has real fabric window shades which have a pleated design
The kitchen, pantry and closet areas have removable clothes rods shelves and so you can customize their look according to your needs
The expandable features also include counter-top extension for additional space
Other kitchen features include a RVQ grill, an LED TV, solid surface countertops

The beds are stored away using a Tri-Fold hiding system and there is also the option to upgrade to a Serta® Trump Mattress 
Portability, easy set up and expansion capabilities are made possible through the power front jack and a set of power stabilizer jacks

2015 Coachmen Clipper 806LS
Description
The Coachmen trailer is designed to be easy in every way be it set up, storage or usage
It is conveniently towed because of its space saving and weight regulating technologies including the Glide-N-Lock bed system which is currently Patent Pending 
The layout allows for 2 doubles beds located in the front and back tent ends as well as storage cabinets, a 2 burner cooktop, kitchen sink, and booth dinette 
There is additional storage under the seats as well as a slide in and out table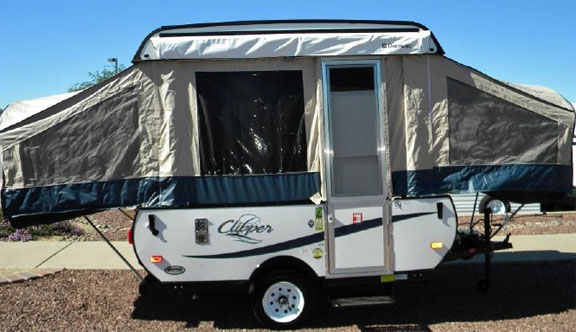 Coachmen Clipper 806LS - Model 2015

Features
The tent features a tubular steel frame, electric brakes and a dual drive winch which is designed by Canimex
A heavy-duty lifting dolly jack as well as the Wide Trac UltraLube Spring Suspension make for easier operation
Kitchen appliances include a refrigerator, furnace and stove top burner
Also included are safety features and equipment such as a propane smoke detector, fire extinguisher and LP Detector
The exterior features an awning, screen door, external shower and spare tire kit

Specifications
The trailer is super lightweight with a Gross Vehicle Weight Rating of 2,098 lbs.
It has a cargo carrying capacity of about 778 lbs which makes for great storage
In its extended position the camper measures 16 feet  11 inches while it height
In its closed position it measures 12 feet 2 inches while its closed height and width are about 4 feet 6 inches and 85 inches respectively.


Best 2015 Folding Campers  /  Best 2015 Off Road CampersRV Travel Trailers 2015  / 2015 Teardrop Trailers /  2015 American Travel Trailers  / American RVs 2015 /   Fifth Wheel 2015 / 2015 Camping Beds

 About Us / Privacy Policy / Resources
Go to: Pop-up Travel Trailers and RVs