Motor Home RV Manufacturer
List of best Motor Home RV Manufacturers - in other words who is who in RV business.

Motor homes are the most luxurious and also the most expensive RVs.
They are often more elegant than a fancy hotel and no matter where you go, they guarantee that you will have a great time.
There are a lot of manufactures known world wide for their innovative and luxurious motor homes.
Here are the most important of these companies.
Thor Motor Coach
Thor Motor Coach is a manufacturer of motor homes that manages to combine the benefits of a Class A motor home with those of a class C motor home. This way these vehicles are not too big, they are fuel efficient, but in the same time they offer a lot of comfort, spacious living area and lots of storage space. Thor Motor Coach is the number one selling manufacturer of motor-homes in the USA, and it is quite popular in other parts of the world as well.
This manufacturer creates brands such as A. C. E, Astoria, Avanti, Challenger, Daybreak and Hurricane. All of these models are Class A motor homes of the best quality. The best model of all these is without doubt A.C.E, which represents an evolution in the history of class A motor-homes.
Not only that it is great for long journeys, but it also has a nice design and it is not too expensive. It comes with a dinette area, a mid coach galley, a split bathroom with toilet and shower and a rear bedroom with a queen sized bed. Besides this it comes with further options to make traveling even more comfortable.
American Coach
This company makes motor homes with a strikingly stylish and luxurious interior. In such an RV you can travel around the world and always feel like at home. Models such as the American Eagle, the American Heritage and the American Revolution are made by this manufacturer.
American Coach is also the manufacturer of luxury class A Diesel motor homes. The company is closely connected to Fleetwood RV, known worldwide for its campers and RVs, in fact American Eagle is the luxury division of Fleetwood RV. The American Eagle is one of the most popular motor homes on the USA.
This luxurious model manufactured by American Coach has a sophisticated living area with DVD player, Wifi, optional satellite system and a bathroom which will offer a spa like experience no matter where you are in the world.
Forest River RV
While this company was recently purchased by a new owner, it is still one of the major manufacturers of RVs and of motor homes. Some of the motor homes that this company manufactures are the following: Charleston, Berkshire and Georgetown.
All of these models are great examples for the high quality design of Forest River. One of the most popular motor homes today, Charleston is a great example of the ingenuity of this company. It has a sturdy construction with an air suspension deflation system and a heavy duty stabilizer bar. It offers a comfortable journey with leather sofa beds, porcelain tiled bathroom, hand flush toilet, king size beds and soft carpet with padding. Forest River motor homes are a great choice for those who offer to pay for high quality and comfort.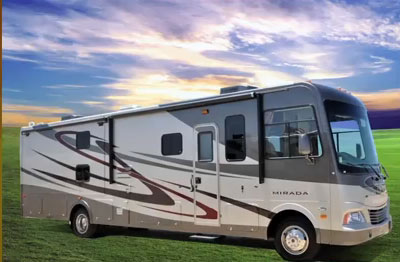 Fleetwood RV
Fleetwood is another leader manufacturer of RVs and of motor homes. They are also one of the oldest companies that manufacture these types of recreational vehicles, being founded in 1950 and being more and more famous as generations passed by.
A few years ago unfortunately the company declared bankruptcy, which affected the manufacturing but it didn't take away of the fame Fleetwood had. While they no longer manufacture travel trailers, many of their products can be still found on the market.
Models such as Providence, Discovery, Expedition or Excursion are all made by Fleetwood RV and are luxurious class A motor homes. Most of these models have a bedroom with a queen bed air mattress for a comfortable night, a kitchen where you can cook almost anything, a bathroom with air conditioning, warm shower and a living area with TV antenna. Some of the models of Fleetwood RV even have an optional fire place for a romantic evening during traveling.
Coachmen RV
Coachmen RV, or the " Leader to the Great Outdoors" has a reputation for building high quality luxurious motor homes. They have been making recreational vehicles since 1964.
Besides their well known brand Coachmen, this company also manufactures other brands such as Encounter, Mirada, Pathfinder, and Sportscoach.
Each of the motor homes made by Coachmen are different in some way, but they all share high quality and a luxurious travel experience. Their Pahtfinder model combines luxury with functionality, and its great design is also appealing to the eye.
The Coachmen Mirada is designed to fit the needs of people who want to buy something less expensive but just as reliable and enjoyable as other Coachmen motor homes.
The panoramic views from the Diesel Cross Country motor home manufactured by Coachmen win the hearts of many RV enthusiasts and travelers.
Country Coach
Country Coach Corporation is a new manufacturer or motor homes compared to the other companies who started decades ago. They created models such as Affinity, DynoMax, Inspire and Magna. With an elegant exterior and a functional construction, these motor homes show a design with attention to detail. They have spacious interiors with great decorations and comfort with a living area that has sofas, a dinette, bathroom, bedroom and also a cozy driver's area.
---
Visitor's Story....
There are many motor home RV manufacturers making the different kinds of mobile homes from motor coaches to pop up tent trailers. Then there are companies that manufacture one or two types of RV's.
For instance Keystone RV manufacturer specializes in towable RV's such as Fifth Wheels and travel trailers.
Their Fifth Wheels are luxurious, with all the amenities you can think of, not unlike the motor coach.
These recreational vehicles can be towed by a pick up truck or an SUV. Keystone RV Company is the number 1 seller of RV's in North America.
If you are considering getting a motor home think about what you want in your camper, what you can afford, the type of RV you want and which motor home RV manufacturer has the best product and warranty.
One company makes class C RV's travel trailers, Fifth Wheels, and tent trailers. Fleetwood and Forest River are two Class C manufacturers. Forest River is also a RV trailer manufacturer.
Technically, a trailer is any RV that is towed behind a car, truck or SUV. The most compact and versatile of all recreational vehicles is the camper van. One B class RV manufacturer is Sportsmobile. They make just about all of the parts that are used to convert Ford, GM/Chevy and Dodge vans into luxury motor homes, often called van campers or camper vans. This motor home RV manufacturer makes only B class RV's and has been for over 40 years.
The beauty of the camper van is its versatility. You can use it to carpool into the city every day, haul your daughter's soccer team to practice and take it on the road for a vacation trip. It can be every bit as luxurious as a motor coach, just on a smaller scale.
Also you don't have to worry about parking this recreational vehicle because it fits in a normal parking spot at the mall. You can cruise city streets or climb mountain roads in this motor home because no parts are installed below the rear axle.
The motor home RV manufacturer of this camper has designed and built it to have a 10,000 lb. Towing capacity.
You can add extras like an air conditioner that while driving or parked cools the whole interior. You don't have to worry about cold weather because the water lines and tank are inside the vehicle for freeze resistance and the entire camper has extra installation for your year round camping pleasure.
If you love the idea of the class B camper, contact a few motor home RV manufacturers and ask for brochures and floor plans so that you can pick the one that best suits your needs.
You also have choices about the colors and fabrics that best suit your taste.
Due to the towing capacity of these van campers, many Rvers tow a small travel trailer for extra sleeping or storage space for all of the camping supplies and toys the family will use while on vacation such as bikes, outside furniture and grill, pet pens and tie outs and sports supplies or whatever your family considers important.
So there may be benefits to buying your camper van directly from the motor home RV manufacturer and eliminating the middle man.
 About Us / Privacy Policy / Resources
About Raptor RV Motorhomes / Roadtrek Motor Home Campers / Winnebago View RV /  Motor Home Winnebago RV Online / Best RV Motor Home / Bluebird Motor Home Campers / Class A Motor Home RV / Class B Motor Home RV / Class B RV Motorhome Diesel / Class C Motor Home RV / Class C RV Motorhome Sales / Motor Home Coachman RV / Motor Home Coachmen RV Trailers / Damon Motor Home Campers / Dutchman Motor Home Campers / About Dynamax RV Motorhome / Four Winds Motor Home Campers / Georgie Boy Motor Home Campers