Motor Home RV Furniture
Learn more about motor home RV furniture, what to buy, where to buy....

When it comes to buying furniture for your RV, you have many choices.
First of all you can buy second hand or brand new products.
Since many people have RVs that they sell or that they no longer need, there are certain types of RV furniture that you can easily find used, such as sofas, cabinets, chairs and so on.
On the other hand there are many very luxurious and comfortable new pieces of furniture for motor homes that you can buy at your local dealer or any RV store in your area.
RV Interior design...
RV tables
The newest and most innovative RV furniture can be folded or converted into other pieces of furniture. RV tables for instance can often be converted for the night into a sleeping place. When you don't need the table you can also fold it up and have more space for you and your friends in the motor home. The best tables have holes for holding glasses and bottles so you can enjoy them also while driving. Many also have built in racks and storage places. They are designed to save space and make everything much more convenient while you are traveling.
RV sofas
RV sofas have been made so you can relax during the day, watch TV or just have a chat with your friends in a comfortable place. To save space in the motor home, sofas can be converted into beds at night, offering one or sometimes 2 extra sleeping places in the RV. Under the sofa there is a storage room where you can keep your luggage, bedding or other things.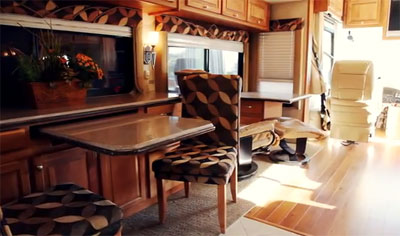 RV Chairs
Chairs for RVs come in all shapes and sizes. Most of them can be folded, while others are very fancy made of leather to assure maximum comfort. Some chairs come with beer holders and they can be reclined. They also often have drawers for storage.
RV Recliners
Recliners are very often used in motor homes because they can be easily folded up when they are not used, this way they don't take up a lot of space. When you use them they can offer the perfect relaxed position for your body. The best motor home recliners are padded and made of leather and they come in various sizes.
RV Dinettes
Dinettes are the nicest parts of a motor home. They offer a perfect place for eating if the weather is not so great outside, and you can spend many fun ours playing with your family boardgames or spending quality time with your friends around a dinette. Dinettes come with storage places where you can keep boardgames, toys for children and so on. They can also be folded or converted into beds during the night to save space.
Outdoor furniture
The outdoors can be just as stylish and as comfortable during camping as the indoors when it comes to RVs. Such furniture helps you to relax and enjoy nature in the same time. Outdoor furniture for motor homes includes folding tables and chairs, recliners, folding picnic sets, grill tables and more.
Furniture Brands
Some of the most well known manufacturers of RV motor home furniture are Flexsteel RV Furniture, Villa RV Furniture, and Lafer Recliners. Some RV manufacturers such as Coleman or Jayco also have furniture for sale at their distributors, but they are more difficult to find since they are usually only sold together with the RV or as an upgrade. However, they can be bought second hand from people who want to upgrade their RVs.
Places where you can buy RV furniture
Glastop
This company has been furnishing motor homes all around the world with very high quality and luxurious furniture. At this store you can buy RV chairs, RV recliners, RV tables and other furniture that will make traveling easier for you and that will last you a lifetime. They have a website and also a showroom that can be visited in Florida.
Villa International
At this store you have the option to have a completed motor home makeover. If you want to upgrade your RV and make it more comfortable inside, this store is perfect for that purpose.
Ebay
Ebay has many private sellers and shops as well that auction used and new RV furniture. You can buy on eBay RV chairs, RV tables, dinettes, sofa beds and more. If you are looking for a good bargain, eBay is the best online shop to choose. If you cannot find what you are looking for, make sure you check it regularly since eBay has many users all over the world and people start auctions every day.
Best Motorhomes
Best Motorhomes offers everything you would need for an RV, such as motor home accessories, motor home appliances and also motor home furniture. Here you can buy recliners, sofas and other high quality furniture for your motor-home.
Camping World
Camping World is the largest supplier of everything that you need for an RV. They have stores in many states and also an online store that you can visit. They ship in all parts of the world and they also have often products on sale. If you need anything for your RV such as RV furniture, you will surely find it at this store.
Tour inside of the recently finished 2000 Endeavor

Visitor's Story:
If you are purchasing a new motor coach you can special order your cabinetry and furniture in the colors and styles of your choice.
Used RV's generally are furnished.
However you can have them redone or you can save money by painting and using RV furniture slip covers.
You can also gut the inside and totally redo your mobile home.
Flexsteel RV furniture is one of the leading manufacturers of quality stylish motor home RV furniture.
My favorite furniture style for both our home and RV is country. It can be hard to find country style furniture for motor homes but it can be done.
Depending on the type of recreational vehicle you have you can have any style of mobile home RV furniture you like.
What would look wonderful in a top of the line motor coach would be out of place and too big for my camper van. Used RV furniture can save you big bucks. Be careful though and don't buy it until you see it or make sure it can be returned if not in good condition. Get this in writing.
Another way to save money on motor home RV furniture is to look for furniture RV salvage. Salvage furniture for a motor home comes from several sources. If someone wrecks their camper or decides to refurbish the interior, the furniture can often wind up at a salvage yard. It can often be purchased at greatly reduced prices.
Mastercraft furniture RV style is another major manufacturer of furniture for high end campers. RV cabinets and furniture can be every bit as elegant and luxurious as anything you could put in your home. Some recreational vehicles are more richly decorated than my house.
Luxurious RV Furniture
Motor home RV furniture can be bought across a wide range of prices. Jack and Nan have really beautiful furniture in their new motor coach. Joe is on the lookout for some replacement furniture for RV trailer homes. His wife has very specific ideas about what she wants so they are taking their time looking around. I know she likes classic styles and fabrics.
Motor home RV furniture, tables and chairs are very versatile, dinette tables fold out to beds, living room chairs often have storage underneath and some open out to a single bed.
Motor home RV furniture can be pricey but when you consider that most of it serves a dual purpose, the quality materials and construction, it really isn't bad.
There are several interior motor home RV furniture manufacturers that are commonly found in RV's. Some are Flexsteel, Mastercraft, Pallister, Villa International, and Lafer, to name a few.
Whatever brand you choose make sure it is something you love. If it is a dual purpose piece test to see how easy it is to open and close. Make sure the dimensions are compatible with the space you have allotted it in your motor home.
Choosing furniture for RV's is not much different than choosing furniture for your home. Just decide on your style, will it fit the space, does it go with what you have already and does the price fall within your price range.
 About Us / Privacy Policy / Resources
Used Motor Home RV Furniture for Sale / RV Motor Home Furniture Manufacturers / RV Motor Home Tables and Chairs for Sale / RV Motor Home Cabinets for Sale