Aliner Pop up Camper Trailer
Aliner manufactures some of the lightest and most aerodynamic pop-up camper trailers in the whole world.
They are know for their great designs that make pop up campers that much more convenient to use.
They started making pop ups in the 70s and developed the original A frame pop up during those years. Now they already have various models of their original A frame pop up camper that are used all over the USA and worldwide as well.
Aliner pop up campers are somewhat different than most other pop ups. The major difference is that they don't have canvas sides like most pop up campers do, but they have solid sides. They are small but more homy inside. They also have a different set up system, which makes it possible to set them up in 20 seconds. This definitely puts them in the front of the list of convenient pop up campers.
The fact that the Aliner pop up campers have a solid side makes them perfect for any weather condition. Whether it is raining or it is very hot or cold outside, these trailers will keep you safe and warm. It can hail and be windy, but you won't feel a thing inside an Aliner pop up camper trailer.
The Aliner lifting system comes with a lifetime warranty. All of these campers also benefit from panoramic views and ample ventilation thanks to the large Windows and double ply curtains. The structural panelsof the Aliner have an aluminum exoskeleton, and instead of heavy wood they have fiberglass and vacuum bonded lamination. The skylights are bonded to the roof chemically, thus avoiding using screws. Screw holes are the most common places on a pop up camper where moist gets in, but this won't happen with an Aliner. All pop ups made by this company have dual waterproof joints, that will keep you dry.
The exterior of the Aliner pop up campers will need no maintenance. Unlike canvas pop ups they won't need waxing and fixing from time to time. The exterior walls are made of fiberglass and aluminum, with UV protected, silicon sealed plastic over caps. Most models also come with an aluminum diamond plate.
Besides the durable exterior of the Aliner pop ups, their whole structure is also very sturdy and strong. The floor of the Aliner is not pylwood, therefore it won't rot or smell. It is a marinate grade flooring that keeps moist out and it is very resistant. In order to make sure that the trailer can go on almost any terrain, it has a good suspension system. The tires of the camper trailer are filled with nitrogen instead of air, and the trailer has double torsion axles. The frame of these pop ups is powder coated, which protects them from rust.
Choosing an Aliner pop up camper instead of another one has many other advantages. Since their pop ups are quite small, you won't need a big car to tow them and you also won't have to spend of a lot of money on fuel. The Aliner pop ups have a low profile and they are lightweight. This makes them easier to handle, easier to set up and just more simple to use in general. There are more models made by Aliner, all sharing the same functionally and great design, but having different levels of comfort. Here you can find out more about each model and see their advantages.
The Aliner Classic
This is the original design of the A frame pop ups, very versatile and adaptable, considered by many people the best choice. It is not too small or too big, it has the perfect features for camping. It comes with an outside shower, roof vent, fridge, water pump, microwave, 11 gallon freshwater tank and fan. You can choose also a toilet for the camper trailer, water heater, air conditioner and outdoor speakers.
Specifications:
Length (feet) 15'
Width (inches) 78"
Road Height (inches) 57"
Weight (lbs) 1530 lbs.
Tires and Wheels 13"
Gross Vehicle Weight 2000 lbs.
The Aliner Expedition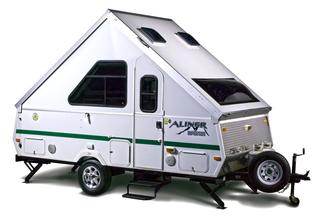 This is the largest model that the company manufactures, suitable for families and getaways with friends. It has a lot of living space and storage room, and it comes with a sink, stove, large beds, outside shower, fridge, fan, microwave, and a 11 gallon water tank. It also has more optional features, such as a water heater, air conditioning, grill, toilet and stereo.
Here are the specifications for this model:
Length (feet) 18'
Width (inches) 84"
Road Height (inches) 68"
Weight (lbs) 2100 lbs
Tires and Wheels 14"
Gross Vehicle Weight 3500 lbs.
The Aliner Alite
The Alite is not only the smallest model made by this company, but it is generally also one of the smallest pop up campers that you can find. It can be towed by very small cars, even motorcycles. It is very convenient for people who love hiking and getting out in nature without having to take the SUV. Besides offering a comfortable and safe place to sleep, it also has enough space for your gear when you go hiking. It has a durable fiberglass exterior, and spare tires. If you choose this model you will save a lot of money and enjoy camping.
Specifications
Length (feet) 9.5'
Width (inches) 60"
Road Height (inches) 36"
Weight (lbs) 610 lbs
Gross Vehicle Weight 1000 lbs.
The Aliner Sport
This version is somewhat shorter than the classical model, which makes it easier to tow and to handle. It is perfect for one person, but it has space for 2 as well. It also has an outside shower, microwave and small fridge, and a 2 burner stove. It can come on request with air conditioner and stereo to make camping even more fun.
Specifications:
Length (feet) 12'8"
Width (inches) 78"
Road Height (inches) 56"
Weight (lbs) 1120 lbs.
Tires and Wheels 13" Aluminum
Gross Vehicle Weight 2000 lbs.
The Aline Ranger
If you wan to be economical, the Ranger is the best model for you. It is lighter, cheaper, with less facilities but still comfortable. Although it doesn't have a shower, it has a small sink, stove and fridge. You can sleep comfortable in it and store food for days. On request it can come with all the facilities that the other Aliner pop up campers have.
Specifications:
Length (feet) 15'
Width (inches) 78"
Road Height (inches) 57"
Weight (lbs) 1320 lbs.
Tires and Wheels 13" White
Gross Vehicle Weight 2000 lbs.
The Aliner Scout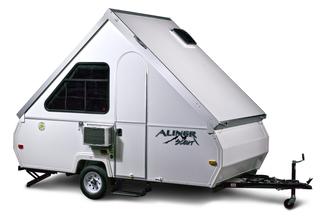 The Scout model offers basic facilities such as a comfortable place to sleep without being too big, heavy or expensive. It can come with a fridge and air conditioning as well. If you love adventure and you don't like to carry too much with you but just enjoy nature as it is, you will like this pop up camper very much.
Specifications:
Length (feet) 15'
Width (inches) 78"
Road Height (inches) 55"
Weight (lbs) 1174 lbs.
Tires and Wheels 13" White
Gross Vehicle Weight 2000 lbs.
Here is a great video that will show how the Aliner works and why it is so convenient:
---
Visitor's Story
Since this is probably something you have not heard about lately, you might need to read up on the subject, I know I did.
Aliner is a pop up camper shape like an A when opened up. The type of camper has room for a dining are and beds.
It may not be as big as you would need, but they are cute little units.
Aliner pop up camper trailer towing is the same as towing a Coleman tent pop up camper, the only thing different is the shape of the top and interior styling.
If you find a 5 wheeler or a 2 wheeler comfortable then you might have a hard time getting used to the design of the Aliner pop up camper trailer.
When traveling through such states as Pennsylvania and Rhode Island you will want to make sure to obey the speed limits when towing a camper.

The speed limits vary for towing and a passenger car only. If you are traveling with an Aliner pop up camper trailer or any other type of camper, you need to make sure you follow these speed limits; they are strict on that policy.
Now if you have a truck camper or a van conversion the speed limit reduction does not apply to you. You are not towing anything. Aliner pop up campers may be a little rare, but they are around and I guess from what I read and heard, people who have them really enjoy them and would not give them up for another style.
Myself personally, I prefer my Coleman pop up camper for camping, but everybody has different tastes and needs. Find the camper that appeals to you and you will find yourself having the time of your life. Amazing stories and lots of fun for the whole family.
 About Us / Privacy Policy / Resources
Go from Aliner Pop up Camper Trailer to Pop Up Campers Trailer Home
 Pop Up Camper Trailers Review / Pop Up Camper Manufacturers  /  Four Wheel Pop up Camper Trailer / Pop up Camper Trailer Texas / Coachman Pop up Camper Trailer / Hardside Pop up Camper Trailer / ATV Pop Up Trailer / Fleetwood Pop up Camper Trailer / Pop Up Camper Trailer for Sale