Bicycles Pull-Behind Campers
Increased popularity of biking adventures created the need for little campers that can be pulled behind bicycles; see review of available commercial models...
      As biking become the synonym of healthy lifestyle, needs to extend biking trips well beyond the boundaries of the nearby park substantially increased. Traditionally, these new challenges are addressed by car-mounted Thule-type biking racks enabling us to carry bikes closer to the Mother Nature.  However, recently we are witnessing another trend: long-range biking adventures. With it, there is also growing need for extra "biking-camping" gear pulled behind allowing you to settle for the night almost anywhere you wish. 

Pull-behind bicycle camper: Caravan
Courtesy of: https://weburbanist.com
      These days, the concept of biking with a large backpack on your back and a tent attached on bike's carrier is rather the picture of the past.  The tow-behind trailers offer much better solution to this problem. Thanks to recent technological advances, they are lite, offer ample storage space for extra stuff (the only limit is weight) and promise much better comfort compared to traditionally carried gear in the backpack. 
Below we propose the presentation of the best "tow-behind-the-bike" campers. Some are already commercialized and readily available on the market, some represent models, some just the visions!
Wide Path Camper
Wide-Path Camper in folded-out (camping) configuration provides shelter for two persons
Courtesy of Wide Path Campers
      Danish Wide-Path Campers (privately owned company recently acquired by Thomas Møller Pedersen) makes some of the smallest expandable campers. They are designed in few versions – for towing by small cars, motorbikes and the most interesting for us – for bicycles.   While the shape and folding-out concept are shared by all three versions, they differ when it comes to chassis (suspension and wheels), body strength, features, payload and ultimately – weight.
The bicycle camper shell is made from strong, UV-resistant, semi-insulating foam. For travel, the rear half-shell folds-in over the front one creating the compact, about 5ft long structure sitting on two bike-type wheels.....
See details at: --> Wide Path Camper
---
Kamp-Rite Midget-Bushtrekka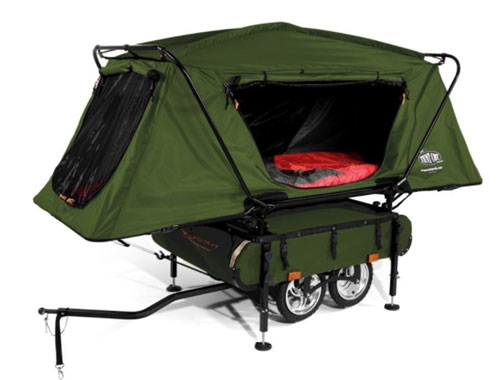 Kamp-Rite Midget Bushtrekka pull-behind bike camper
Courtesy of Kamp-Rite
      The Midget -Bushtrekka Tent-Cot was really an innovative (sort of "ahead-of-its-time) design that hit the market still not ready for mass-biking adventures. Made of lite aluminum it met the fundamental requirement to be lite (last thing you need on your biking trip are excess pounds to haul). However, to make the metal box more "nature (and touch)-friendly", the aluminum was covered with 600-denier rip-stop nylon. It nicely blended with nature enhancing the tent-camping experience. For waterproofness, the nylon was coated with polyurethane.
Obviously biking on ....
See details at: --> Kamp-Rite Bike Camper
Note:  Check with the manufacturer and / or authorized RV Dealer for the up-to-date list of features, options as well as latest specifications. These written above may not be accurate and certainly are subject to change by the factory. We are not responsible for any inaccuracy, the above text is provided only for the general information.
This review was written based on publicly available information for the benefits of the community of RV-ers. We do not receive any gratification or financial benefits from RV manufacturers, dealers, and any other promoters of RVs. 
We are NOT involved in sale and/or retail of RVs!
---