Tent Pop-Up Campers
Pros and Cons 
Tent-based pop-up campers are popular among young families with children, see their pros and cons as well as what to look for when buying one.
          Since long, tent pop-up campers were recognized as some of the most popular RVs.

There are many reasons for that starting with probably the most important one - economic. For large population of middle class families with children, tent-based pop-up campers offered affordable and at the same time spacious enough means of RV-ing. For many, it was also a natural "next step" from traditional back-packing trips and tent experience to "modernity" of car-dependent society. 
And while nowadays some of old advantages of tent-based pop-ups may be lost, these type of travel trailers still have noticeable support among RV-ers.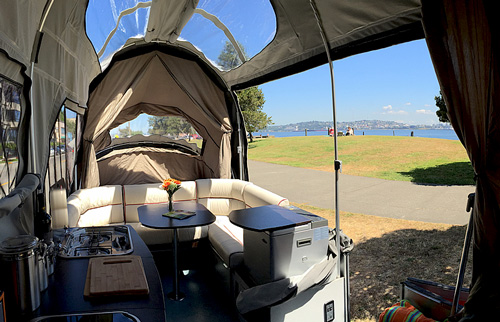 Opus certainly offers a "touch of luxury" although it is still only a pop-up camper :-) 
For more information see: --> Opus Pop-up Camper

        Before we go farther let's clarify an important issue. These days the notion "pop-up" camper has wider meaning than in the past. This class of RVs includes such designs like for example "Hi-Lo" campers (see --> Hi-Lo Campers), fold-out campers (see --> TrailManor Camper), A-frame campers (see: --> A-Frame Travel Trailers). Similarly, the notion "tent-campers" also includes hard-side hybrid campers (with slide-out tents) and all class of trailers or vehicles with Roof Top Tents (see: --> Review of RTTs). Sometimes all these categories of RVs are called as "Expandable". Good example of an expandable travel trailer is a "telescopic" travel trailer, it does not pop-up but rather expends laterally (see --> BeauEr-3x Travel Trailer).

      Below, we would like to make presentation of traditional Pop-Up campers. In other words, travel trailers combining the hard-side trailer "box" equipped with basic features and the tent opening-up/sliding-out that makes its integral part. Usually pop-up campers have solid roof, which in travel configurations serves as trailer box' lid and place for cargo rack (if any).

Pros of pop-up campers

Sleeping capacity
        Regarding the amount of available sleeping space, in their price range pop-up campers do not have real competition. Minimum two full-size beds are standard for pop-ups, but you will also find units offering sleeping space for up to 8-10 people. For larger families with children (2+3 kids and up), it may be the only viable solution for RV-ing. Let's face it – at this stage in the life (unless you won the lottery or have rich parents), most of us straggle with keeping jobs, paying mortgage, car etc. So, it is not the best time for buying a motorhome or any other large rig. On the other hand, kids are growing and a "window of opportunity" to take them into the nature will slowly but surely close-down with time. it's then a sort of decision "now or never" and quite often the only answer is: Pop-up travel trailer.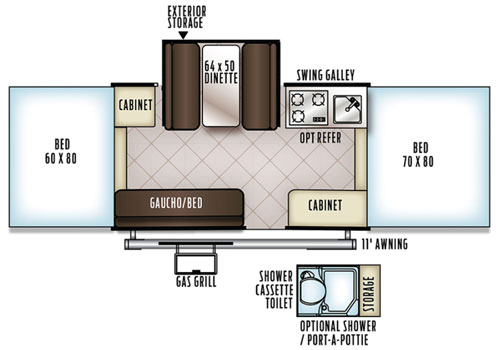 Rockwood 2381G pop-up camper weights only 2,440 lbs (dry) and despite its open length of 23'10" is not at all the biggest model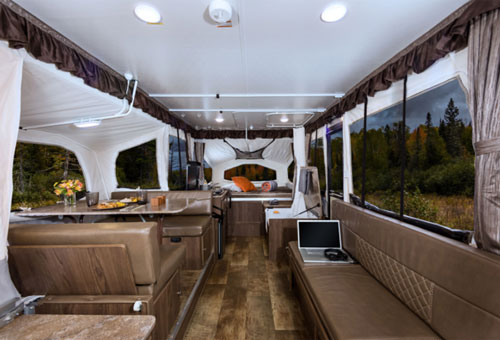 Its interior is quite impressive
Affordability
       Certainly, due to their "tent-based" structure and limited number and size of features, pop-up campers belong to the class of entry-lever RVs. But savings are not only due to the low initial cost.
They also come from:
Light-weight design 
       While big, higher-end RVs are certainly more attractive, in many cases their real price tag will also include the cost of an additional towing vehicle. Ability to use your already owned vehicle (be it sedan, SUV or small truck) makes RV-ing affordable for many lower income families. And pop-up campers with typical dry weights below 3,000 lbs are certainly on the lite-side of the weight's equation.
Fuel economy
       Low weight combined with low aerodynamic profile of pop-up campers greatly helps to keep fuel consumption in reasonable limits. Let's face it –  the worst what may happen once you bought an RV, is that you financially cannot afford (or have to limit) its use.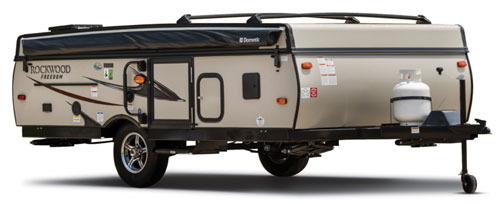 Rockwood Freedom: Low profile in road/storage configuration is one of the main advantages of pop-up campers.
Towing
        Pop-ups' compactness and low profile make them easy to tow, even for an inexperienced driver. It may be also worth to mention that trailer's low profile significantly minimizes effects of lateral wind gusts and so improves the driving safety. In fact, this applies not only to pop-up campers but to any low-profile foldable travel trailers (Hi-Lo, A-Frame, etc…). 
Storage
      Low profile and small (compact) size in folded configuration makes it much easier to find a parking space on your driveway or in the garage.  The latter solution is actually beneficial because it also offers protection from weather elements (note that  pop-ups campers are much more vulnerable to weather than any hard-shell ones). 
Rockwood 2516G: It can sleep up to 7 people and its dry weight is still below 3,000 lbs
Contact with Nature
       For many nature lovers and backpackers, sleeping under the tent has its own merits. Being or at least feeling being closer to the Mother Nature is an overwhelming experience. Tent's fabrics, large windows (in other words lack of "hard-wall" barrier) offer exposure to fresh air, to "sounds of nature", allows to fall asleep and wake-up "almost" under-the-sky…. . No wonder that for many it is a "low cost" priceless experience. 
Rockwood pop-up camper: Galley (given all limitations) looks quite elegant.
Cons of pop-up campers

Set-up/Fold-down times
      Pop-up campers' tents are designed as self-supporting, so when setting them up you do not have to deal with bunch of individual poles. The name "pop-up" obliges! Indeed, some may even have an electrical lift system making the whole process trouble-free. However, regardless of how you look at it, setting up and folding down pop-up campers is not the breeze.  Because it is not only about unfolding tents but also about securing and stabilizing them as well as setting-up interior. Bottom line is – it will certainly take few tenths of minutes if not longer before you will be able to lay down on the bed. For many, it may be fun, but for some -  a waste of precious vacation time!
It's certainly not the end of the world if you do it in a daylight and in good weather conditions. Keep in mind however that in our times what we lack the most is exactly The Time! Now add to it just opposite to what we mentioned above – late night arrival on the campground, strong wind and heavy rain. It's a totally different story, "blowing" away many potential buyers.
Wear & Tear
       Tent's fabrics is much more prone to wear & tear effect than any hard-side campers' shells, so obviously pop-up campers have shorter "life-span". While damaged sections of fabrics can be replaced, it's an extra effort and usually not of DIY type. Another "weak-spot" of pop-up campers is a lifting mechanism. And it's not that its quality is low, it's rather the power of Murphy's law stating that "if something can go wrong, it certainly will". Given the fact that pop-up campers (actually, all folding or expandable campers) are mechanically more complex and have more moving parts than hard-shell travel trailers, sooner or later Murphy's effect will take place. The roof-lifting mechanism is one of the candidates for that to happen.
Continue --> NEXT to see more pop-up cons, tips about "not-to-miss" features and finally to find the answer in pop-ups are really for You!