Coachman Pop up Camper Trailer
"In my opinion Coachman Pop Up Camper Trailer is the best!"
When it comes to pop up camper trailer brands, it is hard to determine which one is the best.
However, many people would certainly say that it is Coachman.
This manufacturer creates pop ups that make camping a really comfortable experience, with a lot of facilities inside and many accessories that you can enjoy while you are out in the wild.
Coachman RV is company a known around the USA, having units of production in many states, and a lot of dealers and distributors. They have pop up campers for all kinds of budgets and with all types of comfort levels.
Their headquarter is in Indiana, where they started the business many decades ago. The company has started manufacturing recreational vehicles with high levels of comfort and approachable prices in the times when having a pop up was the trendiest thing. They have been in the business of RVs since the 1960s and ever since that they have perfected their design.
Coachman offers various types of folding camper trailers. In order to make sure that all customers will find a great Coachman pop up camper, they have designed trailers for all budgets and different types of needs. They have three models: Clipper, Viking and V-trec. Each model has more floorplans, and you have further options to choose from. This way you can get a pop up camper trailer tailored to your needs!
Clipper Coachman pop up camper trailer
The Clipper model of Coachman camping trailers come in more floorplans. These trailers are very durable and have a great construction. They have a strong tubular steel frame, wide Ultralube HD spring suspension and torsion suspension, radial tires, aluminum rims and a Goshen lift system with double arms on most models.
This constructions assures that you can use the camper for a long time. The exterior of the camper is just as durable as its buildup: it has laminated hi-gloss fiberglass walls, one-piece door, diamond plate front wall protector and a 4 layer laminated seamless fiberglass roof to keep out moist and resist rain.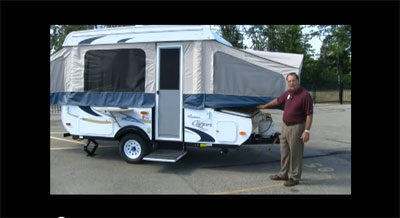 Thanks to its laminated/insulated bed platforms and cable bed supports the Clipper Coachman camper trailer provides a good night sleep no matter where you are. Some models even have a heated mattress system, to assure that you will never be cold. Coachman campers also have quite a lot of storage place for whatever you might decide to bring along with you when camping.
The Coachman Clipper pop up camper trailers come with a lot of facilities. You will have a roof vent for fresh air, sink, stove with 2 or 3 burners, and Cd player. Some models even have a roll out dinette so the entire family can enjoy eating together.
When it comes to the Clipper Coachman Camper remember that there are further options available that you can choose before you buy the camper. With these options you can really make camping a very comfortable experience, even if the weather conditions are bad and the trip is long. Coachman campers can also come with a hot shower, portable toilet, air conditioning and fridge.
Here are the specifications for the Clipper Classic:
Hitch Weight 282 lbs.
Base Weight 2,702 lbs.
GVWR 3,502 lbs.
Carrying Capacity 800 lbs.
Box Size 12'
Exterior Open Length 24' 5"
Exterior Closed Length 18' 5"
Exterior Closed Height 4' 7"
Exterior Width 85"
Viking Coachman pop up camper trailer
This very well known model of pop up campers made by Coachman is known for its convenient size and useful features. It has a Goshen Lift System and powder coated interior tent supports for a stable set up. It also comes with features such as an under floor 23 gallon water tank, 25 amp converter and battery charger, lined bedend privacy curtains with valances and hot water system with a built-in shower.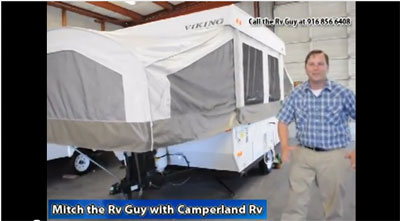 The construction of this pop up is just as sturdy and as durable as the one of the Clipper model described above. In fact, you can be sure that no matter which model of Coachman campers you buy, it will be durable and strong, it won't disappoint you, not even on the longest journey.
The Viking Coachman also has a deep bowl sink, radius edge hi-pressure counter-top and ultra comfort heated mattress system. In such a pop up you won't be cold at night, but cozy and warm, even in rainy weather. Further options that you can choose from if you like the Viking pop up camper are hot water system, shower, super sliding storage compartment, awning, air conditioning and extra comfortable heated mattresses.
Here are the specifications for the Coachman Viking 1906 Epic Series:
Hitch Weight 116 lbs.
Base Weight 1,503 lbs.
GVWR 2,096 lbs.
Carrying Capacity 813 lbs.
Box Size 8.5'
Exterior Open Length 17' 11
Exterior Closed Length 12' 8"
Exterior Closed Height 4' 8"
Exterior Width 85"
If you choose to buy one of the Coachman pop up camper trailers, you will have lifetime warranty for the lift system. Coachman is proud for their high quality durable Goshes lift system, that doesn't brake easily, even if you use it daily. After all, the lift system is one of the major and most essential parts of a pop up camper. The roof and the canvas also comes with a warranty, which is about for 5 years.
Visitor's Story
Coachman pop up camper trailer has just as many accessories and conveniences as another type of camper. Whether you have a 5 wheeler or a 2 wheeler you will find camping fun and exciting wherever you travel. People who enjoy camping can tell you some pretty interesting stories about the most unbelievable things that happen. On time in South Dakota, we met a guy who had a tent pop up camper and his neighbor was in a Coachman pop up camper trailer. The two were constantly trying to out do the other with amusing little jokes.
The guy next door decided to take the guys outdoor shower and hook it up to the cold water only. Everyone knew the guy always got out of bed and turned on the water and in he went. The water was ice cold and the guy just started screaming with embarrassment. The whole campsite knew it had to be another joke and everyone had a good laugh.
Coachman pop up camper trailers are a great way to have fun. The truck pop up and the van conversions available provide an opportunity for everyone to get out and share in the fun. If you cannot have a tent pop up you may find a van an easy way to enjoy camping. The travels you go on will be unforgettable.
New Hampshire is a nice place to camp if you have a Coachman pop up camper trailer or another type of trailer. NH has a lot of beautiful scenery and many great sites to visit. In many cases, you can camp and see sites that are very close to the grounds. And easy to access with bikes.A Coachman pop up camper trailer has all the accessories that can be had by other types of tent pop up campers.
Coachman campers are some of the most versatile campers used by scores of camping enthusiasts. These campers come with so many amenities and features that it is not difficult to compare it with some of the bond cars that we see in the latest Bond movies. The entire camper is designed with use-friendly features that make them very convenient to use. For instance, the utility panel in the vehicle can be used to winterize their dashboard to a special angle for better vision.
The air-conditioning in these campers is also designed for maximum cooling. The Stow-N0Go feature in the Coachman camper offers large storage spaces which are necessary for any camping trip. The camper includes two spaces specially meant for child seats that are provided with 3-point anchoring. Young families that are growing, with more children on the way, would find this feature extremely useful for their unique requirement.
Another very thoughtful feature in these campers is that you can order them with color-coded electrical wiring. Although most people would never wish to meddle with the wiring in their vehicle, the color-coded wiring to help them sort things out in an emergency, when there is no professional assistance at hand.
All Coachman campers are built with an aluminum frame, making the vehicle extremely strong due to its sturdy skeleton structure. The vehicles also come with no-lip storage, which makes it easy to store heavy gear. Although these campers come with so many unique and innovative features, the Coachman camper is still affordable for most people. All of these benefits make the purchase of a Coachman camper, an ideal choice for the camping enthusiast. If you wish to learn more about the Coachman camper, you can visit a Coachman website at Coachmenrv.com


David Scobey, PR
 About Us / Privacy Policy / Resources
Go from Coachman Pop up Camper Trailer to Pop Up Campers Trailer Home
Pop Up Camper Trailers Review / Pop Up Camper Manufacturers / Four Wheel Pop up Camper Trailer / Pop up Camper Trailer Texas / Hardside Pop up Camper Trailer / ATV Pop Up Trailer / Fleetwood Pop up Camper Trailer / Pop Up Camper Trailer for Sale /  Aliner Pop up Camper Trailer