Viking Pop Up Camper Trailer
Find information on Viking pop-up camper trailers, specifications, models, video presentations and more....

Viking pop up campers are a great way to get in the spirit of camping and enjoy all the activities with family and friends.
Viking pop-up camper trailers seem to be addressing needs of first-time owners of folding campers.
They are designed around one simple idea: "Simple means Easy".
And "easy" in the case of folding campers means: effortless camping and trouble-free vacations for users.
Following this policy Viking manufactures compact, lightweight, small and medium size pop-up campers ranging from 1,300 lbs to 3,000 lbs (unloaded) and travel-length from 12' to 21'.
Features:

In terms of features Viking campers are equipped with "all-you-need" to serve the purpose and assure camping comfort (but no more).
Following this philosophy standard equipment includes 2 or 3-burners range, sink, water container, in/out table, dinette and comfortable sleeping area (to mention only most important features). But this is the starting "level" for campers as Viking supports long list of optional equipment that can be installed in factory to meet demands of more demanding users.
The good news certainly well appreciated by buyers is very competitive and affordable price for Viking folding campers.
Presentation: Setting-up the Viking Camping Trailer
Who is Viking?

Wise buyer before getting too much excited with selection of models should ask the general question: Who is Viking?The answer cannot be simpler – it is a long operating and trusted manufacturer of pop-up campers. Viking started its RV operation in early 1970s – few years after Viking Boat Company was acquired by Coachmen Industries.
In 1974 Viking's RV manufacturing was moved to Centreville MI. The business of boats was sold and Viking entirely focused its operations on the production of folding (tent) campers.
In 2008 Coachmen sold Viking RV Group to Forest River - another well known name in RV industry lead by a legendary pioneer of RV Industry - Peter Liegl (under the umbrella of Forest Group also operates Rockwell RV business).
Summarizing – North-American RV industry is in an era of consolidation of its operations, especially accelerated in the last few years due to global crisis. Frequent changes of ownerships of RV businesses became almost customary creating confusion and disorienting potential customers as of what they are really buying.
In the case for Viking pop-up campers for long they were advertised as manufactured by Coachmen under the Viking brand name. These days Viking is officially manufactured by Forest River however it keeps its original brand name already well known to large base of customers for what it represents: easy to tow, easy to set-up and comfortable in use pop-up camper trailers.

Line of Viking tent camper trailers:

Currently Viking proposes four lines of pop-up camper trailers: LS, Epic, Legend and V-Trec, all coming in several models and floorplans. Most of them share common design standards like tubular steel frame, laminated aluminum walls, laminated fiberglass roof and one piece floor.
In the series of LS and Epic you will find the most compact, smallest and least expensive models. Legend and V-Trec series (as well as some Epic models) are at the high-end of Viking line with largest, most comfortably finished units, some with internal shower and slide-out dinette.
2010 Viking 2107 popup tent camper tour (presentation by Mitch)
Viking Pop-up Camper Trailers - Epic Series:

All Epic models have large beds at each end ranging from 2 double beds (1706 model) to double/queen/king combinations on the various models and a king size at each end in the largest model (2407ST).
The models 1906/1906ST in their basic versions offer "low end" travel experience for those willing to accept more "rustic" camping environment or in other words more "Spartan" conditions. At the end of line models 2308ST and 24xxx offer more much comfort with queen/king and king/king size beds, standard dinette and an extra table with U-shaped seats to help accommodating larger families.
| | | | |
| --- | --- | --- | --- |
| Model | Length open/closed/height | GVWR | unloaded weight |
| 1906 | 17'10"/12'8"/4'8" | 2,096 lbs | 1,503 lbs |
| 1906ST | 17'10"/14'1"/4'8" | 2,200 lbs | 1,651 lbs |
| 2107 | 20'5"/14'2"/4'10" | 2,400 lbs | 1,740 lbs |
| 2108ST | 20'9"/16'4"/4'10" | 2,702 lbs | 1,863 lbs |
| 2308ST | 23'5"/18'3"/4'10" | 3,464 lbs | 2,154 lbs |
| 2406 | 24'5/16'2"/4'10" | 2,743 lbs | 1,982 lbs |
| 2407ST | 24'5/18'3"/4'10" | 3,481 lbs | 2,199 lbs |
Viking Pop-up Camper Trailers - LS Series:

The models 1706LS and 2109LS offer "entry- level" units for small, young families looking for fun rather than luxury.
| | | | |
| --- | --- | --- | --- |
| Model | Length open/closed/height | GVWR | unloaded weight |
| 1706LS | 16'11"/12'2"/4'6" | 2,098 lbs | 1,305 lbs |
| 2109LS | 19'11"/12'2"/4'10" | 2,400 lbs | 1,593 lbs |
| 2308LS | 22'5"/16'2"/4'10" | 3,464 lbs | 1,758 lbs |
Viking Pop-up Camper Trailers - Legend Series:

Legend and V-Trec series represent "high-end" units. On top of providing more living space (and consequently being heavier), they include external storage, clothes hanger storage, AM/FM/CD player with external speakers, king-size beds and plenty of inside storage. They are designed for larger families looking for more comfortable vacationing.
| | | | |
| --- | --- | --- | --- |
| Model | Length open/closed/height | GVWR | unloaded weight |
| 2485SST | 24'5"/18'5"/4'7" | 3,502 lbs | 2,702 lbs |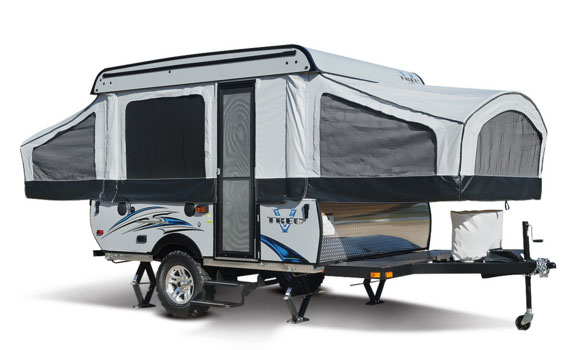 Viking Vtrec pop-up camper trailer - open
Viking V-Trec Series
| | | | |
| --- | --- | --- | --- |
| Model | Length open/closed/height | GVWR | unloaded weight |
| V1 | 20'5"/16'9"/5'5" | 3,752 lbs | 2,233 lbs |
| V3 | 24'5"/21'4"/5'5" | 4,380 lbs | 3,065 lbs |
Viking pop-up camper trailers share the following features (listed only the most important ones):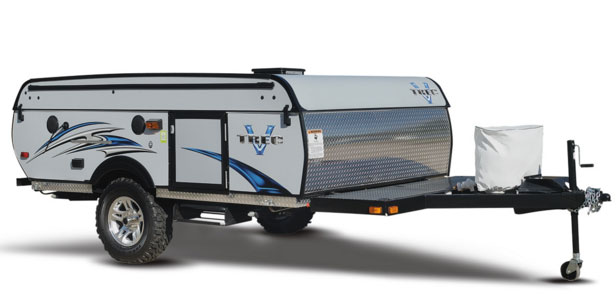 Viking VTREC camper trailer ready for road....
1. Chassis:

tubular steel fame
Wide Trac UltraLube HD Spring Suspension (LS and Epic Models);
Wide Trac UltraLube HD Torsion Suspension (Legend and V-Trec Models);
Goshen Lift System w/Double Arms (exception is model 1706LS);
Note: Wide-Trac suspension system offers better safety and stability on the road, be it paved or dirt-one.

2. Exterior

laminated fiberglass walls (Legend and V-Trec models);
Laminated Aluminum Skin Walls (LS and Epic models);
4-layers Laminated Seamless Fiberglass roof;
VRX-14 sectioned Tent w/Storm Cuffs (N/A on LS models);
Laminated/Insulated Bed platforms (N/A on 1706LS model);
E-Z Glide ("Glide-N-Lock") rollout bed system;
25 Amps converter w/battery charger;
Power Roof Vent (N/A on LS models);
Electric brakes (optional on 1706LS and 2109LS models);
Note: Viking introduced a patented "Glide-N-Lock" bed system greatly improving the setting process and clearly distinguishing its models from competition.

3. Interior

Quilted 4" mattresses (in some models heated);
3 or 2 burner range;
Deep Bowl sink;
In/Out Table;
12 Volt Ceiling Lights and 120 Volt Electrical Outlets;
Kitchen faucet with 12V water pump (water tank is under the floor);
And there is large list of optional accessories (most popular come with the Essential Package including 3-Way Fridge, 20,000 BTU Furnace, Awning, Spare tire…). Other available options include Modular Casette Potti, Hot Water System, Heated Mattress System, Power Lift to name only few…
The bottom line is – Viking, by providing the large spectrum of pop-up campers, from small and modestly equipped to large and comfortable ones answers need of broad class of customers. From "fresh-comers" just starting their camping adventure to seasoned ones having already that period beyond and looking for more comfort. Regardless the size of the tent camper, its floor-plan and factory installed features, all Viking models represent the same high quality coming with more than 40 years experience in RV business.
The manufacturer's warranty includes:

Lift System (Lifetime Warranty);
Vinyl Tent (5-Year Warranty);
Roll Out System (5-Year Warranty);
Frame (5-Year Warranty);
Roof Assembly (5-Year Warranty);

This is on top of warranties for individual interior components (range, fridge etc…)
Viking seems to provide good return in terms of the amount of offered "Bangs for Bucks". Its campers are built to provide fun and pleasure during camping adventures and at the same time to last long.
 About Us / Privacy Policy / Resources
Go from Viking Pop Up Campers Trailer to Pop Up Campers Trailer Home